Sticking to healthy eating habits can be extremely difficult—especially for those doing a keto diet. When you come home after a long day, the last thing you're going to want to do is cook up a healthy meal from scratch. That's where keto meal prep comes in to save you from bad cravings.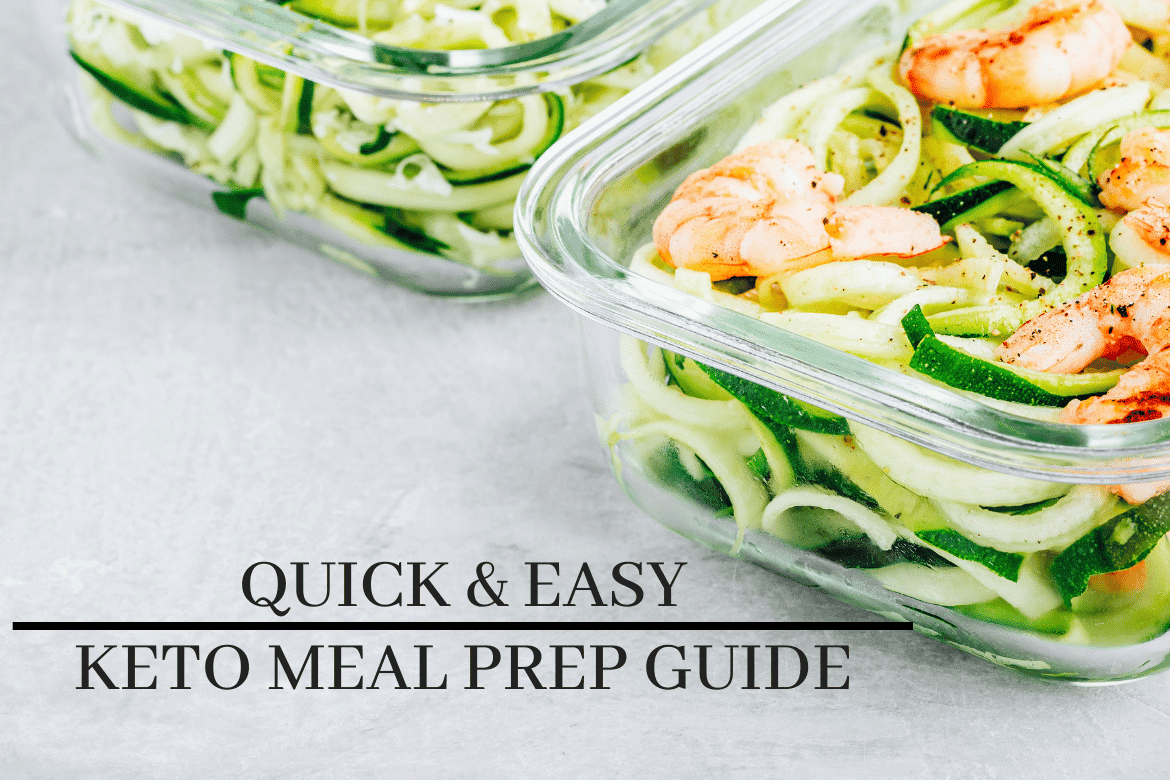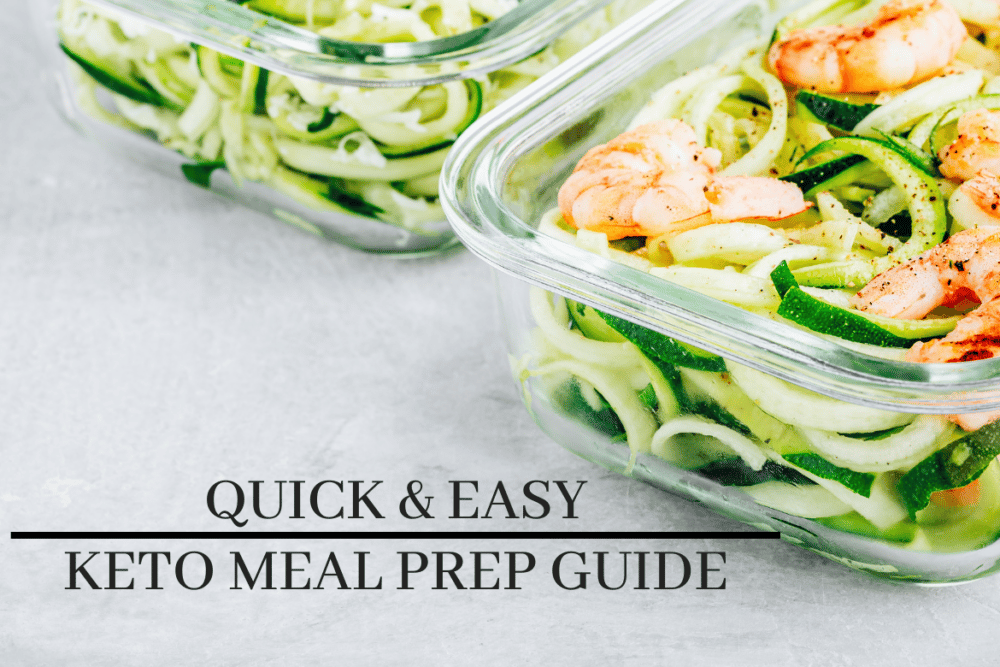 This post may contain affiliate links. Please read my disclosure for more info.
But for many, meal prepping seems like an unattainable goal, most of all when you're worried about maintaining proper keto ratios and foods. Thankfully, it's actually rather simple!
I'll walk you through an entire week of keto meal prep, give you plenty of recipes to work with, and also go over plenty of tips to help you hit the ground running, so read on!
Grab a free printable: Keto Food Lists
Note: From the inception of my site, I've always aimed to "keep it simple, silly" and cut the fluff. While this guide may look daunting, I promise it is filled with tasty morsels of information in every sentence. So if you're like me, save this post for later if the scrolling becomes too much to revisit later again and again. If you have any questions, you can always email me!
Keto Meal Prep Tips Before You Get Started
If you're not extremely organized and have trouble planning ahead, the idea of prepping a week's worth of keto meals may feel overwhelming. But it doesn't have to be! Though it may seem like a lot of work, prepping meals ahead of time will save you hours of hassle and stress throughout the week.
Here are a few tips to help you get started with your keto meal prepping. These tips will help you keep a positive mindset and help you save time once you begin cooking.
Make your plan, but it's okay to be flexible. Just because you plan out every meal for a week doesn't mean you can't bend from the plan when the occasion calls for it. Sometimes, plans change. Things come up.
If a friend spontaneously asks you out to dinner, go with them. Many restaurants have a selection of keto options so you don't have to break from your diet. You'll have an extra premade meal waiting for you at home, but that's okay. In many cases, you can simply freeze it and save it for next week!
Know what you want to eat. If you've been doing keto for any length of time, you've probably seen a giant list of keto-friendly foods. You probably have a pretty good idea of the things you can and can't eat on a keto diet.
When shopping for your meal prep, try to focus on the foods you like that are permitted on a keto diet. Don't force yourself to eat foods you can't stand. If you have a good understanding of what you like to eat, you'll be more likely to stick with the diet because you can personalize it to your unique tastes.
Be willing to try new things. Prepping your keto meals gives you a great opportunity to try new recipes that you might not have thought of or had time for during a busy workweek. Always embrace the opportunity to try something new.
Cook your meats ahead of time. Obviously, meat, poultry, and fish are all staples of a keto diet. When prepping your meals, it will save you a ton of time to cook all the meat ahead of time. You can then freeze or refrigerate it in serving-size portions. That way, all you have to do is heat it up when it comes time to use it.
Relax. Don't sweat the meal prep process. It really is easy to do, especially when you get into the habit of doing it on a regular basis.
A little planning ahead will make your life so much easier, saving you time throughout the workday and saving you from giving into the hunger and cravings you'll inevitably face if you don't have convenient keto-friendly meals and snacks prepared ahead of time.
Reminder: Stay Within Keto Ratios
According to Keto Domain, typical macronutrient ratios on a keto diet range from 65%-90% fat, 5%-25% protein, and 4%-10% carbs. If you're already doing a keto diet, you've probably already determined the appropriate ratios for you. If you're not sure, it's a good idea to talk with your doctor before starting keto to determine your best ratios.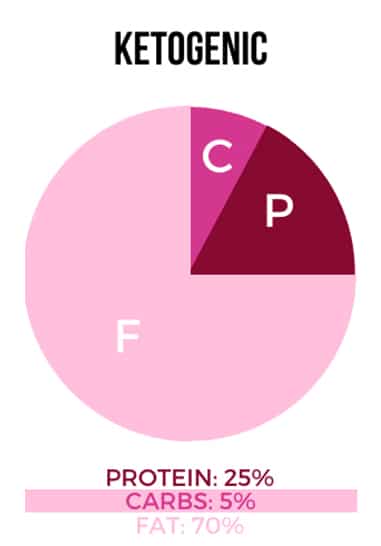 Once you know the best ratios of fat, protein, and carbs for your body, meal planning and prepping makes it easier to stick to those ratios.
Ingredients to Stock Up On for Keto Meal Prep
The first thing to think about when meal planning for keto is, what are the staple foods–the ingredients you use the most and will need to keep on hand?
One of the keys to success on the keto diet is making sure you keep yourself well stocked with keto friendly foods. This will help you resist temptation and ensure you never run out of the items you need.
So, what kind of foods should you keep on hand? The specifics will be left up to you, but in this section we'll take a look at some common keto staples you may want to stock up on.
Do I Need a Bunch of Weird Foods for Keto Meal Prep?
Many diets come with a negative stigma because people often only think about the things they can't eat and don't care for the things they can eat. If you're new to keto, you may be wondering if it's "that" type of diet. Does keto force you to give up the foods you love for a bunch of weird foods you're reluctant to try?
Obviously, "weird foods" is a subjective term, but for many people, keto foods are delicious and completely normal. The keto diet is a high fat, low carb diet that relies heavily on meats, eggs, dairy products, certain types of vegetables, and plant-based fats.
So, if you enjoy a good steak and salad, eggs cooked every way, a salmon filet with a side of roasted veggies, and dark chocolate for dessert, then chances are you won't consider keto to be full of "weird foods." You'll probably even enjoy the diet!
What to Keep in Your Pantry
High-quality oils. Extra virgin olive oil, coconut oil, and avocado oil can be used for making salad dressings, cooking foods, and flavoring breads. These are three of the healthiest oils you can use, and they're every bit as versatile as your standard canola oil.
Canned goods. Canned meats and veggies can make for a quick, easy meal if you're in a hurry or on a budget. Make sure they contain no added sugar or other high-carb ingredients.
Spices and seasonings. These can include salt and pepper and dried herbs such as garlic powder, chili powder, and basil. If you enjoy baking or use sweetener in your tea and coffee, you may also want to keep a keto-friendly sweetener such as Monk fruit, stevia or erythritol on hand.
Chocolate. You may want to keep chocolate powder on hand for baking or making hot chocolate. Keeping chocolate bars on hand will also make sure you're satisfied at a moment's notice anytime your sweet tooth or chocolate craving kicks in. Just make sure the chocolate bars are low in sugar or sweetened with a sugar substitute like Lakanto's sugar-free chocolate chips.
Snacks. We'll look at some recipes for homemade snacks later on in this article, but if you want something more convenient, you can find plenty of shelf-stable keto snacks at your local grocery store or online. Always be sure to check the ingredients as well as total fat, carbs, and protein before buying any packaged snack.
More details on keto pantry staples to help you survive.
What to Keep Stocked in Your Fridge and Freezer
Meats. All minimally-processed meats are permitted on the keto diet. In fact, meats are a keto staple, typically eaten with at least 1 or 2 meals a day. So whether you prefer beef, pork, chicken, turkey, lamb, venison, or fish–or all of those–you'll want to keep plenty of meat on hand.
Eggs. Another keto staple, eggs are highly versatile and may be paired with a meat or used as a meat substitute for meals. Cage free, organic eggs are best, though they are also significantly more expensive than regular white eggs.
Dairy. Dairy foods are a good source of fat and nutrients such as calcium and vitamin D. Some, such as yogurt and kefir, are also a rich source of probiotics. Some dairy items you may want to keep on hand include milk, yogurt, butter, cheese, cottage cheese, kefir, cream cheese, and keto friendly ice cream like Rebel.
Low-carb veggies. Non-starchy vegetables are typically the lowest in carbohydrates. Some good options include broccoli, cauliflower, beets, lettuce, spinach, kale, peppers, eggplant, garlic, and cabbage.
Low-carb fruits. Most fruits are high in carbs and sugar and are not permitted by the keto diet. That said, some berries are lower in carbs and higher in vitamins and nutrients than most other fruits. Strawberries, blueberries, and cranberries are some of the best. Other good keto fruits include starfruit, coconut, and avocados.
Nuts and seeds. Nuts and seeds such as almonds, walnuts, pecans, pumpkin seeds, flax, chia, and hemp seeds are all good sources of plant-based fats. They also make a great quick snack that you can grab on the go. They should be kept in the fridge to maintain freshness and should be eaten in moderation, as they do contain a fair amount of carbs.
More details on freezer friendly meal tips so you don't mess up.
What Do I Need to Prep Keto Meals?
Obviously, you'll need a fridge and pantry full of keto friendly foods to get started with your meal prepping; but what else? What utensils and cooking aids will you need to make the job go smoothly?
Some items you'll likely need for your meal prepping include:
Recipes. Unless you've been doing keto for a long time and you already know lots of great meals, you'll probably want to have plenty of recipes on hand. Using recipes will give you ideas for new meals and help you avoid burnout from eating the same old foods every day.
Pots, pans, baking dishes. Whether you prefer baking, roasting, sautéing, steaming, or boiling your foods, chances are you already have the appropriate pans or baking dishes. If you're new to cooking and aren't sure what to use, a basic skillet is a great place to start.
Food storage containers. You'll need serving size dishes to store your meals in the fridge or freezer until you're ready for them. Ideally, these dishes will be microwave-safe and have multiple sections to keep your food items separate, but you can use whatever you have, including old sour cream and cottage cheese containers. These containers are my favorite.
Knives and utensils. A good quality chef's knife will be able to handle most of your veggie and meat chopping needs, but other types of knives may also come in handy. You'll also want to have mixing and serving spoons, meat forks, cutting boards, and spatulas.
Food processor. A blender or food processor will come in handy for making homemade sauces, smoothies, and pureed soups.
Optional but Useful Tools
Instant Pot or Crock Pot. Both of these cookers make it easy to cook a meal on your schedule. Simply throw in all the ingredients, set the cooker to the appropriate settings, and you can go about preparing other meals, doing chores, or running errands while the food cooks.
Air fryer. One minute you are a child, and the next minute, you are an adult in your 30s obsessing over air fryers. There's a reason these are so amazing. Use an air fryer to make your favorite keto snacks crunchy like pepperoni or cheese chips.
Mixer. An electric hand mixer or immersion blender is often more convenient to use than a food processor. For blending eggs, making homemade kefir, or pureeing a pot of hot food, using one of these mixers will help you avoid burns from transferring hot food to a food processor. They will also help you cut down on the amount of dishes you use.
Vegetable spiralizer. A vegetable spiralizer allows you to cut your vegetables into all sorts of fun shapes, often making them more appealing to eat. For example, you can use a spiralizer to cut carrots and zucchini into spaghetti shaped spirals, making them a perfect substitute for pasta in a keto friendly spaghetti recipe.
Check out my shop for more useful tools.
Example Keto Meal Prep: One Week
Now that we've talked about some general guidelines for keto meal prepping, let's look at some specifics. Here's an example of a 7-day meal prep plan.
Monday
Tuesday
Wednesday
Thursday
Friday
Saturday
Sunday
Best Keto Recipes for Meal Prepping
If you're looking for more recipe suggestions, keep reading. We've compiled some great recipes you can sub into any keto meal plan. By mixing and matching recipes every week, you're never going to get tired or sick of any single meal.
Breakfast
Lunch
Dinner
Snacks
Desserts
Best Ways to Package and Reheat Your Keto Meals
So once you've got a week's worth of food prepared, what should you do with it all? What are the best methods of packaging meals so they stay fresh and are easy to reheat?
We touched on it earlier in this article, but the best way to package your keto meals is to use microwave-safe glass or plastic containers with lids. Containers with two or three sections are extra convenient because you can store an entire meal in one ready-to-use package instead of using two or three separate containers for one meal.
Stackable containers are also useful because they don't take up as much room in your fridge or freezer.
If you don't have a food storage container set and don't want to buy one, you can always save the containers from the processed foods you buy. Cottage cheese, sour cream, and whipped butter or butter substitutes often come in convenient plastic containers that can be washed and reused.
When it comes time to reheat your meals, the easiest method is to take it out of the fridge or freezer and microwave it. If you don't have a microwave, you can reheat it in the oven or on the stove, whichever you prefer.
If your meals are stored in oven-safe glass dishes, you can simply stick them in the oven, making sure to replace the lid with foil if it's a plastic lid. If your meals are stored in plastic containers, transfer them to a baking dish or stovetop pan, adding a bit of water if necessary to prevent sticking, and reheat to the desired warmth.
How to Keep Keto Food Good for Longer in the Fridge or Freezer
The last thing you want after preparing a week of meals is for some of those meals to go bad before you use them. How can you ensure your food stays fresh until your next meal prep session?
Most food will store well for several months in the freezer, but keep in mind, some keto foods don't freeze well. We'll discuss which foods you should never freeze in a few minutes, but for now, here are some general tips for keeping your food fresher for longer.
Keep your fridge and freezer at the appropriate temperatures. The FDA recommends keeping your fridge temperature slightly above freezing but never higher than 40 degrees F; the ideal temperature is somewhere between 35 and 38 degrees. The recommended freezer temperature is around or just below 0 degrees F.
Don't wash produce. Washing fresh fruit and delicate vegetables causes them to deteriorate more quickly. Avoid washing them until you're ready to use them, and try to resist handling them so they don't become bruised or damaged.
Keep foods in the original package. This is especially true for uncooked meats and dairy products. You may want to divide them up in smaller portions, but understand that doing this will mean you'll need to use them sooner. Opening the package to divide and transfer the food may allow for bacteria and oxidation to affect the food's freshness.
Don't refreeze defrosted food. If you take one of your prepared freezer meals out to defrost, then end up changing plans for dinner, do not refreeze the meal once it has thawed out. This is true of all foods–meats, vegetables, fruits. Refreezing food after it has defrosted reduces the food quality and may cause it to spoil faster.
Use lemon juice to prevent browning. For cut fruits such as apples and avocados, coating the cut surface with a bit of lemon juice will help prevent oxidation, keeping the food good for longer and preventing unsightly browning.
Store in the proper part of the fridge. Meat, cheese, and produce should be stored in the appropriate drawers in the fridge. In particular, fresh lettuce will store the longest if it is washed, dried, and stored in an airtight container lined with paper towels to absorb the extra moisture. Stored this way in the produce drawer, it may last for over a week.
What Keto Foods Should I Not Freeze?
Some keto friendly foods you should never put in the freezer include:
Lettuce. No one likes wilted lettuce, but that's exactly what you'll have once it thaws out if you store it in the freezer.
Eggs. Cooked eggs that have been frozen have a rubbery texture, and raw eggs tend to expand as they freeze, cracking the shell.
Any vegetable you plan to eat fresh. Any frozen vegetable will become watery and lose some of its flavor when thawed. While this is okay if you plan to cook the veggie, it doesn't make for a pleasant experience when eating it raw.
Coffee. Freezing coffee grounds or beans causes them to lose some of their flavor. And who wants to drink flavorless coffee?
Avocados. Frozen avocados become brown and mushy when they thaw out. This might work all right for making smoothies, but in general avocados are much better when used fresh.
Canned foods. There's really no reason to store canned foods in the freezer, since they store long enough at room temperature. But freezing canned foods will cause the liquid in the can to expand, which in turn may make the can explode.
Is There Anything I Can Prep Monthly?
If you're really busy or still not sure about the idea of meal prepping, you may be wondering if you can prepare more than a week of meals at a time. Is it possible to prepare, say, a month's worth of food at once?
The short answer is yes. It is possible to create TV dinner style meals that will keep in the freezer for up to a month. Some, depending on the foods involved, may last even longer. Meats and vegetables that you plan to eat cooked will last a long time in the freezer if packaged appropriately.
I break all that down in my Keto Meals For A Month guide.
What Ingredients Should I Only Use Fresh?
That said, there are some keto staples that are better to use fresh and should not be frozen or stored for long periods of time.

Dairy products. Unless it's frozen yogurt or keto-friendly ice cream, dairy products should be kept in the fridge. Some types of cheese may last for a few weeks in the fridge, but most dairy products should be used fresh within a week or two.
Fresh produce. Any fruits or veggies you plan to eat raw will have a relatively short shelf life. For example, it probably goes without saying that you can't prep a salad and expect that it will still be good a month later.
Eggs. Cooked eggs will last in the fridge for a few days but should never be kept longer than a week. They store much better in the shell and are best when used right away.
The Importance of Having Keto Food Ready: Why Keto Meal Prep
So what's the big deal anyway? Why is meal prep so important when you're doing a keto diet?
It's convenient. Prepping your meals saves you a ton of time on cooking since you make all your meals for the week at once. Instead of wondering what to make for dinner after work, all you have to do is grab a premade meal and reheat it. Meal planning takes the pressure off dieting.
It helps you avoid temptation. Since every meal and snack is planned and made ahead, you don't have to deal with wondering what to eat on your lunch break or whenever a snack craving kicks in. Even when you're at work, grabbing your keto goodies is just as easy as grabbing fast food or vending machine snacks.
It helps you make healthy choices. It's easier to eat healthy foods when you prepare them ahead of time. You can try new healthy recipes when meal prepping that you might not have had the time for otherwise. And when grabbing a healthy meal is convenient, it makes choosing good food easier to do.
Keto Meal Prep: Super Easy!
Meal prepping may seem a little scary at first, but as you can see, it's really quite easy. Like any good habit, it takes commitment at first, but then it quickly becomes routine.
If you're on the fence about meal prepping, why not give it a try? With so many great recipes and storage options, the possibilities are endless!
More meal prep resources:
Have you ever tried Keto Chow? It's the easiest way to meal prep! Get 10% off your first purchase.