The stores are filling up with Holiday stuff and it's starting to get real. If you have a sudden urge to buy a new wreath for your door so you can be more festive, I'm right there with you! So I rounded up the best replacement copycat sugar-free & keto candy recipes for all the Halloween favorites like Reese's and Sour Patch Kids.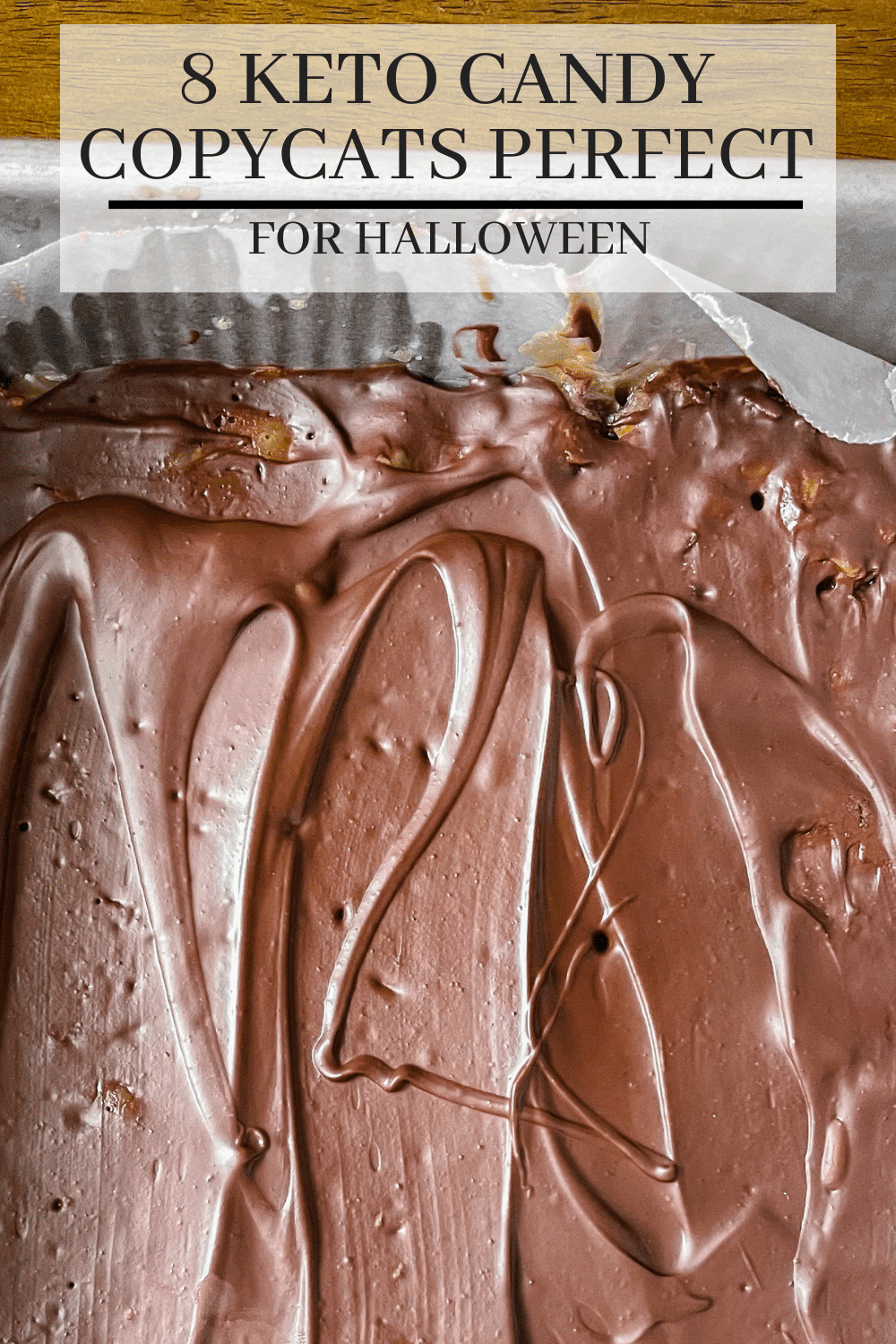 I didn't want to find just keto desserts, I wanted to find treats that were spot on close to their carb-y counterparts. Not only that, I wanted these recipes to be super simple. Down below, I've found treats that will only take about 10 minutes to prepare. No one has time to cook up super complicated dishes with kids knocking down the door. Check them out and tell me what you think in the comments!
Keto Candy Recipes
1. Keto Reese's Peanut Butter Cups
Found from Wholesome Yum
First on the list are these delicious sugar-free keto peanut butter cups. There's nothing like unwrapping a Reese cup on Halloween so this perfect mixture of chocolate and peanut butter is sure to get you in the mood for treats. There are no tricks here! The only hard part is waiting for them while they solidify in the freezer.
Grab a free printable: Keto Food Lists
2. Keto Snickers
Found from Big Man's World
These no-bake bars are the best and easiest Snicker bars you'll ever make. This treat has nuts, caramel, and chocolate and it's gluten free unlike a real Snickers bar. This recipe has two versions so make sure to follow the keto instructions for a low carb treat.
3. Keto Twix
Found from Sugar Free Londoner
This was a difficult recipe to track down, but I finally found a delicious and easy-to-make keto Twix recipe. It might not pass the presentation test, but your whole family will love this gluten free, part cookie, part candy treat.
4. Keto M&Ms
Found from Midget Momma
M&M's are all about variety, so would it be so crazy if these keto chocolate covered almond clusters could possibly pass as part of the M&M family? This recipe is the perfect blend of crunchy, salty, and sweet. You don't even need a stove to make this recipe and you can whip it up in minutes.
5. Keto Butterfinger
Found from Maria Mind Body Health
These keto Butterfinger bars really are as good as they sound. Plus this recipe is as easy as dumping the filling into a container and spreading chocolate on top. It's buttery, crunchy, and of course Bart Simpson's favorite!
6. Keto Sour Patch Kids
Found from Ditch The Carbs
Sour Patch Kids are growing in popularity when it comes to Halloween treats, and this is the best and easiest keto gummy recipe I've found with only 3 ingredients. Who knew you could use ingredients like blood orange tea bags to add flavor and color? To make them sour, sprinkle with True Lime or True Lemon after they've set up in the fridge.
7. Keto Almond Joy
Found from Whole New Mom
You'll have a soft spot for this oldie but goodie candy. These no-bake bars are another great keto-friendly recipe that tastes identical to the real thing. It's also another way to get healthy coconut oil in your diet.
8. Keto 'Hershey' bar
This is another treat that's popular for Halloween with multiple flavors, but sometimes you just want to grab a plain chocolate bar to munch on without the guilt. Lily's Chocolate has got you covered! They have an Almond bar that I can't keep around in my house for long. It's that good and sugar-free.
I really hope you enjoyed these lovely treats and just how easy they are to make! I would love to hear your feedback in the comments below.
PIN FOR LATER!