You're gonna love this keto pumpkin pie. If you're hanging out with non-keto-ers this Holiday season, it's time to break out the keto holiday recipes to fool their taste buds. Stressing about what to eat should never be a part of your Holiday experience so make sure you're prepared with a keto-fied version of your favorite Holiday recipes.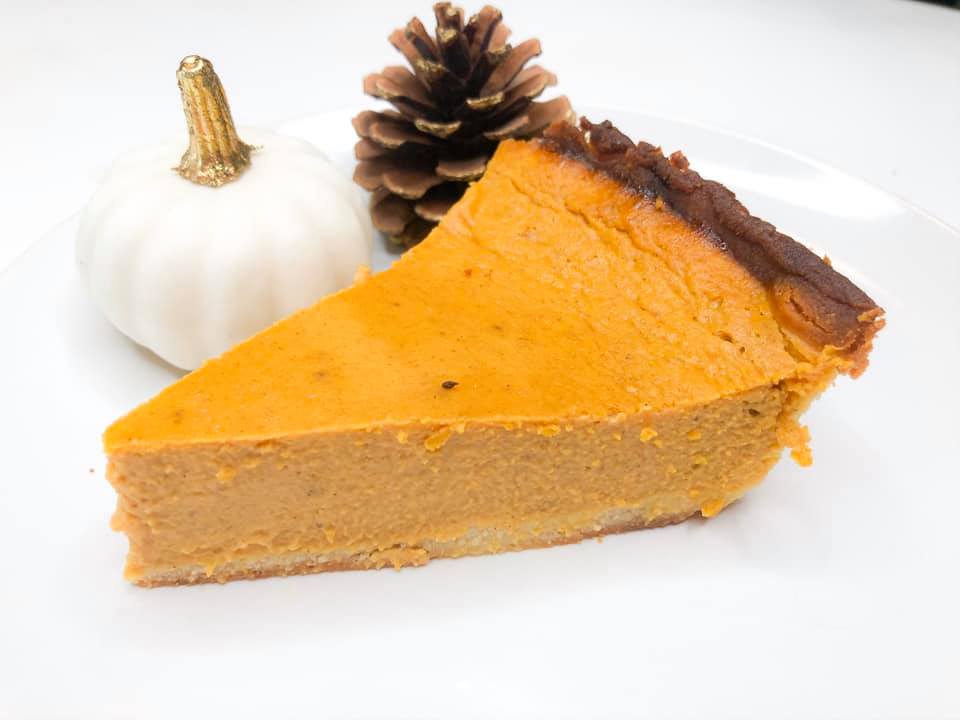 This post may contain affiliate links. Please read my disclosure for more info.
Traditional Keto Pumpkin Pie
When it comes to staying low carb during the Holidays, make sure you are prepared with a dish that is perfect for you and your guests. Bring an amazing keto side dish and dessert…and of course, load up on the meats (just avoid the sugary sauces), and you'll be set!
Make sure to check out my Keto Holiday Survival Guide for all the tips.
Grab a free printable: Keto Food Lists
Transparency time. This recipe was definitely a labor of love and creating a recipe video on top of that. Even more challenging! So I really hope you enjoy and get to make your own version for your guests this Holiday season.
While you're at the grocery store gathering your ingredients for your Holiday favorite, make sure your pantry is stocked up with the keto essentials.
The Pumpkin Pie Keto-fication Process
This recipe uses nearly the same ingredients as a traditional pumpkin pie. Pumpkin Puree is pretty low in carbs in comparison to other pie filling bases (ahem..looking at you apple pie).
Just add the spices, the eggs, cream, vanilla extract, and a keto-friendly sweetener together and you've got a classic Pumpkin Pie turned keto. Since we can't exactly pour sweetened condensed milk into the mix, we've re-created it with the heavy cream & vanilla extract.
I'm convinced that Erythritol and Monk Fruit are the greatest pantry staples (sorry, Almond Flour). When Swerve came out with a BROWN SUGAR version. Oh my goodness. I didn't think they could get any more genius, and then they did that.
Can I use this or that other sweetener? Yes, but beware. You will get different results than I did with the brown erythritol. There's Allulose, Lakanto Golden, Xylitol, Stevia, Splenda, Monk fruit sweetener, and on and on. There is no shortage of Keto-friendly sweeteners. Experiment! You may come up with a better looking pie than me.
Make sure to check out these other delicious and guilt-free keto desserts while you're here!
Yield: 8
Tastiest Keto Pumpkin Pie | 5 Net Carbs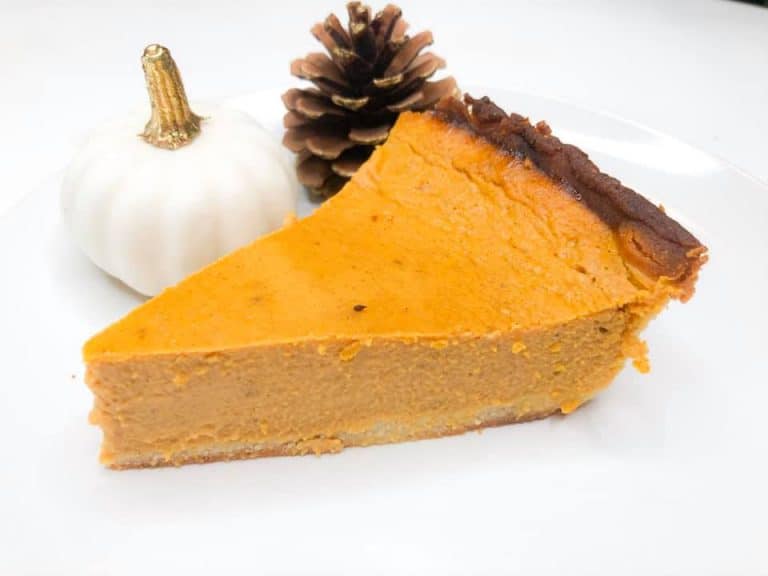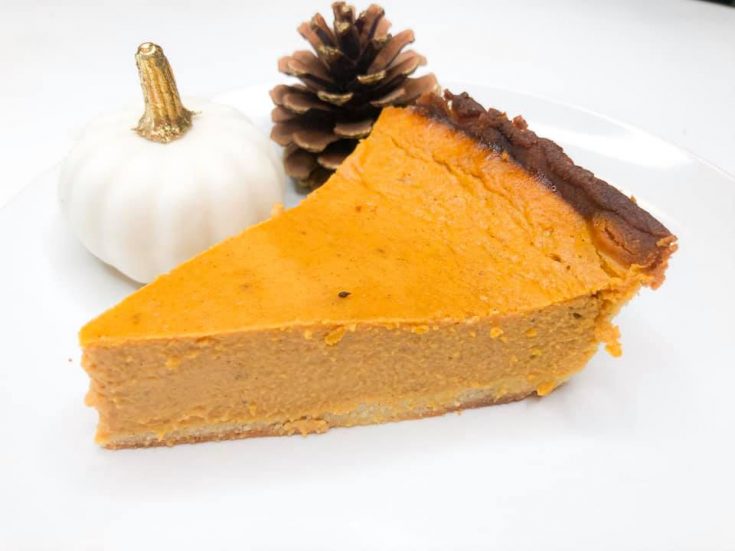 This Keto Pumpkin Pie is one of my personal Holiday favorites! I hope you have a fun time making and sharing it with your family. Made with no sugar, gluten free, and the tasty silky custard filling is intact! Try it crustless or bake with a Keto-friendly pie crust.
Total Time
1 hour
30 minutes
Ingredients
½ teaspoon kosher salt
1 ½ teaspoon cinnamon
1 teaspoon ginger
½ teaspoon nutmeg
1 pinch ground cloves
½ cup brown erythritol
3 eggs
1 15-ounce can pumpkin puree
1 ¼ cup heavy whipping cream
1 teaspoon vanilla extract
PIE CRUST
Instructions
1. Prepare 1 batch of (THE FLAKIEST!) KETO PIE CRUST. See recipe video below or here for guidance.
2. Preheat oven to 400 degrees F and prepare 9 inch glass pie pan with cooking spray or butter. Prepare two large sheets of parchment paper and lightly dust with coconut flour. Roll out your refrigerated pie crust between sheets of parchment paper to prevent sticking to your rolling pin. Feel free to put in the freezer for 5-10 minutes if your dough goes soft then try again. Carefully peel one layer of parchment paper away and transfer crust to pie pan using the other sheet of parchment paper. Crimp or trim the excess dough. Prepare thin strips of foil to place on the outer edges of the pie pan over the crust to prevent over browning. Place pie crust pan with foil back in the refrigerator while you prepare your pumpkin pie filling.
3. In a small bowl, mix kosher salt, cinnamon, ginger, nutmeg, ground cloves, and brown erythritol. Set aside.
4. In a large bowl, using an electric mixer, beat eggs then add in pumpkin puree, heavy whipping cream, and vanilla extract. Continue to beat until thoroughly mixed. Beat in the brown erythritol and spices mixture.
5. Place refrigerated pie pan on baking tray. Pour in pumpkin pie filling and bake for 40-50 minutes. Uncover edges around 35 minutes. Check your pie often in the last minutes as oven times and temperatures may vary. A toothpick inserted near the edges should come out barely moist and the middle should be slightly jiggly.
6. Turn off oven and allow to pie to cool completely with the oven door open. Once completely cooled, place in the refrigerator for at least one hour before serving with sugar-free whipped cream on top.
Notes
Oven times and temperatures may vary. See video below for guidance.
Recommended Products
As an Amazon Associate and member of other affiliate programs, I earn from qualifying purchases.
Nutrition Information
Yield
8
Serving Size
1 slice with crust
Amount Per Serving
Calories

288
Total Fat

25g
Saturated Fat

13g
Cholesterol

89mg
Sodium

149mg
Carbohydrates

7g
Net Carbohydrates

4.5g
Fiber

2.5g
Sugar

1g
Protein

4.5g
Nutrition facts are estimated. Make sure to use Carb Manager when calculating your macros for the day.