Last Updated on November 30, 2021 by Olivia Wyles
These are the best tasting Keto cookies you'll make during the Holidays. Your guests will be amazed by the showmanship of these cute little caramelized, frosted cookies. And you'll just smile because you know it was super simple to make and it's Keto-friendly. But your guests don't have to know all that. So get ready soak in all the compliments on these elegant Keto Crème Brûlée Cookies.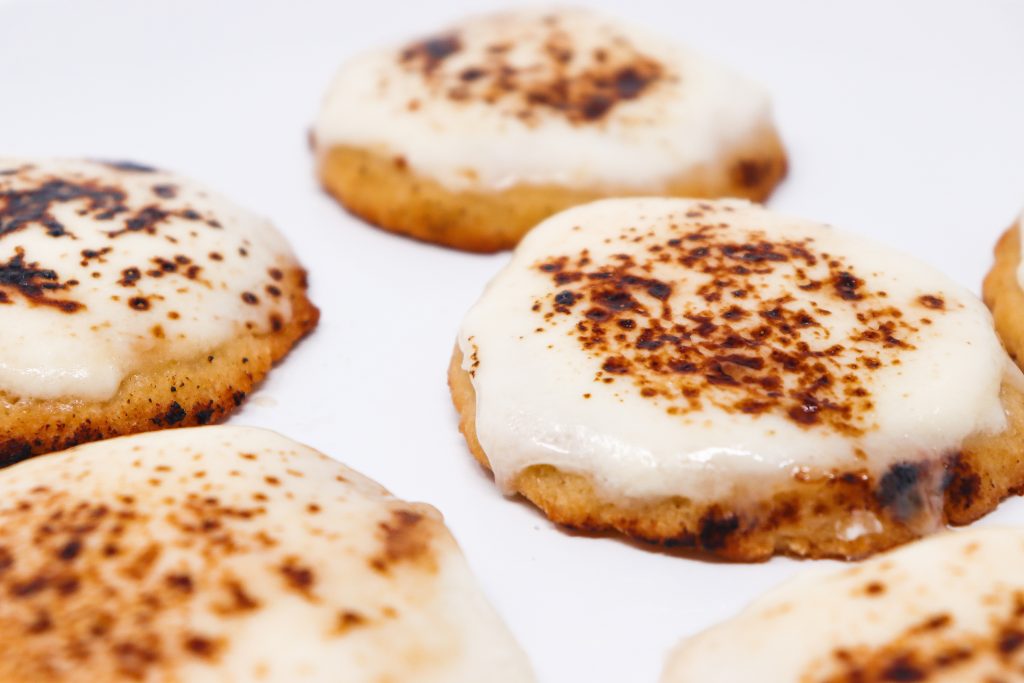 This post may contain affiliate links. Please read my disclosure for more info.
Keto Crème Brûlée Cookies Ketofication Process
Don't you just want to say that title 5 times fast? Anyways, to keto-fy cookies takes a little bit of effort since it's all about getting the right consistency with the flours and the sugars.
Grab a free printable: Keto Food Lists
Keto Baking is a fine art and not all normal cooking rules apply. For example, when baking with almond flour, you will always use significantly less than with an all-purpose flour cookie. Usually about ½ of the amount.
Another Keto quirk for baking is the use of sweeteners. Since our aim with the Ketoficiation process is to produce a recipe that's low carb, sugar free and in most cases gluten free. Typically, Keto-ers will have a more sensitive palate to sweeteners, well, since we cut normal carb-y sugar out. So in the Keto baking process, you'll cut down the amount of sweeteners.
Coconut flour is another Keto baking staple. The purpose of including coconut flour along with almond flour is to help absorb some of the moisture so your dough holds together well. If you have ever baked with just plain almond flour, you might have produced some gritty, wet dough.
Coconut flour helps alleviate all that. Psyllium husk and oat fiber also help with this. Although I have not experimented with those two ingredients as a substitute for coconut flour in this recipe, it should be safe to use.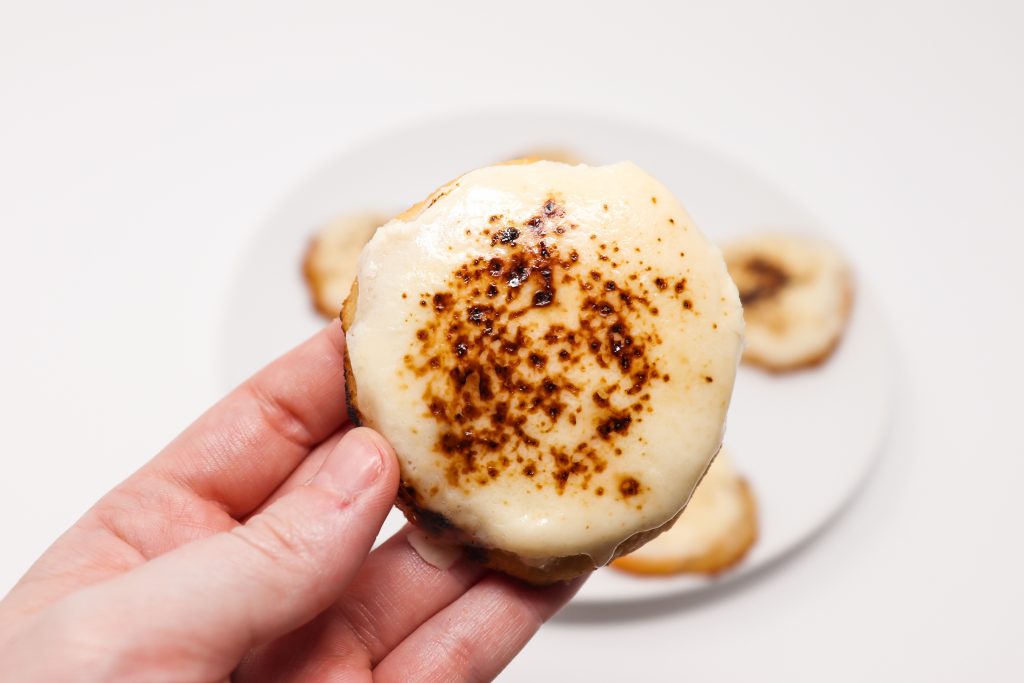 Why Is This an Easy Cookie to Make?
Cookies in general are pretty easy to make and well worth the effort. The basics of cookie baking come down to proper mixing of flour, butter, sweetener, salt, vanilla, and egg.
This cookie is simple because it's basically a sugar cookie with some extra appeal. It's really all dressed up with a little holiday flair. A little something extra to make your guests say WOW.
The dough for this cookie doesn't spread while baking so it's okay to place the mounds of cookie dough close together. Just make sure you flatten it into a cookie shape so it will bake properly. Use a silicone baking mat to protect these pale cookies from the heat. Parchment paper works too!
You can achieve the perfect serving sizes by using a cookie scoop. I love my cookie scoop that I got at Target, but you can also pick one up on Amazon.
Allow your cookies to cool! This step is super important because coconut flour and almond flour tend to crumble if handled directly out of the oven. Leave them on the pan for about 2-3 minutes, then transfer to a cooling rack (or any cool flat surface) to completely cool before frosting.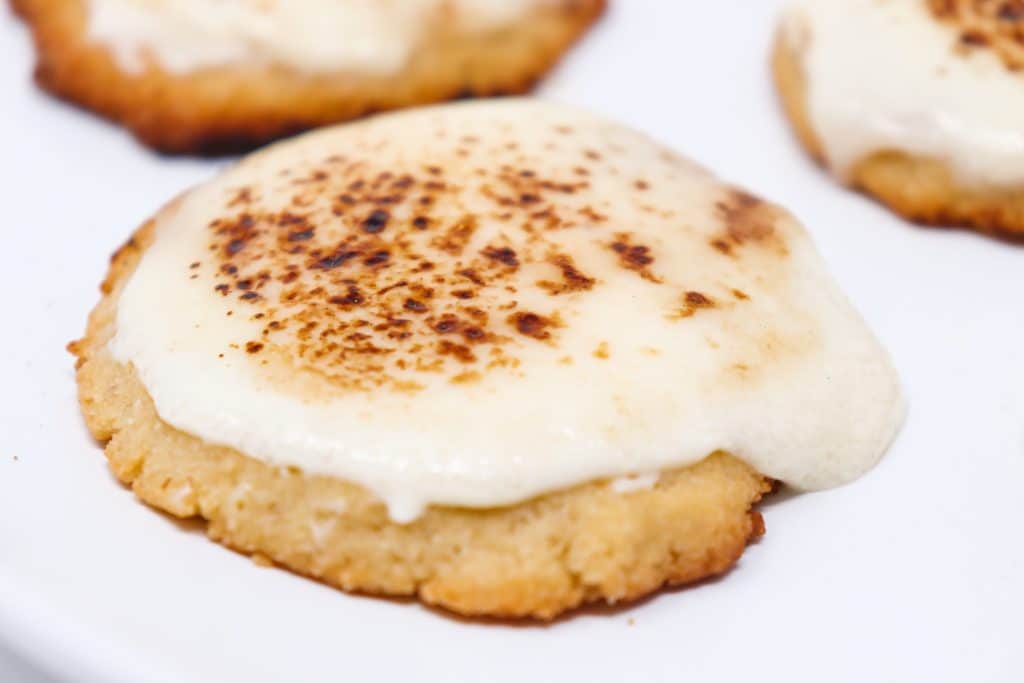 The Best Part of Making Keto Crème Brûlée Cookies
Then there is the super fun part. After you frost the cookies and just before serving your guests, dip your cookies in granulated erythritol (I used Swerve), then pass the kitchen torch over the cookie several times until the sweetener gets caramelized. (If you don't have a kitchen torch, you can use the broiler setting on your oven.) Make sure your cookies are on a fire-safe surface before torching (Ask me how I know). The cookie will get hot again from the flame! Allow to cool an additional 2-3 minutes before popping the cookie in your mouth. Or you will burn the roof of your mouth (like me)!
What About the Taste?
I always test my recipes on my husband who is not on the Ketogenic Diet. Just to see if a Non-Keto-er would be able to tell the difference. This cookie doesn't have that erythritol bite that some Keto recipes have. Sometimes Swerve can taste too sweet in certain Keto recipes even though it measures cup for cup. The caramelized sugar has that great campfire, cozy feeling taste that makes the perfect topping for this cookie. And guess what, only 1 net carb per cookie even with the icing and sugar on top! (Nutrition facts are estimated)
Some More Keto Desserts!
The Holidays are filled with baking, good times, and good company. If you love the Keto Crème Brûlée Cookies, share some of my favorite recipes with your family:
Yield: 12
Keto Crème Brûlée Cookies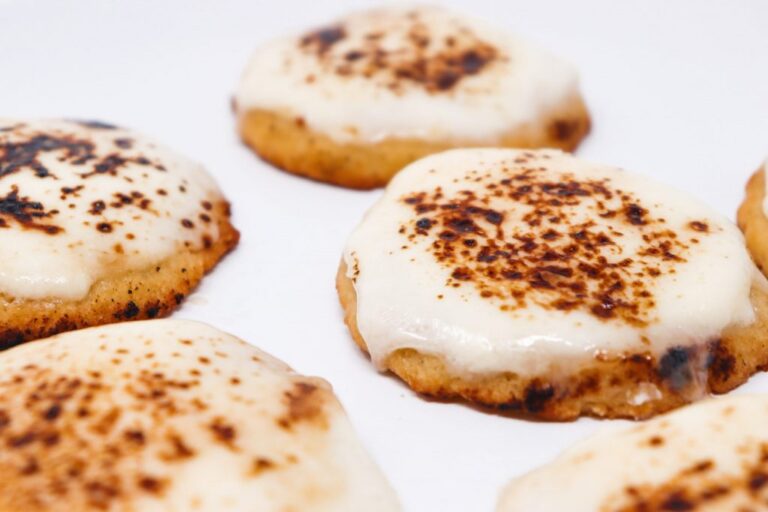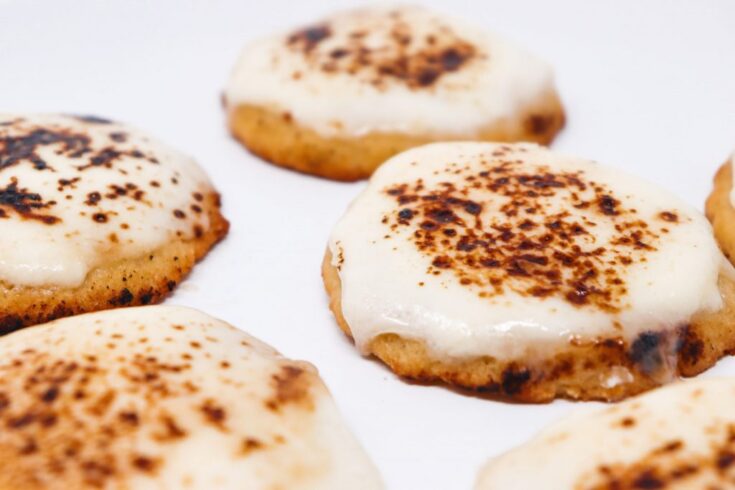 If you're a fan of crème brûlée and cookies, you are going to love this Keto version that brings those two things together! Pillowy soft sugar-free cookies with a layer of cream cheese frosting and caramelized sweets on top! Bake these for your next gathering or whip it up anytime for a quick dessert.
Ingredients
Cookies
Frosting
Caramelized Sugar Topping
Instructions
Preheat oven to 350 degrees F. Prepare baking sheet pan with parchment paper or silicone baking mat.
In a medium bowl, whisk together almond flour, coconut flour, salt, and xanthan gum.
In a large bowl, cream butter using an electric hand mixer. Add sweeteners and stir slightly with a silicone spatula. Beat in egg and vanilla extract. Gradually beat in flour mixture until dough forms.
Using a medium cookie scoop (about 1 tablespoon) or hands, place 12 mounds of dough on baking sheet pan spaced at least 1 inch apart. This dough is not prone to spreading. Flatten until desired thickness (Note: Cooking times will vary depending on cookie thickness). Bake 13-14 minutes. Bake until edges are slightly brown. Allow to cool on baking sheet pan for 2-3 minutes then move to cooling rack. Allow to completely cool before frosting.
To make the frosting, beat cream cheese until smooth using an electric hand mixer. Beat in sweetener and vanilla extract, then add the heavy cream 1 tablespoon at a time until spreadable consistency.
To make caramelized sugar topping, place granular erythritol in a small bowl. Frost cookies then press each one into the bowl of sweetener, coating the frosting with sweetener.
Just before serving, use a culinary torch to caramelize the sweetener on top, then allow to cool for 2-3 minutes. Store cookies in the fridge for up to 4 days.
Notes
Oven times may vary. Nutrition facts are estimated.
Nutrition Information
Yield
12
Serving Size
1 cookie
Amount Per Serving
Calories

132
Total Fat

13g
Saturated Fat

7g
Trans Fat

0g
Cholesterol

45mg
Sodium

96mg
Carbohydrates

2g
Net Carbohydrates

1g
Fiber

1g
Protein

2g