Growing up in the South has taught me that no matter what the occasion, there has to be lots of food. If it's comfort food, even better. And no matter if you're on a diet, those calories don't count on a special occasion, right? Over the years, I've been told to "put some meat on those bones" a time or two. And there is no end to temptations around Thanksgiving and Christmas time. So how do you survive the holidays on keto?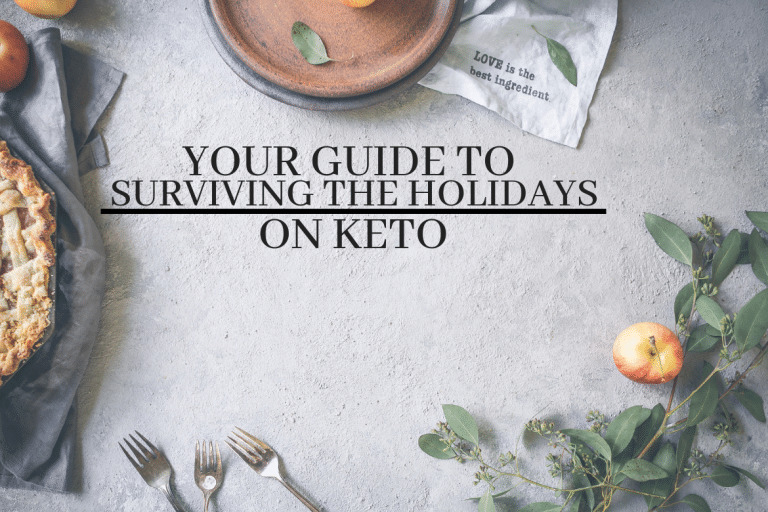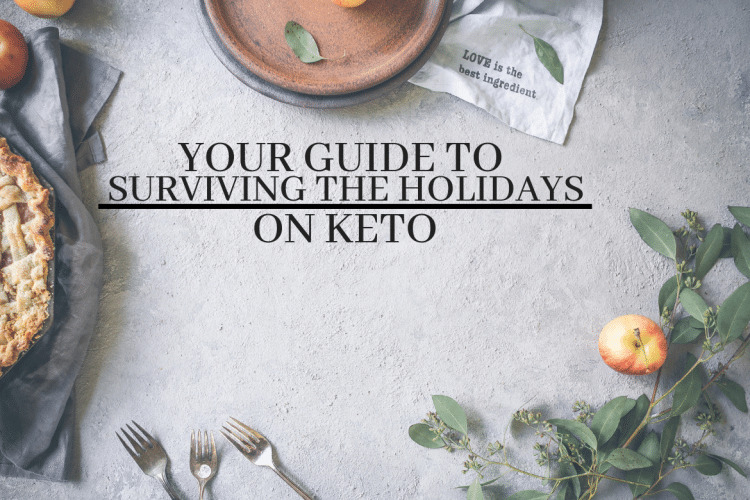 And why on earth did I decide in 2017 to start on a ketogenic diet right before the Holidays? Well, I wanted to lose some weight. I realized that the 40 individual fun size Twix bar wrappers piled up on my desk from Halloween was probably not the best way to cope with that. So I went to work researching the ketogenic diet and what I found are the 5 basic steps to get started that I compiled in my beginner's guide.
How to Survive the Holidays on Keto
The keto diet is so easy to stick with even during the Holidays. Don't worry about all those carb heavy temptations, I'll show you exactly how to stay in keto and keep shedding the pounds.
1. Ignore or Replace…or Cheat!
The key to sticking with any diet or way of eating is preparation. It's no different with a ketogenic diet. The first thing you should prepare is your mind. I decided last year on Halloween that I would start the diet the following week.
Grab a free printable: Keto Food Lists
That gave me enough time to empty my pantry of temptations either by eating it, donating it, or throwing it away. It also got me into the mindset of ignore or replace. You can either ignore the temptations during the holidays and pretend they don't exist. Or you can replace it with a keto version. And there are so many keto versions of your Holiday favorites. Seriously!
You can also choose to cheat during the Holidays. Keep in mind though that the ketogenic diet is pretty unforgiving when it comes to "cheat meals." Take a look at your goals and decide if you have enough wiggle room to splurge a couple times (like Thanksgiving and Christmas Day).
Another thing to ask yourself is "is it worth it?" If you're gonna cheat on the ketogenic diet, it should be for something amazing like grandma's peach cobbler that she only makes once a year.
2. Focus on the people
Remember that holidays are about the people you are there to see. Focus more on your friends and family and less on the food. I know this is tough because Holidays = good food. Be prepared to decline food (or throw it away when no one is looking).
Also be prepared to say "no thank you" to a lot of things. Or, if you absolutely don't want to offend, politely wrap the food in a napkin and throw it away when no one is looking.
3. Sip on a drink
Alcohol is allowed as long as the carb count is low. Usually during the holidays, there is a a lot of pressure to drink and join in on the party with everyone. To avoid over consumption of carbs and keep craving levels down, sip on some prosecco or diet club soda and vodka with a lot of ice cubes.
Keep refreshing your drink with ice cubes to make it appear you have a new drink. They'll be none the wiser!
4. Bring your own dish…
This is an easy way to cleverly sneak in a keto replacement dish. Bring a comfort food style dish to replace a carb heavy one. Last year, I made this Loaded Cauliflower Mash from Low Carb Maven. She has a ton of great recipes for the ketogenic diet so make sure you check them out!
The Loaded Cauliflower Mash was 1) easier to make than actual mashed potatoes and 2) spot on-close to tasting like actual mashed potatoes. I made this dish for just about every holiday party I attended last year.
5…And make a dessert
Oh, and bonus points if you make a keto dessert too. Not only will you be replacing a comfort food dish, you'll also be replacing the other biggest temptation: the dessert table. It will also give you a chance to show your family your fancy pants knowledge of erythritol!
Try these awesome keto dessert recipes:
6. Stick to proteins and veggies
The safest bet is to stick to protein like turkey, ham, and roast and roasted veggies like broccoli, French green beans, and Brussels sprouts. Go for the veggie casseroles as long as there are no mysterious and potentially high carb sauces mixed in.
If you aren't sure and you really want to try it, you can politely ask the person if it was made with flour or sugar added. That'll usually get you on the right track!
7. Keep a fat bomb handy
I recently discovered the most amazing fat bomb if you are super duper lazy and need to keep a treat handy. These SlimFast Keto Fat Bomb Snacks are made without artificial sweeteners or maltitol.
It tastes exactly like a Reese's Peanut Butter Cup (seriously, I think they are actually better than the real thing). They are only 90 calories and you'll get your daily dose of MCT oil. Their new keto-friendly shakes are amazing too!
8. Give lazy keto a try
If you've been sticking with a strict ketogenic diet and feel like you're pretty close to your goal, you can choose to do lazy keto. After a while, you pretty much know your macros, you know your carb intake like the back of your hand, and you know what your body can handle.
With lazy keto, you're still keeping your body in a state of ketosis by keeping the carbs under 20 grams per day, but you don't track anything, you throw out your scale, and you don't count calories. Super easy. That's lazy keto!
9. Keep your electrolytes in check
If you are going to have a few cheat meals during the Holidays, it's important to keep your electrolytes in check to avoid keto flu. Keep an eye on your sodium, potassium, calcium and magnesium to avoid an imbalance.
Make sure to supplement your diet with vitamins and consume leafy greens, nuts, avocado, fish, chicken broth, and almond milk.
10. Intermittent Fasting
You could also consider intermittent fasting to "save up" your calories for the big meal later. This is what helped me lose the most weight during my journey. It also allowed me to really enjoy my meal because I wasn't worried about going over my macros.
So, on those big heavy food days like Thanksgiving and Christmas Day, drink water most of the day and fast so you can enjoy a big dinner later.
11. Manage your expectations
It's important to manage your expectations. This is not a diet you can mess around with. But that's why it's so easy to replace many of your Holiday favorites with ketogenic recipes. If you absolutely have to cheat, make it something really good and make it infrequent.
Otherwise, you'll cause a snowball effect and knock your body right out of ketosis and no one wants to deal with keto flu more than once. Remember why you got started in the first place and that'll help you survive the Holidays with ease. I wish you all Happy Holidays. Keep Calm & Keto On!
If you loved these recipes, make sure to check out these keto recipes and ideas. Check them out and tell me what you think in the comments!
PIN FOR LATER!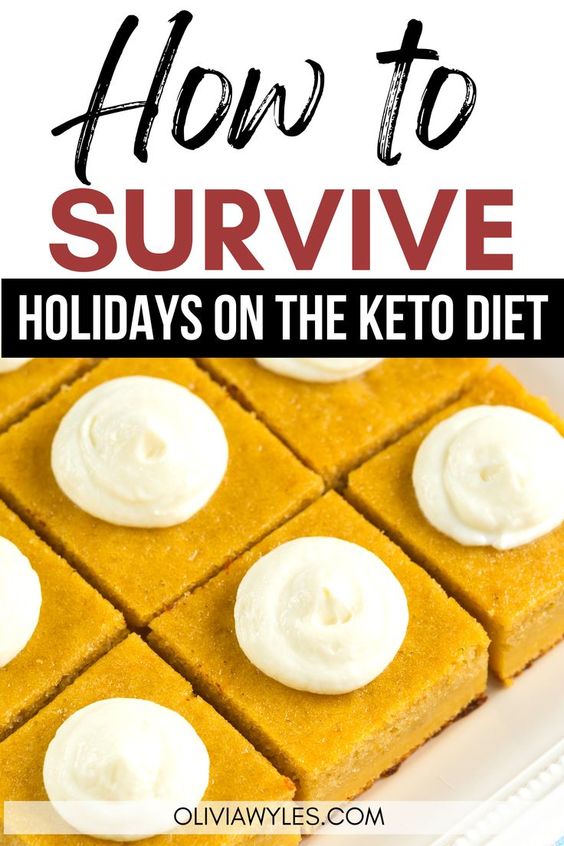 Have you ever tried Keto Chow? It's the easiest meal around! Get 10% off your first purchase with code OLIVIAWYLES.