Last Updated on June 17, 2022 by Olivia Wyles
I'm a big grab & go keto snack person. I like to keep my pantry stocked with snacks I can simply open and eat right away. This will prevent me from getting into the kitchen, making a mess, and coming out with some less than desirable weirdo snack because I'm famished.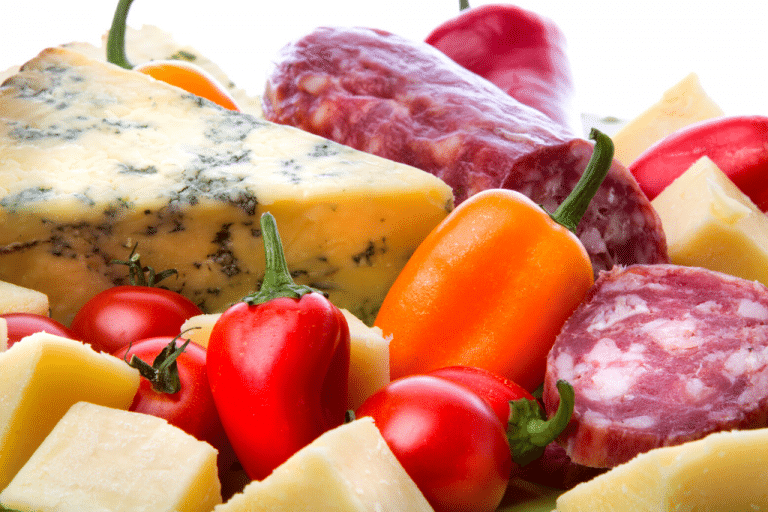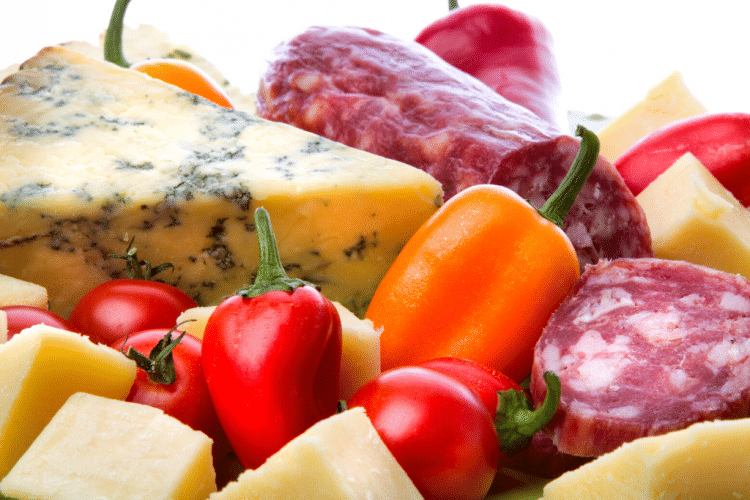 This post may contain affiliate links. Please read my disclosure for more info.
Don't get me wrong. I love to cook and I highly encourage everyone to use whole foods whenever possible. It's just…the pre-packaged snacks deter me from pouring a bowl of kids cereal and nomming on it until the box is almost gone.
Grab a free printable: Keto Food Lists
If you have a few extra minutes (besides zero), you will also love these 25 Genius Quick & Easy 2-Minute Snack Ideas. I'm a big fan of no-fluff keto recipes (or any recipe for that matter) with just a few ingredients. With today's busy world, it's just easier to throw a few things together to make a delicious keto snack. If you want breakfast, lunch, and dinner ideas too, check out these 50 Quick & Easy Keto Recipes You'll Flip Over.
I've compiled a list of must-have snacks you should keep in your pantry at all times to keep those cravings at bay.
1. Pork Rinds
Number 1. Without question. The top dog of all keto snacks is pork rinds. You might as well take out some stock in pork rinds right now if you plan to stick to a keto diet long term. Chip lovers can rejoice as this keto substitute comes in many different flavors and varieties to satisfy any savory craving.
Go gourmet
Carb Count: 1g
Epic makes gourmet pork rinds and pork cracklings that are to die for. I especially love the Maple Bacon Pork Cracklings. A crackling is a fried pork skin taken from the shoulder region of the hog and it contains small pieces of meat that adhere to the skin when fried. It's a mix of soft and crunchy ultra goodness.
Keep it cheap
Carb Count: 0-2g
If you want to keep it on the cheap, Golden Flake has got you covered. Golden Flake has this amazing Louisiana Hot Sauce flavor that will bring tears to our eyes. If you want to stick to strictly zero carb pork rinds, Golden Flake also has the best tasting unflavored pork rinds. You can still cover these in Frank's Red Hot Buffalo Sauce, microwave for 15 seconds, and have yourself the quickest version of buffalo wings ever.
If you want to get really creative, try crushing up some pork rinds in a zip lock baggie and use it as breading. Don't have time to do all that? Try these Pork Rind Crumbs from Pork King.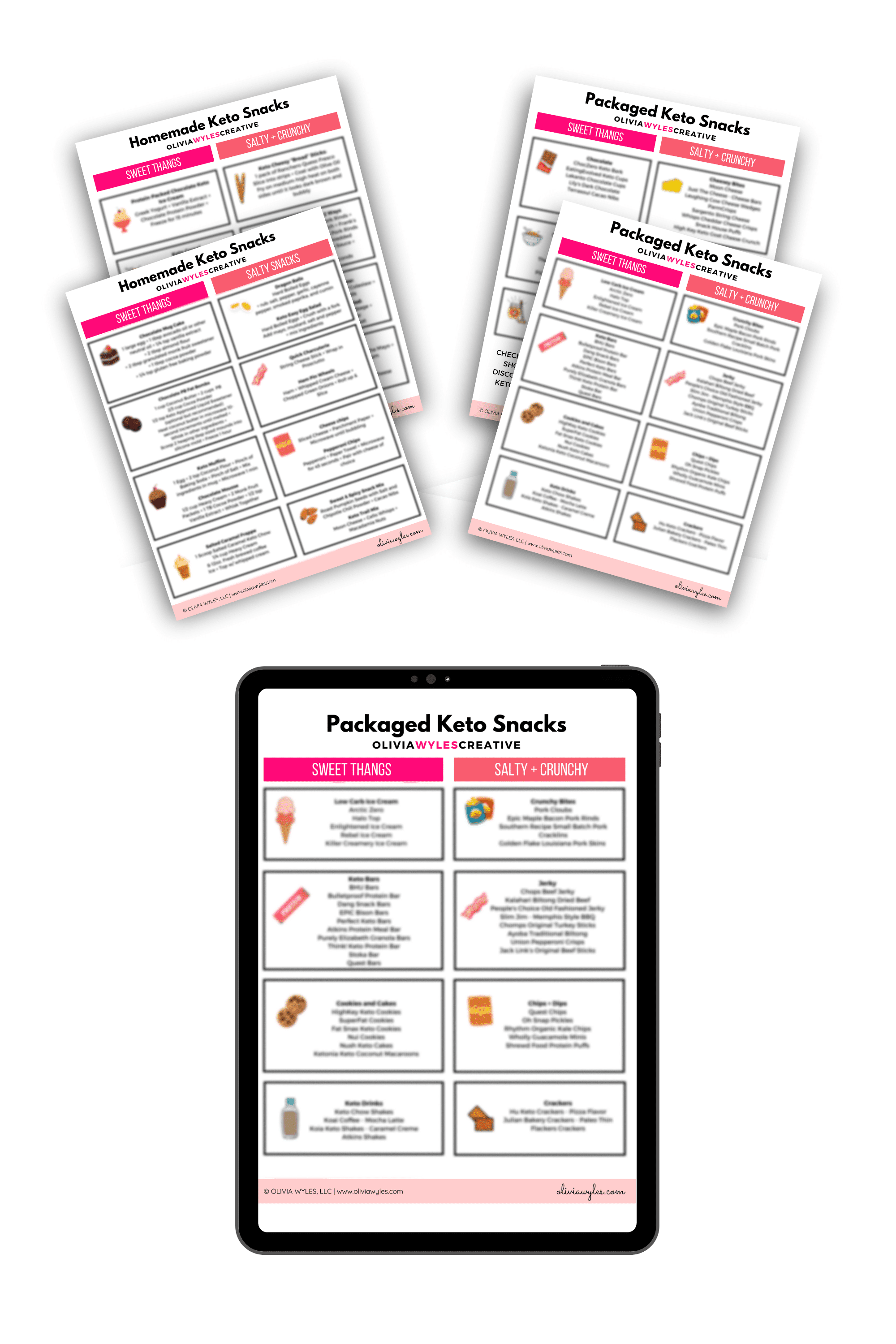 Want a Keto Snack List That's Printable?
Are you struggling to come up with keto snack ideas? There is only so much time in the day to plan out your meals and snacks.
Wouldn't it be nice to have all your recipes and ideas for your keto diet in one spot?
This keto printable has your favorite snacks in one spot for a successful keto diet! On sale for a limited time!
2. Cheese
….and all it's different varieties. Cheese comes in so many different forms, there is no way you can't find a favorite snack amongst all the cheeses. I'll only list the must-have's for your pantry.
Go Gourmet

Carb Count: 1g
If you've been keto for a little while and you miss a crunchy, salty snack like Cheese-itz, Moon Cheese is your go-to snack to satisfy that craving. It actually tastes like a good quality gourmet version of Cheese-itz. Starbucks is even carrying Moon Cheese now! Munch on it by itself or use as a crouton replacement for your salad. My favorite flavor is the pepper jack because it adds some extra zest to the taste.
Keep it cheap
Sargento Cheese Sticks
Carb Count: 0-1g
With their individually wrapped packaging that is perfectly portioned, this snack will accompany any meal throughout the day or…just eat it on its own. Sargento makes THE best string cheese, cheese sticks, and cheese snack bites. Yes, snack bites! These little guys are excellent for nomming right out of the bag or sprinkling on a salad. Favorites in my household are the Colby jack cheese sticks and and the garden vegetable jack cheese snack bites. Make sure you get the full fat version for less carbs and to keep you feeling fuller longer.
Carb Count: 1g
Looking for something to dip your pork rinds in? Well, look no further than Laughing Cow cheese wedge spreads. At 35 calories and most of those calories from fat, this is a must have for as a dip, spread, topping, or just to eat by itself. They are perfect for kid's lunches too. If you crave Mexican food, the best flavor is the Queso Fresco Chipotle. Check out this bite sized spring salad to really up your snacking game.
3. Dried or Cured Meats
Another on-the-go snack essential are dried meats. You have to be careful with this one as most manufacturers will find a way to sneak some extra carbs in there with the added sugar. These are the best brands I've found to keep it no or low carb.
Go gourmet
Carb Count: 1-2 g
Epic does it again with their line of meat "bites." Look for the Hickory Smoked Bacon or the Tender Venison Steak bites for less than 1 gram carb per serving. You can always bet on Epic using the best 100% natural ingredients and the taste proves it!
Carb Count: 1g
Another goodie is the biltong meat snack. Original "bull wha??" Biltong is just a Dutch word that means "strip of meat." It was an essential snack to the Dutch settlers that made their way to South Africa. Instead of using common "jerky" methods like heat and sugar, biltong is made utilizing seasoning and air drying methods instead. This makes it nice and dry on the outside, and soft and chewy on the inside. Plus, it's a perfect addition to your keto arsenal.
Keep it cheap(er)
Carb Count: 2g
It can be difficult to keep meat cheap, but I've scoured the grocery aisles and scrutinized all the labels for you to find these. Jack Link's Original beef sticks are great on the wallet and it's the lowest carb snack stick in the grocery store. You could snap into a Slim Jim, but be careful with the serving size. Pair these beef sticks with cheese sticks for a happily ever after snack couple.
Cold Cuts
Carb Count: 0-1g
Other "on the cheap" grab & go meat essentials for your pantry include pepperoni, salami, prosciutto, sardines, deli meats, and tuna pouches (try the StarKist Ranch Tuna Creations!). If you're keeping deli meat on the cheap, go for the Hillshire Farms brand for a great tasting option. Otherwise, go for Boar's Head brand.
4. Nuts and Seeds
Nuts may seem carb heavy, but look closer at the amount of fiber on the nutrition label. Usually the fiber content cancels out a large portion of the carbs, but not all nuts are created equal. Just like jerky, keep an eye on the added sugars. Also, you have to be careful not to overdo it with the nuts. The calorie count is astronomical for an entire 16 oz bag. Keep your portions to about a handful. Pair them up with some cream cheese or Laughing Cow cheese for a "chip and dip" type combo that will keep your portions locked down.
Go gourmet
Carb Count: 1g
Another way around the whole "you can't have bread" thing are flax seed crackers. Namely Flackers by Doctor in the Kitchen! These organic flax seed crackers will accompany you especially to holiday parties. Offer to bring the charcuterie board along with these amazing tasting keto-friendly crackers & you'll be the hit of the party. Pair with some folded salami and cream cheese for a quick snack. The rosemary flavor is the best!
Carb Count: 1g
The lowest carb per ounce nut is actually the pecan. It's not a common one found in the grocery store, but you don't have to settle for bland bag from the baking aisle. For a change of pace, try these Front Porch Habernero BBQ Pecans. High in antioxidants and you'll be supporting a small business!
Keep it cheap(er)
Carb Count: 2g
Nuts, like jerky, are somewhat of a delicacy in the snack world. Try to find your favorite nuts at a Costco or Sam's Club to save some dough. Our household favorite is Blue Diamond Almonds, specifically the Salt and Vinegar AND these also come in a Habenero BBQ flavor.
Here are the net carb counts for 1 oz portions of keto-friendly nuts:
Pecans: 1.1 grams
Brazil nuts: 1.3 grams
Macadamia nuts: 1.5 grams
Walnuts: 1.9 grams
Coconut: 2 grams
Hazelnuts: 2.3 grams
Pine nuts: 2.7 grams
Almonds: 2.9 grams
Peanuts: 3.8 grams
Pistachios: 5.8 grams
Cashews: 8.4 grams
Chestnuts: 13.6 grams
5. Sweets
Desserts are a snack where you need to tread carefully, but still a necessity to keep your sanity. Most keto sweets are sweetened with sugar alcohols, and you could get kicked out of ketosis if you consume too much. Always do sweets in moderation and test the waters to make sure you're still in ketosis. It's best to reserve desserts for weekends, special occasions, and holidays.
Go gourmet
Carb Count: 2-3g
The most popular packaged keto-friendly cookie is the High Key Mini Cookies. It's the best tasting and has the most flavor variety. They describe their cookie as "diet-friendly snack made with wholesome ingredients for a sweet treat. Low in net carbs and sugar, these mini cookies are made with natural ingredients like almond flour, coconut oil, and collagen."
If you want to make your own cookies, try these super simple and fun Keto Creme Brulee Cookies, Keto Toasted Almond Shortbread Cookies, or Keto Mocha Espresso Macarons!
Carb Count: 2-3g
As we all know, one of the original keto diets was the Atkins diet. There are several Atkins products out there such as treat bars, meal bars, trail mix, and shakes. While the treats and bars are a little controversial as they are sweetened with maltitol, the shakes are legit. Grab a shake for a quick breakfast or sweet snack. They even have flavors with real coffee. The best one is the Mocha Latte!
Carb Count: 4-5g
There is probably a Quest Bar flavor for every occasion. Birthday Cake. PB&J. Cinnamon Roll. It can also double as a quick travel meal. Throw your favorite Quest Bar into the microwave for about 10-15 seconds, top with whipped cream, and you'll swear it's cake or a brownie. It's totally guilt-free!
Keep it cheap
Sugar Free JELL-O
Carb Count: 0g
At all times, your fridge should be stocked with all flavors of sugar free JELL-O. This snack will deter any sweets craving, has zero carbs, 10 calories, and it tastes like regular jello. Dollop some whipped cream on top and you'll be in keto heaven. Or, throw it in the freezer and pretend it's an ICEE.
Carb Count: 9g per entire bar
Not all chocolate is created equal, but the best & cheapest I have found for a keto snack is the Lily's Chocolate. Nibble at a square here and there to squash that chocolate craving. Feel like baking? Try this Keto Red Velvet Brownie Cheesecake or Keto Chocolate Glazed Donuts!
Looking for some quick & easy meal ideas? Check out these below:
Have you ever tried Keto Chow? It's the easiest meal around + you can bake with it! Sweet and savory flavors to stock your pantry. Get 10% off your first purchase.