Growing up, I loved rice. White and sticky or brown and hearty, it didn't really matter. We ate it with pork chops, as fried rice, with gravy and without. It was so versatile – I think that versatility is what I missed when I went keto.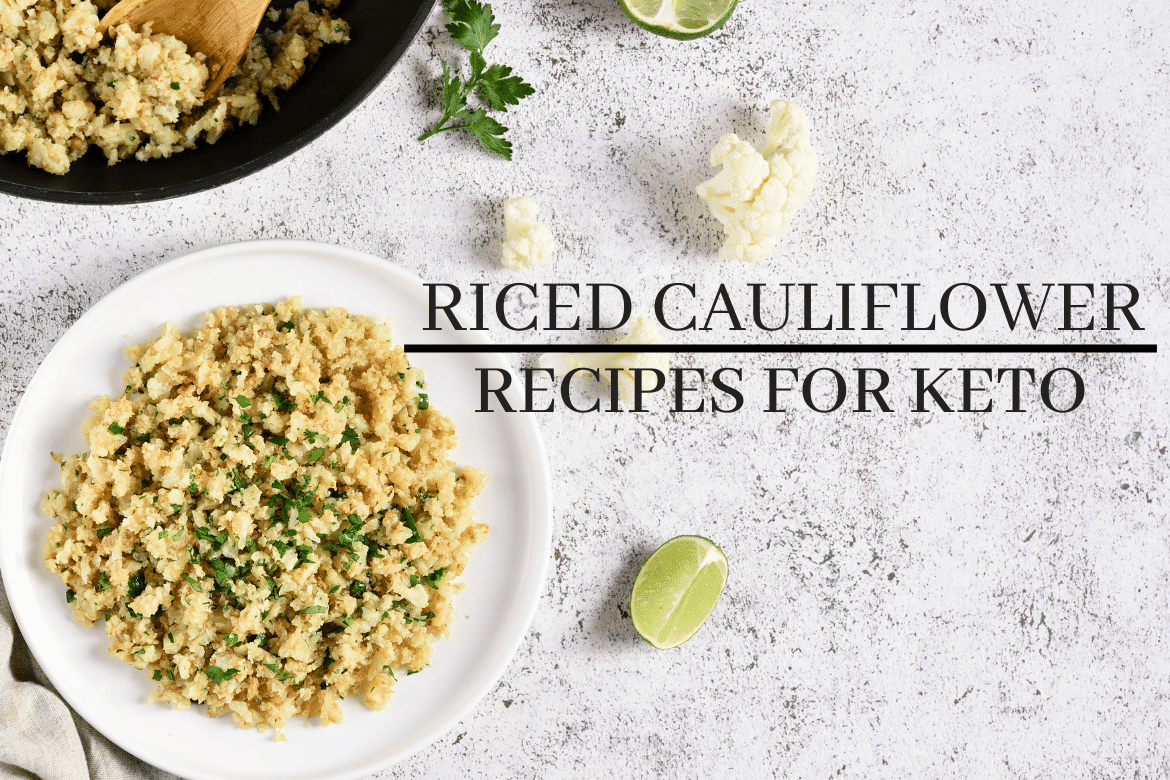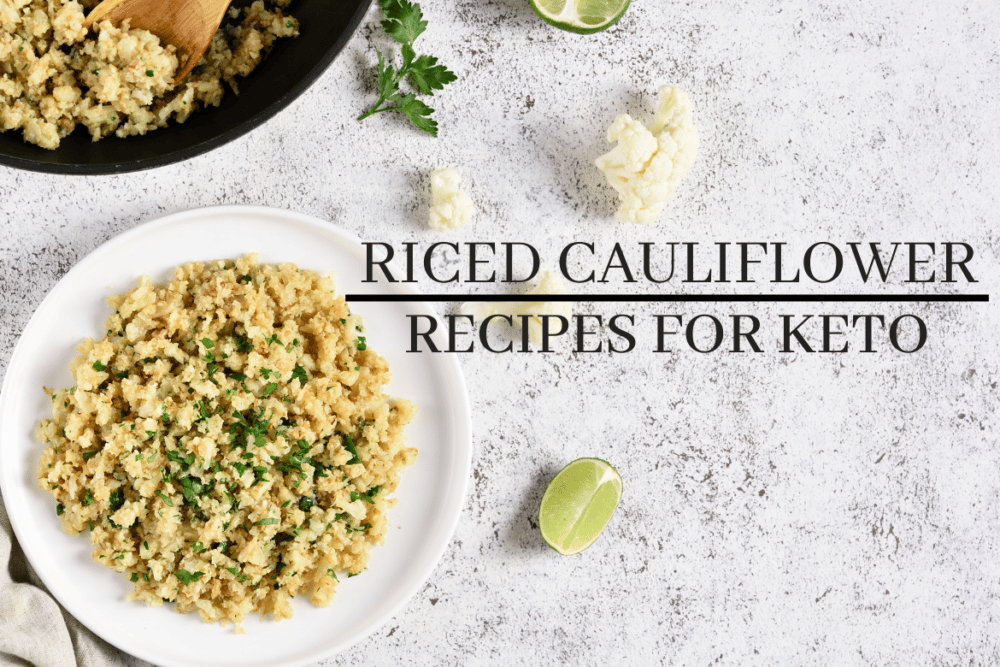 Of course, white and brown rice are off-limits now. The carb content is just too high. But that doesn't mean that I don't wake up every now and then from a dream involving delicious piles of steaming fried rice from Chinese takeout!
Thankfully, there's a keto option that satisfies my craving for real rice without all the carbs: riced cauliflower. Keto diet followers rejoice because this will become a staple in your kitchen.
In this post, I'm going to walk you through some of my favorite keto cauliflower rice recipes to keep the whole family happy at dinner time.
Grab a free printable: Keto Food Lists
What Is Riced Cauliflower?
Before I touch on my favorite keto cauliflower rice recipes, it might be helpful to explain what riced cauliflower is in the first place.
It's pretty simple – it's just cauliflower that has been put through a "ricing" process. That transforms it from the basic cauliflower florets that you're familiar with into something that looks and feels exactly like rice!
Can I Make Homemade Cauliflower Rice?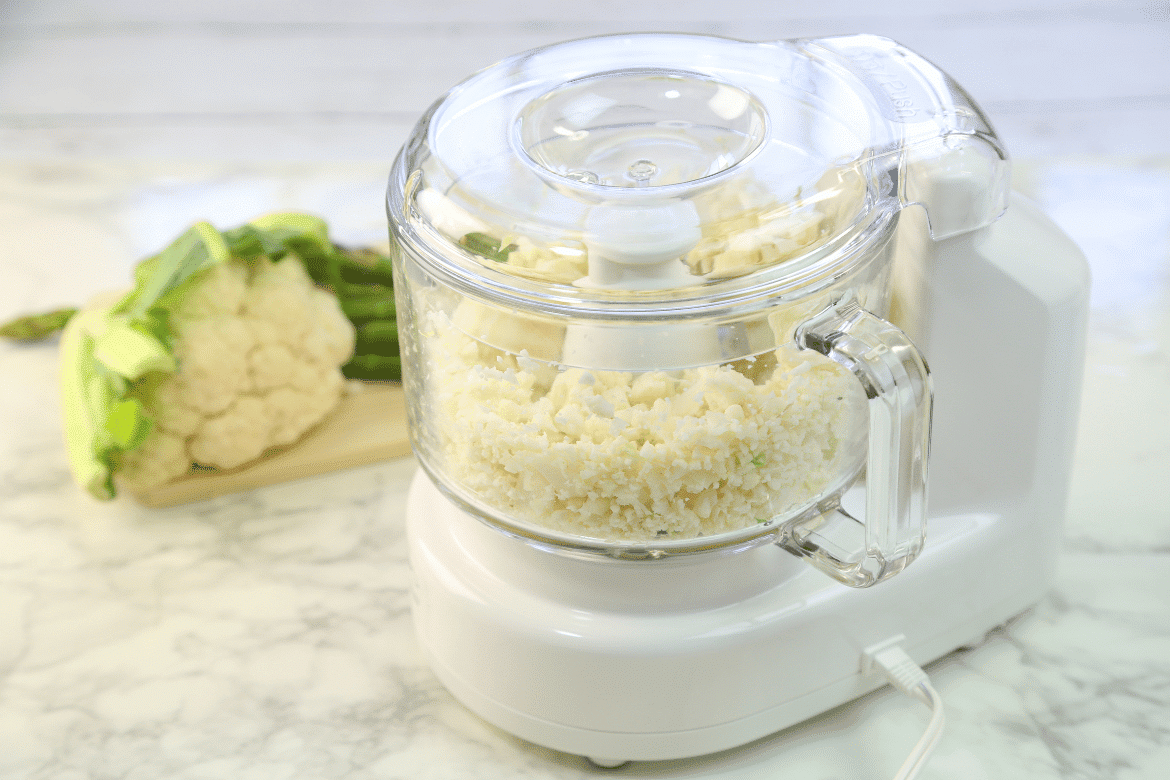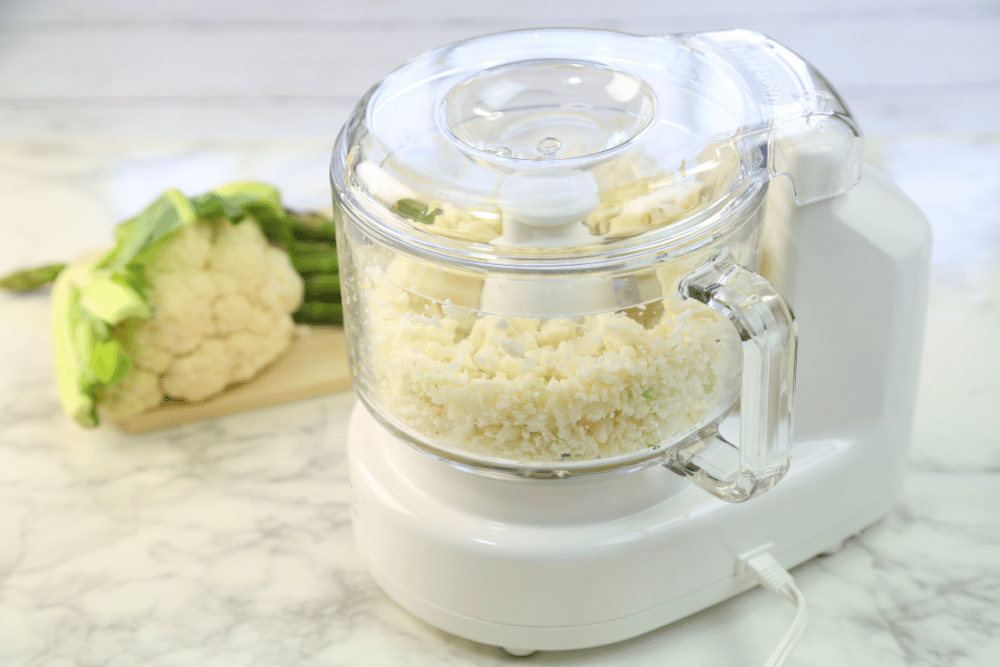 You'll find tons of options for riced cauliflower at the store in the freezer section. It's gotten really popular in the last couple of years. And there's nothing wrong with going the frozen route, particularly as you get more comfortable with this rice replacement and making riced cauliflower recipes for keto.
However, you'll quickly find that buying pre-riced cauliflower isn't all that affordable. It's much cheaper to make your own and it's a lot easier than you might think!
How do you make your own cauliflower rice? First, you'll need the gear. You can go one of two routes. The simplest is to just use your standard box grater. If you want a less manual method, you can use a food processor with a grater blade. Both will work!
Start with a large head of cauliflower. Wash it and then completely dry it before removing all the greens. If you'll be using a box grater, cut the cauliflower into large chunks. If you're using a food processor, cut it into small pieces. Grate the cauliflower using your preferred method, but I also recommend pressing it to remove some of the excess water.
If you want, you can go ahead and pre-cook your cauliflower rice. Just sauté it in a little oil for about six minutes. You can store it in the fridge for up to five days or in the freezer for a full month in an airtight container. Food prep like this can save you valuable time during the week when you're making dinner!
Riced Cauliflower Cooking Tips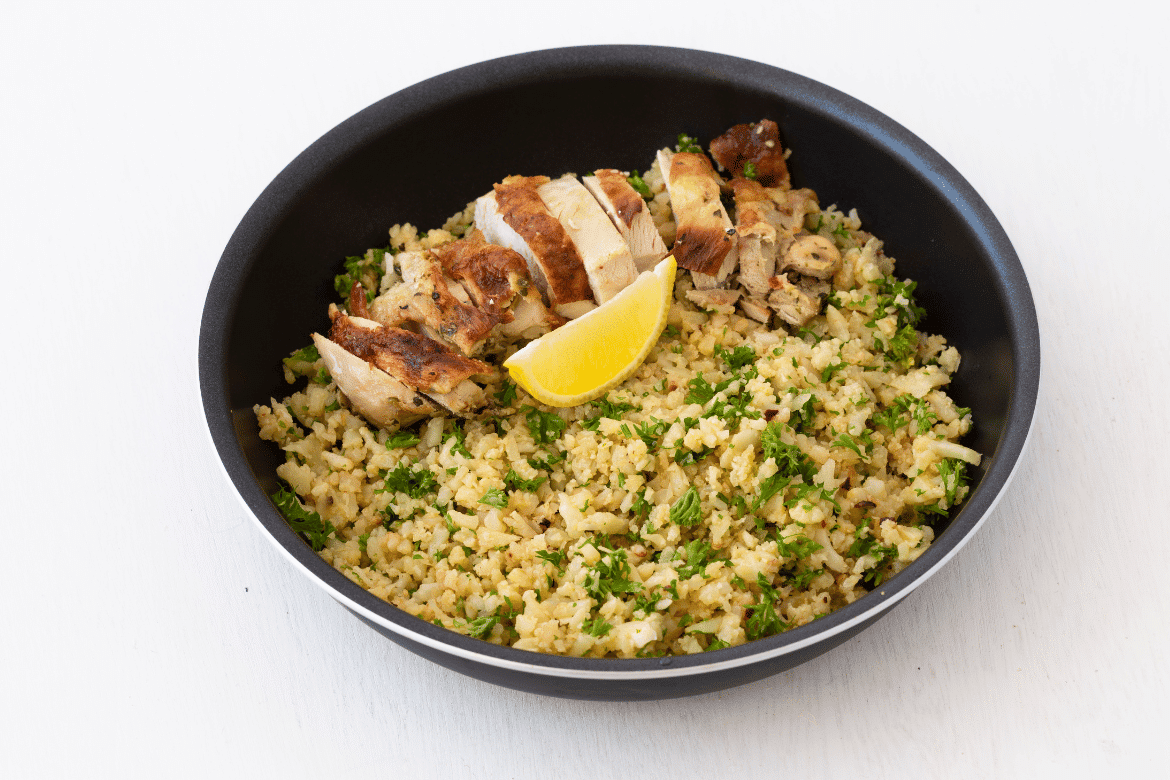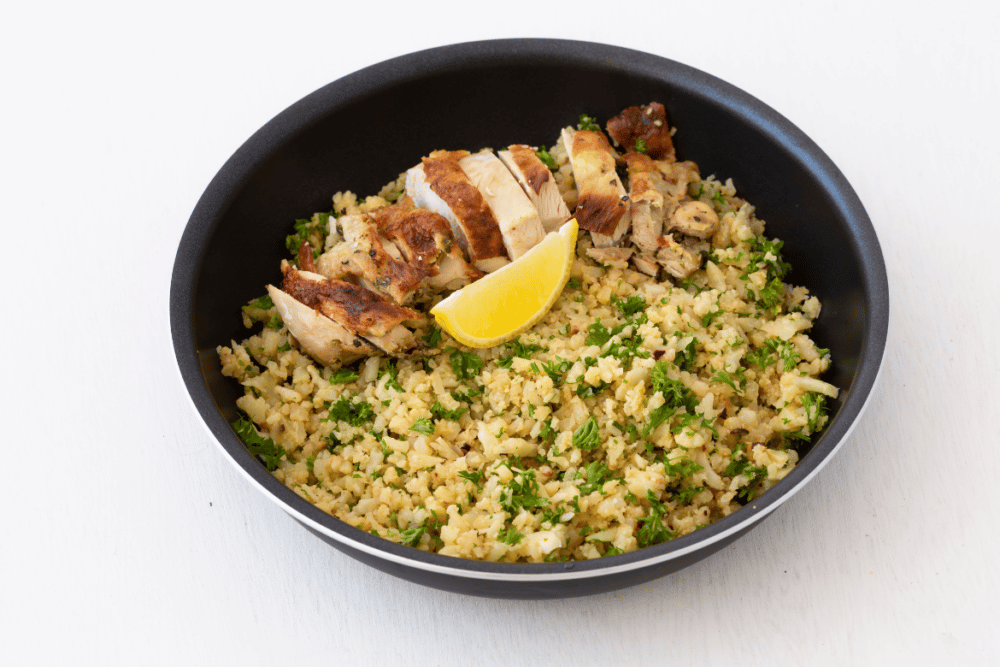 Cooking riced cauliflower can be a little tricky if you've never done it. It's nothing like cooking rice where you cover it with water and then leave it alone for 30 minutes. With riced cauliflower, you'll be sautéing for short periods. It usually takes just five minutes if you're working with fresh cauliflower, but you can expect to add a couple more minutes if you're using frozen. Using pre-cooked cauliflower rice will let you just thaw it and go, though!
The Best Texture
Trying to get the best texture from your riced cauliflower? The trick is to limit how many stems you use. Cauliflower florets give you the most rice-like consistency, while the stems change the texture and flavor somewhat.
Frozen Cauliflower in a Pinch
Don't have access to fresh cauliflower? Want to save room in your fridge? You can use frozen cauliflower florets if you want! Just let them thaw completely before you try to grate them. You may notice a slight difference in terms of texture in the finished product, but it'll work in a pinch.
Watch Your Cooking Time
While riced cauliflower is delicious when cooked correctly, overcooking it will lead to soggy, sad results. It only takes a little to turn it into mush, so be careful when cooking.
Skip the Lid
It's tempting to put a lid on your pan to cook the riced cauliflower faster – don't do it! That will steam the cauliflower instead of sautéing it, which will drastically change the texture. Leave the lid off.
Ok, now it's on to the keto cauliflower rice recipes, I promise!
Basic Riced Cauliflower
This recipe is a great option if you want to make cauliflower rice as the perfect side dish to accompany something else, or to use as a bed, like traditional rice.
Add four cups of riced cauliflower to a pan with melted butter. Sauté for a few minutes, and then season with salt and pepper to taste. Toss in some fresh herbs to match the main course. Some of my favorites are basil and thyme, but almost anything will work here.
The goal is to create a side that augments the flavors in your main dish, so it's probably best to use something that pairs well with the seasonings in that dish. Note that it doesn't have to be the same seasonings – lemon zest and juice pair very well with basil, for instance. Another favorite of mine is cilantro and lime juice, especially if we're having something Mexican-themed as the main dish.
Cauliflower Fried Rice
Ok, so Chinese takeout fried rice is off the table if you're following the ketogenic diet. That doesn't mean you can't indulge in those amazing flavors, though! This easy recipe uses simple ingredients to replicate that taste without all the carbs. Plus, it takes just 15 minutes to pull it all together and it only has 6g of net carbs per serving!
First, get out a heavy pot or large skillet. Add a couple of tablespoons of olive oil (butter, ghee, or coconut oil will also work) and heat over medium-high. Next, toss in a quarter cup of diced carrots, along with about 12 ounces of riced cauliflower. Sauté that for about five minutes.
Next, add the white parts of two large sliced green onions (save the green parts for later). Cook for another two or three minutes, and then add a couple of cloves of garlic. Cook that for another minute, and then pour in one large beaten egg. Cook the mixture until the egg is done, and then stir in a couple of tablespoons of soy sauce and a teaspoon of toasted sesame oil. Top with your green onions and serve!
Cheesy Riced Cauliflower
Who doesn't love cheese rice? Of course, there are just too many carbs in traditional rice, so this has become my go-to recipe when I'm craving that cheesy goodness. It's big on flavor, but low on carbs, coming in with just 6g per serving. Plus, it only takes about 12 minutes to bring it all together.
Start with four cups of riced cauliflower. Melt a tablespoon of butter in a large pan and sauté the cauliflower for a couple of minutes on medium heat. Next, add a half-teaspoon of garlic to the mix (feel free to up the ante by doubling that if you love garlic like I do!). Cook the mixture for another six or seven minutes, and then turn down the heat.
Stir in four tablespoons of cream cheese, as well as a quarter cup of heavy whipping cream. You will also want to add a couple of cups of shredded cheddar cheese. Keep cooking the mixture until the cheese is melted and everything comes together. Season it with a little salt and pepper and then serve immediately! Pro tip: a little parmesan cheese can add even more depth of flavor here.
FAQs about Riced Cauliflower Recipes on Keto
Does cauliflower contain a lot of carbs?
No! Cauliflower is a low-carb veggie that's super versatile. You'll come to love it in your cooking.
Does riced cauliflower taste just like regular rice?
It's close, but not an exact match. However, if you're craving rice and can't have it because it would add too many carbs, you'll find that it's a great replacement.
How long do I cook pre-packaged riced cauliflower?
I really recommend homemade riced cauliflower, and only using pre-packaged in a pinch. When in doubt, follow the instructions on the package, but watch out for overcooking it.