I have a confession to make. I'm cheap and I love cheap keto recipes. I'm that bargain shopper who'll price compare at three different stores to save a dollar or two.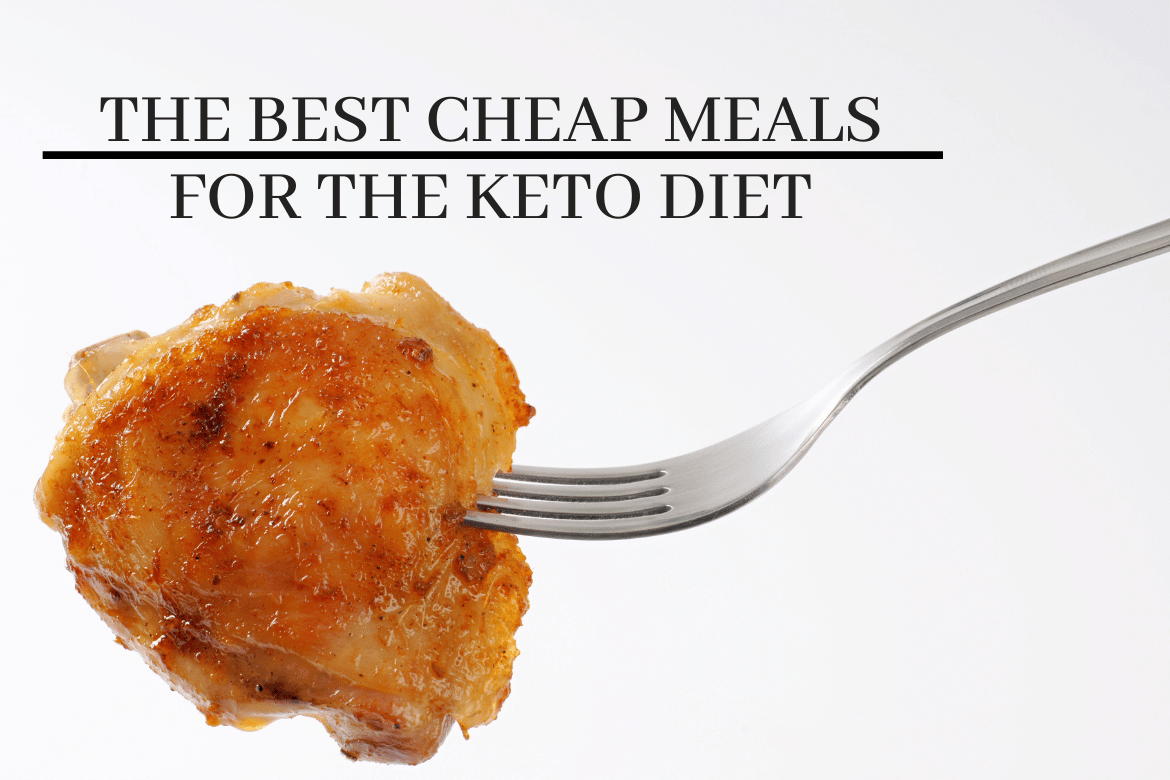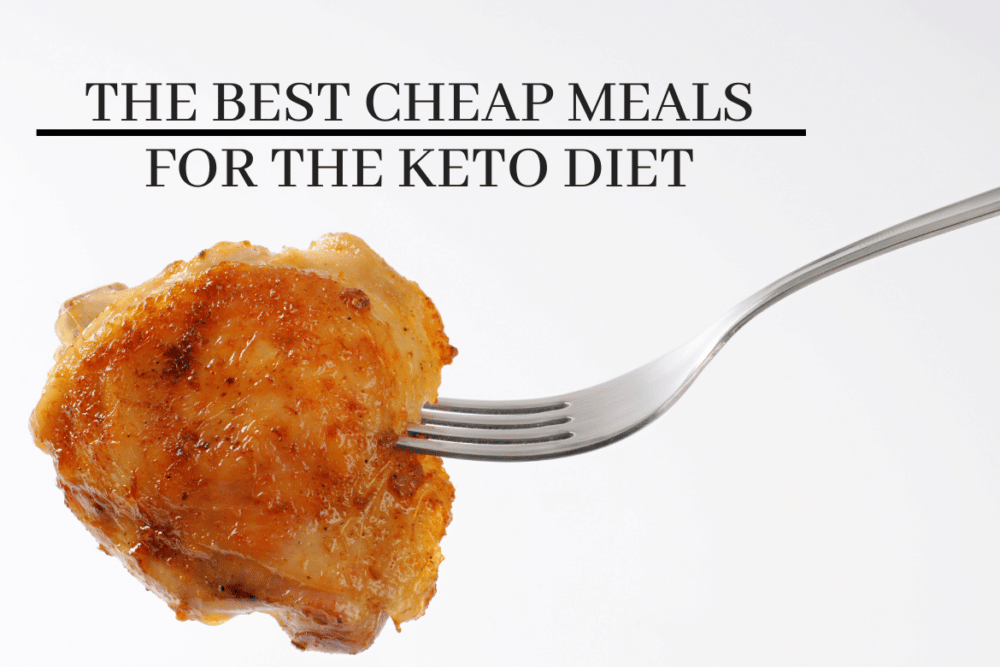 That doesn't mean that I'm willing to sacrifice flavor, though. I'm also not willing to break keto. The good news is that I don't have to.
This collection of cheap keto recipes includes something for almost any meal I might be thinking about. It's really turned into my go-to for planning, whether it's a weeknight or we're planning a big family event.

Whether you love ground beef, delicious chicken breast, pork chops, or something else, there are multiple options in this collection of cheap keto dinner recipes to satisfy every member of your family, too.
Can Keto Meals Really Be Cheap But Also Delicious Recipes?
Keto focuses on high-fat, high-protein meals. That usually translates to high prices at the grocery store. Carb-forward foods are usually what you'll find discounts on – crackers and cookies and loaf bread, oh my! Thankfully, keto dinner ideas don't have to cost a fortune.
Grab a free printable: Keto Food Lists
Contrary to what you might think, keto meals can actually be really cheap. I grew up shopping with my mom on a tight budget. We had to find ways to save on overall meal planning without skimping on the main ingredients.
What I learned growing up has been invaluable today as I plan meals for the whole family. A keto meal plan doesn't have to mean paying high prices. It is possible to reduce your grocery bill, still eat keto, and experience weight loss!
Keto Quick & Easy Recipes Cookbook
How to Find a Great Deal at Your Local Grocery Store
On a tight budget? Meal planning straining your finances? We've all been there. Following a low-carb diet can make it even harder because you have to omit foods that might otherwise help you reduce your overall grocery costs.
So, how do you avoid spending a lot of money while still getting the groceries you need?
Simplicity Matters
First and foremost, understand that you might have to forgo some of the more complicated recipes and you can just stay right away from "keto" brands & products (you don't need them anyways).
The more ingredients a dish calls for, the higher the ultimate price tag will be. In our house, we save money by limiting the ingredients and keeping things as simple as we can.
That doesn't mean bland food, though! Common ingredients can pack a punch, taste-wise.
Learn to Love the Sales
If you get a weekly circular from your local grocery store, learn to love it. It's the key to being able to create delicious keto meals without breaking the budget.
My recommendation here is to plan your weekly meals around what's on sale at the time.
Yes, it does require a little more planning than just coming up with a list of the things you want to eat, but your bank account and taste buds will thank you.
Cheap Ingredients
Want another way to create easy meals, stay in ketosis, and please the fam, all while saving money? Be smart about the ingredients that you buy.
You almost always have a cheaper option that gives you all the flavor without the cost. Here are a few of the tips that I live by when grocery shopping on a tight budget:
I almost always buy store brands, unless I've tried them and know that they're not up to par.
I usually go with dried herbs instead of fresh ones.
I skip buying pre-prepared fruits, veg, and meat. Cut it yourself and you'll save a ton.
Zoodles, cauliflower rice, and things like that are cheaper to make on your own.
Love cheese? Buy it in blocks and shred it yourself to save money. Plus it's less carbs.
Shop seasonally. Produce is always cheaper when it's in season.
Buy meat whole/in bulk. Whole chickens are cheaper than parts, for instance.
Buy locally from farmers' markets and the like to get the best prices on the freshest foods.
Skip the pre-packaged keto foods. Seriously, if you're trying to save money on your groceries, make your own and avoid paying the premium these foods command. You don't need them anyways.
When possible, go with frozen foods to save on costs. Frozen meats and vegetables are almost always more affordable than their fresh foods counterparts are.
Don't overthink the protein. Meat is very expensive right now, so consider other options for your protein needs, like beans and tofu.
Choose less popular/expensive cuts of meat. If you're eating chicken, opt for chicken thighs over breasts. They're less expensive and taste great. Plus, they've got more fat than breasts, so you never have to worry about them cooking up too dry.
Bulk Buying Is the Boss
Love a great deal? The best way to save some cash is to buy your staples in bulk. I love shopping at stores like Sam's, Costco, and BJ's. Seriously, whatever you can buy in bulk will save you money.
My go-to options are things like cheese, milk, and sour cream. They're usually more expensive at the grocery store, but they're important for staying keto and packing in the flavor.
BOGO deals will also help you do the same thing. Look for those in your grocery store circular each week.
Get Good at Planning
Have you ever noticed that you spend a lot more at the grocery store if you go in without a game plan? Or if you shop when you're hungry? Welcome to my life.
The best thing I've found is to 1) eat before I go to the store and 2) always plan out your meals ahead of time.
It'll help you stick to your budget, streamline your shopping process, and ensure that you're able to create a healthy meal for every day, whether that's a hearty soup or a chicken breast with onions and bell peppers.
Check out the Ultimate Keto Beginners Bundle for grocery lists, trackers, and more!
Keep Your Snacks Keto, Too
One area where people spend a surprising amount of money is on snacks, and it's easy to break keto here, too. The good news is that you can have great-tasting, low-carb snacks that don't blow your budget.
For instance, pork rinds are usually keto and they're cheap. Nuts and seeds, beef jerky, cheese sticks – these are just some of the options you have. You can also prepare snacks of your own. For example, button mushrooms pan-fried in butter and garlic can make a great low-carb snack.
Make Sure You Have the Right Equipment
One of the most expensive things about cooking is buying the equipment. While you can do most everything with a decently sized pot and a good frying pan, some indispensable tools make life in the kitchen (and on keto) easier.
I'd highly recommend investing in an Instant Pot or a slow cooker (they're not quite the same thing, so if you're going to get just one, my recommendation is the Instant Pot). A high-quality, cast-iron pan is also a great choice to get a decent sear on things like chicken breasts.
Of course, you can't forget the air fryer!
Delicious Cheap Keto Recipes
Now that you know how to save money on your grocery shopping, let's dive into the easy keto recipes that'll save you money as well as time and hassle, all while keeping you in ketosis.
Below are some of my favorite cheap keto meals that my family comes back to time after time.
Pizza Chicken Skillet
Coming in with just 6g of carbs with four chicken breasts, this is a delicious weeknight dinner for the entire family and an easy recipe to make.
Go ahead and lightly oil a large skillet, then cook four chicken breasts until they're done. Once they're finished, spread half a jar of store-bought pasta sauce in the bottom of another pan. Add the chicken breasts and then spread the rest of the sauce over the top.
Next up, slice up fresh mozzarella into coins and then place them on top of the chicken. Add sliced pepperoni now (and any other toppings that you want) and then cover the pan.
Turn the stove to medium-low and cook for about 7 minutes, or until the sauce is nice and bubbly and the cheese is beginning to melt. If you want, toss it into the oven without the lid and finish it under the broiler (only if your pan is oven-safe!).
Slow Cooker Mexican Chicken
Adore the flavors of South of the Border cooking? This keto crock pot Mexican chicken will hit the spot (and save you money thanks to simple ingredients). Plus, it clocks in at just 6g of carbs per serving.
Start with two chicken breasts (use thighs to save money). If you're feeding a crowd, just double the recipe amounts – it's as easy as that! Put the chicken in your crock pot and then pour in a can of diced tomatoes (with the juice).
Add a full cup of sour cream and then top it all with a tablespoon of taco seasoning.
Put the lid on your slow cooker and set it to low. Let it cook for a full eight hours (that makes it great if you've got to work and want dinner when you get home). Alternatively, you can cook it on high for four hours).
When it's done, use a fork to shred the chicken and then mix everything. You can serve it in a couple of ways – I love it over riced cauliflower, but it's also delicious when served in lettuce wraps.
Instant Pot Chicken Thighs
Want to save money on food? Use chicken thighs. This recipe helps you create a smoky, delicious, keto meal that the entire family will love. Plus, you'll only need to use your Instant Pot, so cleanup is a cinch.
You'll come out with just 8.5 grams of carbs per serving (all due to the chicken stock – there are 0 carbs in the thighs themselves and most of the other ingredients are herbs and seasonings).
First, you'll want to combine you're herbs and seasonings. In a small bowl, whisk together a half-teaspoon of paprika, ground coriander, and herbs de Provence.
You'll also need a little bit of allspice, some minced ginger, and minced garlic. Salt and pepper the dish to taste, as well. Add some olive oil and chicken stock to help the spice mix spread over the chicken (I recommend three tablespoons of each).
Next up, coat the thighs in the seasoning mix (I used six chicken thighs for my recipe). Set your Instant Pot to sauté and put the thighs inside.
Cook them for about three minutes per side. Next, you'll want to remove them from the Instant Pot and add more chicken stock to the bottom and scrape up all the browned bits.
Now, put an oven-safe trivet or other raised object into the pot and set the thighs on it (they can't touch the bottom, or they'll burn). Seal the pot's valve and then adjust it to high pressure and cook for about 12 minutes.
You can shred the thighs and serve them over riced cauliflower or serve them with low-carb veggies like zucchini, broccoli, bell peppers, or eggplant.
Beef Pot Roast Soup
Who doesn't love pot roast? This soup recipe replicates that amazing flavor in full and does so with just 7g of carbs. Plus, the veggies used are super affordable and it all comes together without a lot of fuss or hassle.
I use stewing beef for this recipe to save money. You'll want to sauté your beef until it's nice and brown, and then remove it from the pot. Add a little oil, and then sauté carrots, celery, turnips, onion, and garlic (skip potatoes to keep this dish low carb).
Once the veggies begin to soften, add the meat back, and then toss a teaspoon of dried thyme and one of salt, a single bay leaf, and a little black pepper. Next, add eight cups of beef broth and cook for 20 to 30 minutes.
Once the veggies are all cooked through, add a couple of cups of sliced mushrooms. Taste it and adjust the seasonings as necessary. Make sure to take out the bay leaf before serving!
Want more recipes like these, check out these 30 Keto Meal Prep Recipes. Perfect to prep ahead of time and freeze for an entire month.
FAQs: Exploring Cheap Keto Recipes
Can you substitute ground beef for stew beef?
I wouldn't recommend substituting ground beef for stew beef unless you wanted to make something closer to chili.
Plus, stew beef is usually more affordable than high-quality ground beef, pound for pound.
Can I eat rice on the ketogenic diet?
Rice is pretty high in net carbs. If you want a rice-like base for a recipe, I recommend cauliflower rice instead. It's low in carbs and the taste is comparable.
Is there any way I can make my food budget stretch further?
There are tons of choices. For instance, using leftover chicken for other recipes is one good option. It works in a pinch in the Mexican slow cooker chicken recipe included in this post, for instance.
Another great way to save money and cut down on food waste is to add leftovers to a sheet pan and then bake them.
What kind of oil should I use?
I recommend olive oil for most things, but you can also go with just about anything else you want.
Most oils don't contain any net carbs, so it's more about cooking temperature and flavor. If you'll be doing a lot of high-temp cooking, I'd say use safflower oil or refined sesame oil.
More cheap keto meal ideas:
PIN FOR LATER!