There's nothing quite like that morning cup of keto coffee to wipe the cobwebs from your mind and get you going. Of course, traditional coffee recipes are loaded with sugars and carbs, so they're not all that well-suited if you're following the keto diet.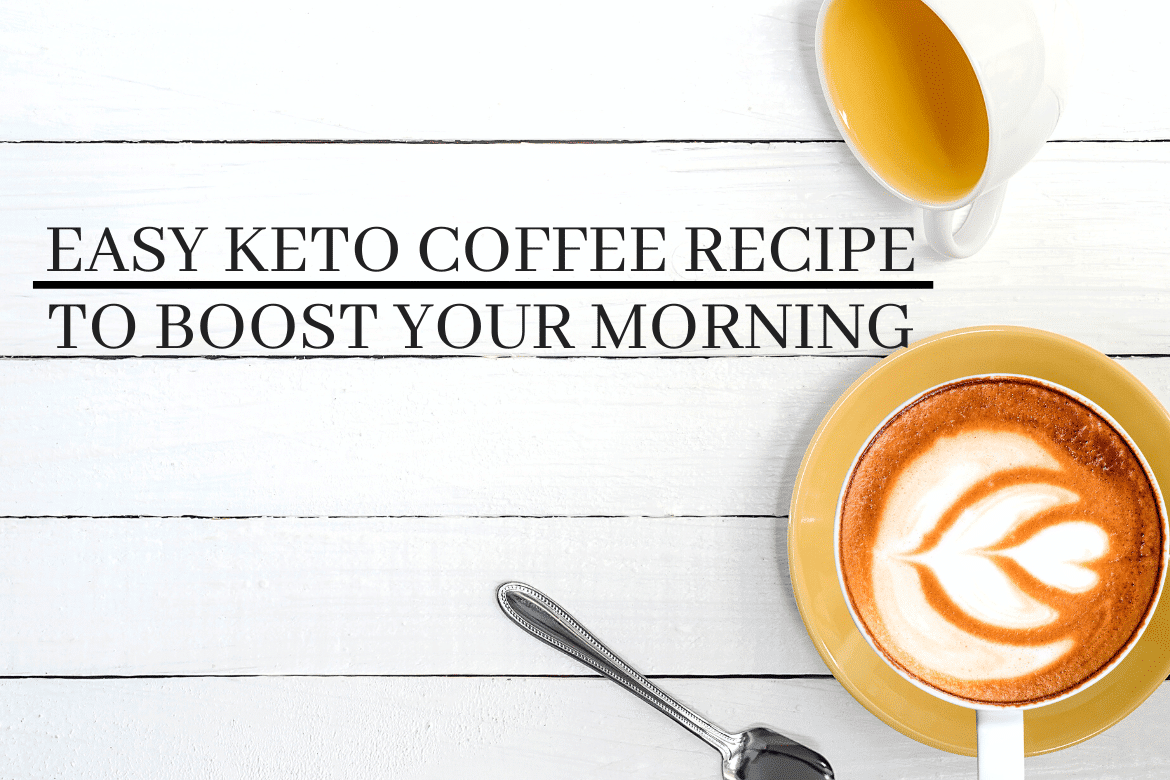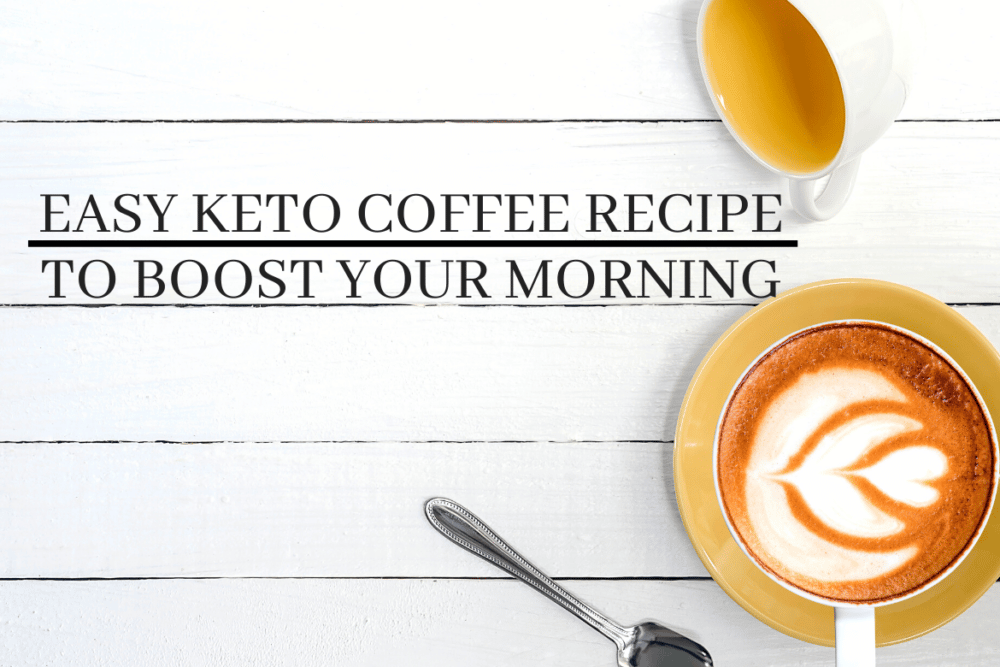 You might think that your only option is to drink your coffee black, but there's good news! You can enjoy all the richness and sweetness you crave with zero net carbs thanks to my killer keto coffee recipe!
If you're looking for the perfect way to start your day, you've found it.
What Is Keto Coffee?
Keto coffee is just what it sounds like – a morning wake-up shot of caffeine combined with keto-friendly, simple ingredients like MCT oil and butter.
Grab a free printable: Keto Food Lists
Those bring a dose of fat and creaminess to your coffee, adding body and extra flavor, without the need for sugar or flavored creamers with tons of carbs.
It's a high-fat, low-carb drink designed specifically to accelerate weight loss, boost your energy, and get you through the day.
If you're anything like me, you're a confirmed coffee lover. When that alarm goes off before the sun comes up, I need energy and I need it quick. Coffee has been my go-to for a long time.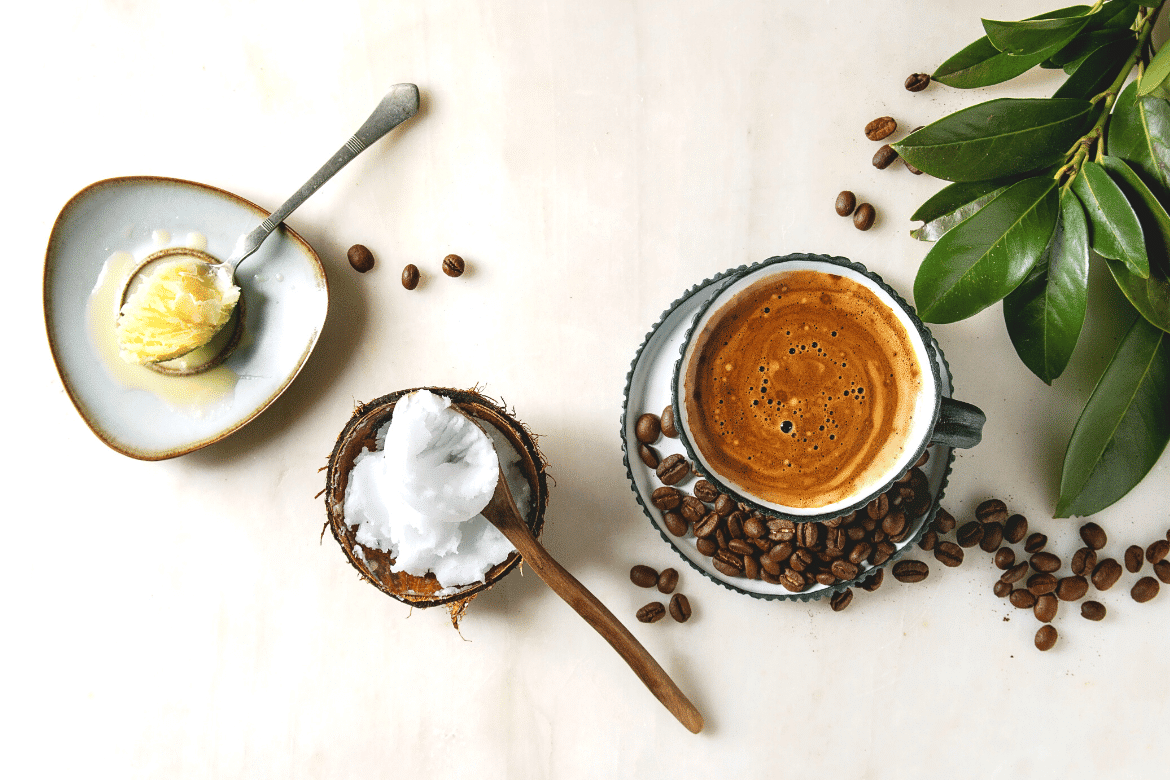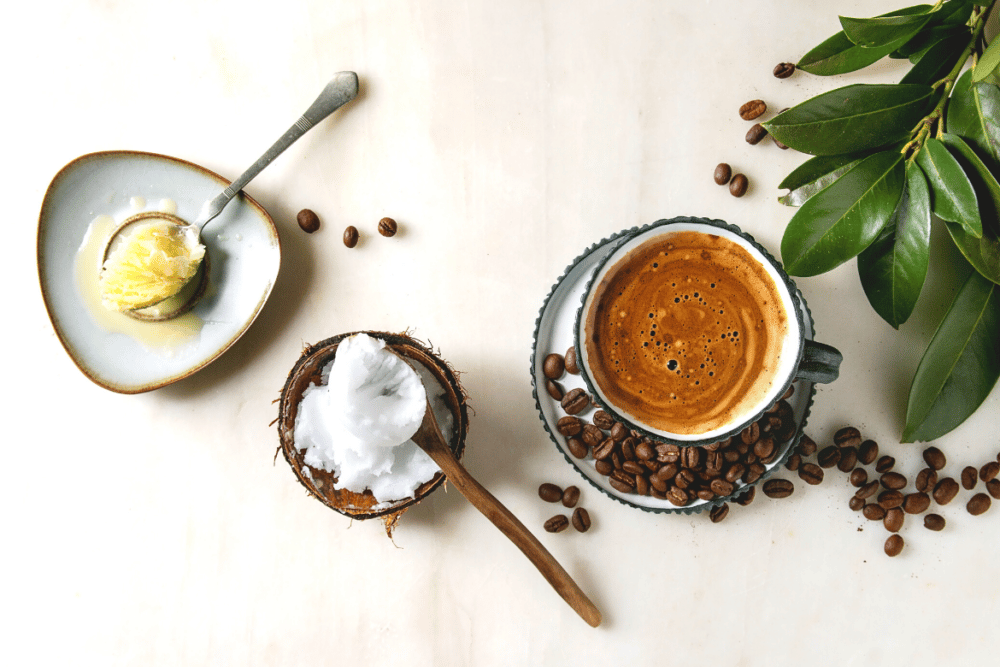 I have very strong memories of both of my parents enjoying their morning coffee – that incredible aroma percolated throughout the house every single morning.
They'd sit together around the kitchen table or talk quietly while sipping their coffee before heading out the door to work while I scarfed down cereal and got ready for school.
When I got older, I developed my own love affair with coffee. I adored them all, from home-brewed with cream and sugar to cappuccinos, Americanos, espresso shots…you name it.
Of course, when I went keto, I had to cut most of those out of my diet. They just weren't a good fit. I turned to black coffee, but I found myself craving more than a shot of hot, black caffeine. I wanted that creaminess and body.
This keto coffee recipe let me recreate that experience but without the carbs and guilt.
Is Coffee Good for You?
Let's answer this one in a nutshell – yes, coffee is good for you. In fact, Harvard Health points out that drinking between two and five cups per day is linked with a reduced risk of type 2 diabetes, heart disease, liver cancer, endometrial cancer, and even Parkinson's disease and depression while improving cognitive function.
The problem isn't the coffee, it's the things we put in it. Those sugary creamers and sugar-based flavorings do nothing but go straight to your waistline (and they eliminate the diabetes-fighting abilities of coffee!).
Keto coffee does away with all those unhealthy additives and replaces them with healthy fats in the form of butter and MCT oil. You might also hear this called "bulletproof coffee".
Why Drink Keto/Bulletproof Coffee?
For those who aren't already sold on the idea of keto-friendly coffee, let's touch on the benefits that it can bring to your body and mind. This simple recipe allows you to boost and then maintain your energy levels.
You'll feel fulfilled and not hungry. You'll be able to focus better and enjoy enhanced mental clarity. Finally, you'll find that it helps you increase your metabolism and burn more fat.
What Types of Fat Does Bulletproof Coffee Include?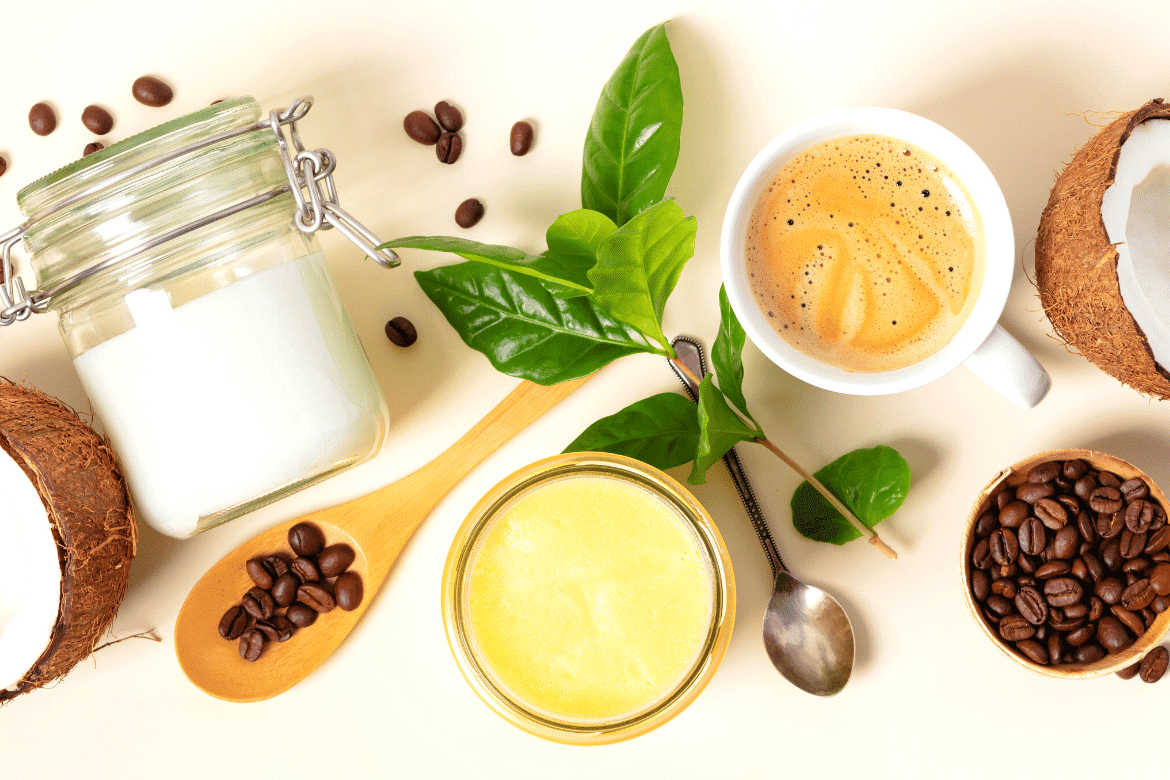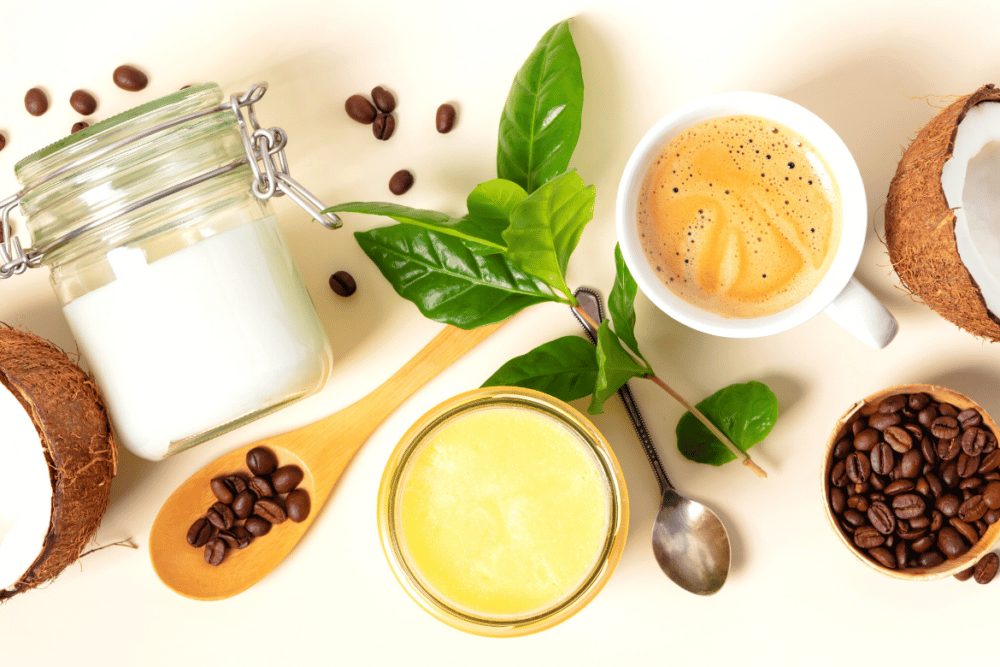 My keto coffee recipe includes two sources of fat – grass-fed butter and MCT oil. Why those two, though? What do they bring to the table (or coffee mug in this instance)?
MCT Oil
MCT stands for medium-chain triglycerides, and this type of oil includes three, medium-length fatty acids. Because they're medium length, they're quickly broken down in the body and absorbed so that your body can continue producing ketones and stay in ketosis. MCT oil contains four different types of medium-chain triglycerides – C6 (caproic acid), C8 (caprylic acid), C10 (capric acid), and C12 (lauric acid).
Can you use coconut oil instead of MCT oil? You can, but I don't recommend it. Sure, I adore the light coconut flavor that it brings to the party, but it contains far fewer medium chain triglycerides than you'll find in a high-quality MCT oil.
Butter
Grass-fed butter also contains plenty of medium-chain triglycerides, but the real reason to include it in your keto coffee recipe is for the creaminess and richness that it brings. It also adds a smooth texture that you won't get from MCT oil.
Note that you should only use unsalted butter, and grass-fed butter is always preferred to conventional butter. You can also use ghee that's been made from grass-fed butter in a pinch.
The Basic Keto Coffee Recipe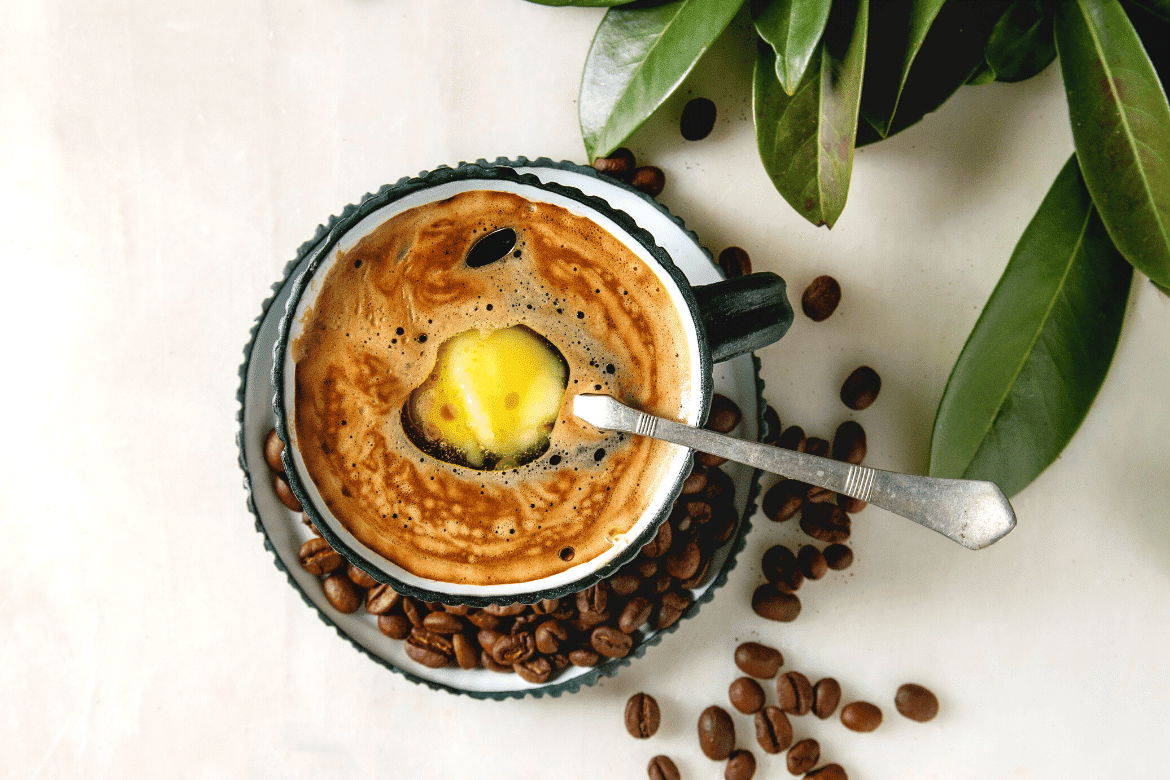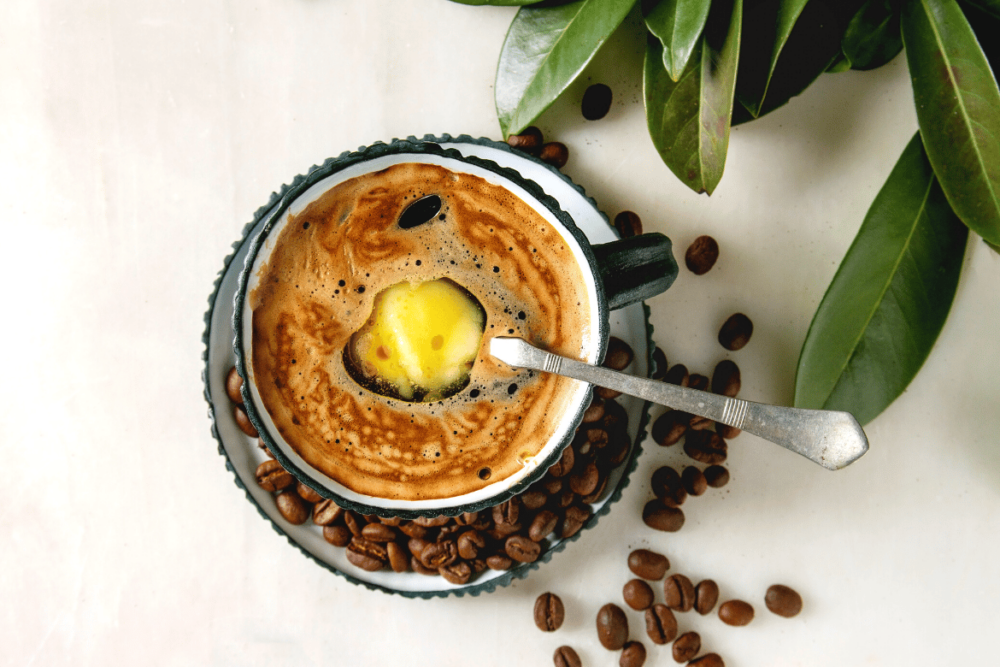 You'll find tons of different keto coffee recipe variations out there, but they all start with the same base. I'll cover that base, as well as provide a few options to change things up flavor-wise if you want.
Coffee – You need coffee first. Go with conventionally brewed coffee or espresso. You can use instant coffee if you want, but remember that it usually has less caffeine than brewed coffee, so you might not get the pick-me-up that you need. Saying that, this is the best option if you're limiting your caffeine. If caffeine is off-limits for you, go with decaf coffee. You'll at least get the benefits of the MCT oil and butter.
MCT Oil – Opt for a high-quality brand of MCT oil (I recommend Brain Octane oil, but there are several other quality options). If you can't find one or you've run out, you can use coconut oil in a pinch. Just remember that it doesn't have the same concentration of medium-chain triglycerides, so it doesn't deliver the same health benefits.
Butter – Use grass-fed butter. I also recommend organic brands. If you'd rather, you can also use ghee.
Options to Add to Your Keto Coffee
If you're on the ketogenic diet, you already know the importance of fat and limiting net carbs. So, what can you add to your keto coffee that'll up the taste without kicking you out of ketosis? Keto dieters, rejoice because there are tons of delicious options!
Heavy Cream – Want to make super creamy coffee? Heavy cream will do the trick! It will also add a touch of sweetness thanks to the lactose, without the dangers that come from real sugar. And there are lots of healthy fats, too!
Coconut Milk – A splash of coconut milk could be the perfect way to add a little more flavor to your morning cup of keto coffee. I adore the light coconut flavor it brings.
Sugar-Free Syrup – Need a bit more sweetness but want to avoid sugar? Go with a keto-friendly sugar-free syrup. You can even use flavored syrups. Some of my favorites are hazelnut and mint, but there are plenty of other choices.
Cocoa Powder – This is a great way to add a chocolatey undertone to your keto coffee without having to use sugary chocolate syrup or melted milk chocolate.
Vanilla Extract – Adding vanilla extract lets you power up your coffee's flavor without adding any sugar or carbs.
Egg Yolk – Want to boost your protein intake at the same time as your caffeine and healthy fat intake? Add an egg yolk to the mix!
Unsweetened Almond Milk – Give your coffee a hit of flavor and body without adding a lot of carbs.
Here are some great keto coffee creamer recipe ideas that you'll love.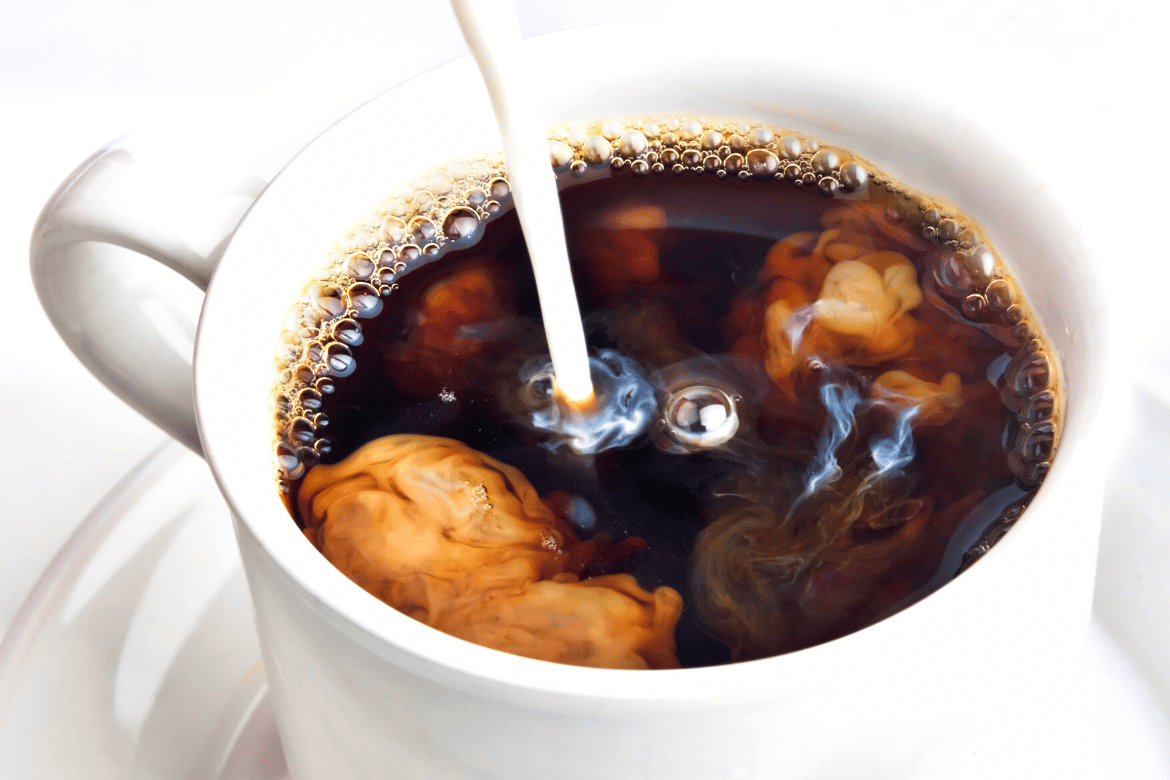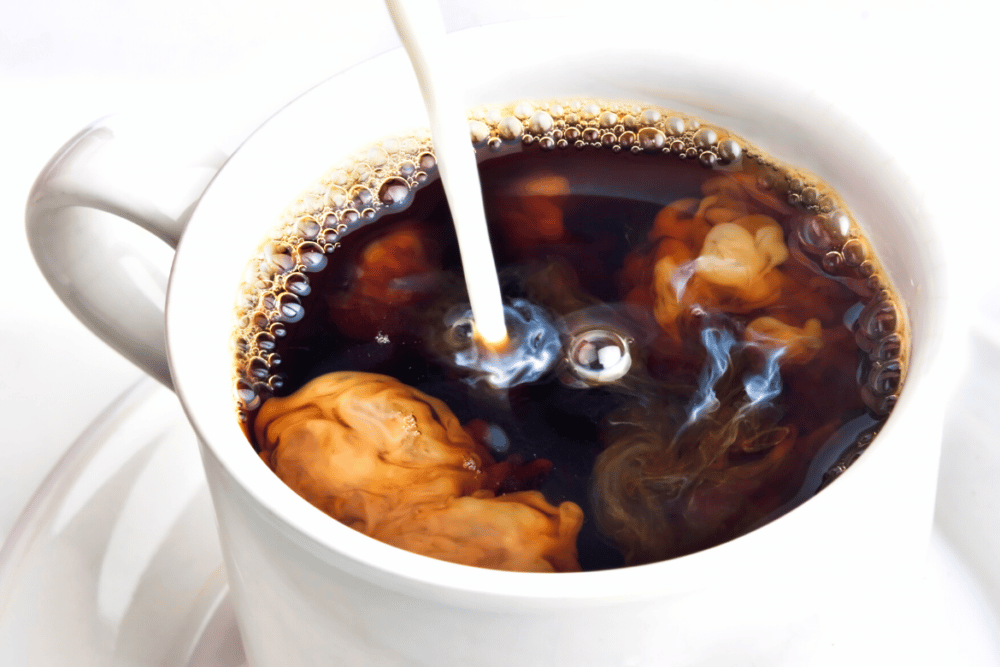 Making Keto Coffee – Your How-To Guide
Ready to learn how to make that delicious keto coffee for sustained energy and better weight loss? Here's the breakdown.
Assemble Your Ingredients
You'll need a few things to get started.
10 ounces of coffee
1 tbsp. MCT oil (coconut oil will do if that's all you have)
1 tbsp. grass-fed butter or ghee
Consider also adding 2 tbsp. of heavy cream or coconut cream and ½ tsp. of vanilla extract.
A tall coffee mug
A whisk, milk frother, or blender
Making Keto Coffee Drinks
Add all the ingredients for your low-carb diet coffee to the mug and whisk them together or use a milk frother to combine them. Use very hot coffee to completely melt the butter.
Alternatively, you can add the ingredients to a blender and combine them that way. An immersion blender will also work, but make sure that you use a container tall enough to prevent the coffee from splashing out. Once your coffee has the consistency of a latte, you're done. Enjoy!
Frequently Asked Questions
Will bulletproof coffee kick me out of ketosis?
No, it won't unless you add real sugar or other sources of carbs.
Is keto coffee good for intermittent fasting?
Yes, it is! You get a hit of healthy fats, as well as the caffeine you need for energy and mental clarity.
Is keto coffee better than plain, black coffee?
Black coffee without any cream or sweetener is very healthy. However, it lacks the fats that your body needs to produce ketones and keep you in ketosis. If you're not following the keto diet, black coffee is fine, but if you're a keto dieter, then keto coffee is the better option.
More easy keto breakfast ideas you'll love
Yield: 1
Basic Keto Coffee Recipe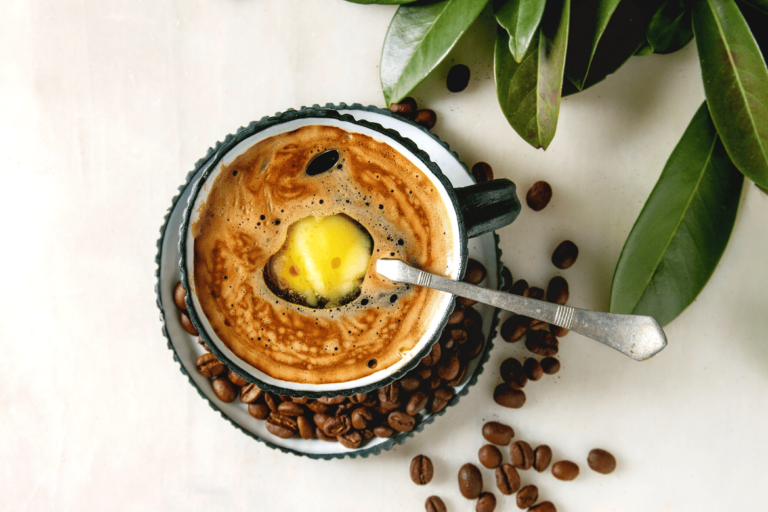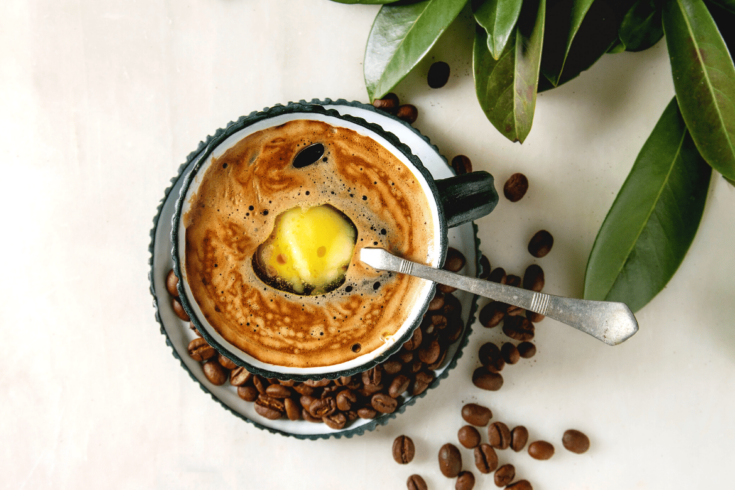 This keto coffee is a morning wake-up shot of caffeine combined with keto-friendly, simple ingredients like MCT oil and butter. Those bring a dose of fat and creaminess to your coffee, adding body and extra flavor, without the need for sugar or flavored creamers with tons of carbs.
Ingredients
8 ounces high-quality brewed coffee
1 tablespoon MCT oil (or coconut oil)
1 tablespoon grass-fed unsalted butter (or ghee)
1 tablespoon heavy whipping cream (optional)
1 teaspoon sugar-free granulated sugar replacement (optional)
Instructions
Brew coffee using preferred method.
Add all other ingredients to mug and blend with immersion blender, or add all ingredients to a small blender like Magic Bullet and blend until creamy - about 45- 60 seconds.
Recommended Products
As an Amazon Associate and member of other affiliate programs, I earn from qualifying purchases.
Nutrition Information
Yield
1
Serving Size
1 cup
Amount Per Serving
Calories

260
Total Fat

27.7g
Carbohydrates

1.05g
Net Carbohydrates

1.05g
Fiber

0g
Protein

1.08g