If you're looking for a delicious keto dessert recipe, then look no further than the first and only recipe for Keto Divinity Candy made with Keto Chow, which is totally optional by the way, however the Keto Chow makes it a balanced combination of protein and vitamins, made from egg whites, granulated sweetener, and Keto Chow, making it the perfect dessert for those sweet cravings, plus it's a traditional Holiday dessert that I know you'll love. Simple ingredients and super easy to enjoy. Making these is sure to become a low carb and sugar free holiday tradition for you and your family.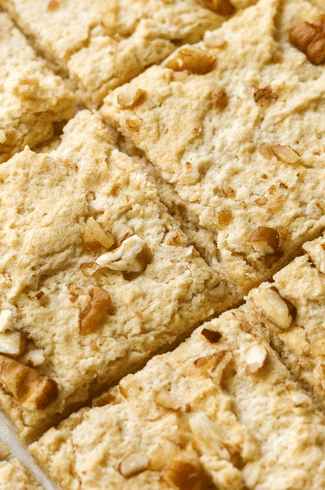 This post may contain affiliate links. Please read my disclosure for more info.
The best Keto dessert recipes on a low carb diet
Eating keto doesn't mean giving up all your favorite desserts. In fact, there are plenty of keto-friendly options that satisfy your sweet tooth without compromising your goals! Keto desserts made with Keto Chow and Lakanto Monk fruit are an easy way to make a keto-conscious snack.
Flavorful concoctions like these Keto Divinity Candy, or fat bombs leave you feeling satisfied without any guilt. And if it's satiating treats you crave, try keto cheesecake or keto mug cake recipes for an indulgence without the high carb count. With keto desserts, your health and heart can both be happy!
Grab a free printable: Keto Food Lists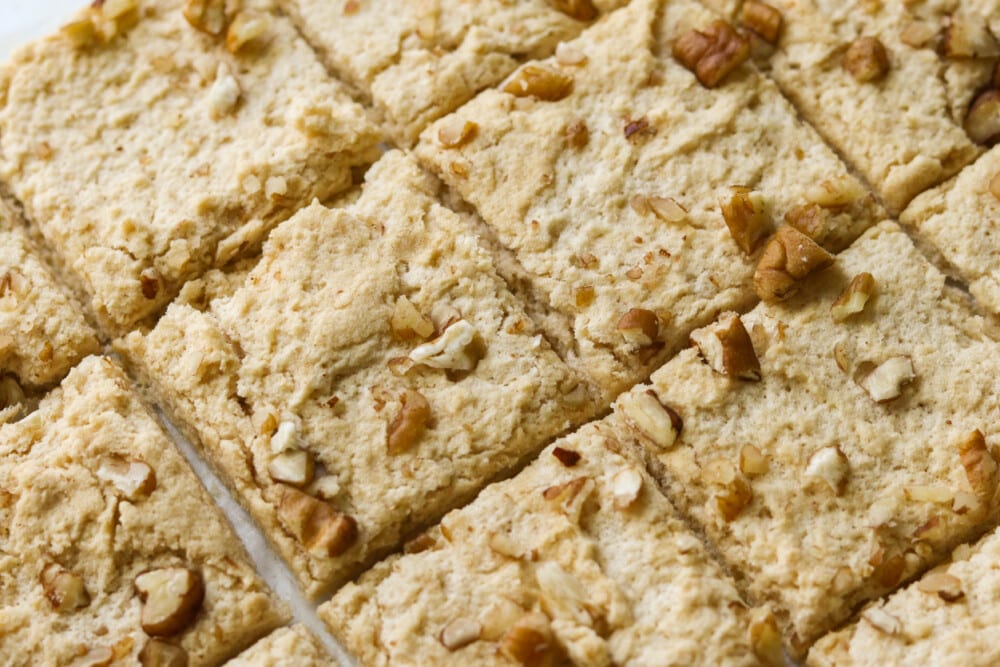 What Is Keto Divinity Candy?
Keto Divinity Candy is a marshmallow-like, fluffy, almost nougat-y, keto dessert recipe that combines egg whites, sugar-free sweetener and Keto Chow packet. The result is an incredibly chewy and indulgent treat that satisfies your cravings without sacrificing on flavor. Not only is this candy incredibly tasty, it's also incredibly nutritious too — they're packed with vitamins and minerals from Keto Chow, heart healthy pecans as well as clean protein source from egg whites.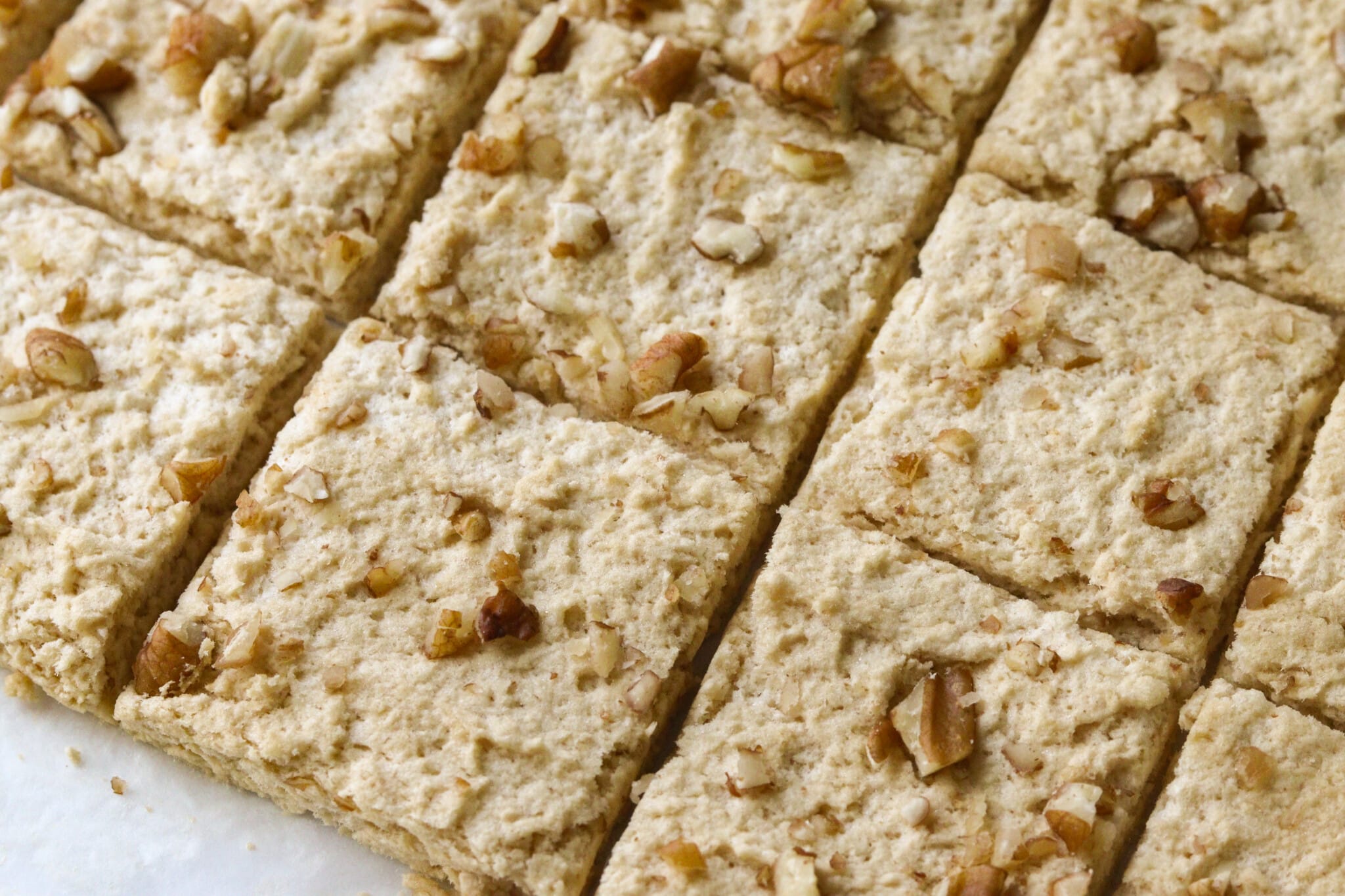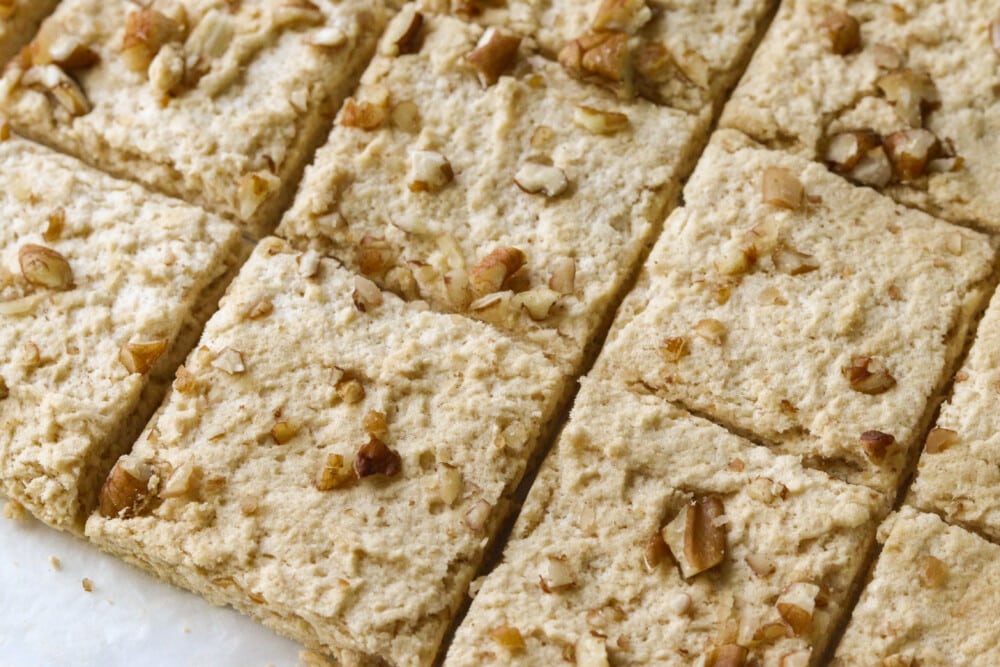 What you need to make Keto Divinity Candy
Making your own Keto Divinity Candy at home is surprisingly simple, however it does take a more advanced baker to pull this off. The timing of the sweetener and egg whites is important. Plus you will need a candy thermometer and a large stand mixer. Here's what you need for ingredients and why they work so well for this recipe.
Egg whites – Clean protein source to add extra protein to the keto divinity candy. The egg whites help create that light and fluffy texture in keto dessert recipes when it is whipped up with liquid allulose.
Pecan Sticky Bun Keto Chow – This decadent flavor is so delicious and perfect for a fall treat. You can also change it up by season or holiday with a different flavor of choice. Keto chow is my go-to meal replacement shake for my keto diet with less than 1g of carb. It's packed with vitamins and minerals for my daily needs and high in protein to keep me satiated. This meal replacement shake helps me feel full of energy and hunger at bay so I love creating treats out of them. This ingredient is optional, but it gives it an amazing flavor plus adds nutrition.
Liquid allulose – The best part about using allulose is that it doesn't increase blood sugar or insulin, making it ideal for following a keto diet. Plus the liquid form helps create desserts when the sweetener needs to be heated, or it's a great replacement for honey.
Lakanto monk fruit sweetener – This is my favorite brand for a keto friendly sugar-free sweetener for a reason! Not only do they an amazing variety of products (sugar-free maple syrup to go with keto pancakes? A resounding yes!) but they have a 1:1 sugar replacement ratio making it easy to substitute in recipes. As an added bonus, use my code: OLIVIAWYLES for 15% off at checkout!
Vanilla Extract – Vanilla extract helps keep that raw egg smell away from baked goods and enhance the flavor of your candy. I like to use this brand of extract for my recipes as its organic with no added sugars. You could also use a nutty flavor like almond or hazelnut extract for a different variation
Crushed Pecans – The crushed pecans help give the divinity candy some thickness and that decadent nutty flavor. Folding them into the mixture will help maintain the fluffy texture of the whipped egg whites.
How to make this keto candy
To make these delicious bars, you will need to make the sugar mixture using liquid allulose and granulated sweetener and a candy thermometer to check when the temperature reaches 260 degrees (hard ball stage). Then whisk egg whites on high speed and add the heated sugar mixture slowly and beat the mix again until soft peaks form. Then add in the vanilla extract and keep beating until its fluffy.
Important note: you must pour the heated liquid sweetener in a thin stream on the side of the bowl while the egg whites are still mixing in your stand mixer.
Afterwards, fold in the Keto Chow and crushed pecans to maintain its airy texture. Add to a baking pan and allow air dry for at least 2 hours (up to 24 hours – depending on the humidity) before cutting into square pieces. Alternatively, you can drop a spoonful size onto some parchment paper right after mixing, then air dry with that method.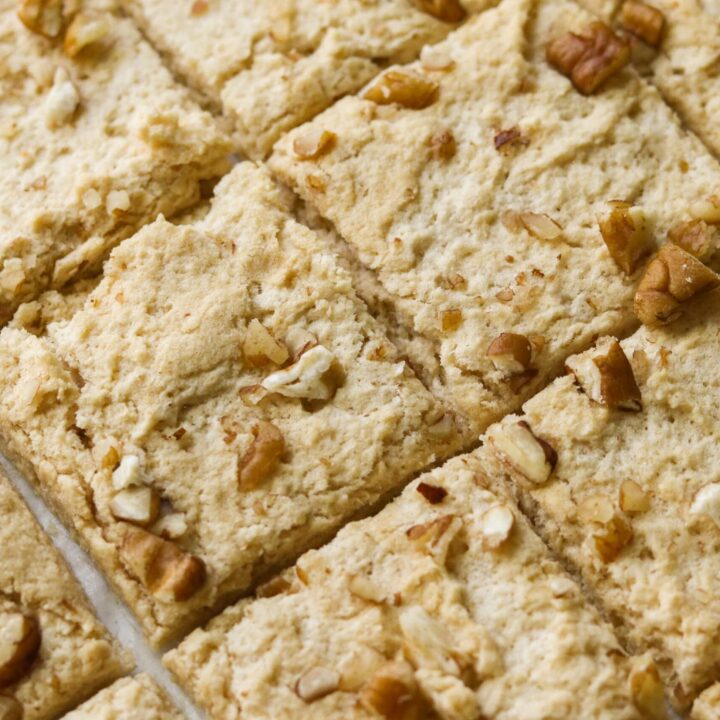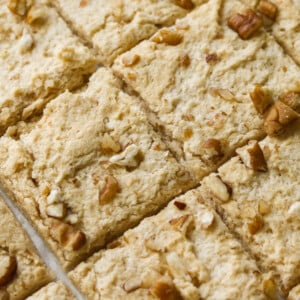 Keto Divinity Candy | Made With Keto Chow
This easy and low-carb dessert is full of vitamins and packed with clean protein to help keep you satiated all day. This keto dessert recipe is so fluffy and light and yet keeps you full from the protein and healthy fats. You'll love this traditional holiday Keto Divinity Candy.
Print
Pin
Rate
Ingredients
¼

cup

water

¼

cup

liquid allulose

¼

teaspoon

salt

2

egg whites

room temperature (or 4 tablespoon Keto Chow Powdered Egg White Protein + 8 tablespoon warm water whisked together)

1

teaspoon

vanilla extract

1

cup

pecans

finely crushed
Instructions
Line a 13×9 baking pan with parchment paper.

In a small saucepan, combine water, granulated sugar-free sweetener, allulose, and salt. Stirring constantly, bring to boil over medium heat. Without stirring, cook over low heat (small to medium bubbles) until temperature reaches 260 degrees F (hard ball stage) on a candy thermometer. Wash walls of saucepan with a brush dipped in water to push down sugar crystals if they form.

When the syrup just about reaches the hard ball stage, in a large stand mixer, beat egg whites on high until soft peaks form. While beating on high speed, add hot syrup in a thin, pencil-sized steady stream along the inner wall of the bowl. Do not scrape the bowl or allow syrup to pour in the middle of the bowl or on whisk attachment. Add vanilla extract. Continue beating on high for about 4 minutes until thick and fluffy. Don't overmix or it will become grainy.

While warm, stop the mixer and remove whisk attachment. Sprinkle and fold in Keto Chow and pecans.

Drop onto a prepared baking pan. Allow to air dry on the counter at room temperature at least 2 hours before cutting, up to 24 hours. If you live in a humid environment, it may not set up well or be as fluffy.
Video
Nutrition
Serving:
1
g
|
Calories:
45
kcal
|
Carbohydrates:
4.9
g
|
Protein:
2.2
g
|
Fat:
4
g
|
Saturated Fat:
0.4
g
|
Trans Fat:
0.3
g
|
Sodium:
5.5
mg
|
Fiber:
1
g
|
Sugar:
0.3
g
Keto Divinity Candy is a great way to indulge during the Holidays without feeling guilty afterwards! This unique recipe combines egg whites with Keto Chow for an incredibly fluffy candy that's full of essential vitamins and minerals as well as satisfying flavors of nutty pecans.
What better way is there to satisfy those sweet cravings while still staying on track with your diet goals? So if you're looking for keto dessert recipes that won't break your diet plans then give this delicious divinity candy a try for your next Holiday party – you won't be disappointed!
Looking for more quick dessert ideas?
Here are some of my favorite desserts that you can make-ahead so that when sweet cravings hit!