This keto bark recipe has 3 ingredients and it's super easy to make. Plus it's made with Keto Chow which has ⅓ of your daily recommended nutrition intake, making it the perfect healthy treat for anyone following a low carb or keto diet.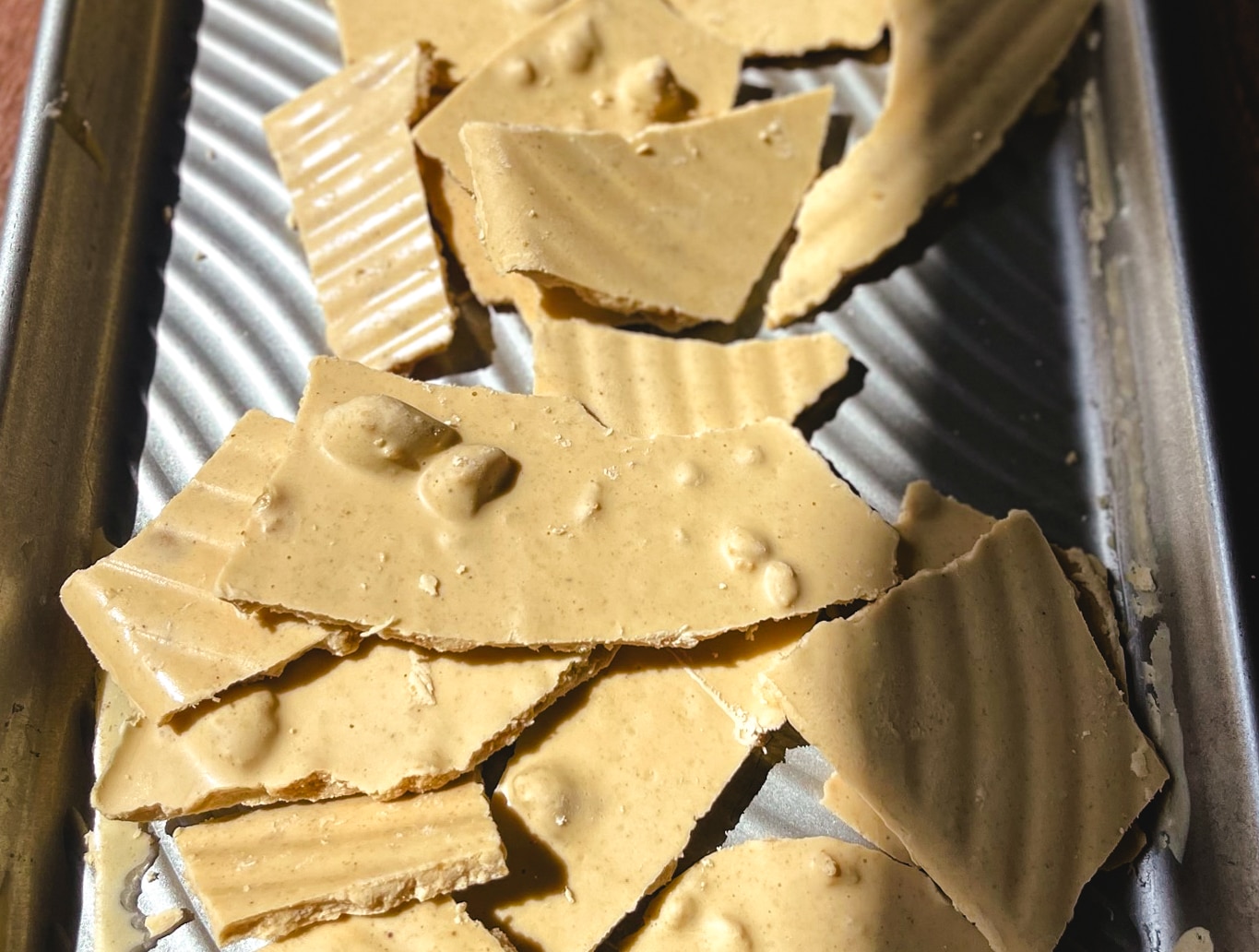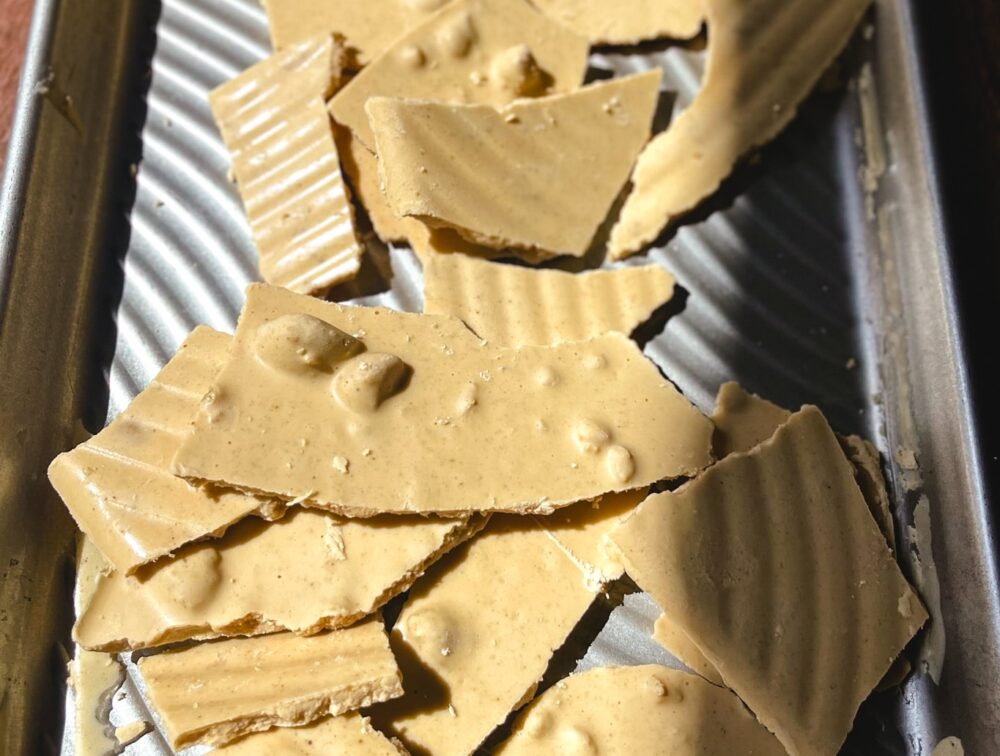 Any keto bark recipe is going to be versatile and can be customized easily, making it a must-try recipe for anyone following a low carb diet. You can experiment with nuts, seeds, and natural sweeteners to find the perfect combination for you. It makes the perfect snack and a great gift idea for the holiday season.
Making this keto bark recipe is a breeze, and at the end, you'll be obsessed with keeping your freezer stocked with it at all times! Ready to give it a try? Let's make some keto bark!
Understanding Keto Bark
Keto bark is a delicious and sugar-free treat for those following a ketogenic or low-carb diet. It's a guilt-free way to satisfy your sweet tooth while staying in ketosis. Made with simple ingredients, keto bark is a fantastic alternative to traditional chocolate or a candy bar from the checkout counter.
Grab a free printable: Keto Food Lists
One of the key components of keto bark is the use of chocolate. Opting for a sugar-free or extremely dark chocolate is essential, as it provides you with the necessary antioxidants without the excess sugar. These antioxidants are known to promote heart health and may help protect against diseases.
The beauty of keto bark is its versatility. You can easily tailor it to suit your preferences by adding nuts, seeds, or even berries. Just be mindful of the ingredients you choose, as some might be higher in carbs than others. To maintain the low-carb nature of the treat, always opt for low-carb additions such as almonds, pecans, or coconut flakes.
When indulging in keto bark, it's essential to be aware of the net carbs in each serving. By subtracting the fiber content of the bark from the total carbohydrates, you can easily determine the net carbs. Most keto bark recipes contain around 3 grams of net carbs per serving, making it a great snack for those following a ketogenic diet.
How to Make Keto Bark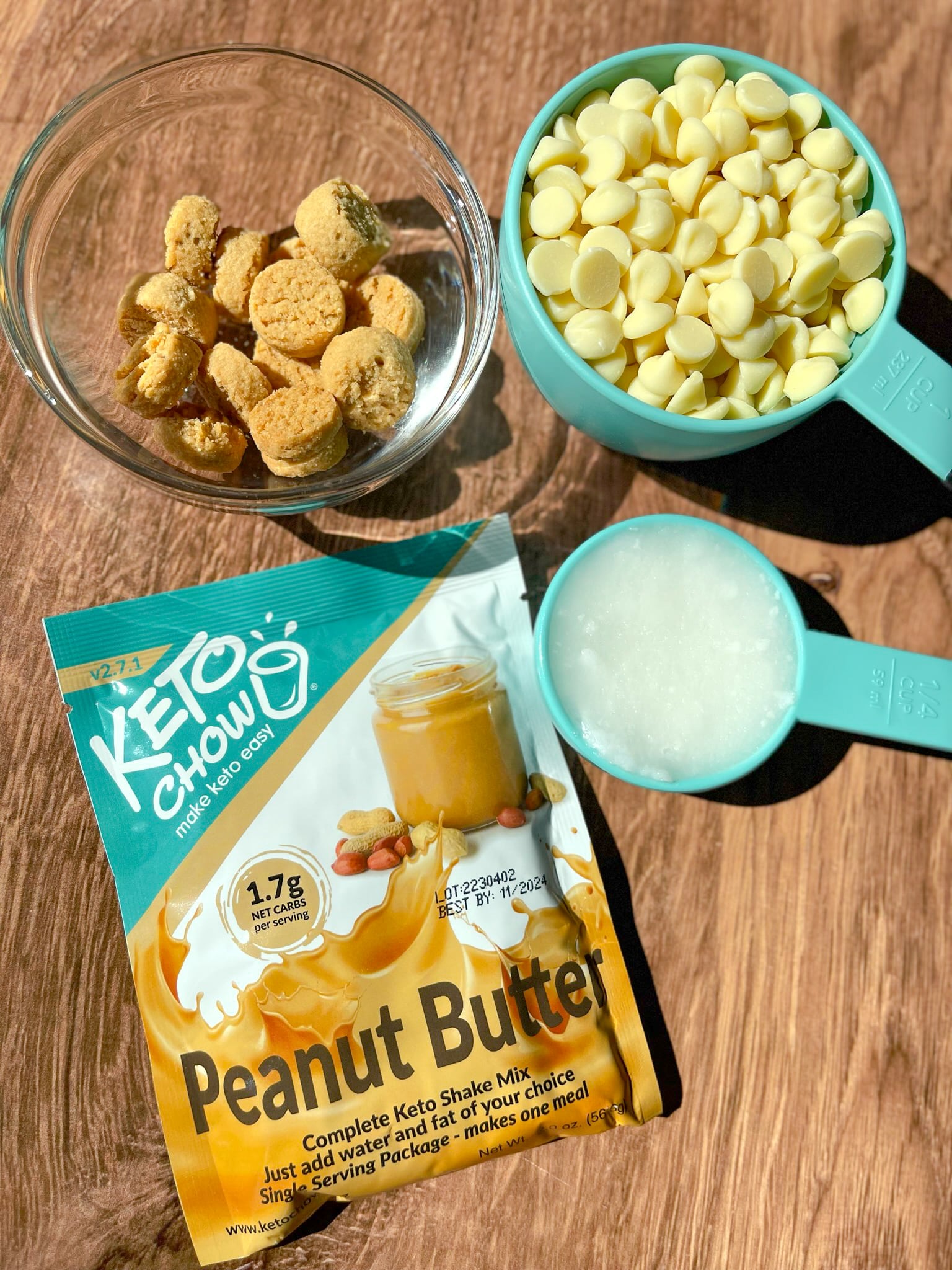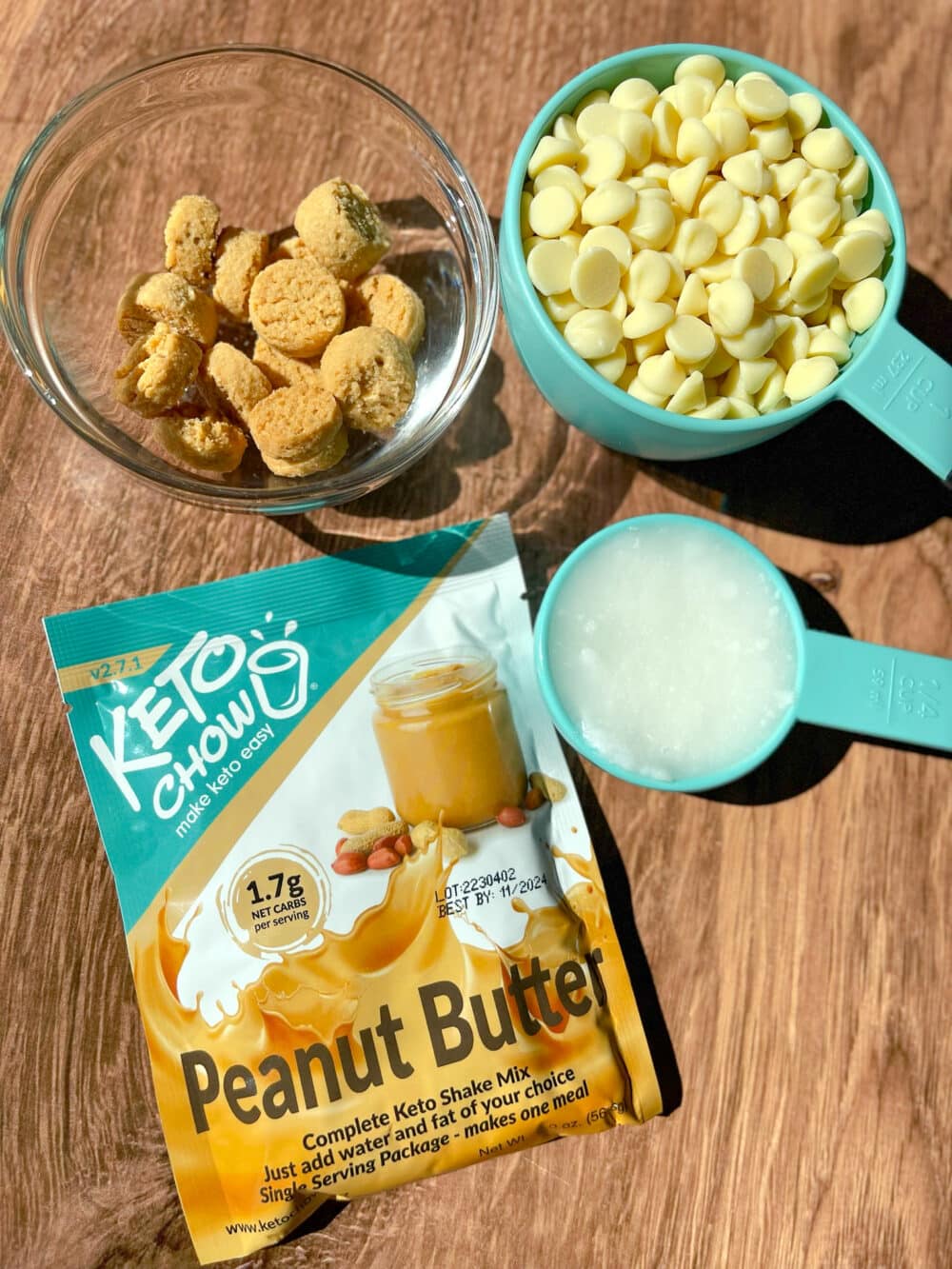 Ingredients
To make this delicious keto bark, you will need:
Sugar-Free White Chocolate Chips: Sugar-free white chocolate chips are a wonderful innovation in the keto world, providing the creamy, rich taste of white chocolate without the associated carbs from sugar. Offers a sweet touch to any recipe, reminiscent of traditional white chocolate. Always check the ingredients when buying sugar-free white chocolate chips. Ensure there are no hidden sugars or high-carb fillers. I use Lily's White Chocolate Chips.
Unrefined Coconut Oil: Coconut oil that has been extracted from fresh coconut meat without the use of high heat or chemicals, preserving its natural aroma and taste. great source of medium-chain triglycerides (MCTs) which can be beneficial on a keto diet. Has a unique consistency, solid at room temperature but easily melts when heated, making it perfect for various culinary uses. If you're not a fan of the coconut flavor, there are refined versions available that offer a more neutral taste.
Peanut Butter Keto Chow (or meal shake powder or peanut butter powder of choice): A specially formulated powder designed for the keto diet, combining the delicious flavors of peanut butter with the nutritional benefits required for ketosis. Fortified with vitamins, minerals, and proteins essential for those on a keto diet.
Instructions
Now it's time to create your keto bark:
Melt the chocolate with coconut oil: Finely chop your chocolate (or use chocolate chips) and place it in a microwave-safe bowl with the coconut oil. Heat it in 30-second intervals, stirring between each session until fully melted and smooth. Alternatively, melt the chocolate using the double boiler method with a heatproof bowl over medium heat.
Mix in the extras: Fold in your chosen powders, nuts, seeds, and any additional flavors or extracts. Be gentle in your mixing to maintain the crunchy texture.
Spread and chill: Pour the mixture onto a parchment paper-lined baking sheet, spreading an even layer. Place the sheet in the fridge for at least 10 minutes or until the chocolate hardens.
Break it up: Once your keto bark has set, break it into pieces and enjoy! Store any leftovers in an airtight container in the fridge or freezer.
Why You'll Love This Keto Chow Peanut Butter Bark Recipe
Simplicity: Only 3 ingredients needed for this easy recipe, making it quick and hassle-free.
Satisfies Sweet Cravings: Offers a delicious way to enjoy a sweet treat on the keto diet.
Versatile: Easily customizable with various add-ins and flavor variations.
Portable: Perfect for on-the-go snacking or as a delightful dessert after meals.
Low-Carb Indulgence: Designed specifically for keto dieters, aligning with diet goals.
Rich and Flavorful: You'll love the creamy taste of peanut butter mixed with keto peanut butter cookies.
Natural Ingredients: Prioritizes keto-friendly, wholesome ingredients for a cleaner treat.
What peanut butter is best for this keto bark?
When it comes to making keto bark, the peanut butter you choose can significantly impact the taste and texture of your finished product. Choosing the right peanut butter can help ensure that your keto bark turns out delectable and satisfying. Here are a few tips on selecting the best peanut butter for your keto bark.
First, it's important to look for a natural peanut butter that's low in added sugars. Many commercial peanut butter brands contain added sugars, which can increase the carb count and affect ketosis. Opt for a brand that uses natural sweeteners like stevia or monk fruit if you want a slightly sweet taste without the extra carbs.
Next, the texture of peanut butter is another crucial factor. Creamy peanut butter is typically smoother and easier to blend into the bark, while crunchy peanut butter adds an extra element of texture and crunch. It's up to your personal preference whether to use creamy or crunchy peanut butter in your keto bark.
Consider trying these peanut butters for your keto bark:

All-natural, no-stir peanut butter: This type of peanut butter doesn't separate, making it easy to mix into your recipe and maintain a smooth consistency.
Peanut butter made with only peanuts and salt: These peanut butters contain minimal ingredients, which can help keep the carb count low.
Finally, pay attention to the quality of ingredients used in the peanut butter. Some peanut butter brands may contain hydrogenated oils and artificial flavors, which can affect the overall quality and taste of your keto bark. Look for peanut butter that uses high-quality ingredients such as non-GMO peanuts and avoids any unnecessary additives.
With these tips in mind, you should be able to find a peanut butter that's perfect for your keto bark recipe. The right choice will help you create a delicious and satisfying treat that stays true to your keto lifestyle.
How to Make the Best Keto Bark
First and foremost, choose a high-quality chocolate that's low in carbs and sugar. Look for a chocolate that's at least 85% cocoa, and check the label to ensure it's keto-friendly. Dark chocolate not only offers a rich flavor but also provides health benefits like antioxidants. There are a lot of brands out there now that offer sugar-free chocolate chips, and these are perfectly okay to use in this recipe.
Next, pick the nuts and seeds to complement your chocolate base. Roasted almonds, pumpkin seeds, or pecans are popular choices for adding a delightful crunch to your bark. Remember to use unsalted nuts to maintain control over the sodium content. You can even use crumbled up keto cookies like I did for this recipe.
Incorporate extra flavors and textures to make your keto bark stand out. Some scrumptious options include:
Meal replacement shake powder like Keto Chow, peanut butter powder like Naked Nutrition, or cocoa powder
Healthy fats like coconut oil, MCT oil, or cocoa butter
Freeze-dried strawberries (unsweetened) for a fruity touch
Smoked almonds or pecans for a smoky hint
Spices like sea salt, cayenne pepper or ancho chili powder for a kick of heat
Extracts such as mint, orange, or vanilla to enhance the taste
Keto Bark Variations
Here are a few variations to try:
Roasted Almond Chocolate Bark: This simple yet flavorful variation calls for roasted almonds and a keto-friendly chocolate bar or sugar-free dark chocolate chips. Roasting the almonds enhances their natural taste, making them perfect for pairing with the rich and decadent chocolate. Make sure to use unsalted almonds and, if desired, add a sprinkle of flaky salt on top for an extra layer of flavor.
Chocolate Peanut Butter Bark: Melt a keto-approved dark chocolate bar, then mix in a keto-friendly peanut butter or peanut butter powder until thoroughly combined. Spread the mixture onto a wax paper or parchment lined , and refrigerate until set. This delectable combination will surely satisfy the cravings of chocolate and peanut butter lovers alike.
Fruity Chocolate Bark: To add a fruity touch to your keto bark, consider incorporating raspberries, strawberries, or other low-carb fruits. Melt your favorite keto chocolate and mix in finely chopped fruits, then spread the mixture onto a prepared baking sheet. Chill until firm, then break or cut into bite-sized pieces. This fruity chocolate bark is a refreshing and satisfying option for those looking to add a little extra flavor to their keto desserts.
Nutty Coconut Bark: For a variation that's rich in healthy fats and loaded with tantalizing textures, combine keto chocolate with a mix of nuts such as almonds, macadamia nuts, and unsweetened coconut flakes. Melt your keto chocolate and fold in the nuts and coconut flakes, then spread the mixture onto a lined baking sheet or cookie sheet. Once set, you'll have a crunchy and delicious keto bark that's packed with nutrients to support muscle and bone health.
Remember, the possibilities with keto bark are almost endless. Feel free to customize these variations further to suit your tastes and requirements. Enjoy experimenting with this versatile and tasty dessert, and find your favorite combination!
Storage Tips
Storing your keto bark properly is essential for maintaining its delicious taste and texture. Here are some friendly storage tips to help you keep your keto bark fresh and ready to enjoy whenever you want!
To begin, always let your keto bark cool down and harden after preparing it. You can place it in the refrigerator for a quick chill, or simply leave it at room temperature until it is firm to the touch. Once your bark is hardened, it is important to break it into smaller pieces. This makes it easier to store and serve later on.
When choosing a container for your keto bark, use an airtight container or resealable plastic bag. This will help keep your bark fresh and prevent it from absorbing any odors from other items in your fridge or freezer. If using a container, you may want to line it with a piece of parchment paper to prevent the bark from sticking to the container's surface.
Remember that keto bark is best stored in the freezer or refrigerator. If stored in the freezer, your bark can last for up to 2 months. However, if you plan to store it in the refrigerator, make sure to consume it within 2-3 weeks. Keeping your keto bark cold will not only maintain its quality but also prevent it from becoming too soft and losing its crunch.
Lastly, separate the layers of bark with parchment paper when stacking them in your storage container. This will prevent the individual pieces from sticking together and help maintain their structural integrity.
By following these simple storage tips, you can ensure that your keto bark stays fresh, delicious, and ready for you to enjoy whenever you want!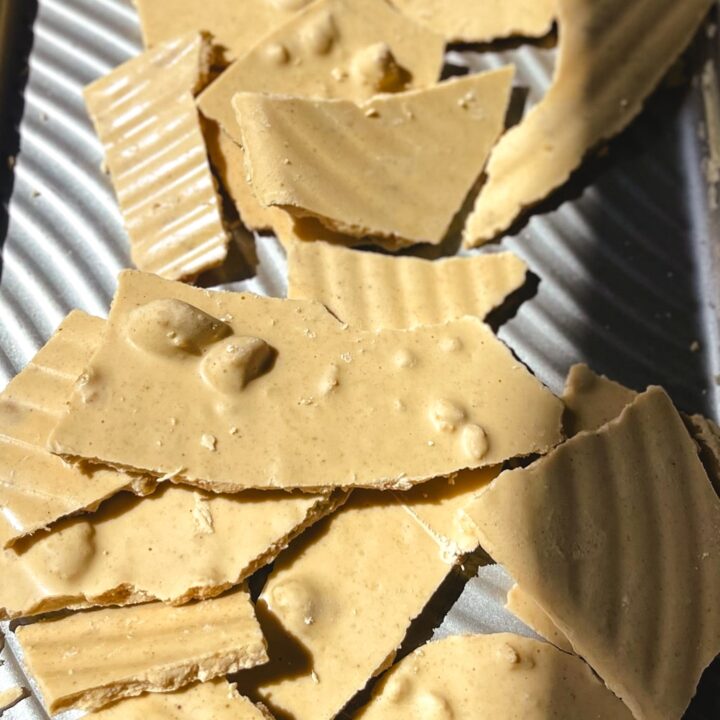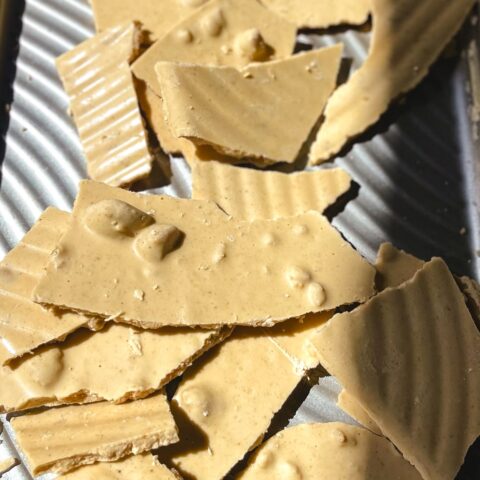 Keto Peanut Butter Bark Recipe | Made with Keto Chow
This keto bark recipe has 3 ingredients and it's super easy to make. Plus it's made with Keto Chow which has ⅓ of your daily recommended nutrition intake, making it the perfect healthy treat for anyone following a low carb or keto diet. Adapted from Chef Taffy Elrod's Cookies & Cream Keto Bark Recipe.
Print
Pin
Rate
Ingredients
1

cup

sugar-free white chocolate chips

¼

cup

coconut oil

1

packet or scoop

Peanut Butter Keto Chow

Keto cookie pieces

optional
Instructions
In a medium mixing bowl, add sugar-free white chocolate chips and coconut oil.

Microwave in 30 second bursts until completely melted. Careful not to microwave too long or the mixture will become too thick.

Mix well and add in Keto Chow.

Crush keto cookies and add pieces to the mixture. Stir to combine.

Add mixture to cookie sheet or candy molds.

Chill in freezer for about 10 minutes.

Store in airtight container in freezer
Notes
13 Carbs - 5 Fiber - 4 Sugar Alcohol = 4 Net Carbs
Nutrition
Serving:
1
piece
|
Calories:
150
kcal
|
Carbohydrates:
13
g
|
Protein:
4
g
|
Fat:
12
g
|
Saturated Fat:
9
g
|
Cholesterol:
8
mg
|
Sodium:
112
mg
|
Fiber:
5
g
|
Sugar:
2
g