So you've started the ketogenic diet, but does that mean you have to stop enjoying the occasional alcoholic beverage? Is your social life just totally done at this point now that you've adopted a new healthy lifestyle with less carbs? Absolutely not! Whether you're a gin drink lover or just looking for something more exciting to drink than sparkling water, I've gathered up 11 keto gin drinks that will do the trick.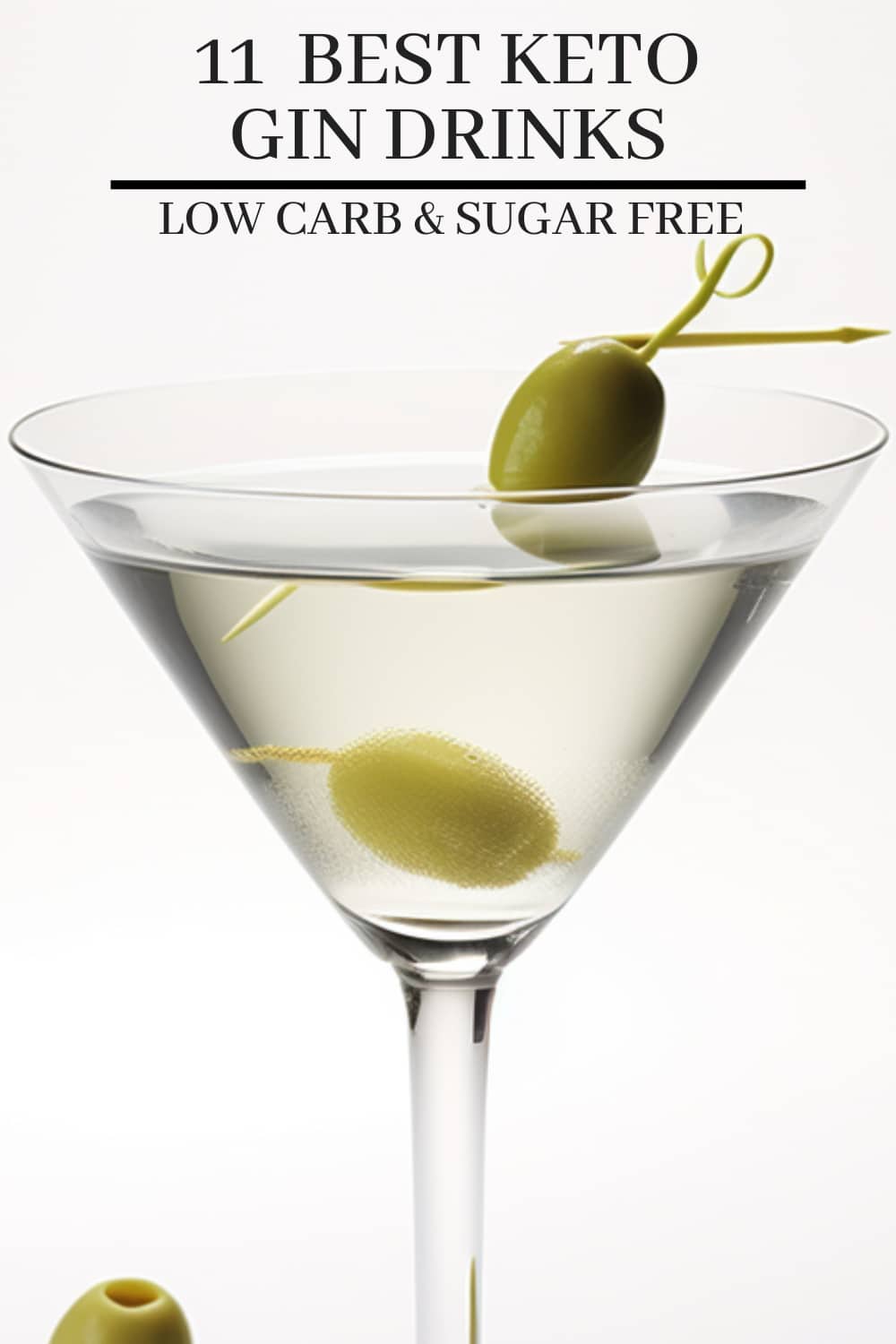 Gin, with its predominant flavor from juniper berries, started as a medicinal liquor by monks and alchemists across Europe. Fast forward to today, and it's a favorite for many, especially when mixed into delightful cocktails. And the best part? Many of these gin-based concoctions can be keto-friendly. So, whether you're reminiscing about the classic English gimlet from the 1920s or exploring new-age keto gin mixes, there's something for everyone.
Now, before you get overwhelmed thinking this is some gourmet mixology class. Don't worry. These recipes are as easy as pie (keto pie, of course). From the classic gin and tonic to the warm embrace of a keto hot gin toddy for those chilly nights, I've got it all. So, grab your shaker, put on your favorite tunes (maybe even dance a little), and let's get mixing!
Understanding Keto and Alcohol
So, you're on the keto journey, aiming to keep those carbs in check. The goal? Staying below 20-50 grams of net carbs daily. Now, the big question: Can you enjoy alcoholic drinks without derailing your progress? Absolutely! But remember, it's all about smart choices and moderation.
Grab a free printable: Keto Food Lists
Here's a tidbit for you – alcohol is kind of like the distant relative in the macronutrient family. It's technically the fourth macronutrient. It brings calories to the table, but not much else in terms of nutrients. Alcohol will make your body prioritize it over fat for burning. So while you're enjoying those alcoholic beverages, your fat-burning is taking a little break.
If you're eyeing that sugary cocktail or beer, think twice. They're often loaded with carbs. Instead, lean towards the classics like gin, vodka, or whiskey. Have them straight up or mix with carb-free options like soda water or sparkling water. And if you're in the mood, a splash of lime juice never hurt!
Alcohol has a sneaky way of lowering our guards, making those off-plan snacks seem tempting. So while you're sipping a low-carb cocktail, stay mindful and keep your keto goals front and center.
Why Gin is Keto-Friendly
So why choose gin? This delightful spirit, distilled from juniper berries, brings a botanical kick without the sugar rush. Most traditional gins are champions with zero carbs and sugar. Plus, with just about 96 calories for a 1.5-ounce serving, you can enjoy a sip without tipping the calorie scale.
Beyond the flavor, juniper berries pack a punch in the health department. They're antioxidant-rich and have a flair for fighting inflammation, giving your keto lifestyle an extra wellness boost. Now this is not to say that gin or any alcohol is "healthy." But we can use every bit of help we can get!
Popular Keto Gin Drinks
If you're looking for a keto-friendly alcoholic beverage, you're in luck. There are several delicious and popular gin-based cocktails that can be enjoyed while maintaining a low-carb lifestyle, staying in ketosis, and keeping on top of your weight loss goals. Here are a few options to satisfy your cocktail cravings:
1. Keto Gin Fizz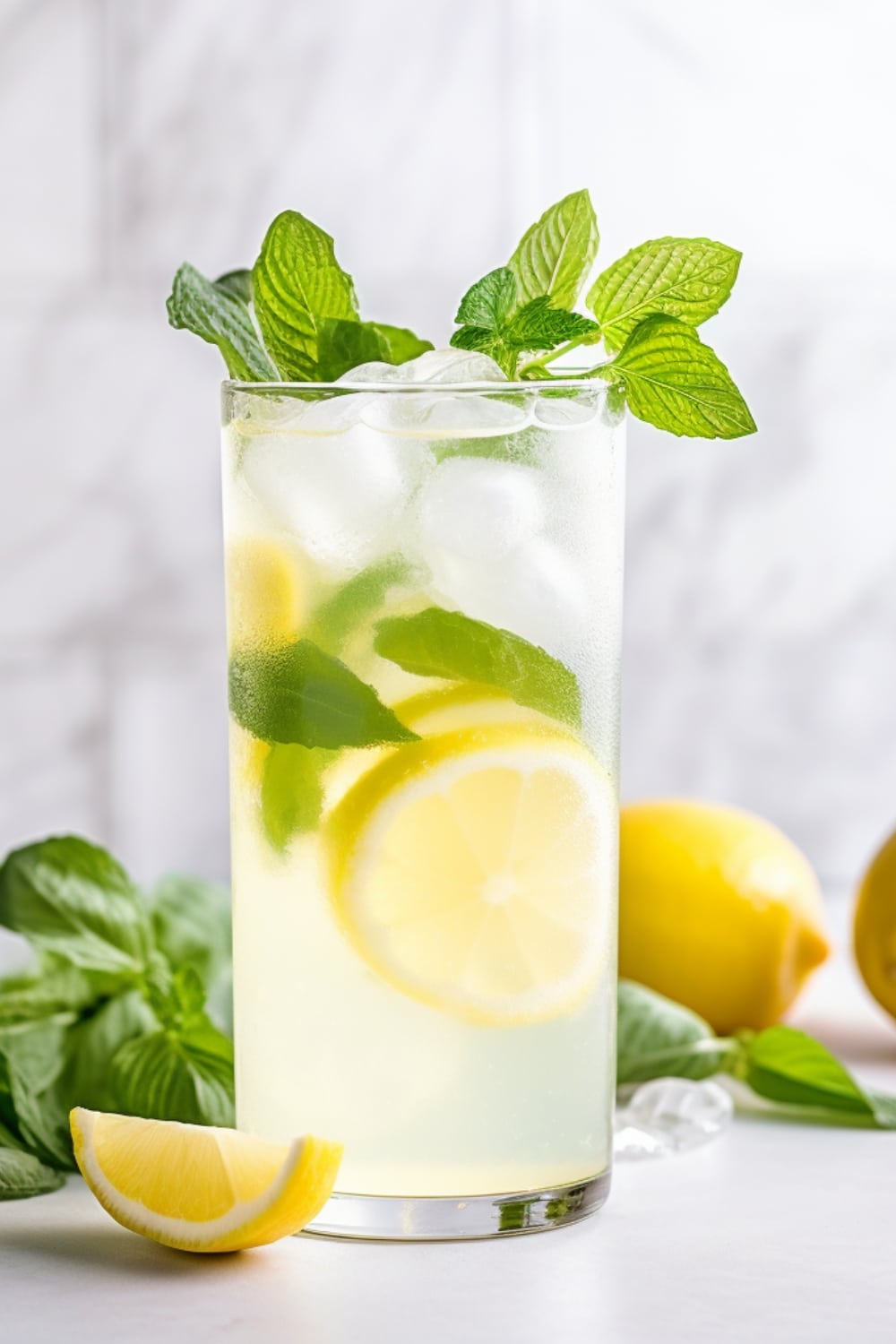 There's nothing quite like a refreshing gin fizz, especially when it's keto-friendly! This cocktail combines the sharpness of gin with the tang of lemon, all while keeping the carbs low. It's a delicious drink for a sunny afternoon or a relaxing evening. A classic with a keto twist that I can't get enough of. This version doesn't contain egg whites, but feel free to froth some in.
Recipe: Add to shaker Ice + 2 ounces Gin + ½ ounce Lemon Juice + ½ ounce Keto Simple Syrup + Shake until extremely cold + Pour over ice into 12-ounce glass + Top with 3 ounces Lemon Soda Water + Garnish with Lemon slice [1 net carb]
2. Keto Gin & Tonic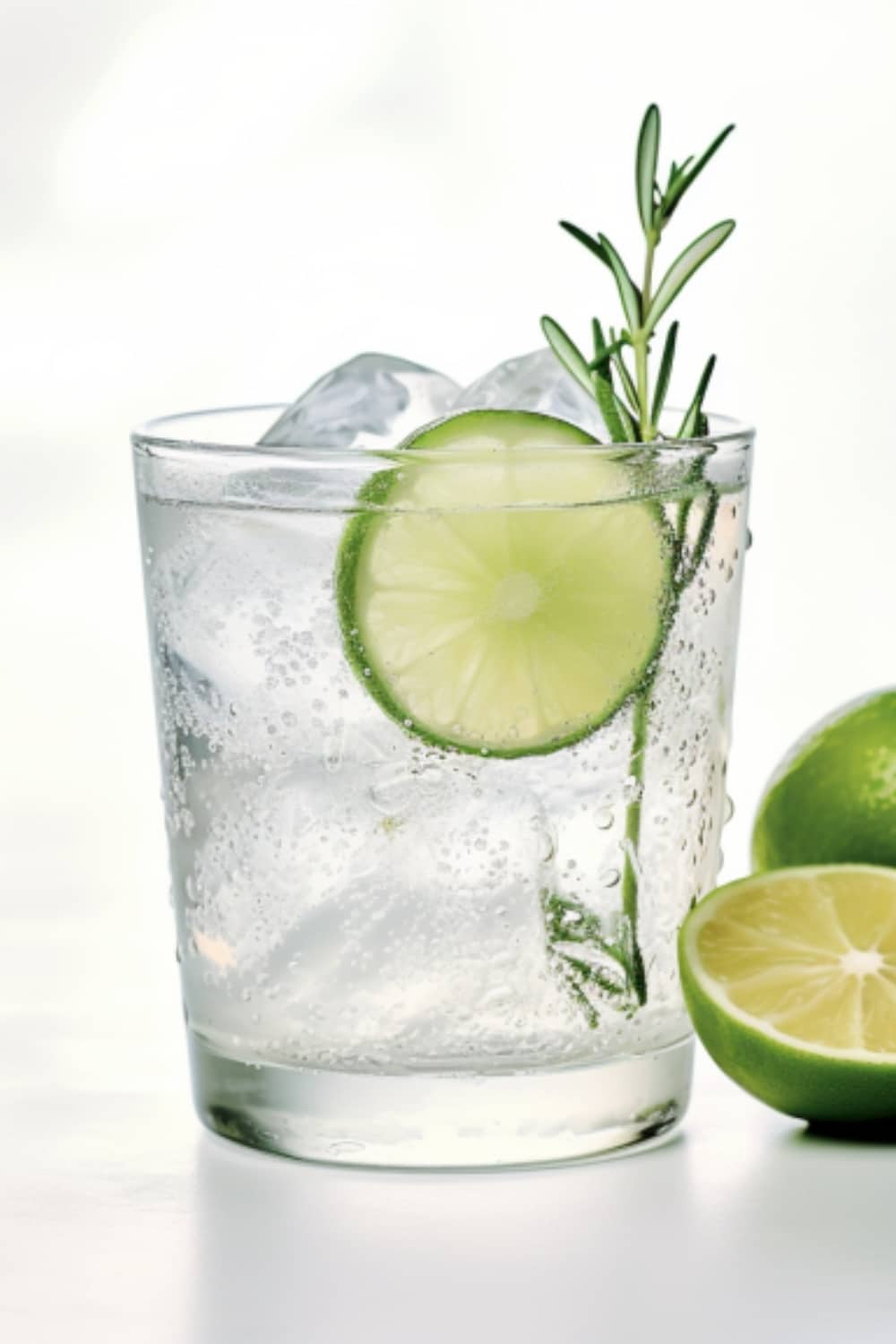 The classic Gin & Tonic gets a keto makeover! With the zesty kick of fresh lime and the bubbly diet tonic water, this drink is both refreshing and guilt-free. It's my go-to for a simple yet sophisticated sipper. Cheers to a timeless favorite with a keto twist!
Recipe: Pour into chilled glass 4 ounces Gin + 2 tablespoons Lime Juice + 1 cup Diet Tonic Water + Add Ice + Stir gently [0 net carbs]
3. Gin Martini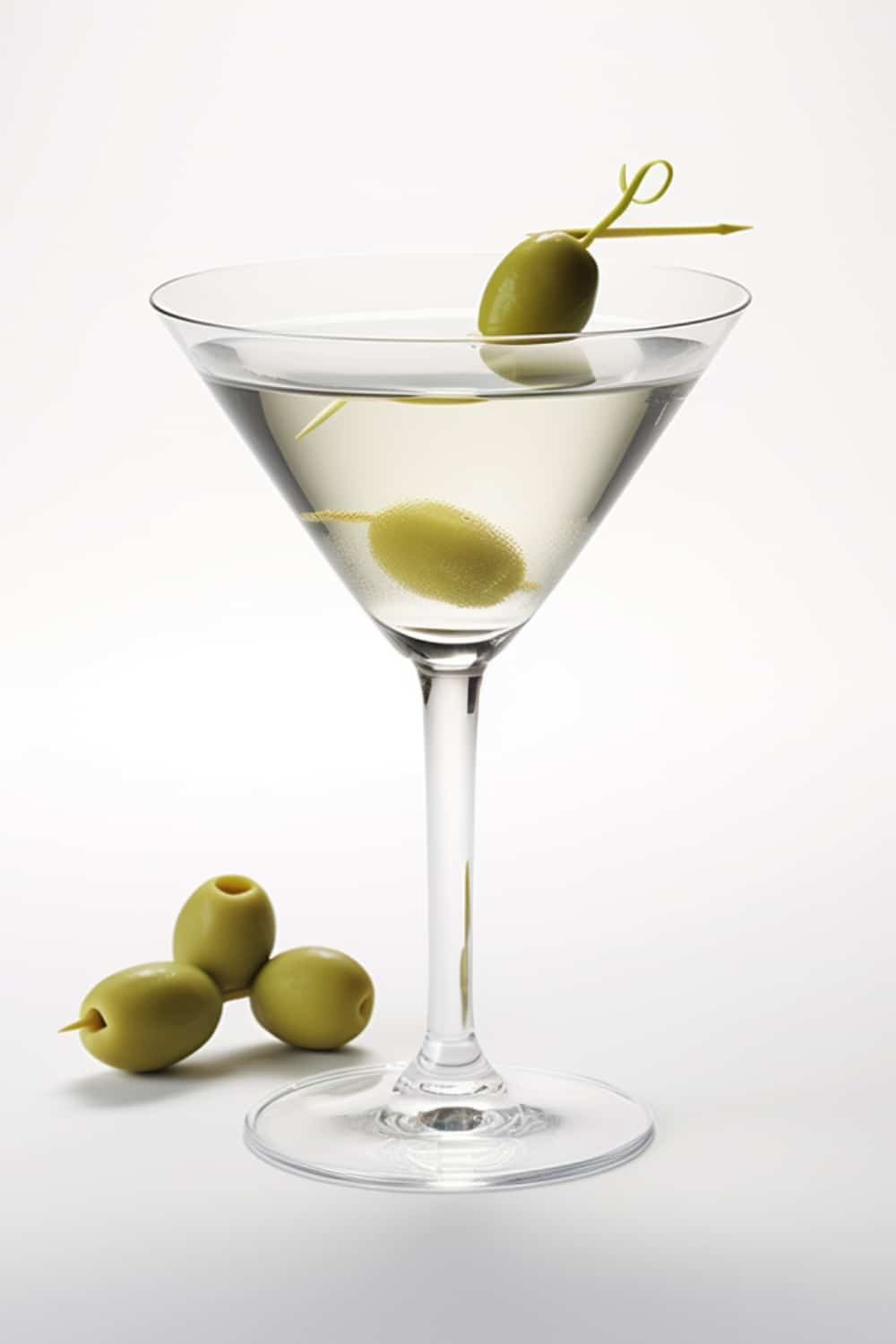 The Gin Martini is a classic that's naturally keto-friendly. Its crispness and elegance have made it a favorite for generations. With zero sugars and minimal carbs, it's a cocktail you can enjoy without straying from your keto goals. A timeless drink that aligns perfectly with a low-carb lifestyle.
Recipe: Chill martini glass with ice water + Add to shaker Ice Cubes + 2.5 ounces Gin + Add 0.5 oz Dry Vermouth + Shake well + Empty ice water from martini glass + Strain mixture into chilled glass + Garnish with Lemon Twist or Olive [0.5 net carbs]
4. Gin Rickey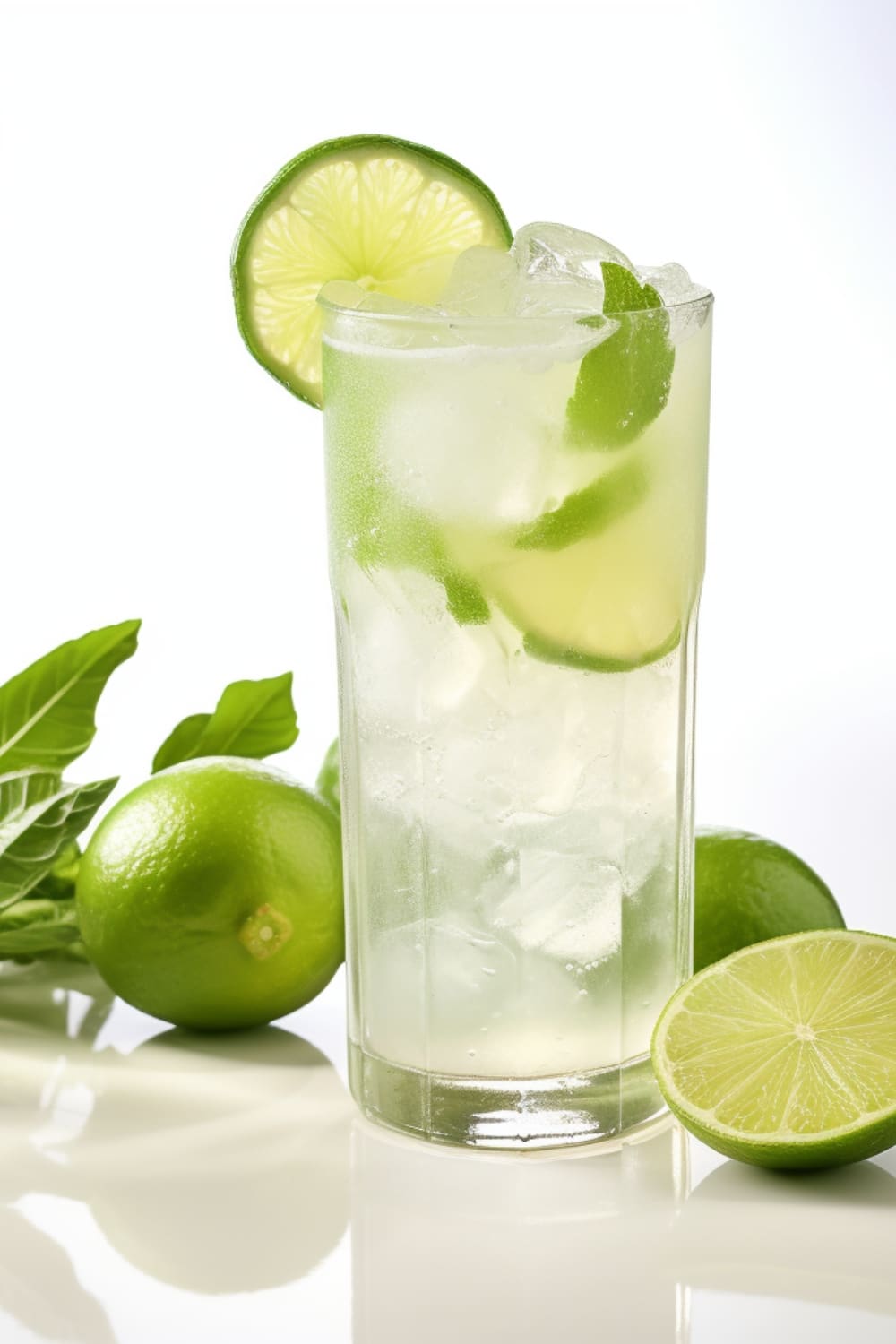 A Gin Rickey is a classic cocktail that originated in Washington, D.C. during the late 19th century. It's a refreshing drink that's perfect for warm weather and is known for its simplicity and crisp taste. Naturally keto-friendly, this cocktail combines the tartness of lime with the crispness of gin. It's a classic choice for those seeking a light and invigorating drink that aligns with a low-carb lifestyle.
Recipe: Fill highball or Collins glass with Ice + Pour 2 ounces Gin + Squeeze Juice of 1 Lime + Top off with Sparkling Water or Club Soda + Stir gently + Garnish with Lime Wedge or Wheel [0.5 net carbs]
5. Keto Gin Gimlet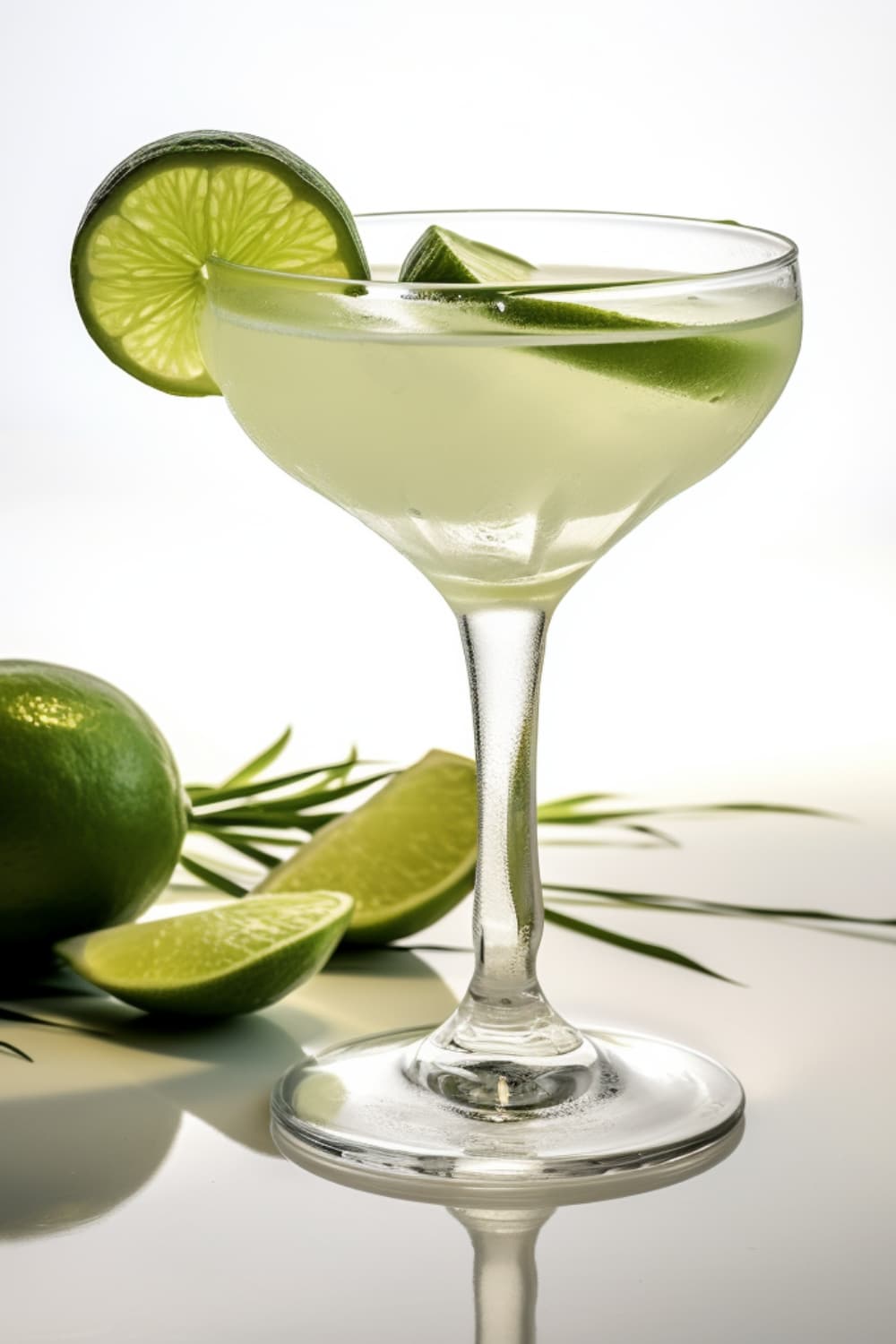 The Gin Gimlet is essentially a sweetened version of the Gin Rickey. It's a favorite for many due to its simplicity and the perfect balance of sweet and tart flavors. Traditionally, it was made with Rose's lime juice (a sweetened lime juice), but many modern versions use fresh lime juice and simple syrup for a fresher taste. A drink that's both elegant and invigorating, it's a must-try for those who appreciate the finer things in life.
Recipe: Add to shaker 2 ounces Gin + 1 ounce Lime Juice + ½ ounce Keto Simple Syrup + Fill with Ice + Shake well until chilled + Strain into chilled cocktail or martini glass + Garnish with Lime Wheel or Wedge [0.5 net carbs]
6. Keto Tom Collins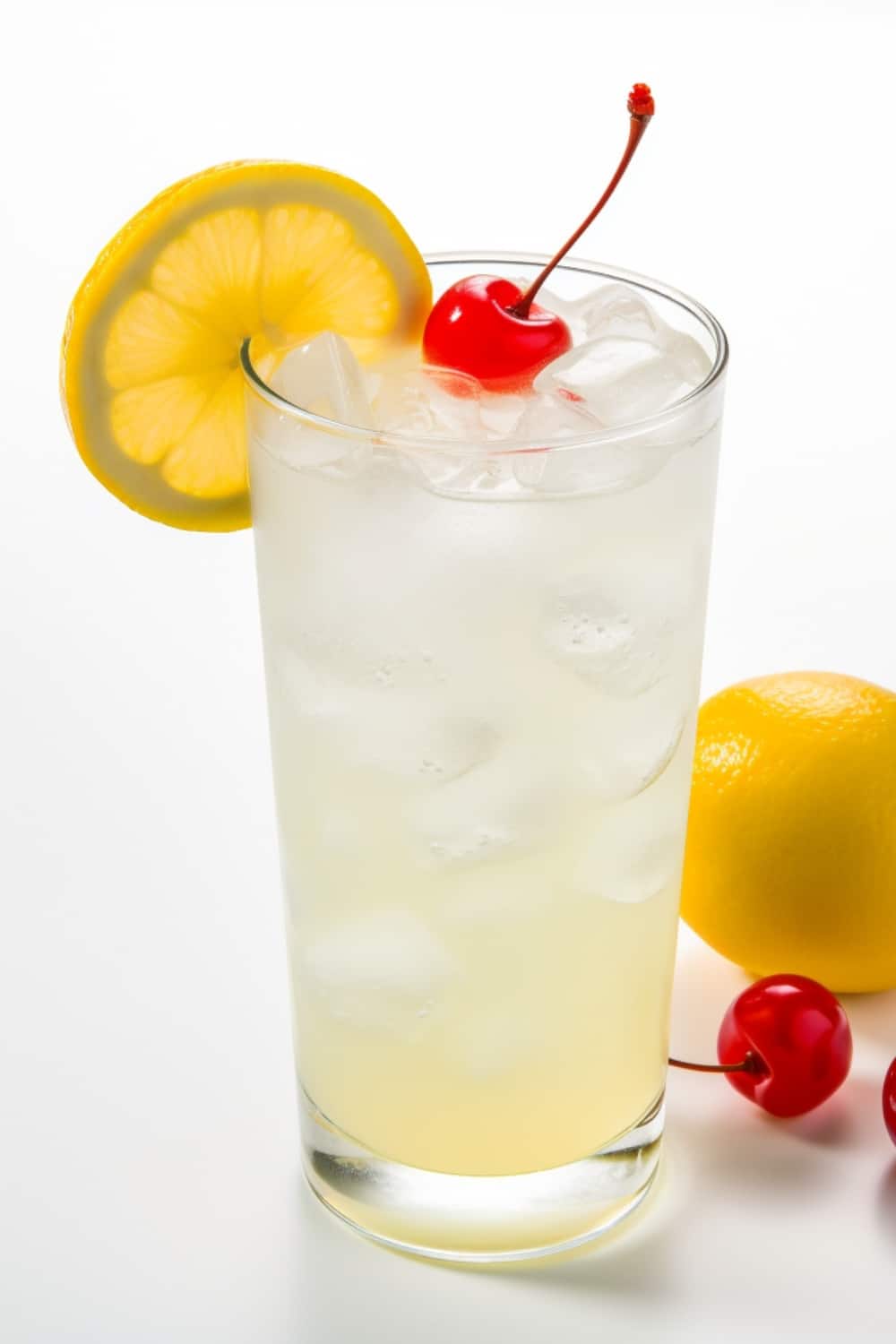 The Tom Collins is similar to a gin fizz but is served in a larger glass and typically without the frothy egg whites that's found in some fizzes. It's refreshing and effervescent, the perfect drink for warm weather or any time you want a light and bubbly cocktail.
Recipe: Add to shaker 2 ounces Gin + 1 ounce Lemon Juice + ½ ounce Keto Simple Syrup + Fill with Ice + Shake until chilled + Strain into tall glass filled with Ice + Top off with Soda Water or Club Soda + Stir gently + Garnish with Lemon Slice and Maraschino Cherry [2 net carbs]
7. Keto Cucumber Gin Cocktail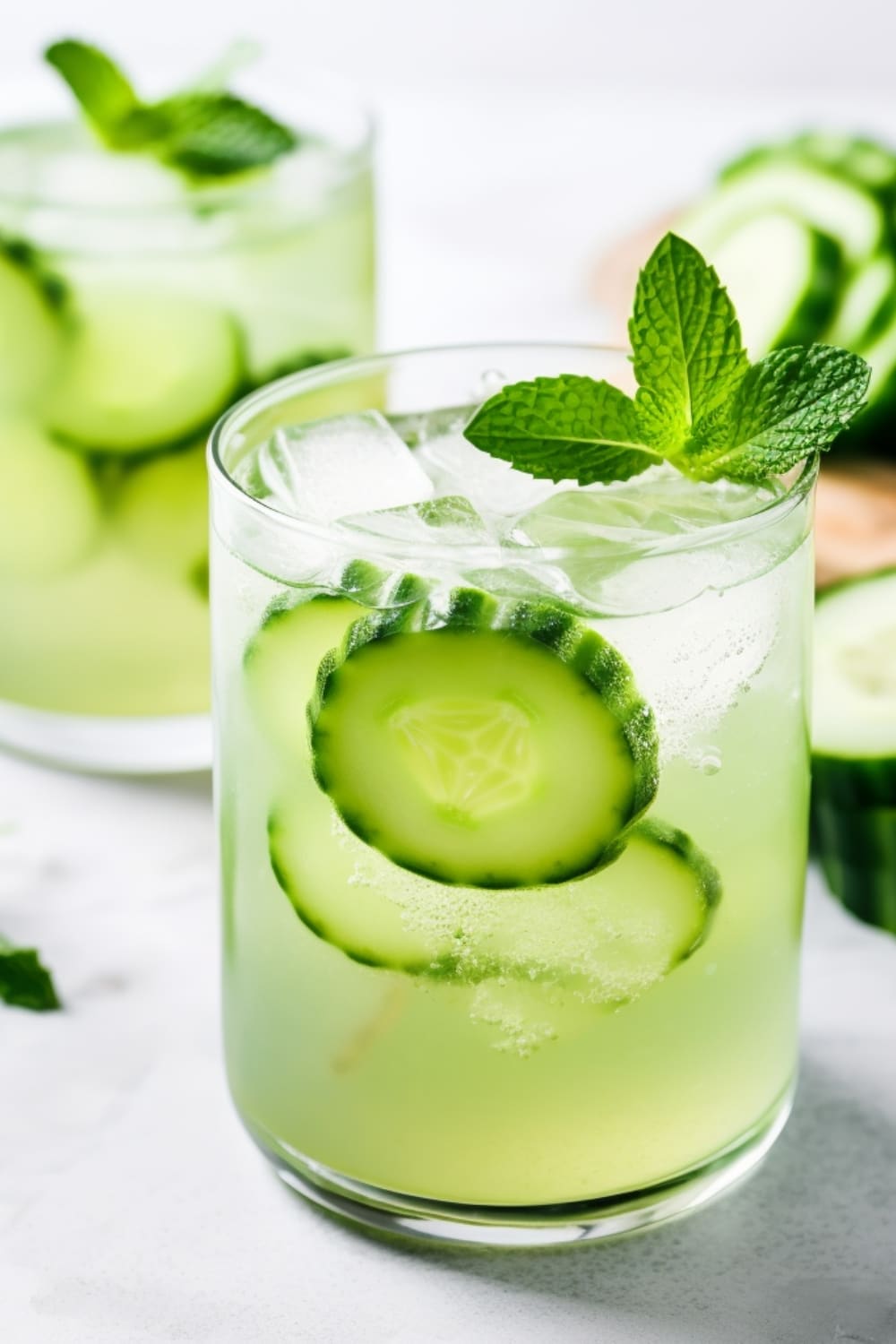 The Cucumber Gin Cocktail is a breath of fresh air in the world of cocktails. Its garden-fresh vibe, combined with the botanicals of gin, offers a sip that's both invigorating and sophisticated. Perfect for those moments when you want to escape to a serene oasis, even if it's just in your backyard.
Recipe: In shaker muddle 3-4 slices Fresh Cucumber + Add 2 ounces Gin + 1 ounce Lime or Lemon Juice + ½ ounce Keto Simple Syrup + Fill with Ice + Shake until chilled + Strain into glass filled with Ice + Top off with Soda Water + Garnish with Cucumber Slice and Mint Sprig [1 net carb]
8. Keto French 75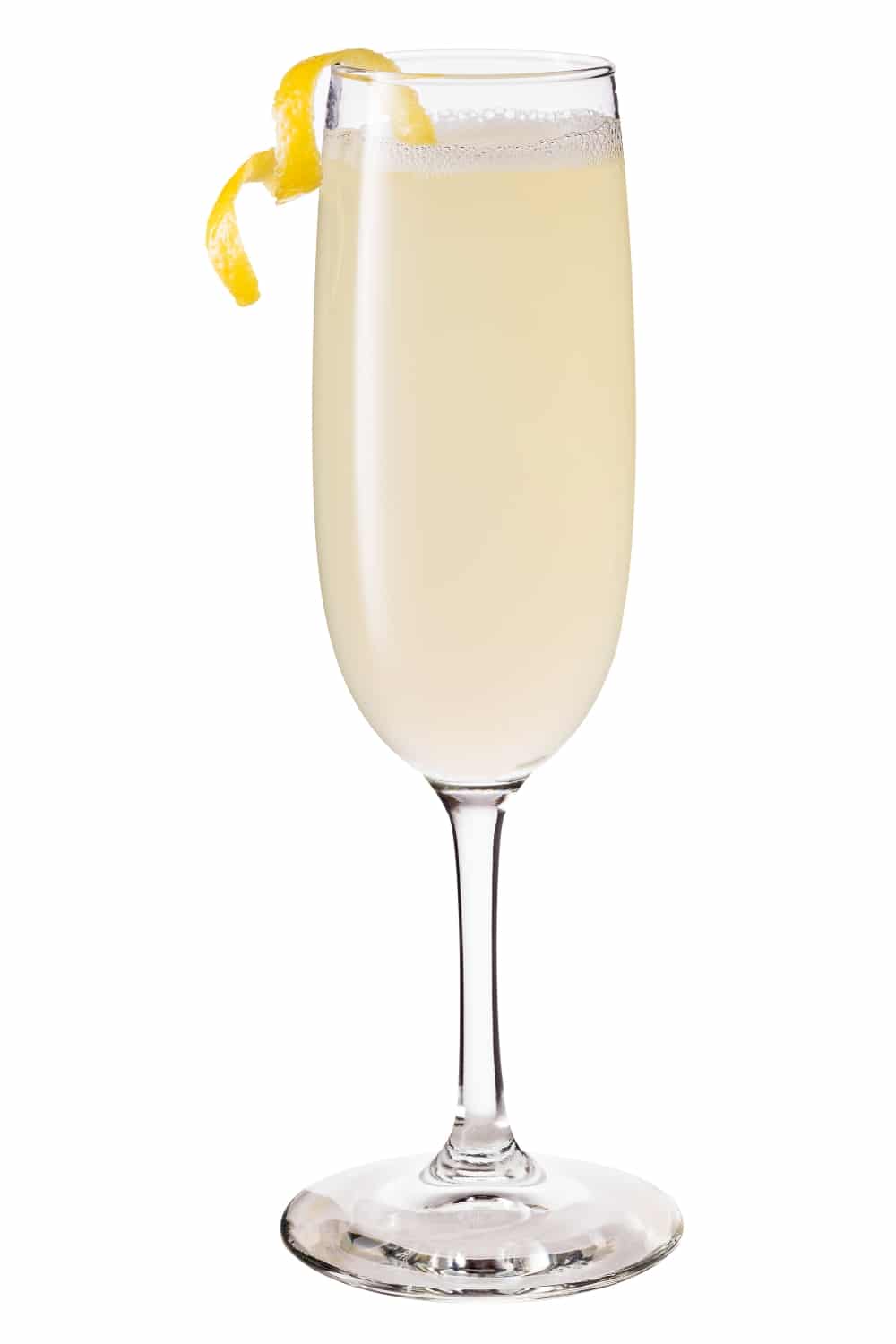 The French 75 is a classic cocktail that combines the botanicals of gin with the effervescence of champagne. It's named after the French 75mm field gun, which was used during World War I, supposedly because of the drink's strong kick. The combination of gin and champagne offers a delightful balance of botanicals and bubbles.
Recipe: In cocktail shaker, combine 1 ounce Gin + ½ ounce Fresh Lemon Juice + ½ ounce Keto Simple Syrup + Add Ice + Shake until chilled + Strain into champagne flute + Top with 2 ounces Champagne or Sparkling Wine + Garnish with Lemon Twist [2 net carbs]
9. Keto Bee's Knees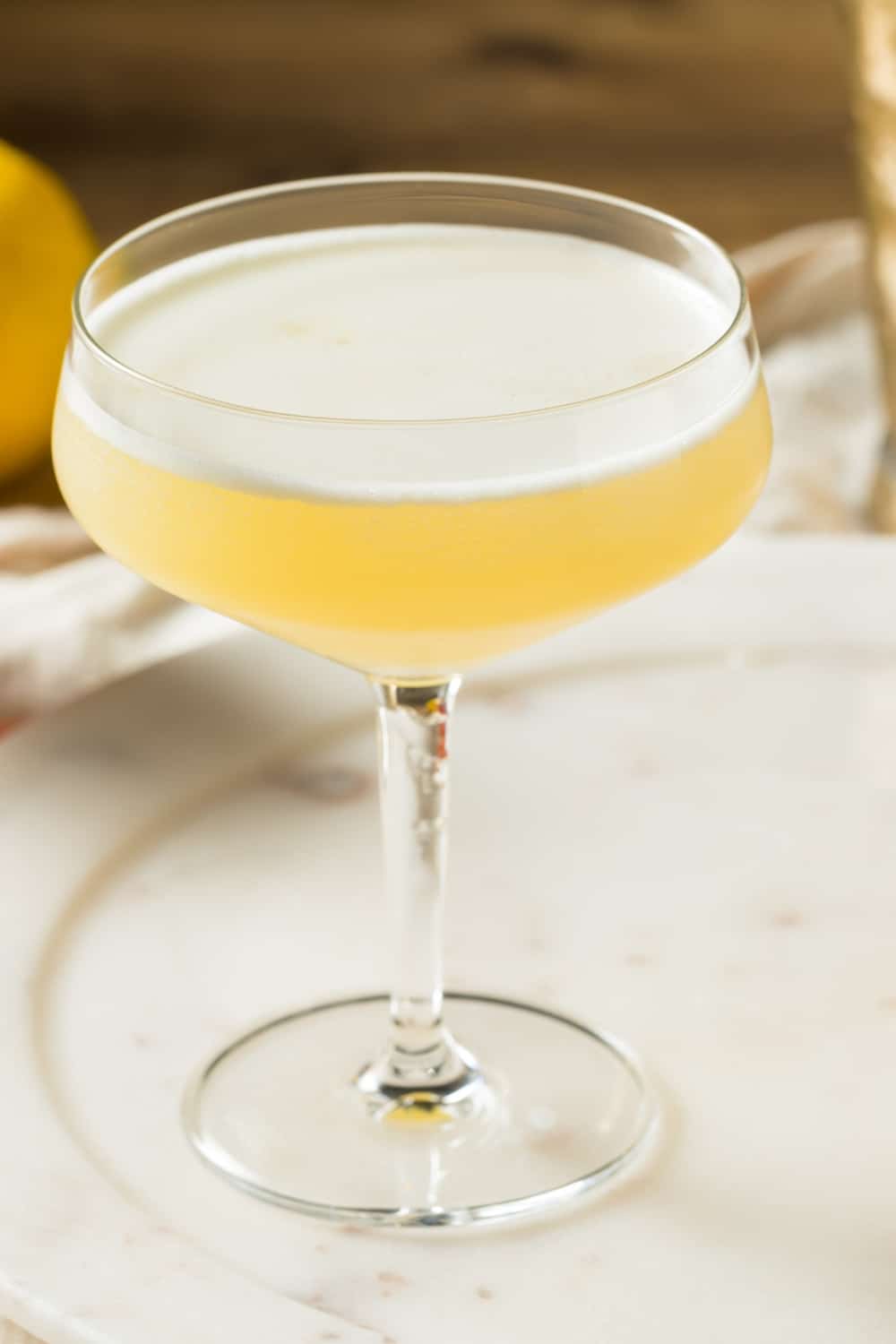 The Bee's Knees is a classic Prohibition-era cocktail that's known for its delightful blend of gin, lemon juice, and honey. The name "Bee's Knees" is a slang term from the Roaring Twenties that means "the best." In this keto version, swap out the honey syrup for a keto honey substitute or liquid Allulose, which has a honey-like consistency.
Recipe: In cocktail shaker, combine 2 ounces Gin + ¾ ounce Fresh Lemon Juice + ¾ ounce Keto Honey Substitute or Liquid Allulose + Add Ice + Shake until chilled + Strain into chilled cocktail glass + Garnish with Lemon Twist or Slice [1 net carb]
10. Keto Southside
The Southside is a classic cocktail that's often described as a gin mojito, given its combination of gin, citrus, mint, and sweetener. This keto-friendly version of the Southside retains the refreshing and aromatic qualities of the original cocktail without the added sugars and carbs.
Recipe: In cocktail shaker, gently muddle 6-8 Fresh Mint Leaves with ¾ ounce Keto Simple Syrup + Add 2 ounces Gin + 1 ounce Fresh Lemon Juice + Fill with Ice + Shake until chilled + Strain into chilled cocktail glass or over Ice in rocks glass + Garnish with Mint Sprig or Lemon Twist [1 net carb]
11. Keto Hot Gin Toddy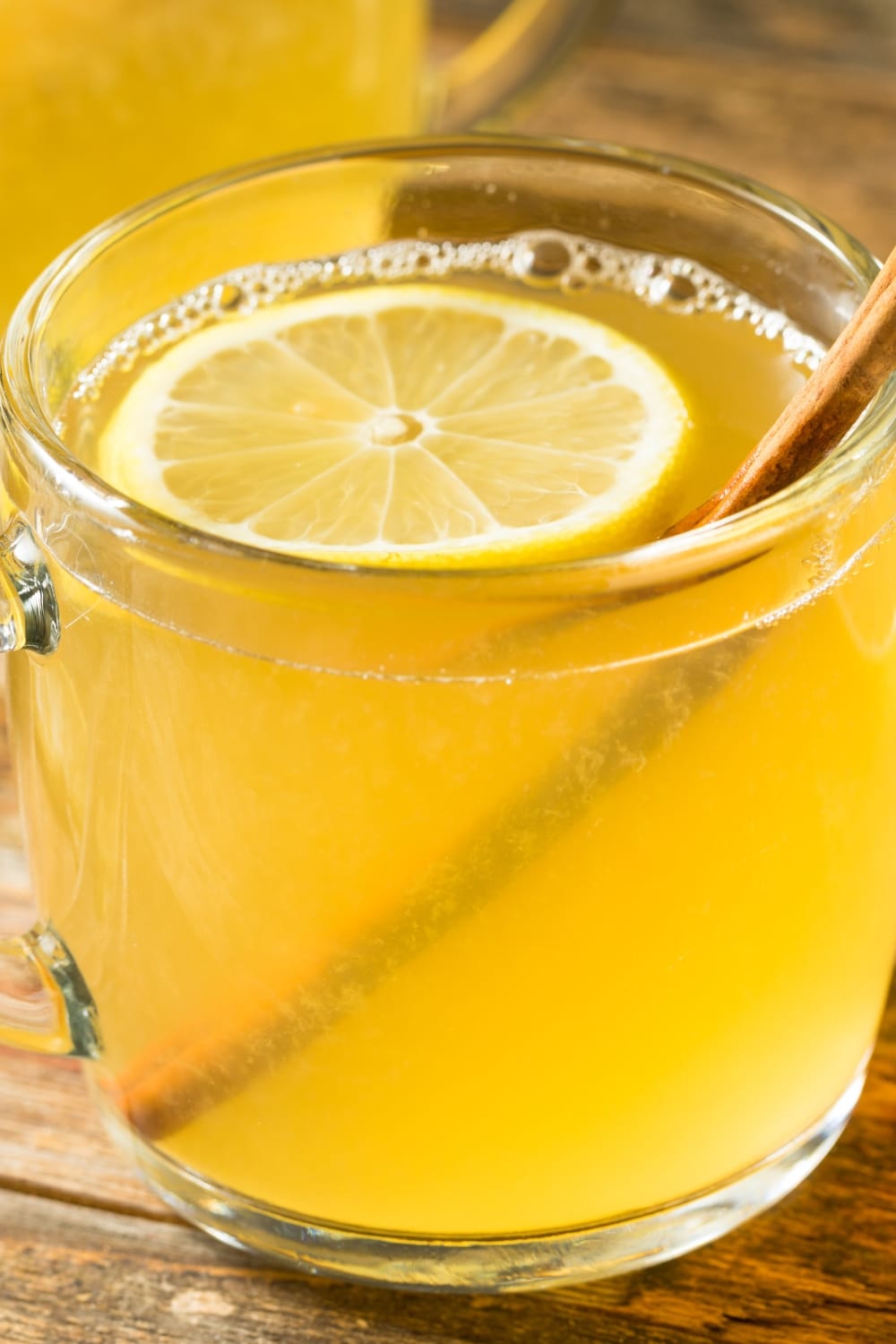 A "Hot Toddy" is a warm alcoholic beverage traditionally made with whiskey (though other spirits like rum, brandy, or gin can be used), hot water, honey (or sugar), and lemon. It's often garnished with warm spices like cinnamon or cloves and served in a mug. The drink is believed to have originated in Scotland and has been consumed for centuries. This keto-friendly version of the Hot Gin Toddy offers the warmth and comfort of the traditional drink without the carbs from honey.
Recipe: In a mug, combine 2 ounces Gin + 1 tablespoon Keto Honey Substitute or Liquid Allulose + ½ ounce Fresh Lemon Juice + Top up with Hot Water + Stir gently + Garnish with Lemon Slice and Cinnamon Stick [1 net carb]
Recommended Mixers for Gin Drinks
When you're creating a keto gin drink, selecting the right mixer is crucial. A good mixer should have low or no carbs, match well with gin's flavors, and enhance the overall cocktail. Here are some recommended mixers to use while crafting your drink:
1. Sweeteners (can be used to create your own keto simple syrup that doesn't affect your blood sugar):
Stevia
Erythritol
Monk fruit sweetener
Allulose
2. Fruits (in moderation due to natural sugars):
Lime (slices or juice)
Lemon (slices or juice)
Berries (blueberries, raspberries, strawberries, blackberries)
Avocado (great for creamy drinks)
Cucumber slices
Olives (for martinis)
3. Sparkling Waters:
Plain sparkling water (unflavored)
LaCroix
Perrier
San Pellegrino
Topo Chico
4. Other Liquids:
Club soda
Sugar-free ginger beer
Diet tonic water (not the best for clean keto)
Unsweetened iced tea
5. Herbs & Spices:
Mint leaves
Basil leaves
Rosemary sprigs
Thyme sprigs
Cilantro
Cinnamon sticks
Fresh ginger slices
6. Flavor Enhancers:
Sugar-free syrups (like Torani or Monin)
Bitters (like Angostura)
Muddled jalapeño (for a spicy kick)
Vanilla extract (a drop or two)
Other Low-Carb Alcohols to Consider
While you're exploring the world of keto gin drinks, it's good to know that there are other low-carb alcohol options to enjoy. Not only can this help diversify your drink choices, but it can also keep you on track with your keto diet.
Tequila is a great low-carb alcohol to consider, as pure tequila contains no carbohydrates and typically has fewer calories compared to other spirits. Enjoy a tequila on the rocks with a splash of lime juice, or mix it with soda water for a refreshing keto-friendly cocktail.
Vodka is another excellent low-carb option for those following a keto diet. Pure vodka has no carbs, and can be mixed with sugar-free sodas or flavored with fresh fruit for a tasty low-carb drink.
If you're a fan of whiskey, you're in luck; whiskey also contains zero carbs and can be enjoyed neat, on the rocks, or mixed with diet soda like Zevia.
Rum can be a good choice for a low-carb drink, as long as you stick to pure, unflavored rum. Flavored rums can sometimes contain added sugars and carbs, so be sure to check the label before indulging. Enjoy your rum with a splash of diet coke or mix it with sugar-free ginger beer for a keto-approved cocktail.
Wine enthusiasts can rejoice knowing that wine can also fit into a low-carb diet. Dry wines, such as Cabernet Sauvignon, Pinot Noir, and Sauvignon Blanc, typically have fewer carbs compared to sweeter wines. For a bubbly alternative, opt for a sparkling wine like Champagne or Prosecco, which tend to have a lower carb content as well.
Beer lovers may need to adjust their preferences when following a keto diet, as most regular beers contain a significant amount of carbs. However, there are low-carb beers on the market, such as light beers and low-carb lagers, which can be a suitable choice when consumed in moderation.
So go ahead and enjoy your keto-friendly gin drinks, but also take advantage of these other low-carb alcohol options to keep your drink menu fresh and exciting while maintaining your dietary goals.
Mocktails
Non-alcoholic cocktails, or mocktails, provide a fantastic way for you to enjoy the pleasure and ritual of drinking without the alcohol. Mocktails offer numerous benefits for those looking to maintain their well-being and stay hydrated.
One significant advantage of indulging in mocktails is that they often contain fewer calories compared to their alcoholic counterparts. This means that you can enjoy your favorite flavors without worrying about going overboard. Additionally, non-alcoholic cocktails are often packed with fresh fruits and herbs, which makes them not only delicious but also nutritious.
There are plenty of creative and delicious keto mocktails you can enjoy without compromising on taste. A popular example is the Keto Cucumber Gimlet, a refreshing and light beverage perfect for summertime fun and relaxation. This tasty drink is made with cucumber, lime juice, and club soda, resulting in a cool and crisp cucumber-infused delight.
Frequently Asked Questions
How many carbs are in gin and diet tonic?
Gin is a low-carb option, containing nearly zero carbs. When you pair it with diet tonic, which is also low in carbs, you have a keto-friendly cocktail. Generally, a gin and diet tonic contains around 0 to 1 grams of carbs per serving, making it a suitable choice for those on a keto diet. If you are sticking to a clean keto diet, diet tonic may not be the best choice as it contains artificial sweeteners and preservatives. Instead, opt for sparkling water or soda water with a dash of keto simple syrup.
What are some low carb alternatives to tonic water?
If you're looking for low-carb alternatives to tonic water, consider options such as soda water, sparkling water, seltzer water, or flavored sugar-free seltzers. These drinks provide a similar fizzy texture without the added sugar and carbs found in traditional tonic water.
Can flavored gin be incorporated in a keto diet?
Yes, flavored gin can be incorporated into a keto diet. However, it's essential to verify the nutritional information as some flavored gins may contain added sugar. Opt for gins infused with flavors from natural sources, like botanicals, spices, or fruits. Just make sure to check the labels for any hidden carbs and make smart choices to maintain ketosis.
Which mixers are considered keto-friendly with gin?
When choosing keto-friendly mixers to pair with gin, look for options that are sugar-free, low in carbs, and do not contain artificial sweeteners. Some popular keto-friendly mixers include:
Soda water
Sugar-free ginger beer
Lemon or lime juice
Unsweetened iced tea
Complement the mixers with garnishes like herbs, citrus zest, or fresh berries to add flavor to your keto gin cocktails without compromising your diet.
Looking for more keto-friendly drink recipes? Check these out.
PIN FOR LATER!