The key to a successful keto diet is loading up on fat and moderate protein while avoiding most carbs. With breakfast, you might find a million things to do with eggs. And with dinner, you can find a recipe for just about anything to make it keto- friendly. But, what about lunch? Check out the recipes down below for some great quick & easy 5-minute keto lunch ideas!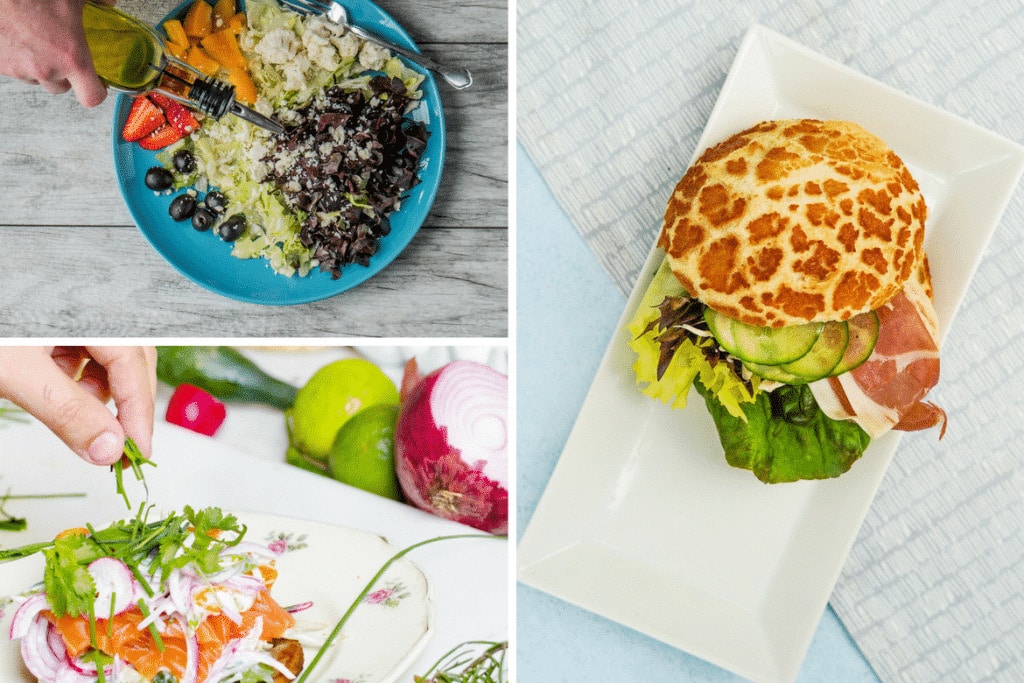 The meal that's either skipped or replaced with a quick shake. Or we use it as an excuse to go out and consume way too many calories!
Since you all loved my quick & easy keto breakfast and snack ideas, I decided to make your life easier. I rounded up all the best "throw together" Keto lunch ideas.
These Keto lunch ideas will help you make the right decisions for your Keto diet journey and stick with a low carb diet.
Grab a free printable: Keto Food Lists
If air frying is your thing, make sure to check out keto lunch recipes for an air fryer!
Keto Lunch Ideas: Tips and Tricks for Success
Before we touch on my favorite keto lunch recipes, I wanted to share some tips and tricks that I learned along the way.
These help me save time, money, and sanity while sticking to the ketogenic diet. I learned them the hard way, but you don't have to.
Meal Prep Matters
I don't know about you, but lunch is usually the meal I have the least amount of time for.
Between hectic schedules and emergencies popping up what feels like every other day, it's tough to make lunch sometimes. My solution? Meal prep, baby!
I do a couple of things involving lunch meal prep and planning that save me time and stress during the week. Here are a few pointers so you can, too:
Plan your low-carb lunches ahead of time. Seriously, planning is the basis for success. It took me some time to really ingest that lesson, but now that I have, things are much simpler.

I usually plan all my meals several days ahead of time (I shoot for a week ahead, but sometimes life gets in the way of that). That includes coming up with easy keto lunch recipes, but also breakfast and dinner. Then I can shop for everything I need all at one time.
Meal prep is key! I don't know what I would have done if I hadn't started prepping everything early. From browning ground beef to slicing bell peppers and crumbling bleu cheese, anything you can do ahead of time will save you a lot of effort during the week and make it easier to stay on your keto diet.
Seriously, prepping ahead of time makes it a lot less likely that you'll be forced to cheat because you didn't have time to make lunch one day.
Making everything ahead of time in a big batch can allow you to portion things out for the week very easily.
Use simple ingredients. Don't get too complicated. Big taste can come from simple, well-known things. Don't discount the taste of homemade egg salad or chicken salad, particularly as a lettuce or cabbage wrap!
Get the gear you'll need ahead of time. One of the biggest stumbling blocks on my own keto journey was not having the right kitchen tools.

I really recommend having an Instant Pot or a slow cooker (I use both because they're not really the same thing). I also recommend having the right storage options so you can take hearty salads, keto soup, and other lunches on the go if you need to.
Easy Keto Lunch Ideas
Who says it has to be hard to stick to the keto diet? I've found that the key to my own success is having access to easy-to-make recipes based on readily available ingredients.
I've included some of my favorite keto lunch recipes below to help make sure that you're able to keep your body fueled and skip the cheat meals.
1. Under the Sea Lunch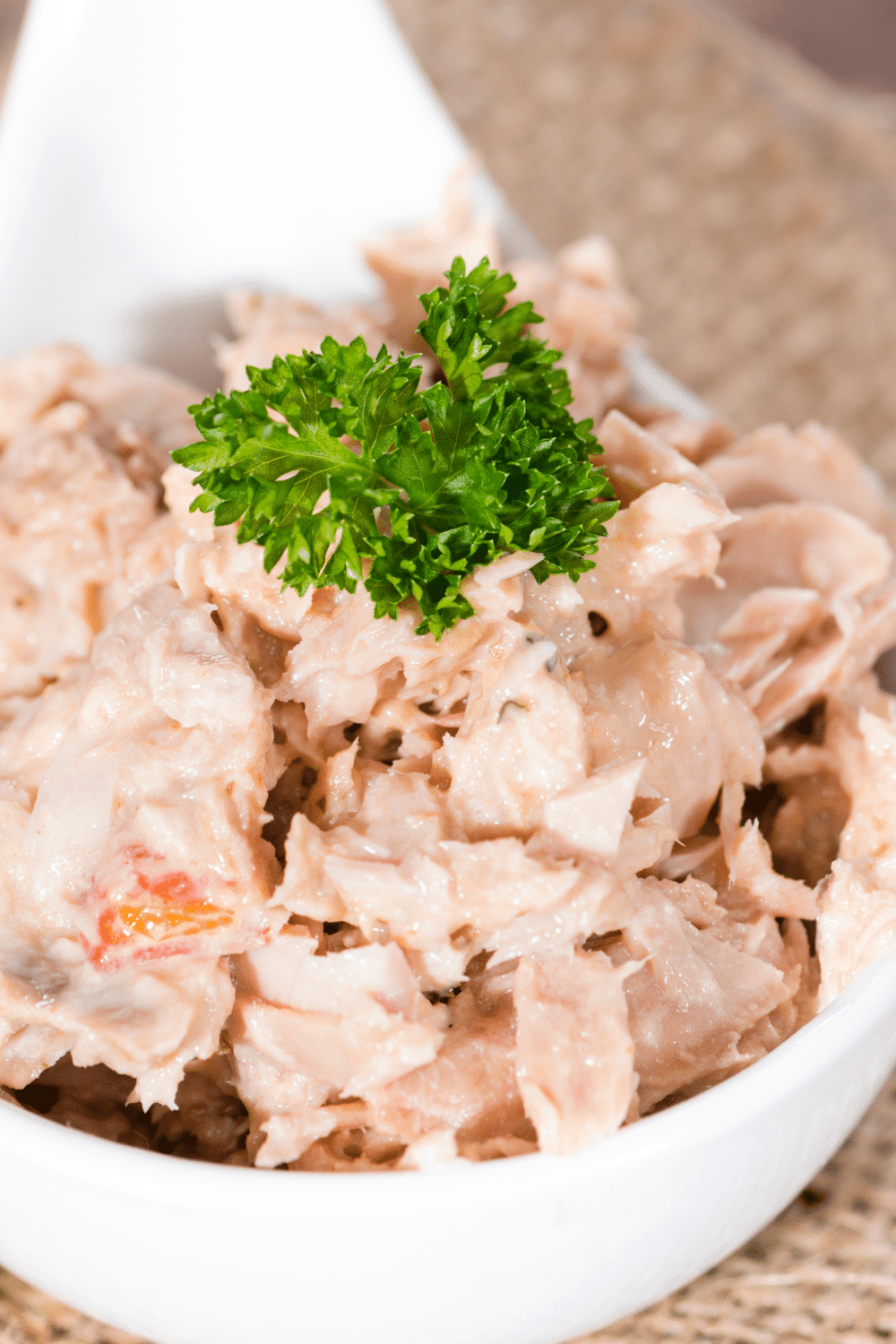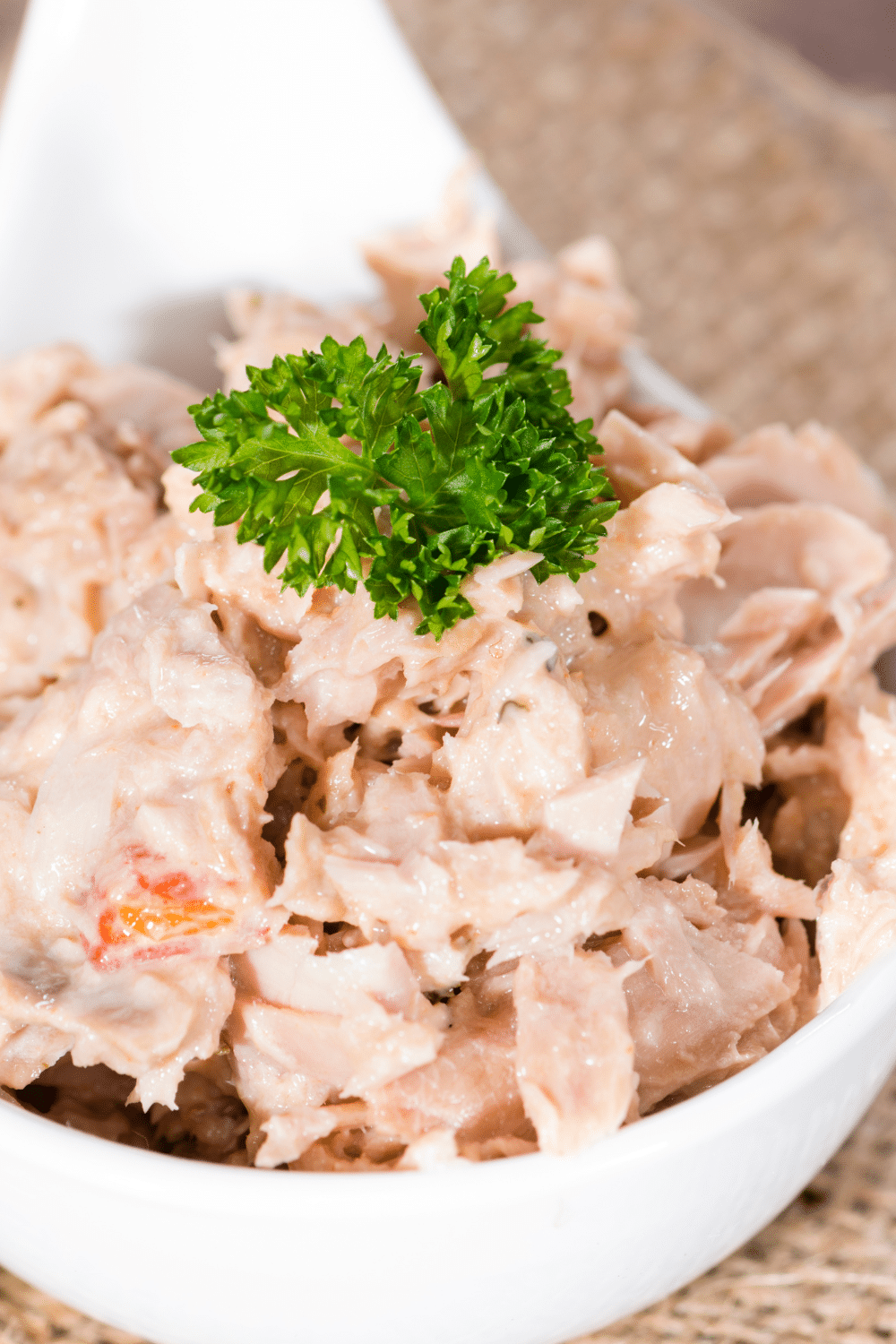 Canned Tuna + Mayonnaise + Trader Joe's Seaweed Snacks
One of my favorite easy keto lunch ideas is this unique sea-focused option. It's also ultra-simple and takes just minutes to put together.
All you need to do is combine canned tuna fish with your choice of mayo, and then add in Trader Joe's Seaweed Snacks.
The seaweed brings a lovely crunch, as well as protein, and the tuna amps up your protein intake, too.
The mayo offers plenty of fat, and there are very few net carbs in this lunch. Because it's so simple, it's also easy to carry with you in an airtight container.
With that being said, make sure you're limiting your tuna intake to only a few times per week to minimize your mercury intake.
2. Keto Patties Two Ways
Shredded Rotisserie Chicken + Chopped Jalapenos + Egg White + Shredded Cheese + Create patties + Fry until crispy OR Canned Tuna + Egg White + Shredded Cheese + Create patties + Fry until crispy
Patties are so very versatile! You can eat them on their own, in a wrap, and in so many other ways!
These keto patties are delicious, low-carb, and super simple to make, too, so it's great for those busy days when you feel like you don't have time for anything. Make sure to try both options.
Chicken – I love to make this low-carb lunch with leftover rotisserie chicken, but you can sub canned chicken or any other shredded chicken. Add some chopped jalapeño peppers, egg whites, and shredded cheese, form patties, and then pan fry for a patty version of chicken salad!
Tuna – This riff on tuna salad only requires canned tuna, egg whites, and shredded cheese. Form patties from the mix, then pan fry until they're crispy, and enjoy this simple addition to your low-carb diet.
3. Caprese Salad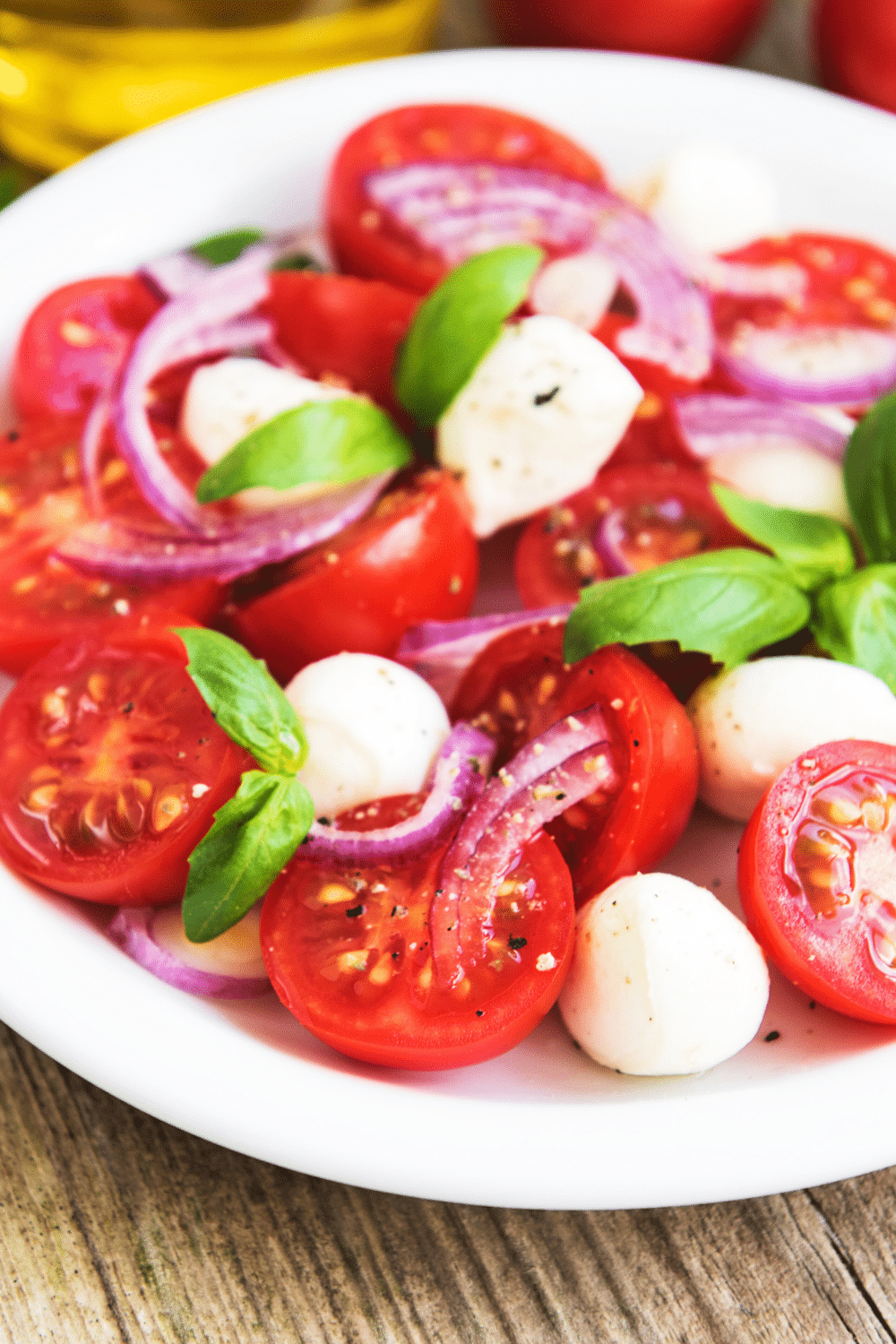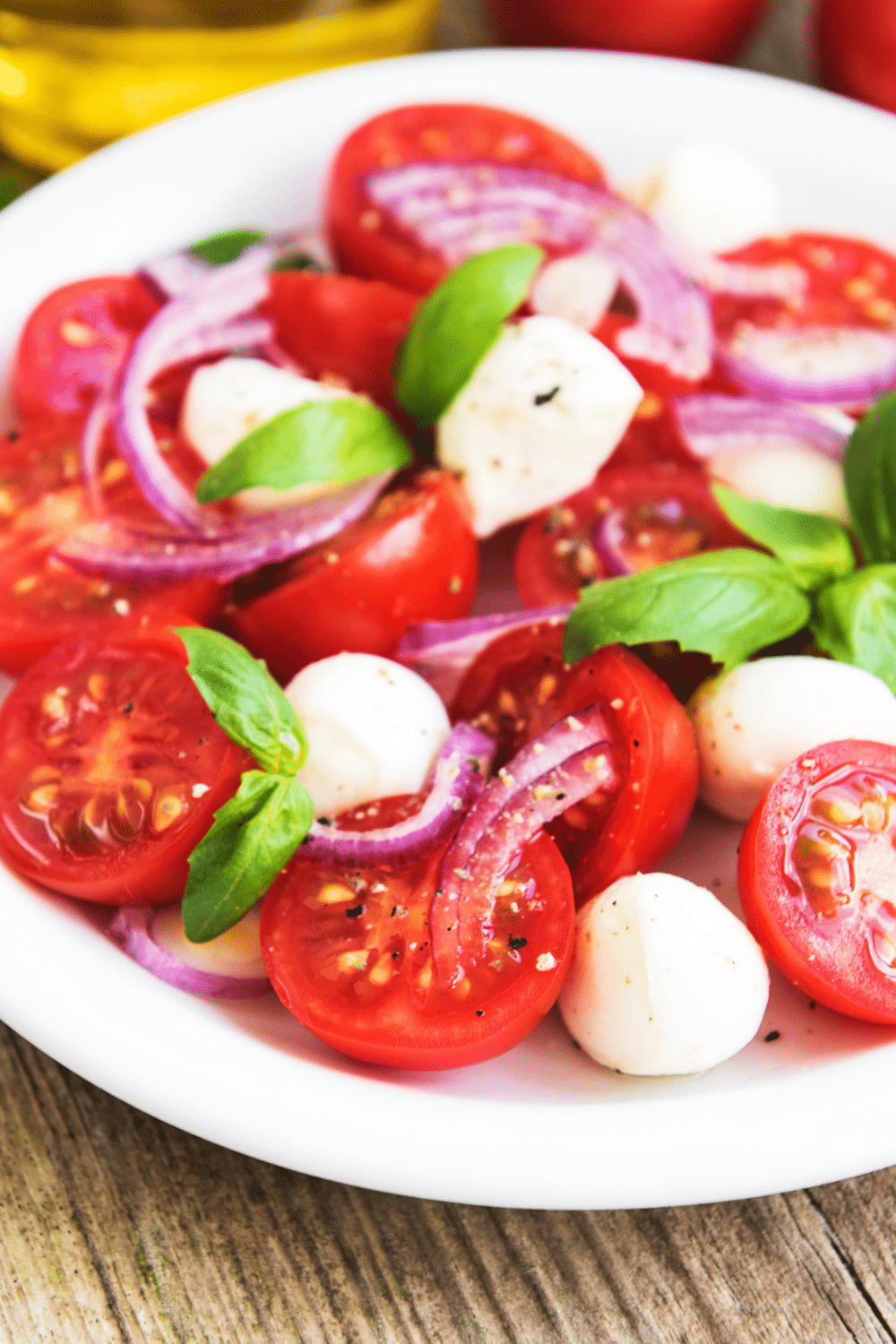 Sliced Mozzarella + Cherry Tomatoes + Salt + Oregano + Olive Oil + Basil Leaves
Okay, I'll admit that I'm a sucker for Caprese anything. Caprese pizza was a favorite for a long time, but the dough isn't keto-friendly, so this Caprese salad is a wonderful stand-in. It's also simple to make and requires almost no time at all.
You'll need some sliced mozzarella coins, sliced or whole cherry tomatoes, a decent amount of basil leaves, a little olive oil, some oregano, and salt for seasoning. Try fresh cracked black pepper, too.
4. Mediterranean Chicken
Tyson Grilled & Ready Chicken + Steamed Microwave Broccoli, then + Olive Oil + Garlic Salt + Roasted Red Pepper Flakes + Sesame Seeds + Muenster cheese melted on top
Fresh, simple, and delicious, this Mediterranean lunch is based around Tyson Grilled & Ready Chicken.
Add to that some steamed microwavable broccoli, a little bit of olive oil, garlic salt, roasted red pepper flakes, and sesame seeds, and you have the makings of a great lunch filled.
Top it with some melted muenster cheese to bring healthy fats to the table.
5. Keto Pizza in the Microwave
3 Eggs + Mug + Scrambled with Heavy Whipping Cream + Cream Cheese + Pepperoni + Microwave 3.5 minutes
Love pizza but bummed that it's not keto-friendly? I've got your fix! This microwave keto pizza is made right in a mug and takes less than five minutes to cook.
Just mix some heavy whipping cream with three eggs. Add in some cream cheese and pepperoni and it's sure to satisfy your pizza cravings. Put everything in a mug and then microwave it for 3.5 minutes.
The result is delicious, keto-friendly, and at least pizza adjacent.
6. Keto Sushi
Nori + Cheese Slices + Large Pepperonis + Turkey + Shredded Cheese + Microwave 15 seconds + Roll + Cut with serrated knife
There's nothing un-keto about raw fish, but the rice included with most sushi isn't part of the keto diet. Thankfully, this keto sushi recipe will give you that Japanese fix without the carbs!
And it takes very little time to throw it all together. What do you need? Let's start with some nori (seaweed). To that, you'll add cheese slices, then some large pepperoni coins, a little turkey for lean protein, then some shredded cheese for healthy fats.
Toss it in the microwave for 15 seconds, roll it out, and then cut it with a serrated knife.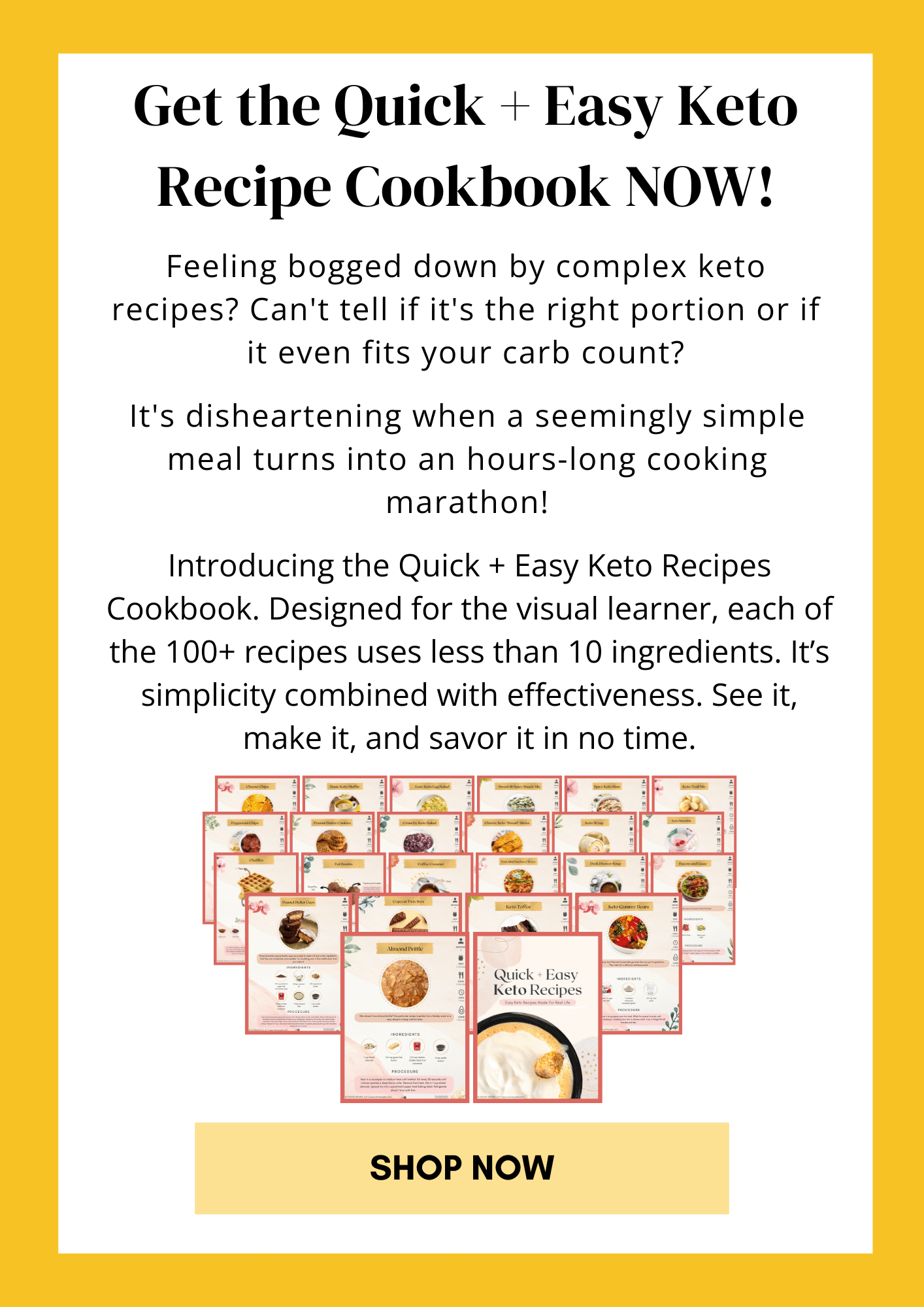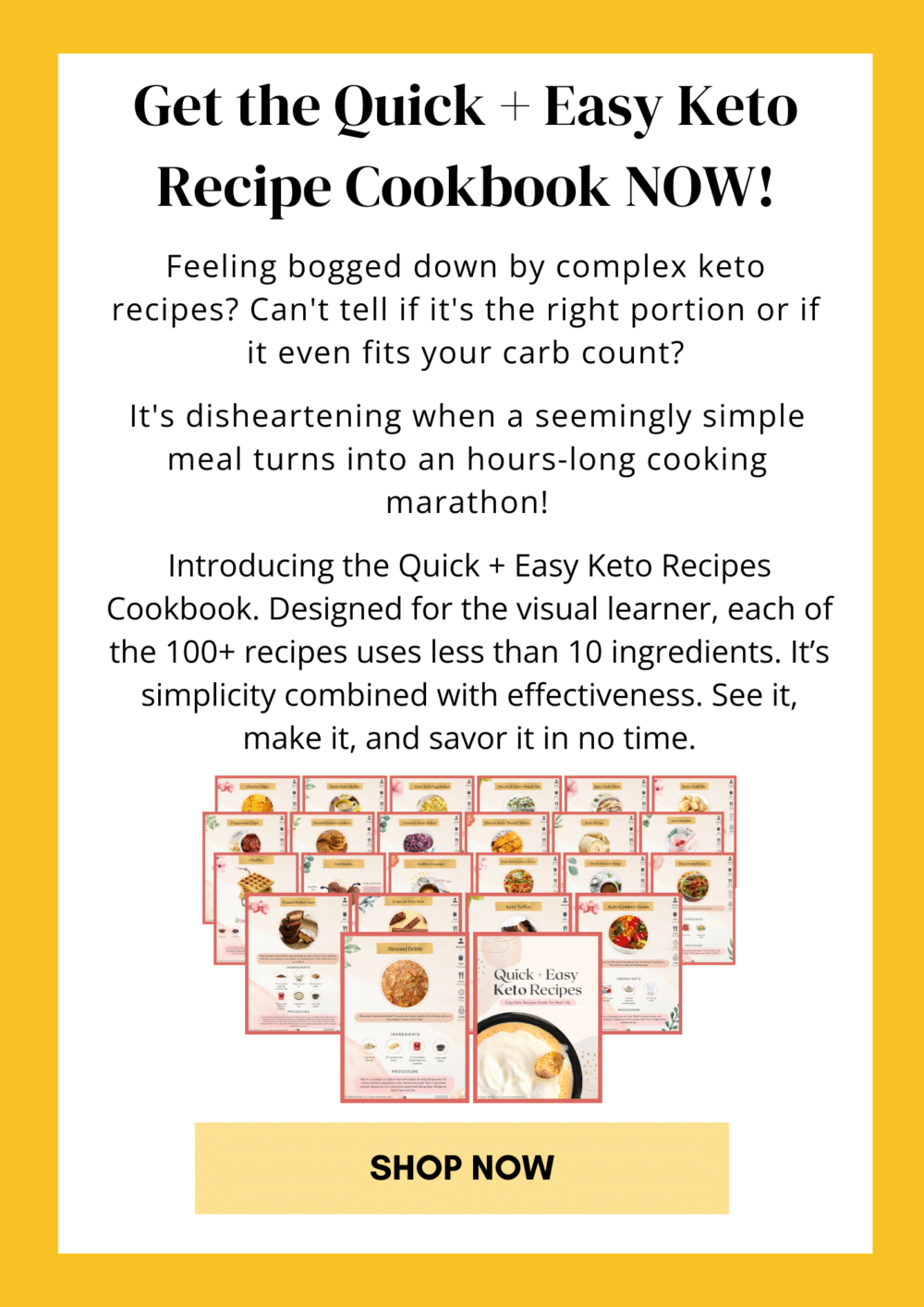 7. Keto Chicken Burrito
Shredded Rotisserie Chicken + Whisk an egg & fry on skillet + Put Low Carb Tortilla on top + Spoon chicken and cheese on top + Roll + Slice
Make sure you have plenty of sour cream on hand for this incredibly satisfying keto chicken burrito! You'll need some shredded rotisserie chicken (you can also use canned chicken if that's all you have or any other shredded chicken you have handy).
Next, scramble an egg and fry it in a skillet. Grab yourself a low-carb tortilla and layer everything on it, beginning with the egg. Top the chicken with cheese, then roll it all up and slice it.
Dip it into sour cream or have some low-carb pico de gallo available.
8. Spanish Lunch
Cheddar Slices + Pepperoni + Peanuts + Pecans
Want something quick, simple, and satisfying for lunch? It doesn't get any easier than this Spanish lunch. You'll need some cheddar cheese slices (for healthy fats, plus taste).
Add some pepperoni slices, peanuts, and pecans, and you have a wonderful combination of protein and fat with virtually no net carbs.
9. Italian Wrap
Low Carb Tortilla + Lettuce + Pepperoni + Ham + Cheese + Italian Dressing
Head a little south and west from Spain and you'll find yourself smack in the middle of Italy.

This wrap brings all the great Italian flavors you love together without the carbs that prevent you from losing weight. Assembling it is fast and easy, too, and you'll love how much flavor there is!
Start with a low cab tortilla, then add lettuce of your choice. Some pepperoni and ham bring a lot of protein, and then a sprinkling of cheese ups the ante in healthy fats.
Drizzle your favorite Italian dressing over it all and dig in!
10. Caesar Salad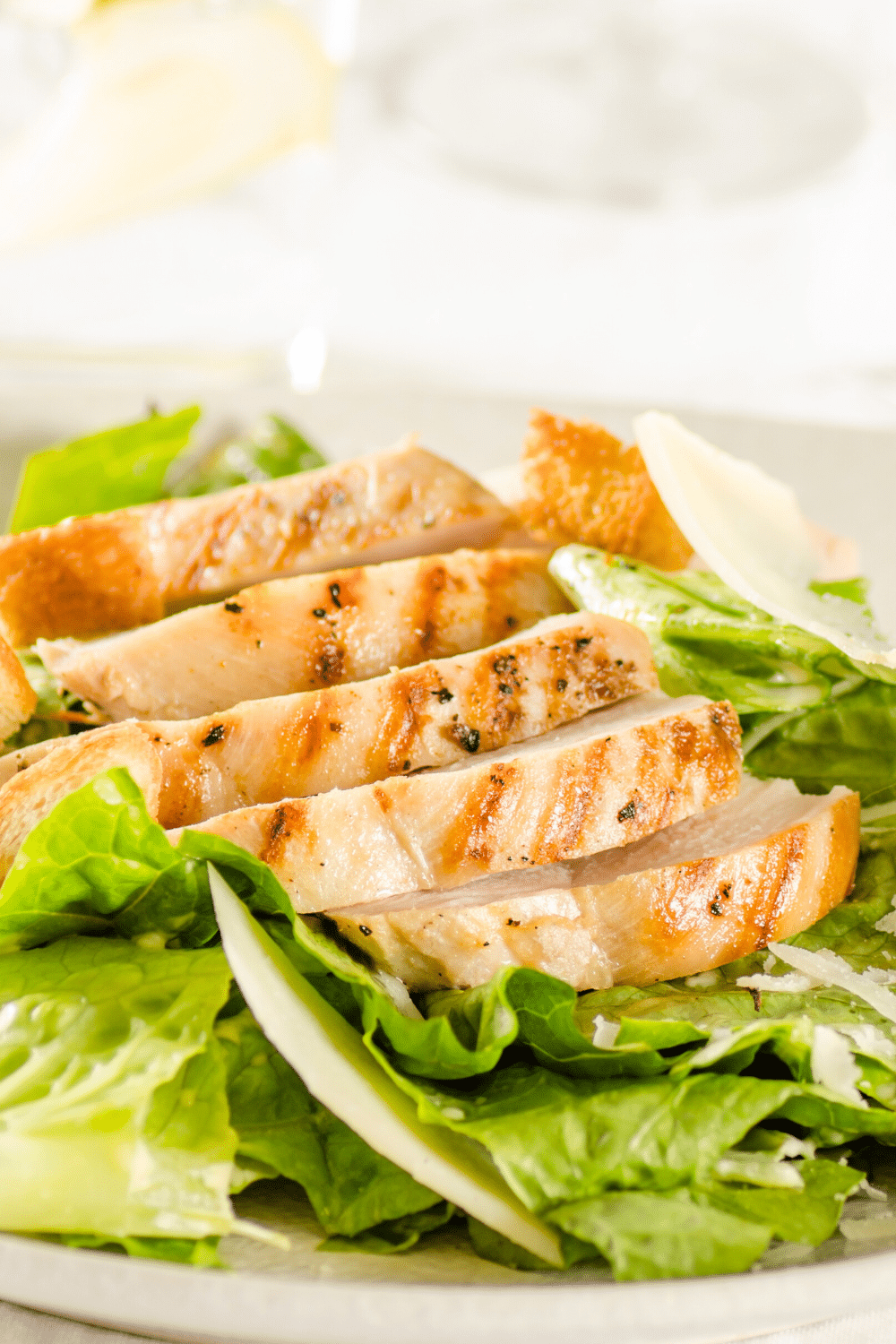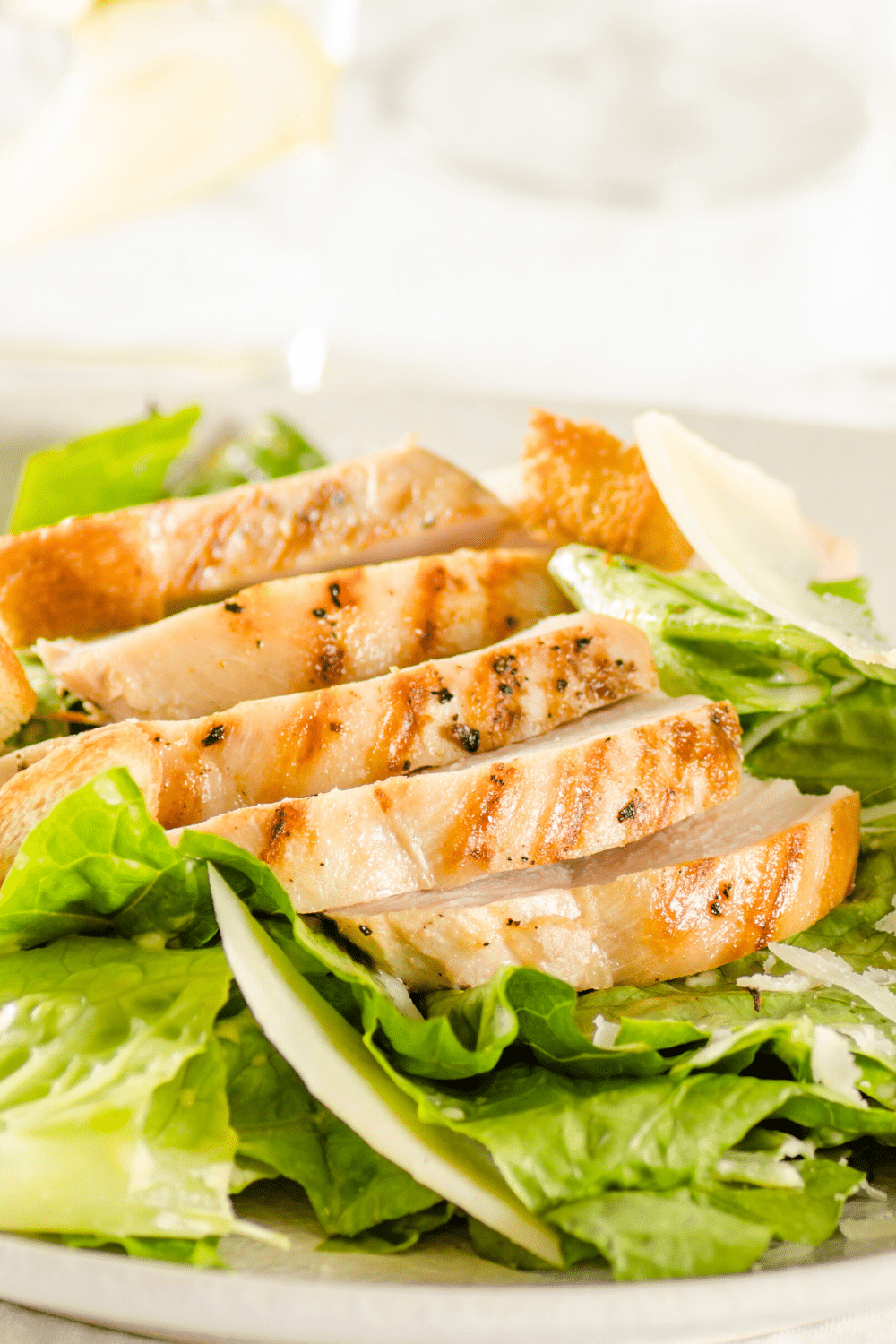 Chopped Romaine Lettuce + Parmesan Cheese + Cello Whisps + Creamy Caesar Dressing
Yes, the humble Caesar salad can be keto-friendly. This low-carb lunch option is a great fit for almost any lifestyle, whether you're stuck at the office or working from home.
To make these hearty salads keto-friendly, you'll need to start with some chopped Romaine lettuce. Add some parmesan cheese, and then Cello Whisps to take the place of the carb-loaded croutons.
Add your favorite creamy Caesar dressing to finish everything off.
11. Prepared Tuna, Chicken, or Egg Salad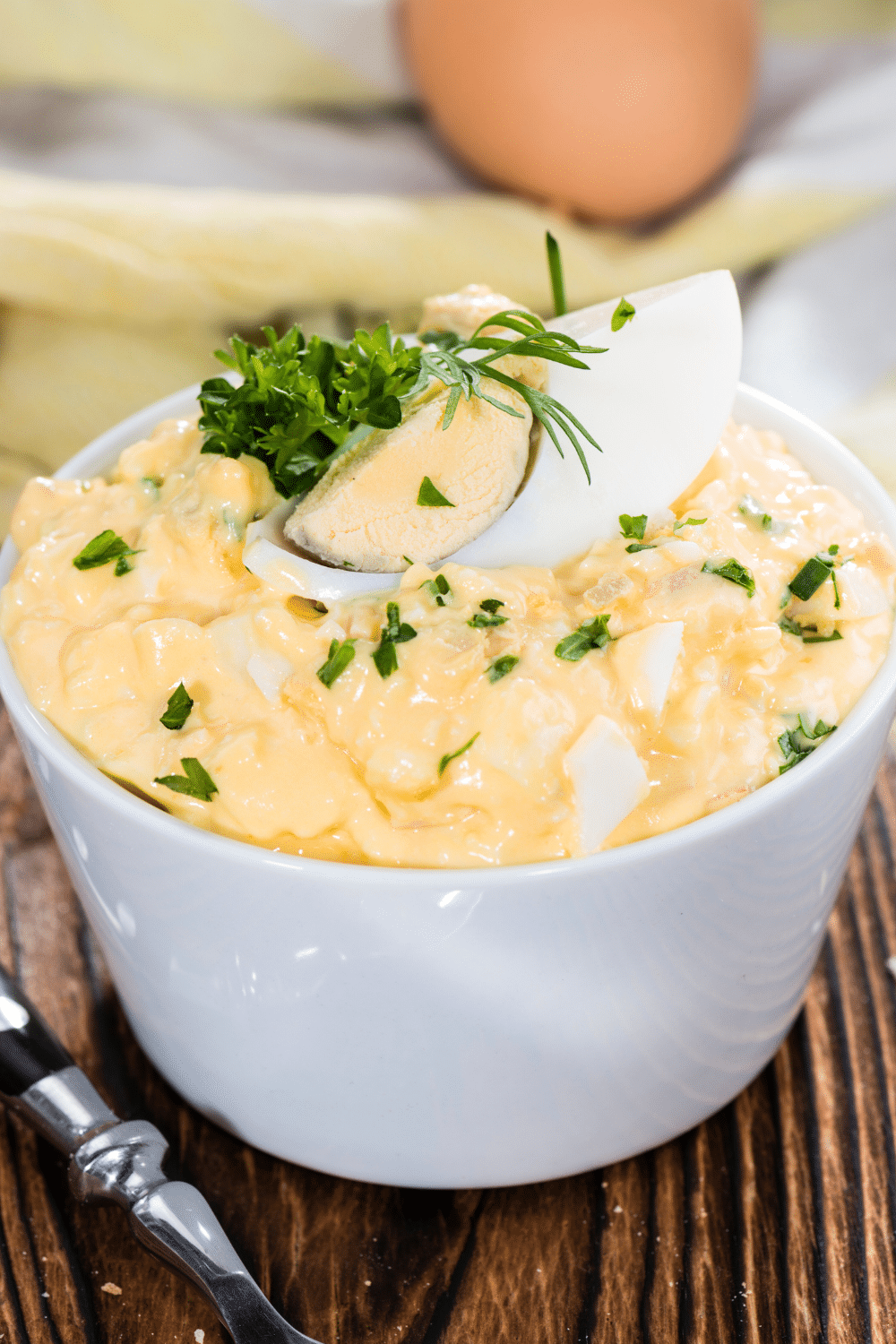 Canned Tuna OR Shredded Rotisserie Chicken OR Hard Boiled Eggs + Mayonnaise + Relish + Salt + Pepper + Romaine Lettuce
Tuna salad, chicken salad, and egg salad are three of the primary staples of American lunches. They all combine the creaminess of mayo with something unique, from savory chicken to the "egginess" of egg salad.
This recipe is simple and very versatile. You just need to change the protein source. The base for all three is your choice of mayo, a little relish (try dill relish instead of sweet relish for a delicious difference), a little salt and pepper, and then Romaine lettuce to put it all in. Just add tuna, chicken, or hard-boiled eggs.
12. Ultimate Fancy Keto Salad
Bag of Salad Greens or Baby Spinach + Olives + Avocado + Alfalfa Sprouts + Seeds (Pumpkin, Sunflower, or Sesame) + Canned Tuna OR Shredded Rotisserie Chicken OR Hard Boiled Eggs + Shredded Cheese + Creamy Dressing
Love hearty salads? This ultimate fancy keto salad brings all the flavor you want and doesn't compromise your keto lifestyle.
Plus, it's big enough to feed more than one person (or to feed one person for a couple of days). Here's what you need to do to bring it all together: start with a big bag of salad greens or baby spinach. Add some olives, avocado slices, and alfalfa sprouts.
Toss in some seeds (I love pumpkin, sunflower, or sesame seeds), and then some canned tuna. Or swap the tuna out for rotisserie chicken if you prefer. Hard-boiled eggs can take the place of tuna or chicken, but you can also add the eggs with the other protein sources if you want to.
Finally, top it with some shredded cheese (cheddar is my favorite, but do what you want), and then your preferred creamy dressing.
13. Ham Pinwheels
Ham + Whipped Cream Cheese + Chopped Green Onions + Roll + Slice
Yes, this ubiquitous party food can make a great choice when it comes to planning a healthy meal for lunch. This version combines healthy fats with protein but omits the bread, so it is a low-carb choice.
If you're feeling adventurous, you can add in some keto bread to wrap it all in. To start, you'll need ham slices. I recommend buying the good stuff from the deli, not the prepackaged stuff in the refrigerated section. Top that with some whipped cream cheese and then chopped green onions.
Roll it all up and slice it and you have a delicious lunch with so much flavor!
14. Easy Taco Salad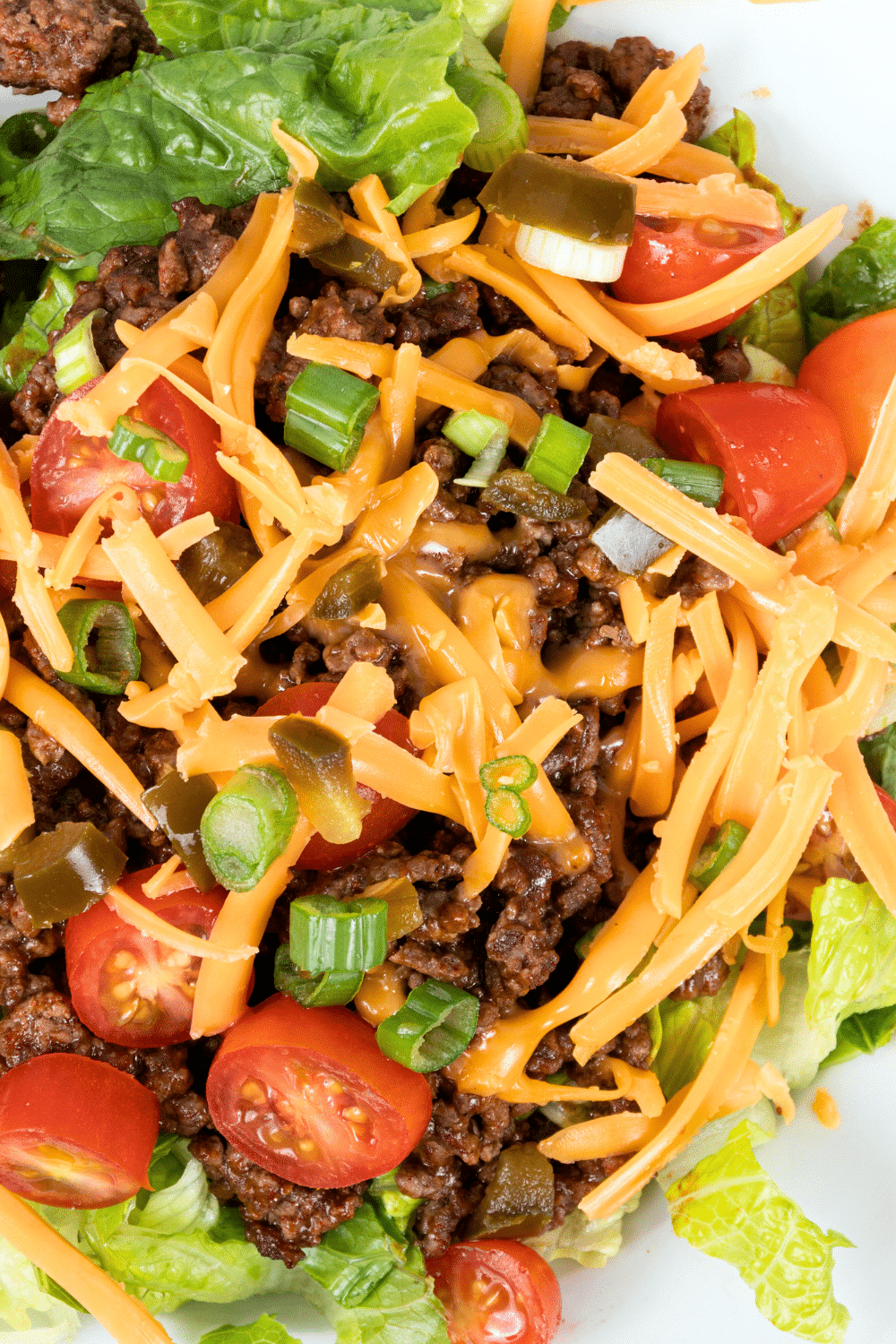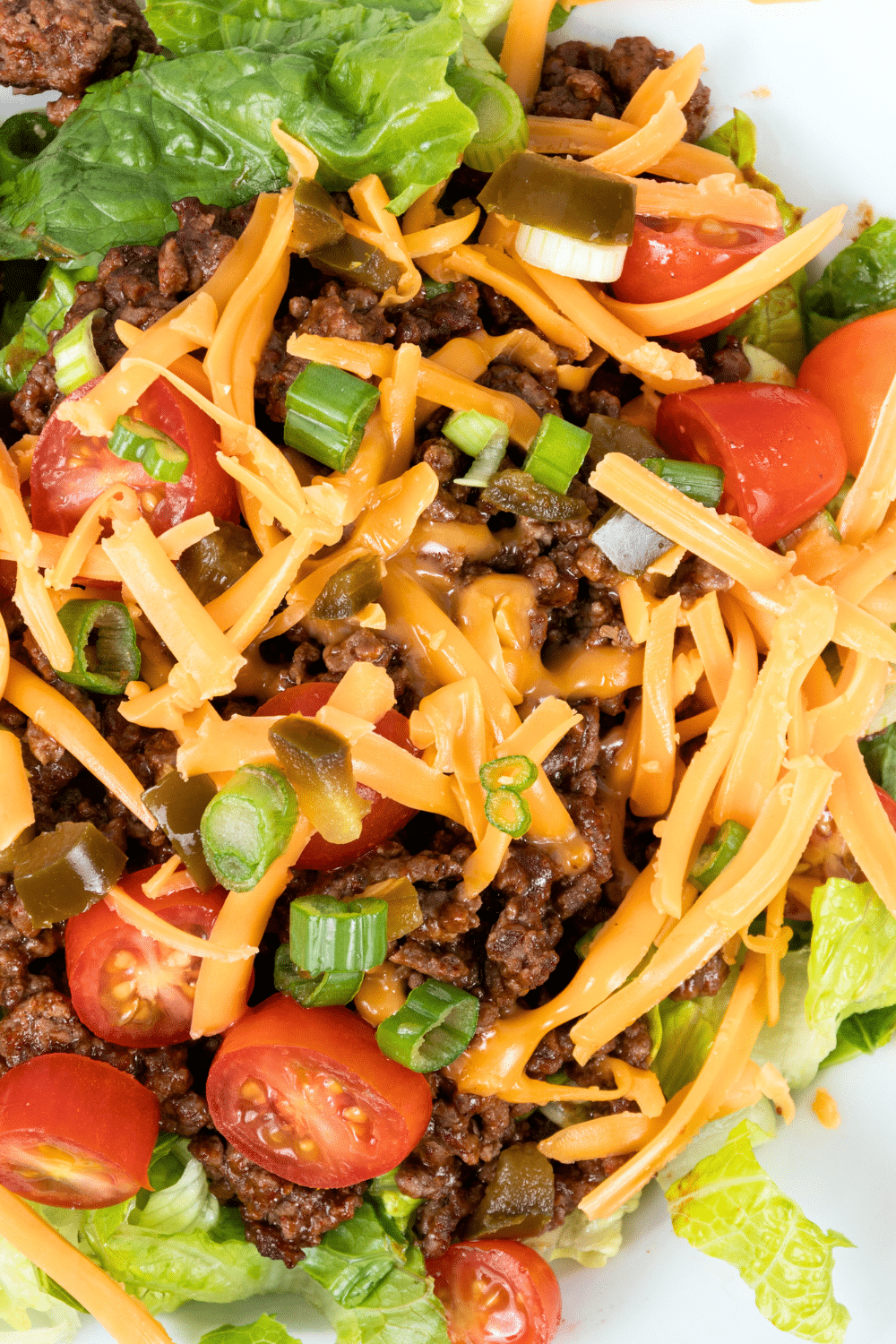 Ground beef + Shredded Cheddar Cheese + Hot Sauce + Sour Cream + Chopped Romaine Lettuce
It's time to head south of the border in our quest for hearty salads that are both packed with flavor and low in carbs. This taco salad is super simple, especially if you brown the ground beef early in the week and store it in the fridge ahead of time.
You'll combine ground beef with shredded cheddar cheese, keto hot sauce, a little sour cream, and then chopped Romaine lettuce to bring it all together.
15. Energized and Filling Keto Shake
Keto Chow + Avocado Oil + Water + Coffee
The last entry in our list of easy keto lunch ideas isn't so much a meal as it is an energy shake. It combines protein-packed Keto Chow with water, avocado oil for healthy fats, and then your choice of coffee for flavor and a hit of caffeine (use decaffeinated if you're sensitive to caffeine or limiting your intake).
I recommend tailoring it to your preferences, but my base recipe is a single serving of Keto Chow, a tablespoon of avocado oil, eight ounces of water, and four ounces of coffee, but remember that's flexible. Adjust it to your tastes.
Frequently Asked Questions about My Keto Lunch Ideas
Can I make stuff in big batches and just save it for use throughout the week?
Yes! I highly recommend making whatever you can ahead of time, whether that's big batches of ground beef, hearty salads, low-carb soups, or what have you.
What are some of your favorite low-carb veggies?
I love so many veggies! And there are more low-carb options than you might think, including mushrooms, bell peppers, green onions, zucchini, and more.
What are some of the best keto snacks to have with lunch or to tide me over after lunch?
There are plenty of keto snack ideas, from pork rinds and beef jerky to homemade bacon cheeseburger bites. It really depends on how much time you have on hand and what you prefer in terms of snack food.
Can I use cauliflower rice in keto lunch recipes?
Yes! I love cauliflower rice as a replacement for rice in most dishes, from Mexican food to sushi, and everything in between.
You can also make riced cauliflower in big batches over the weekend and then store it for a week or so in the fridge, which will save you even more time when it comes to putting your lunches together.
Have you ever tried Keto Chow? It's the easiest meal around! Get 10% off your first purchase.
Struggling to figure out dinner? Check out my Keto dinner ideas! You can easily prep these recipes ahead of time or throw together before dinnertime.
Pin for Later!