Following a low-carb or ketogenic diet doesn't mean you have to give up your favorite sweet treats. With this homemade keto maple syrup recipe, you can indulge in the rich and sweet taste of maple syrup without consuming excess carbs.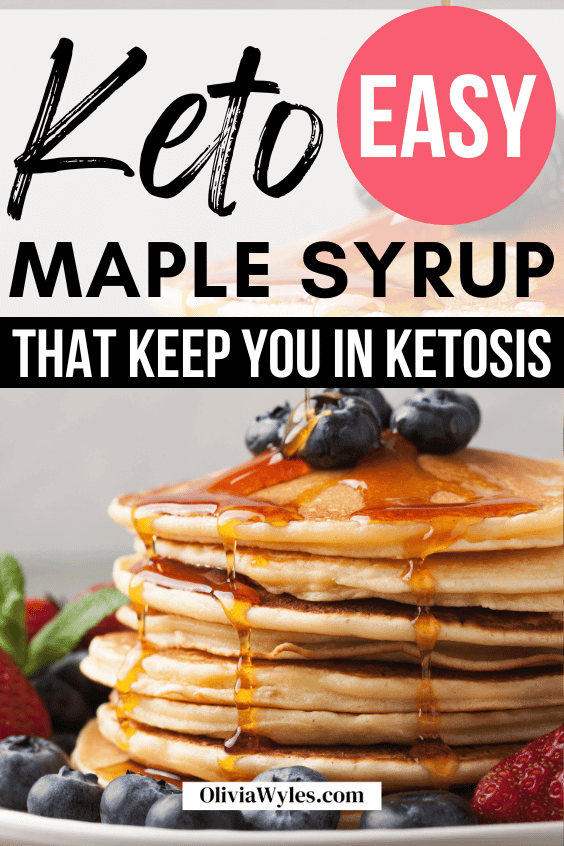 This post may contain affiliate links. Please read my disclosure for more info.
I have a confession to make. When I was a kid, I loved waffles. Well, it wasn't JUST the waffles. It definitely was the crispy-yet-tender texture of the waffle, but it was also the salty-sweet of the butter. And then there was the syrup. Only real maple syrup would do, and I positively drowned those waffles. I was happiest when they were swimming in a sea of glorious golden-brown liquid.
Of course, real maple syrup is loaded with empty carbs, so it's not a good fit for anyone on the keto diet. Or is it? It might be time to rethink that stance! I've got a simple keto maple syrup recipe that'll have you pouring it onto your waffles and pancakes and adding it to other dishes because it tastes so amazing. The best part? It's got 0 sugar, so it's a perfect fit for anyone on the keto diet (or any other low-carb diet, like the Adkins diet).
Grab a free printable: Keto Food Lists
Ready to learn how to make your own homemade keto maple syrup substitute? The recipe is a cinch! You need just a few basic ingredients and you'll be good to go.
What Is Maple Syrup?
Before we dive into the list of keto ingredients, let's take a moment to talk about what maple syrup is. Some of us grew up using real maple syrup, but others used syrup that contained "maple flavoring" but was just pure sugar with some binders.
Real maple syrup comes from maple trees. Syrup makers tap the trees (red maple, sugar maple, or black maple) during the late winter or early spring and collect sap. That sap is then boiled down until it becomes thick, golden-brown, and delicious. Most maple syrup comes from Canada or the northeastern US.
What Is Maple Syrup Used For?
Traditionally, pure maple syrup is used to sweeten breakfast foods, like your favorite waffle or pancake recipe. However, you can also use it in many other ways. It's often used in dinner recipes to balance other flavors, and it can even be mixed in to sweeten your favorite cocktail.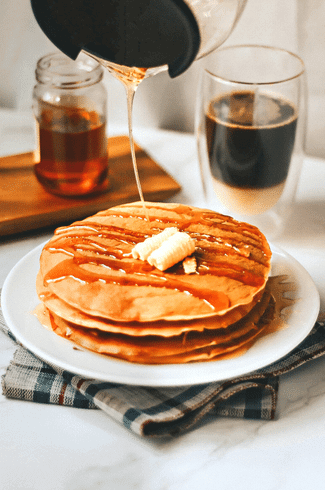 Is Maple Syrup Good for You?
Real maple syrup is a natural sweetener, but does that mean it's good for you? While it does contain important vitamins and nutrients, it's also loaded with sugar (carbs). Even those who aren't on the keto diet should limit their intake of maple syrup because of its sugar content. Thankfully, this keto pancake syrup recipe turns the tables and gives you all the glorious taste without the guilt (and zero net carbs!).
Why Make Homemade Keto Maple Syrup?
Why should you go through the trouble of making your keto maple syrup at home? Why not just buy a commercial version? These days, keto is big business, and you'll find several different options out there if you're craving the sweet taste of maple syrup.
I prefer to make my keto version of regular maple syrup rather than buying a commercial maple syrup substitute for several reasons, including:
It's lower in carbs and sugars than most options out there.
This simple recipe is fast – I spend less time in the kitchen than I would in the grocery store.
I know exactly what goes into my maple syrup. Commercial versions often contain preservatives and other ingredients that I don't want.
It costs less to make my own than to buy regular maple syrup.
With that being said, there are some cons to the situation.
It lasts about two weeks, compared to store-bought maple syrup, which can last for months.
It needs to be stored in the refrigerator, in an airtight container.
The Keto Syrup Recipe: Bringing Your Maple Syrup to Life
So, now that we know a bit more about real maple syrup and why it's better to make homemade maple syrup than buy a commercial version, let's dig into the recipe. I promise you it's fast and, most importantly, it's the most delicious topping for your keto pancakes, keto waffles, or even keto French toast!
Keto Syrup Ingredients
If you're planning to make a delicious keto-friendly recipe, you will need to assemble the necessary ingredients. To get started, you will require hot water, along with your preferred keto sweetener. Lakanto monk fruit granulated sweetener is an excellent choice. Use my code: OLIVIAWYLES for 15% off your entire purchase at checkout.
In addition, you will need ½ tsp. of xanthan gum, which is an excellent thickener. Alternatively, unflavored beef gelatin can also work. To add a delightful flavor to your dish, you should add some maple extract and vanilla extract.
Finally, a dash of salt will help balance out the sweetness and enhance the overall taste of your recipe. Once you have gathered all the necessary ingredients, you can get started with the cooking process.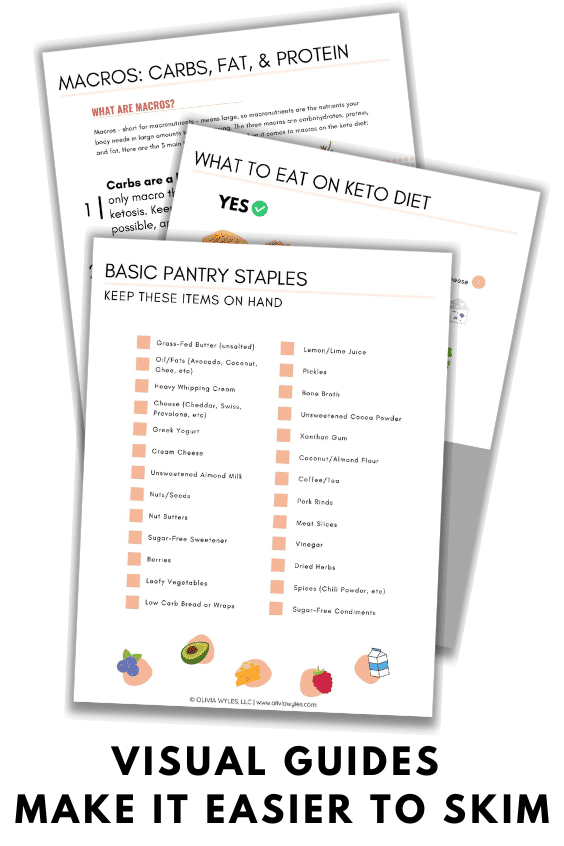 Are you a visual person? Check out these visual guides included in our Ultimate Keto Beginners Bundle!
Make grocery shopping easier with visual guides showing what to eat on the keto diet, pantry staples list, keto-approved food list with over 150 foods, and so much more!
Ultimate Keto Beginners Bundle is on sale right now! Finally achieve the results you've been yearning for!
Recommended tools for keto maple syrup recipe
Before you begin cooking, it's crucial to gather all the necessary tools to make the process more comfortable and efficient. To make this recipe, you will need a small saucepan, which is perfect for heating and mixing your ingredients.
A whisk will also come in handy to ensure that all the ingredients are well combined. Measuring cups and spoons are essential to ensure that you get the right amount of each ingredient. After you're finished cooking, you'll need a mason jar or an airtight container to store your dish safely.
A small bowl is useful for measuring out small amounts of ingredients or mixing spices. Finally, you'll need a scraper or spatula to scrape the sides of the saucepan and ensure that you get every last bit of your tasty creation. By having all the necessary tools within reach, you can make the cooking process a breeze and enjoy your recipe with ease.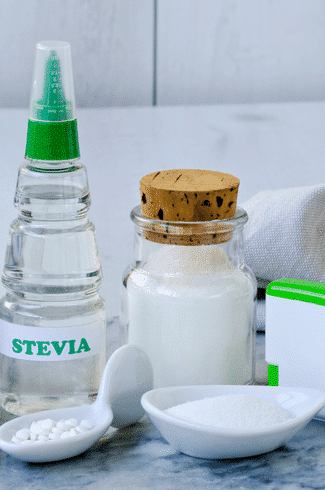 Should You Use a Powdered Sweetener or Granulated Sweetener?
You can use either a powdered sweetener, liquid sweetener, or granulated sweetener in this recipe. The main difference is that powered sweeteners tend to dissolve more quickly. Granulated sweeteners will take a little more mixing to fully incorporate them into the syrup. Try this brand for a variety of keto approved sweeteners! Use my code OLIVIAWYLES for 15% off your entire cart at checkout.
Tips to Help Make the Best Keto Maple Syrup Recipe
While the keto syrup recipe I shared is super simple, a few tips will help make sure that you have the best possible experience. I've distilled the results of my trial and error to save you some stress and hassle.
Never, ever boil the maple syrup mixture. Keep it to a simmer.
Want to make your sugar-free pancake syrup last longer? Add a couple of drops of lemon juice or citric acid to the mix. It'll double the lifespan.
Remember that your syrup will thicken as it cools (and even more in the fridge) so don't overcook it. You only need to simmer it for three to four minutes.
Frequently Asked Questions: Dialing in Your Sugar-Free Maple Syrup Recipe
Have questions? I've got the answers for you right here!
Why does my sugar-free pancake syrup keep clumping?
Xanthan gum can be prone to clumping. Mix it well with hot water to avoid this. Or consider using something like unflavored beef gelatin.
Can I mix this syrup at room temperature?
No, the water needs to be hot to dissolve the monk fruit sweetener and xanthan gum. Keep it under a boil, though.
Can I use artificial sweeteners?
You can use any 0-sugar keto sweetener you want, but keep in mind that they have different melting points. For instance, allulose has a melting point of 230 degrees F, but water boils at 212 and we need to avoid boiling the water.
Does this keto maple syrup taste like the real thing?
Yes! The maple extract makes this taste just like real maple syrup. You'll love it on your favorite foods, in your keto recipes, and even in your drinks. The simple ingredients also mean that it's quick and easy to make.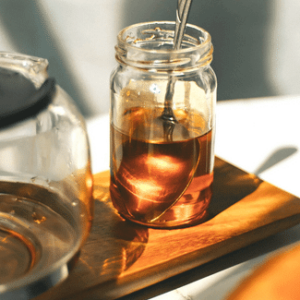 Keto Maple Syrup
This keto maple syrup recipe is the perfect alternative to traditional maple syrup for those following a low-carb or ketogenic diet. Made with keto-friendly sweeteners and thickened with xanthan gum, this syrup has the same sweet and maple-y taste as regular syrup without the added carbs. It's quick and easy to make, and you can use it to sweeten up your favorite breakfast foods or even cocktails. So, if you're looking for a delicious and guilt-free way to enjoy maple syrup, this is it!
Print
Pin
Rate
Servings:
2
tbsp per serving
Ingredients
2

cups

hot water

divided

½

teaspoon

xanthan gum

1

cup

sugar-free sweetener

¼

teaspoon

salt

1 ½

tablespoon

maple extract

½

teaspoon

vanilla extract
Instructions
The first step is to heat ½ cup of hot water with ½ tsp. xanthan gum in a small bowl.

Set the mixture aside. It will bloom and thicken as it rests.

Combine your keto sweetener (monk front sweetener, xylitol, or other sweetener of choice) with the salt and the last of the water in a small saucepan over high heat.

Let the mixture come to a simmer, stirring occasionally.

Stir until all the sweetener and salt has dissolved.

Remove the saucepan from the heat.

Add the vanilla extract and the maple extract while the mixture is hot.

Add the xanthan gum mixture and whisk to combine.

Once fully combined, pour the maple syrup into a glass jar or other heavy-duty container you plan to use for storage.

Allow it to cool completely before putting a lid on it and placing it in the fridge.

Use your keto maple syrup to sweeten anything you want, from waffles and French toast to your favorite cocktail. It'll keep for up to two weeks in the refrigerator.
Notes
Experiencing lumps in your maple syrup? The best way to avoid this is to use an immersion blender or a hand mixer to smooth things out!
Nutrition
Serving:
1
g
|
Calories:
11
kcal
|
Carbohydrates:
3
g
|
Sodium:
75
mg
|
Sugar:
2
g
Keto recipes to enjoy with maple syrup
One of the best ways to add a touch of sweetness to your keto meals is by using homemade keto maple syrup, which pairs perfectly with a variety of keto dishes. Here are some tasty keto recipes that you can enjoy with your homemade maple syrup, from breakfast favorites like keto waffles and pancakes to savory dishes like keto chicken and waffles. Let's dive in!