Looking for a delicious and healthy snack that won't throw you off your keto diet? Look no further than our amazing recipe for keto frosted flakes! Made with all-natural ingredients, perfect for low carb lifestyles, this keto cereal is an excellent source of protein and a diet-friendly snack. This recipe will become your new favorite cereal as it delivers the same delicious taste and satisfying crunch with a hint of nostalgia.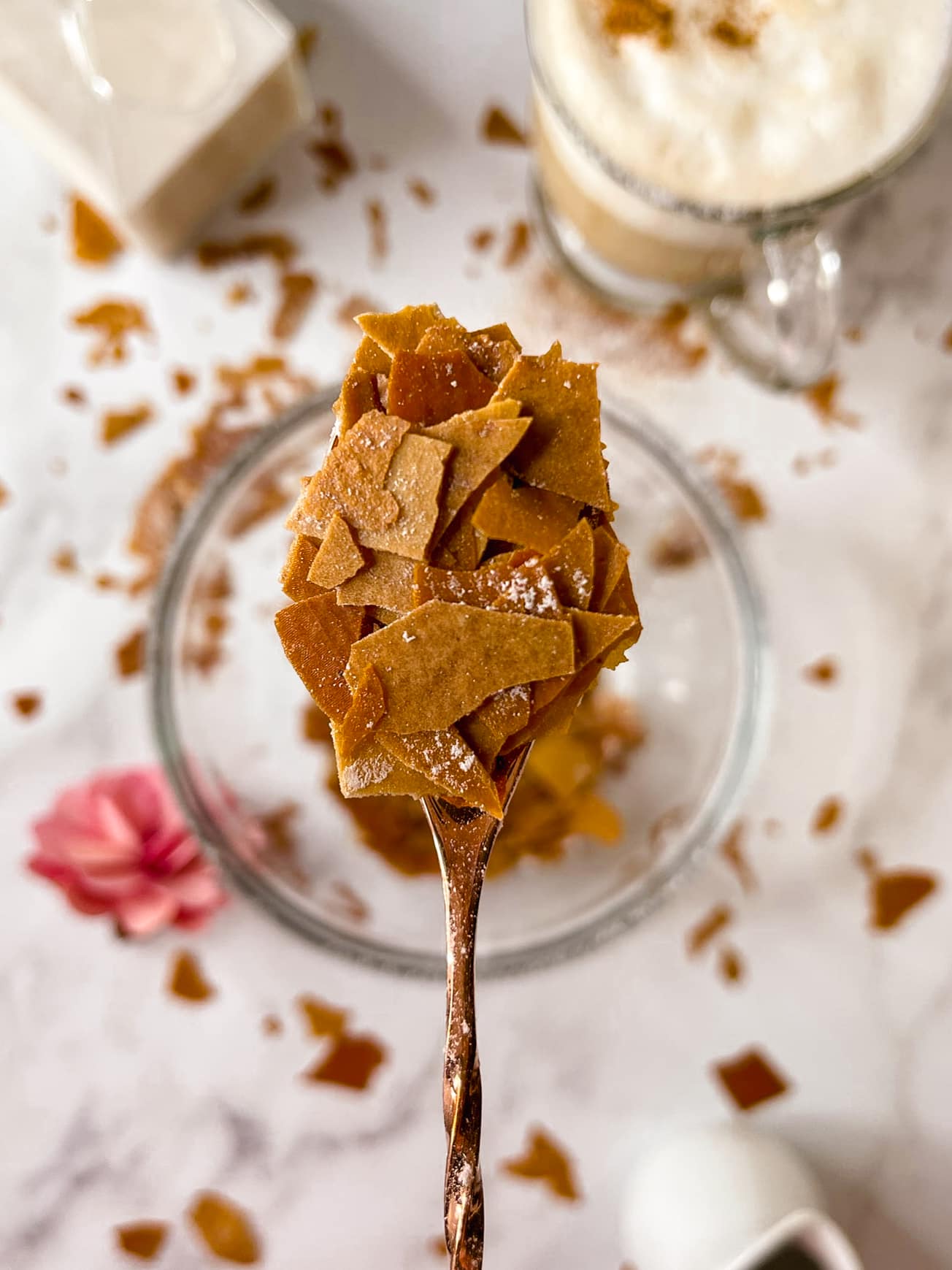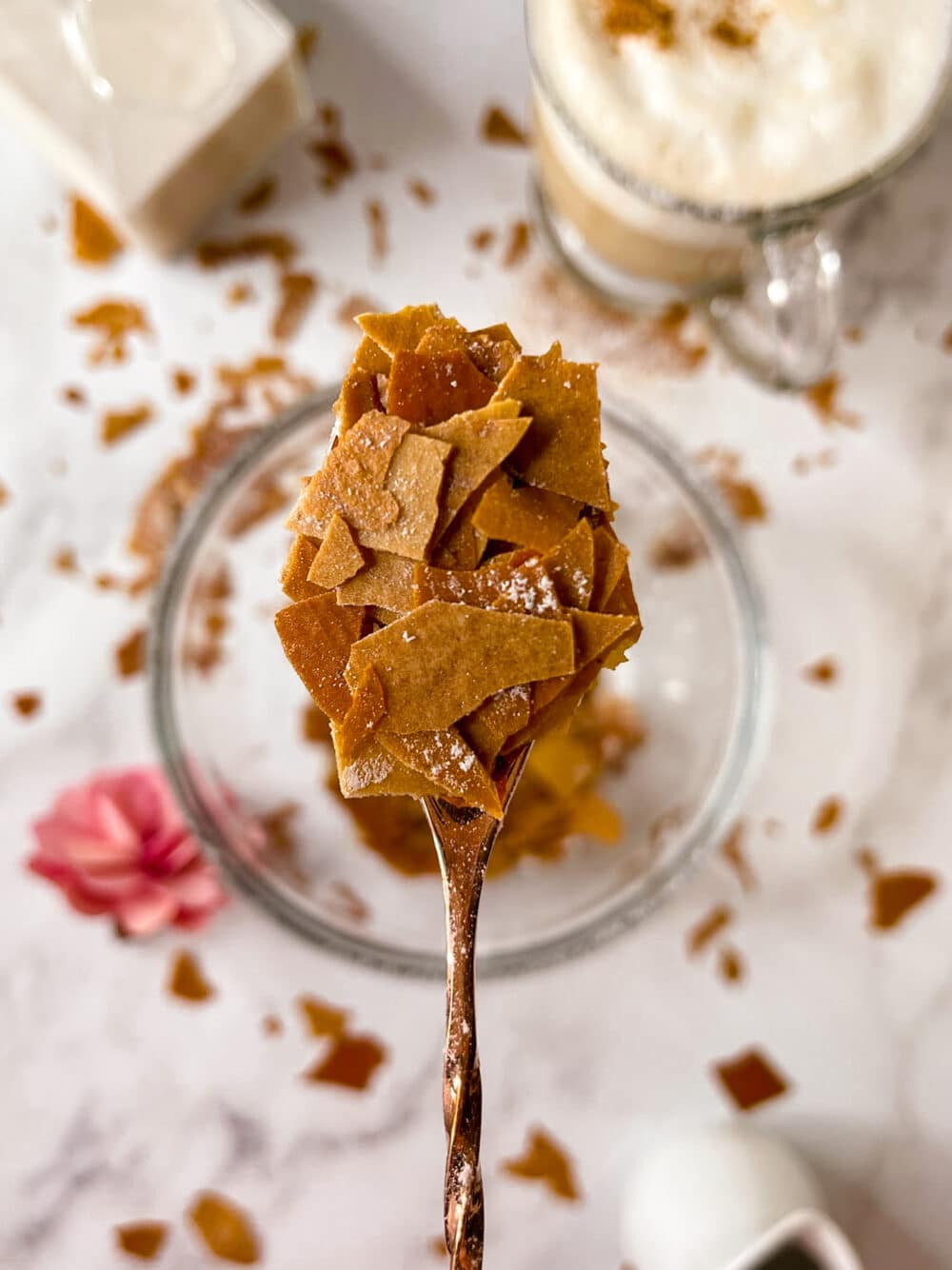 This post may contain affiliate links. Please read my disclosure for more info.
With just 4 g net carbs per serving, this recipe is great to add to your keto-friendly options or anyone watching their carb intake. Best of all, you can meal prep this recipe for a guilt-free late night treat anytime. So why wait? Try keto frosted flakes today and discover the delicious snack (or breakfast) you've been missing out on!
Benefits of eating keto cereal vs regular frosted flakes
There are several benefits of eating keto frosted flakes compared to regular frosted flakes. The main one is that the keto version contains zero grams of sugar, which is much lower than regular frosted flakes that can contain up to 12g of sugar per serving. This makes the keto version a better option for those following a low-carb or keto lifestyle, as it won't spike their blood sugar levels.
Grab a free printable: Keto Food Lists
Another benefit of the keto version is that it uses a meal replacement powder that is specifically designed for the keto diet. Keto chow is a rich source of vitamins and minerals along with protein.
This means that it is high in fat and low in carbs, to help maintain a low-carb, high-fat diet. In contrast, regular frosted flakes are typically made with corn flakes that are high in carbs and low in fat.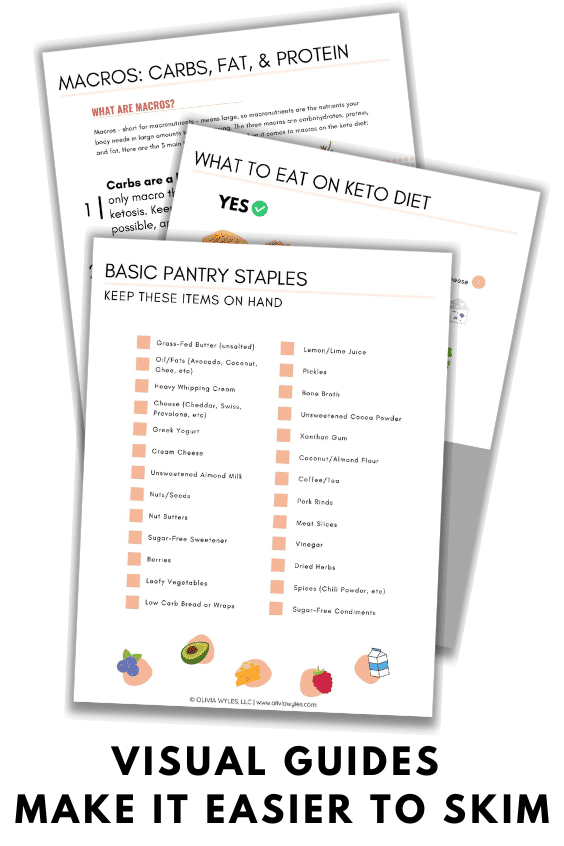 Are you a visual person? Check out these visual guides included in our Ultimate Keto Beginners Bundle!
Make grocery shopping easier with visual guides showing what to eat on the keto diet, pantry staples list, keto-approved food list with over 150 foods, and so much more!
Ultimate Keto Beginners Bundle is on sale right now! Finally achieve the results you've been yearning for!
In terms of daily values, the keto version may be higher in fat and lower in carbs than regular frosted flakes. This can be beneficial for those looking to stay in a state of ketosis. Regular frosted flakes contains alot of added sugar and other artifical ingredients to enhance its flavor.
Recommended sweetener for Keto Frosted Flakes
This recipe is free from all artificial flavors and 0 g sugar, making it a healthy and natural choice. For this reason, I use Lakanto monk fruit granulated sweetener in the recipe. Lakanto monk fruit granulated sweetener offers several benefits in a recipe. It is a natural, zero-calorie sweetener that does not raise blood sugar level, making it ideal for low-carb or keto diets. It can also help reduce overall sugar intake and its negative health effects.
It has a similar taste to regular sugar and can be used in a wide variety of recipes. Lakanto monk fruit sweetener is vegan, gluten-free, and non-GMO, making it suitable for a range of diets and lifestyles. You can use my code: OLIVIAWYLES for 15% off your entire purchase at checkout.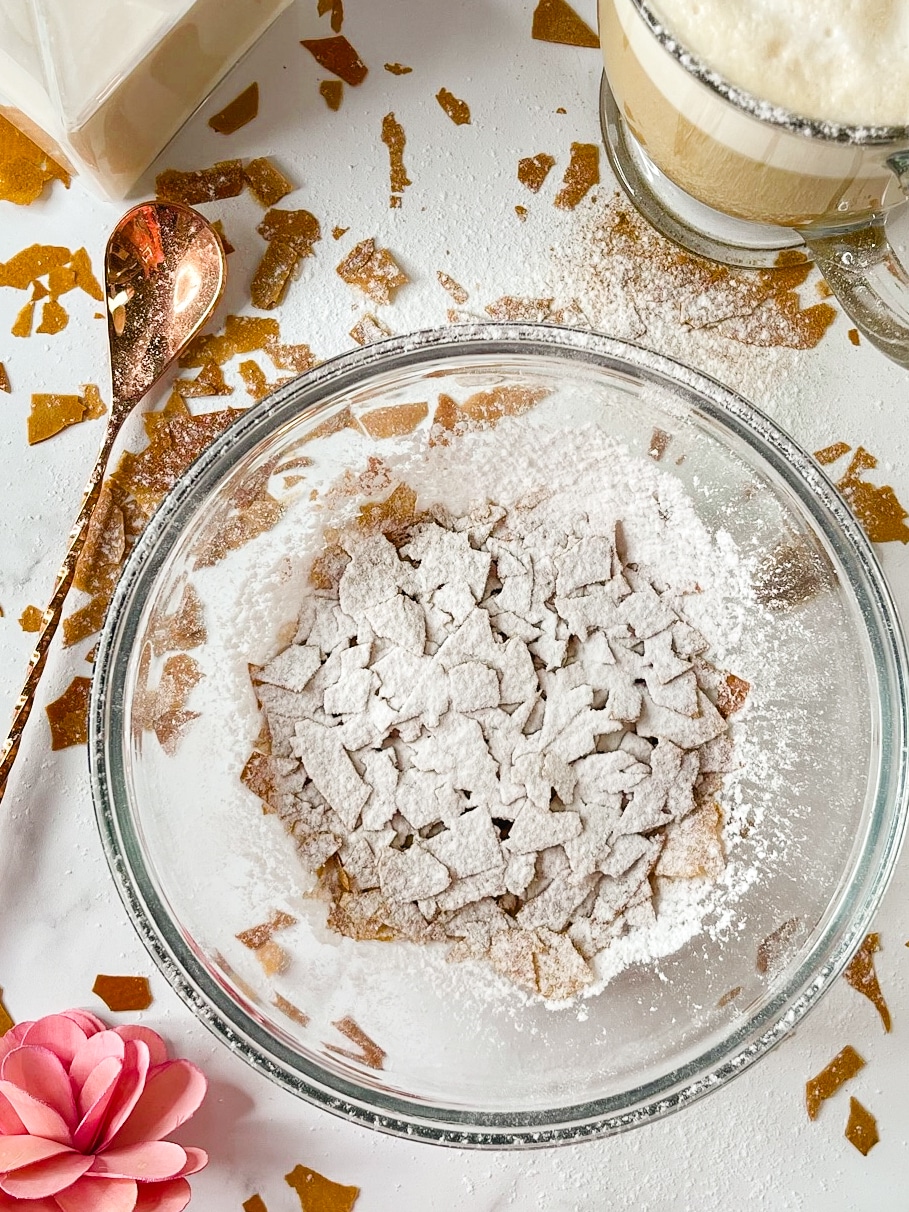 What you need for Keto Frosted Flakes recipe
Vanilla Keto Chow: Vanilla keto chow offers several benefits in this recipe. It is a meal replacement powder designed for those following a ketogenic diet, high in fat and protein, and low in carbohydrates. Adding keto chow to the recipe increases its nutritional value and helps to keep you feeling full for longer by stabilizing blood sugar levels. Get 10% off your first order of Keto Chow with this link.
Granulated sugar-free sweetener: Using a granulated sugar-free sweetener in this recipe can help reduce sugar intake, making it a great option for those following a low-carb or ketogenic diet. It can prevent blood sugar spikes and crashes, making it easier to maintain a healthy and sustainable diet. Additionally, it adds sweetness without the negative health effects of regular sugar. Again, my personal favorite brand is Lakanto monk fruit sweetener, you can use their brown sugar replacement for a more deep, caramel flavor in your frosted flakes.
Vanilla Extract: Vanilla extract adds a delicious and distinct flavor to the frosted flakes, enhancing their taste and aroma.
Water: Adding some water to the recipe will help thin out the mixture so that you can spread it evenly across the baking tray. Once the mixture hardens, and broken into small pieces, it will create the iconic thin and crispy texture of frosted flakes.
Yield: 4 servings
Keto Frosted Flakes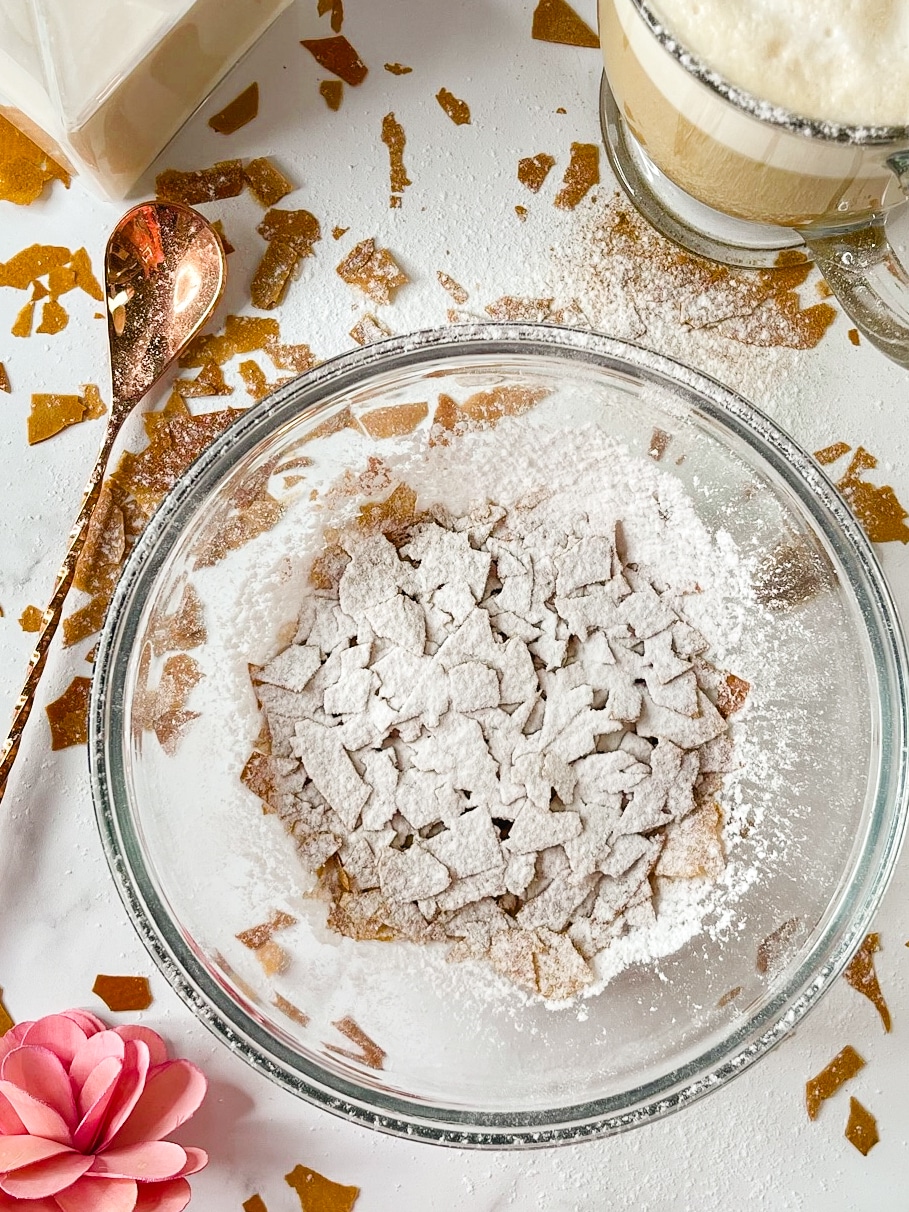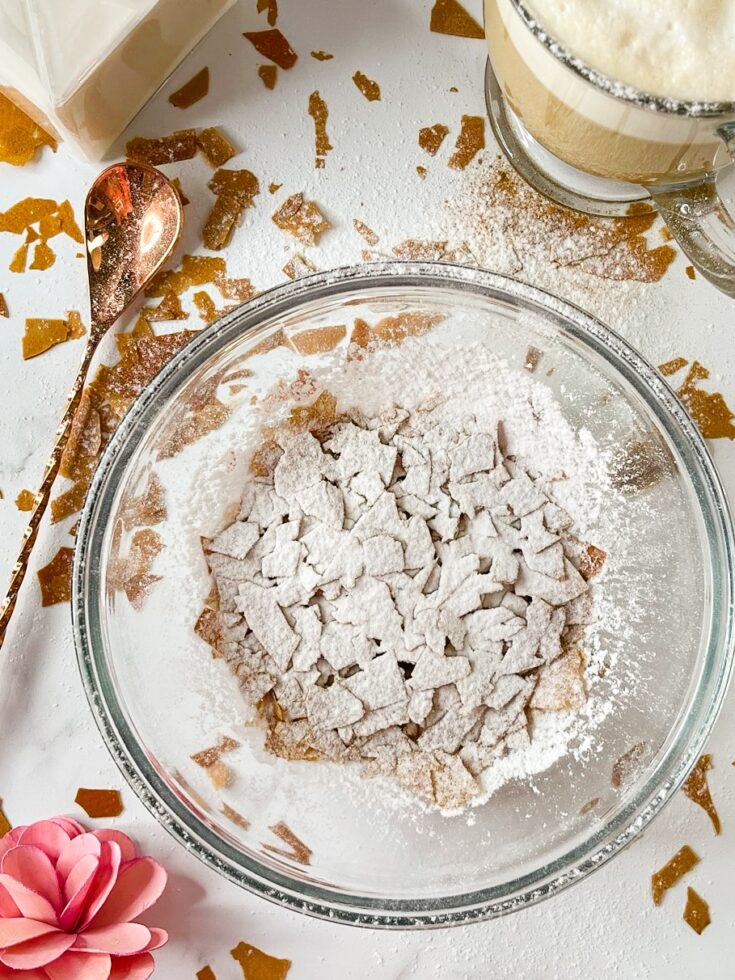 Do you miss the taste and crunch of classic frosted flakes, but want to stick to a low-carb or keto lifestyle? This keto-friendly frosted flakes recipe is the perfect solution. With just four simple ingredients, including vanilla keto chow meal replacement powder, granulated sugar-free sweetener, vanilla extract, and water, this recipe delivers the same delicious taste and satisfying crunch with a hint of nostalgia. Whether you're looking for a healthy breakfast option or a tasty snack, these low-carb frosted flakes are the perfect choice.
Additional Time
30 minutes
Total Time
1 hour
40 minutes
Ingredients
¾ cup water (added gradually)
Instructions
Preheat the oven to 350 degrees F. Whisk together Keto Chow, sweetener, vanilla extract, and water in a medium bowl. Add water gradually while stirring until it looks like thin pancake batter.
Pour onto a baking tray lined with parchment paper or silicone baking mat. Shake the tray to make sure the batter is even.
Bake for 10-15 minutes at 350 degrees F. Lower temperature to 250 degrees F, then bake for 45 minutes until it looks dried and starting to crack like an arid desert.
Remove from the oven and let it cool completely. Once cooled, peel off and crumple up to make flakes. Sprinkle with powdered sugar-free sweetener if desired.
Notes
Granulated sweetener works best for this recipe to make it crunchy. Allulose will make it chewy.
Nutrition Information
Yield
4
Serving Size
1
Amount Per Serving
Calories

30
Total Fat

0.3g
Saturated Fat

0.1g
Sodium

120mg
Carbohydrates

3.8g
Net Carbohydrates

2g
Fiber

1.8g
Sugar

0g
Protein

6.5g
Keto Breakfast Ideas to Try
If you're looking to enjoy low-carb cereal breakfasts that remind you of your childhood favorites, there are many creative options to try. The total carbohydrate count for these recipes are 5 grams or less and a high protein way to eat cereal. Here are some low-carb and sugar free cereal breakfast ideas to try: