Do you want to start your day off with a crunchy, sweet, and healthy breakfast? Well, now you can! With this Keto Chocolate Peanut Butter Cereal recipe, you can indulge in the flavors of childhood while still staying on track with this protein-rich cereal.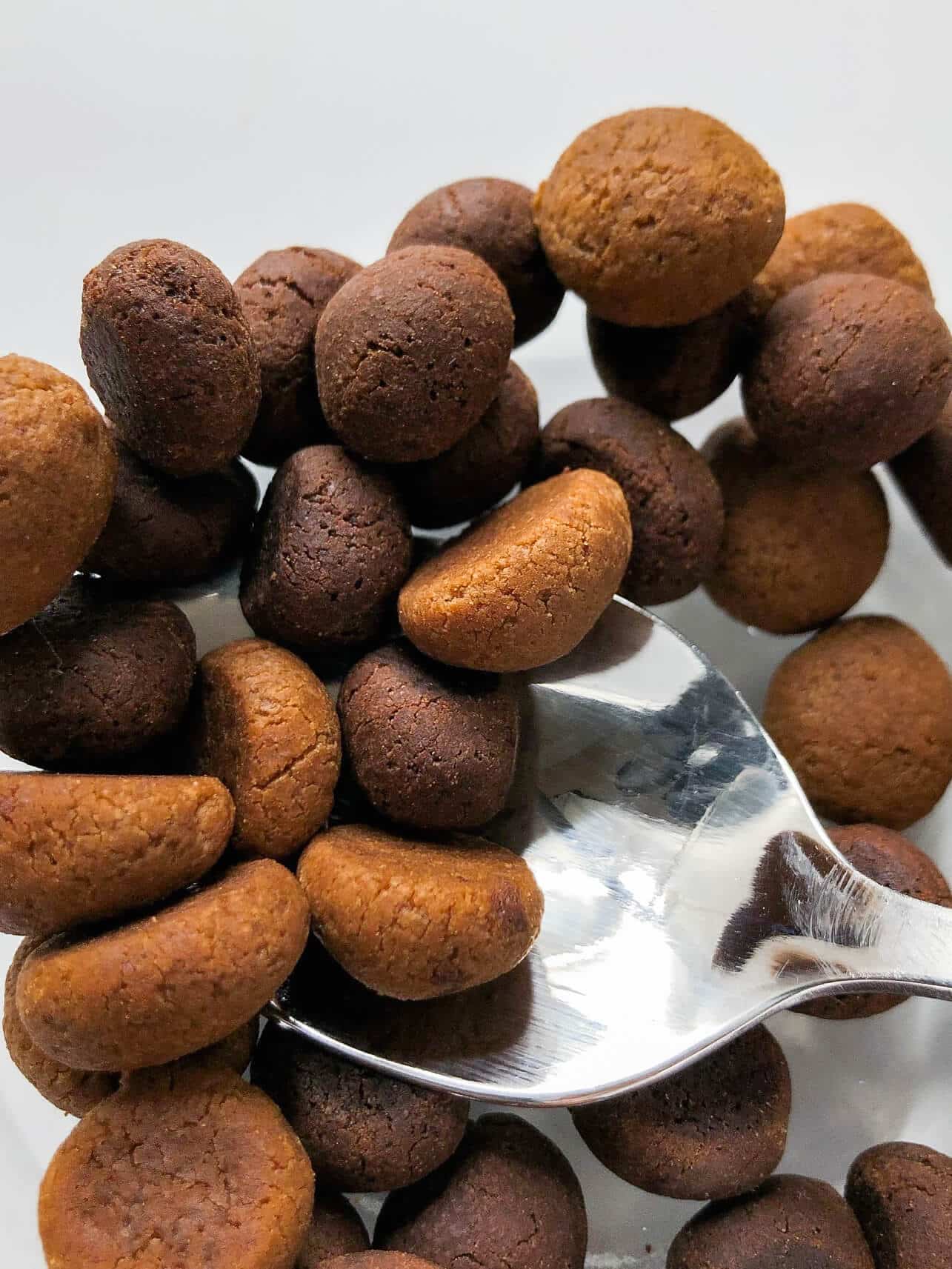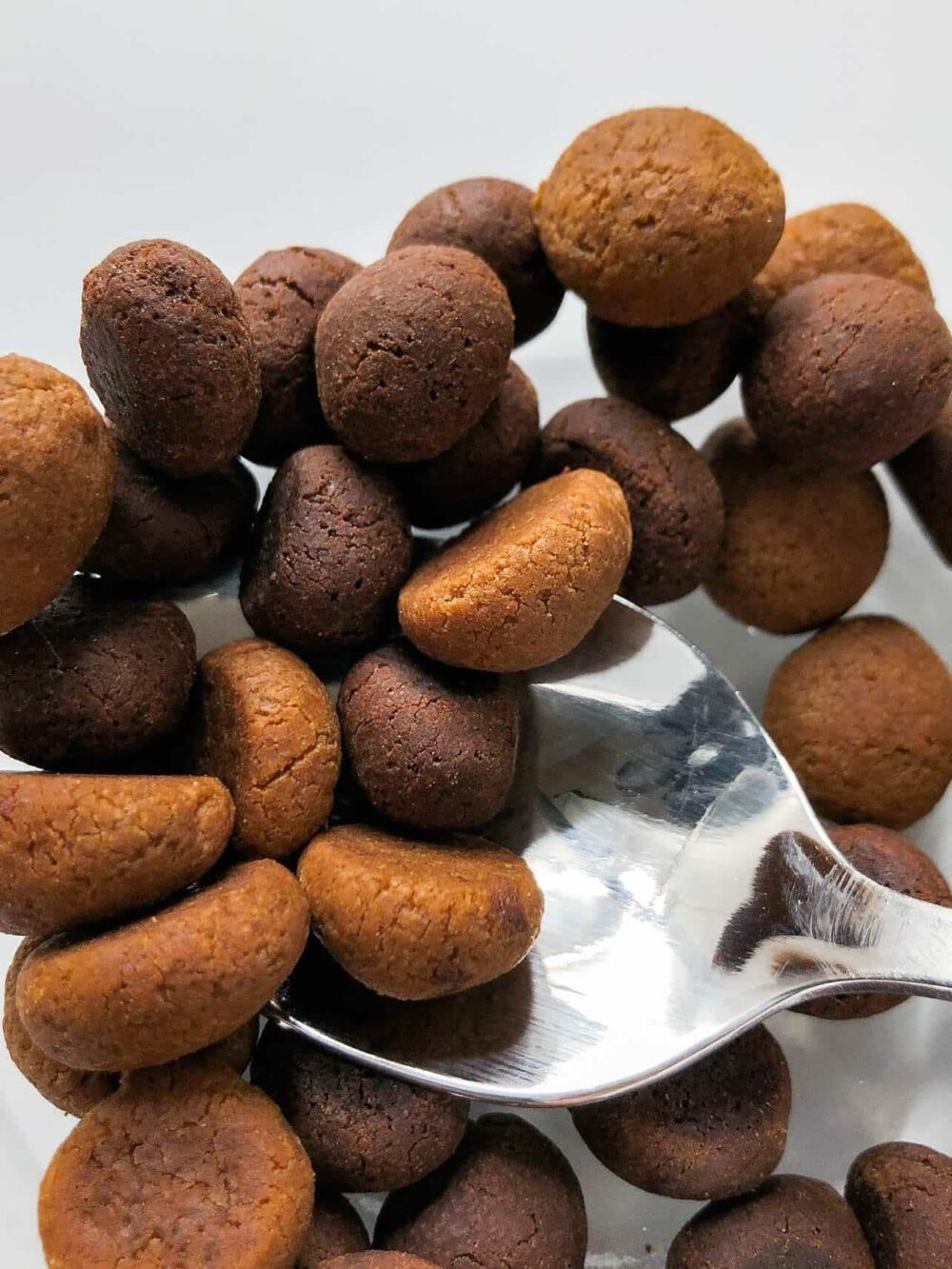 This post may contain affiliate links. Please read my disclosure for more info.
These chocolatey bites of joy are also packed full of nutritious ingredients that will keep you energized throughout the morning and beyond. Plus, once baked, it makes for the perfect grab-and-go snack too! So let's not wait any longer — read on for all the details on how to whip up this amazing cereal!
Is Peanut Butter Allowed On Keto?
Peanut butter has that addictive delicious taste which makes a nutritious snack that can fit into the keto lifestyle. Although it is a bit high in carbohydrates, monk fruit and stevia extract provide natural solutions for sweetening that can be used as an alternative to artificial sweeteners when combined with this creamy spread. You don't have to miss out on one of your favorite snacks while trying to stay within the guidelines of keto! Be sure to look at labels and check for sugar content when choosing a peanut butter brand; many manufactures now offer sugar-free options perfect for keto snacking.
Grab a free printable: Keto Food Lists
Search for brands that include only peanuts and peanut oil as the main ingredients – containing no artificial sweeteners and minimal added fats, like chicory root fiber or natural flavors. There's some tasty keto breakfast cereals like Catalina Crunch chocolate peanut butter keto cereal to satisfy your cravings! So go ahead – enjoy that delicious nutty spread without worry.
Best Sweeteners To Use in Keto Recipes
If you're looking for the best sweetener to use in your keto recipes, monk fruit and stevia extract are the way to go! I love Lakanto Monk fruit as it is an all-natural, zero-calorie sweetener, that doesn't affect blood sugar levels, making it perfect for those on a ketogenic diet.
While stevia extract is a plant-based sugar alternative which can taste a little bitter when used in baked goods. If you're looking for something with a slightly sweeter taste, artificial sweeteners like sucralose or aspartame can also work well in certain recipes, but be careful to read the food labels and make sure you don't over-use these artificial sweeteners.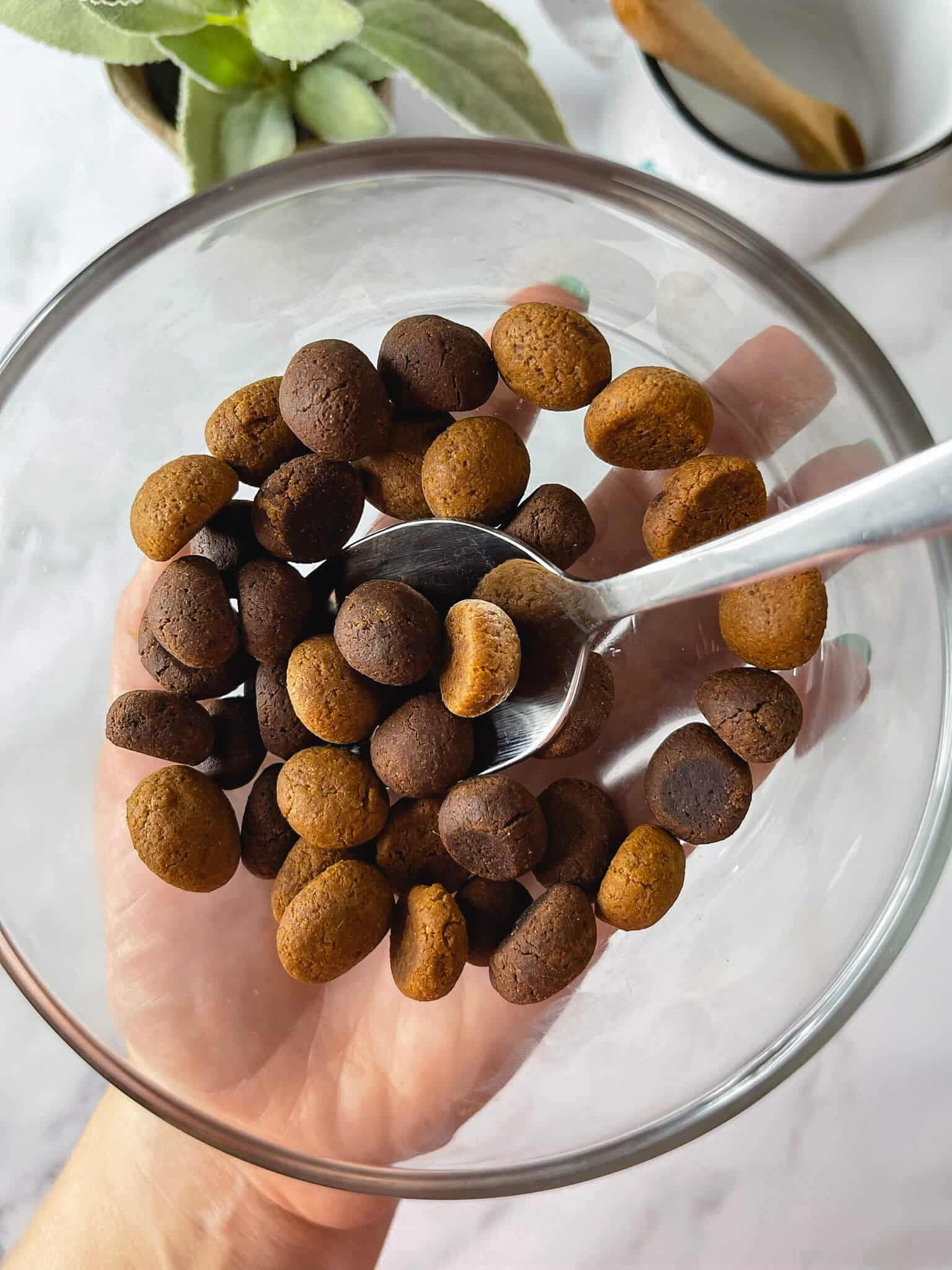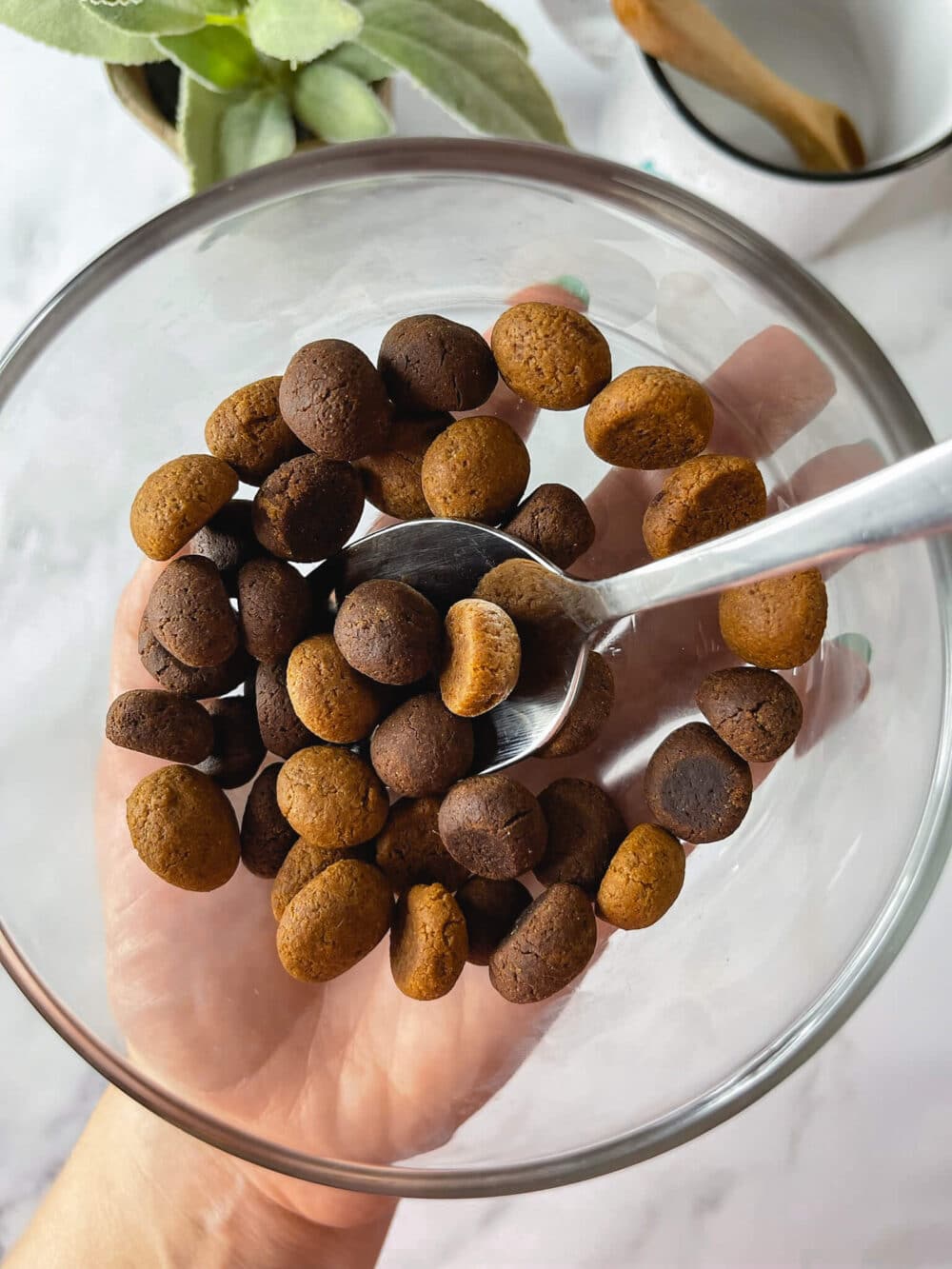 What you will need for this keto cereal recipe
Indulge in a tasty and healthy breakfast with this keto chocolate peanut butter cereal recipe! Made with Keto Chow, Lakanto Monk Fruit Sweetener, and natural flavors, this cereal is the perfect blend of sweet and salty. The addition of creamy peanut butter takes it to the next level, making it a delicious and guilt-free way to start your day on the right foot.
Butter – Butter is an important ingredient in this keto cereal recipe as it provides both flavor and texture. The richness and creaminess of the butter contributes to the overall taste and mouthfeel of the cereal. When combined with the other ingredients in this recipe, the butter helps to create a decadent and satisfying breakfast. To maximize its benefits, it's recommended to use high-quality, unsalted butter like Vital Farms brand, for the best results.
Lakanto monk fruit sweetener – This is my favorite brand for a low carb sugar-free granulated sweetener that's made of monk fruit extract and erythritol. Plus, it's not bitter like stevia extract either. Lakanto monk fruit sweetener has a 1:1 regular sugar replacement ratio so it's easy to substitute in recipes that require sugar. Best part, use my code: OLIVIAWYLES for 15% off your entire purchase at checkout.
Egg – The addition of eggs to this recipe helps to create a creamy and satisfying texture, while also boosting its nutritional value. They are a great source of healthy fats and essential vitamins and minerals, such as vitamin D and choline.
Chocolate Peanut Butter Keto Chow – I used this flavor of Keto Chow as it has the perfect nutty taste from the natural flavors of cocoa powder and peanuts. It's an ideal addition for this keto cereal recipe due to its high nutritional value. It's packed with essential vitamins and minerals, electrolytes, and is a significant source of protein. The low-carb content of Keto Chow makes it the perfect option for those following a ketogenic diet, as it helps you stay in ketosis and support weight loss with wholesome nutrition.
Baking powder – One of the main benefits of adding this to your keto treats is its ability to provide leavening, which helps to make baked goods light and fluffy. Additionally, using baking powder in keto baking helps to produce a more desirable flavor and aroma, resulting in a more appetizing end product.
Cocoa powder – Cocoa powder adds a rich, chocolatey flavor to the cereal, enhancing its overall taste. Plus, it has antioxidants, it's rich in fiber and low in carbs. It not only tastes amazing, it's great for your body as well as its high in essential minerals such as iron, magnesium, and manganese, which are important for overall health and well-being.
Yield: 4 servings of a cup each
Keto Peanut Butter Cereal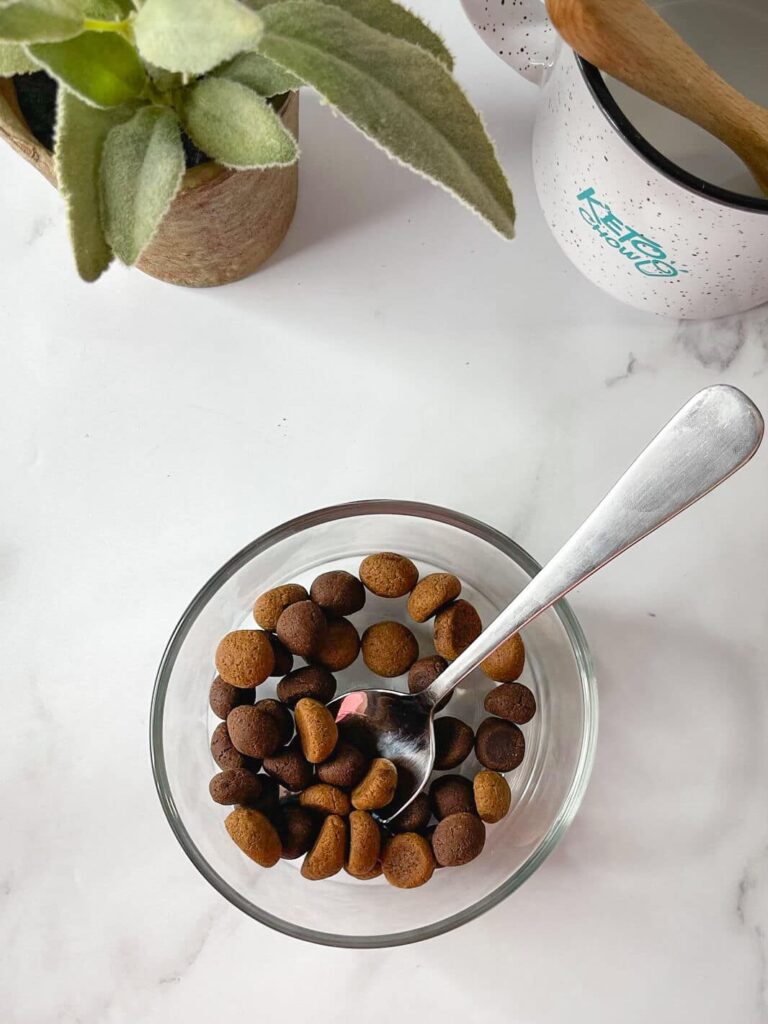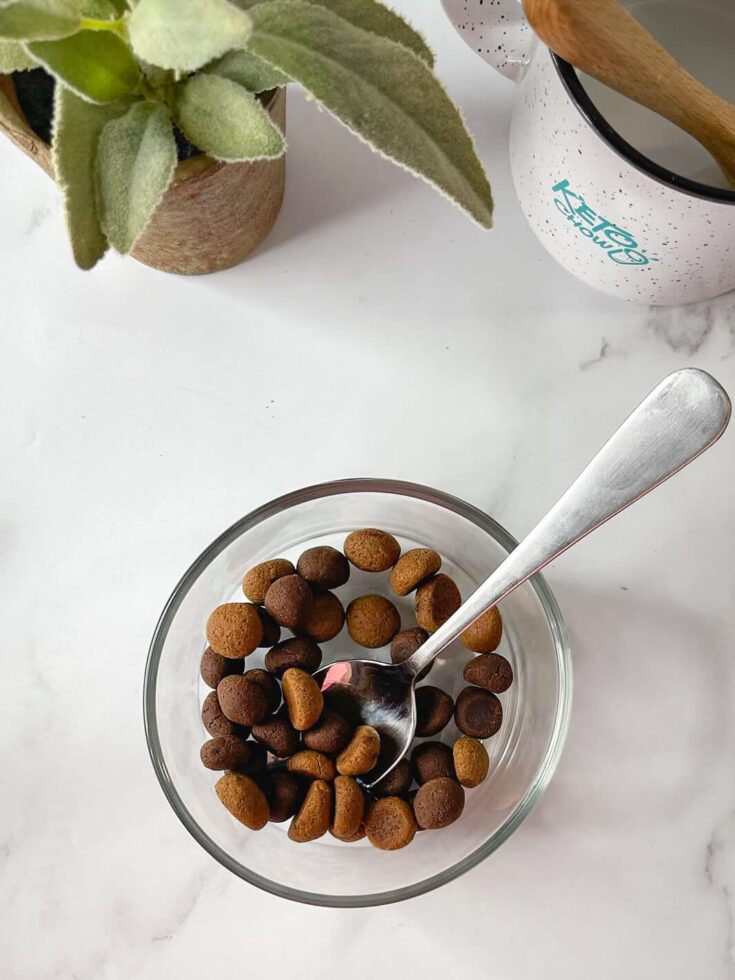 Indulge in a delicious and nutritious breakfast with this Keto Chocolate Peanut Butter Cereal recipe. Using Keto Chow, Lakanto monk fruit sweetener, and the natural flavors of peanut butter, this cereal is the perfect way to start your day on a low-carb, high-fat diet. Satisfy your sweet tooth cravings while staying on track with your ketogenic lifestyle with this easy and quick to make cereal. Get ready for a crunchy, creamy and satisfying breakfast experience with every bite.
Additional Time
45 minutes
Ingredients
1 serving Chocolate Peanut Butter Keto Chow
½ teaspoon baking powder
½ cup peanut butter
2 tablespoons butter
½ cup Lakanto sugar-free granulated sweetener* (see note below)
1 egg
¼ cup cocoa powder (optional)
Instructions
Preheat the oven to 350 degrees F. Whisk together Keto Chow and baking powder in a small bowl. Set aside.
In a separate large mixing bowl, microwave peanut butter and butter until melted. Whisk in sweetener and egg. Add dry mixture. Mix with spatula until dough forms.
Divide dough in half. Add ¼ cup cocoa powder to one half of the dough.
Wrap each dough half in parchment paper and refrigerate for 30 minutes or overnight.
Roll into balls OR roll out dough between two pieces of parchment paper until thin, then cut into squares with a pizza cutter.
Transfer to a parchment-lined baking tray. Place in the freezer for 15 minutes prior to baking.
Bake for 10-15 minutes at 350 degrees F.
If rolled into balls, lower oven temperature to 250 degrees F and bake for 45 minutes to crunch it up.
Allow to cool thoroughly so the cereal will be crunchy. This could be a few hours depending on humidity and sweetener used.
Notes
Erythritol works best for this recipe to make it crunchy. Allulose will make it chewy.
Recommended Products
As an Amazon Associate and member of other affiliate programs, I earn from qualifying purchases.
Nutrition Information
Yield
4
Serving Size
1
Amount Per Serving
Calories

345
Total Fat

26g
Saturated Fat

8g
Trans Fat

0.2g
Unsaturated Fat

6g
Cholesterol

58mg
Sodium

92mg
Carbohydrates

8.6g
Net Carbohydrates

2.6g
Fiber

6g
Sugar

2g
Protein

19g
More chocolate peanut butter keto recipes to try
For those who love keto recipes with chocolate and peanut butter, there are several other keto-friendly recipes to try. Some options include:
Each of these recipes offers a delicious and satisfying way to incorporate chocolate and peanut butter into a ketogenic diet, while still maintaining its low-carb, high-fat composition. Whether you're in the mood for a sweet treat or a healthy snack, there is a keto chocolate peanut butter recipe out there for you.