Last Updated on August 22, 2022 by Olivia Wyles
Easy Mediterranean Diet recipes are ideal when you want to eat healthy, maintain your weight loss, and you're seeking a more relaxed diet for the long-term. The best thing about the Mediterranean diet is that it doesn't require any unusual ingredients or meticulous planning. It's all about the simple ingredients. Hello black olives and feta cheese!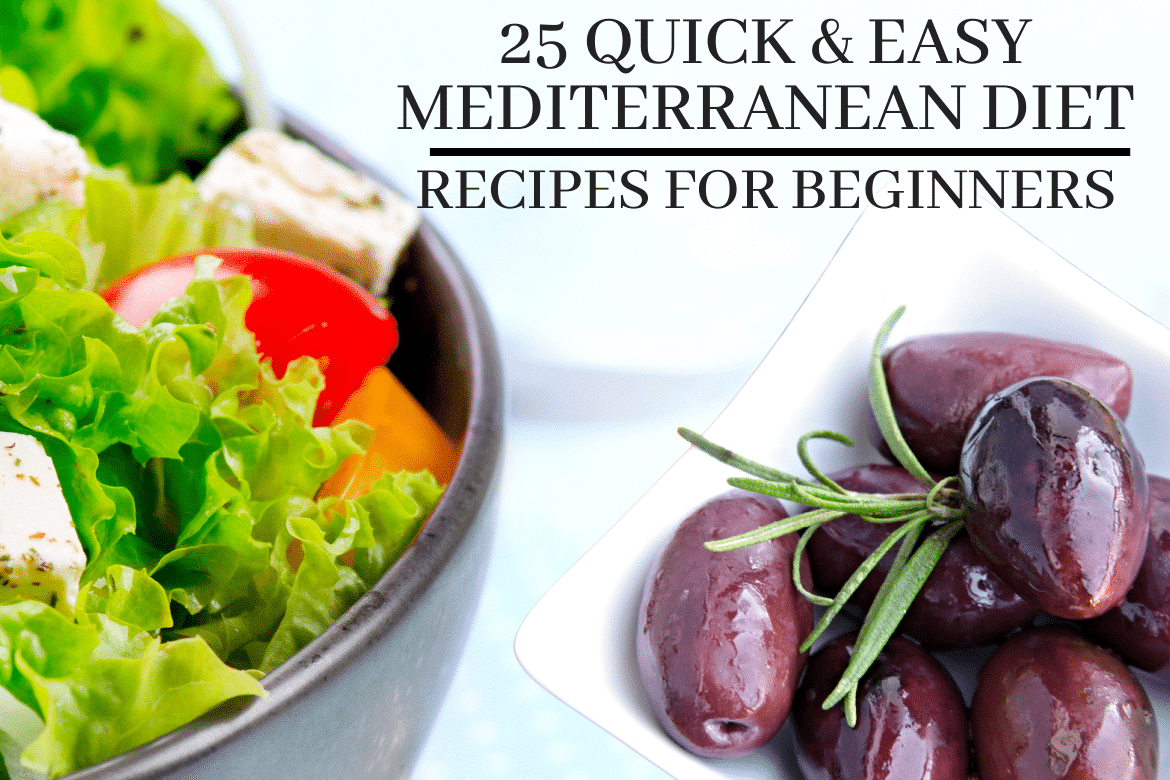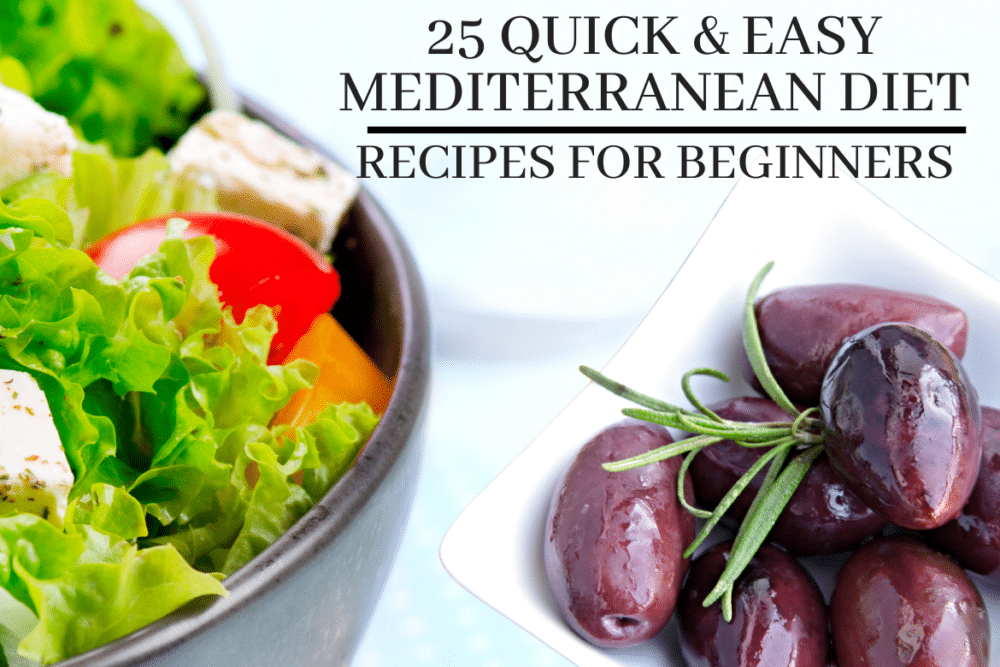 This post may contain affiliate links. Please read my disclosure for more info.
Disclaimer: This isn't to say the keto diet is not sustainable long-term diet. There are plenty of people I know that have been on the keto diet for at least a decade. Carolyn Ketchum from All Day I Dream about Food is one example person who comes to mind! I've personally been on the keto diet since 2017.
Grab a free printable: Keto Food Lists
The Mediterranean diet way of eating
The Mediterranean diet way of eating is quickly rising in popularity for its health benefits so I thought I would give you guys another diet option for maintenance mode if it suits your needs. Plus you get to add in some complex carbs so that might give some people a sign of relief. Did you know it was voted the best diet of 2021?
So to recap…still love the keto diet. We are still besties. We didn't break up. The band is still together. But as someone who likes variety, I wanted to offer you different options for your healthy lifestyle. Plus some of these dishes are keto too!
So whether you're searching for a light lunch, a nice supper, or a quick snack, this list of the best Mediterranean recipes will provide you with plenty of ideas! Below are 25 Mediterranean dishes that you should try right now.
What is the Mediterranean Diet?
The Mediterranean diet is based on traditional foods eaten in nations surrounding the Mediterranean Sea, such as France, Spain, Greece, and Italy.
This diet emphasizes plant-based foods such as whole grains, beans and legumes, and vegetables, as well as lean meat and fish and healthy fats. Many of these dishes are a breeze to prepare, including soups, stews, grain bowls, and chicken dinners.
Here are 25 dishes that are easy and simple to make with flavors that will transport you straight to the Mediterranean.
For more Mediterranean Diet resources, check out The Mediterranean Dish. I've found her articles to be quite helpful as I educate myself on this up and coming diet.
What foods are allowed on the Mediterranean Diet?
Instead of listing every food known to man, here's a helpful guide for figuring out what you can and cannot eat. Easy peasy!
Eat MORE: fruits, veggies, whole grains, beans, nuts, and legumes.
Eat MODERATELY: Lean proteins from fish and some poultry.
Eat LESS: Red Meat and Sweets
Use quality Extra virgin olive oil regularly.
For Flavor: Reduce salt and use more fresh herbs, garlic, citrus, and spices.
Credit goes to The Mediterranean Dish for this handy list.
Easy Mediterranean Diet Recipes
Stuffed Peppers with Spiced Quinoa
This Quinoa Stuffed Peppers dish is ideal for a quick evening meal. These stuffed bell peppers are low in fat, vegetarian, and include 10 grams of protein per serving. Red bell peppers are stuffed with fresh Mediterranean quinoa and baked in less than 30 minutes.
Roasted Cabbage Steaks with Basil Pesto and Feta Cheese
When you place a cabbage steak drenched in Mediterranean flavor in a blazing hot oven, you get this unique and fantastic texture that is incredibly irresistible. This dish requires very little preparation and cooks in less than 20 minutes. And it's keto too!
Baked Falafel
This baked falafel dish is as simple as it is delicious! These protein-packed patties are delicious by themselves, with a sauce or dip, or as a vegetarian alternative for pita sandwiches, salads, and bowls. They're also vegan and gluten-free.
Easy Mediterranean Pasta Salad
Mediterranean Pasta Salad is an excellent dish that can be eaten as a side or on its own. Juicy tomatoes and cucumbers, as well as salty olives, red onion, pasta, and spinach, are combined with creamy feta cheese in a homemade dressing that's crave-worthy and so simple to create! Make sure to pick up whole grain pasta for this dish.
Greek Quesadillas
With these quick and simple Greek quesadillas, you can have supper done in 10 minutes! Sandwiched between two crispy tortillas with spinach, cheese, and sun-dried tomatoes and served with a handmade Greek yogurt tzatziki sauce! Make it with low carb whole wheat tortillas and it's keto dish too.
One-Pot Greek Chicken with Lemon Rice
Garlic, chicken, and the bright tastes of lemon and parsley. This is a dish that is quick to prepare, simple, and baked in the oven, so it is completely hands-off cooking. Brown rice is best for this dish. Substitute rice for cauliflower rice to make it keto.
Greek Salad Tacos
These Greek salad tacos are a tasty, unique alternative to a salad or a lighter supper. Grilled chicken, cilantro, and a cucumber dill sauce deliver all of the flavors you'd expect from a Mediterranean meal. Make sure to pick up some low carb whole grain tortillas to keep it keto!
Baked Lemon Garlic Salmon
Baked fish with a bright, handmade lemon and garlic sauce that is perfectly delicate and flaky. This baked lemon garlic salmon requires very little preparation and cooks in less than 20 minutes. Perfect keto meal too!
Easy Mediterranean Bento Lunch
Over your lunch break, take a trip to the Mediterranean with this healthy bento box idea, which mixes Greek salad, hummus, pita, and more for a filling, quick meal. So much yum here!
Chicken Shawarma
Charred chicken that is coated in yogurt, garlic, spices, and oil, this chicken shawarma is simple and easy to make right in the oven. This dish is great in sandwiches, rice bowls, or salad. Absolutely delicious and keto too!
Zucchini Noodle Salad with Chicken
This Mediterranean chicken pasta salad is a light, tasty, and healthful pasta salad made with zucchini noodles, juicy chicken, tomatoes, Kalamata olives, feta, and mixed with fresh herbs and a fast Greek salad dressing. Also a keto option!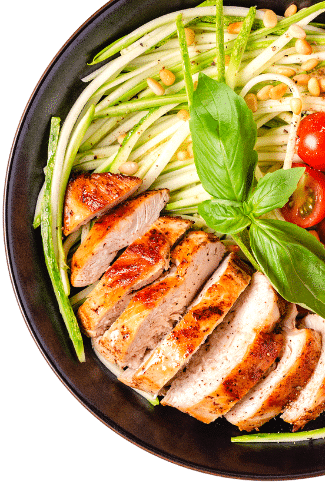 Salmon with Roasted Red Pepper Quinoa Salad
This zesty quinoa salad is wonderful on its own and has a Mediterranean flavor. Top it with salmon, and you've got a full, healthy meal! Roasted red peppers are my favorite.
Charcuterie Bistro Lunch Box
With all of the major Mediterranean tastes, this portable meal is similar to a personal-size cheese platter to take with you on the move. The healthy and simple snack-style meal is ideal for a light picnic date night or for lunch at work. You could even make this lunch keto-fied!
Tuscan White Bean Salad
This Tuscan white bean salad is a quick and simple meal is full of rich and healthful ingredients, as well as plant-based protein. It can be served as a side or works as its own standalone meal. One day they will invent a keto bean and I will be first in line to try it.
Mediterranean Cod and Tomatoes
The tomato and herb butter in this dish complements the mildly flavored cod in the most delectable way. It will be the only baked fish you will want to make time and time again. Excellent healthy keto recipe also!
Minestrone with Italian Sausage
This is a superbly seasoned, deeply flavored soup cooked with Italian seasoned pig sausage, satisfying pasta, soft, fresh veggies, and a generous amount of herbs and garlic to season. Omit the pasta and beans, and I bet you that keto-fied version still knocks it out of the park.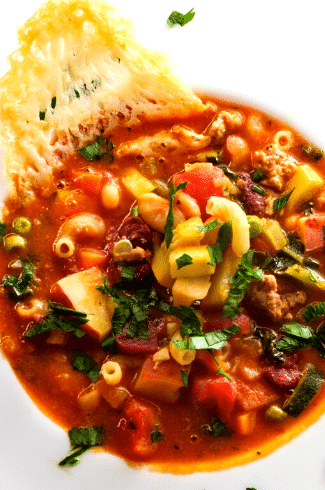 Baked Asparagus and Cheese Frittata
This asparagus and cheese frittata is ideal for a light spring breakfast or dinner. You'll also enjoy the Mediterranean tastes provided by extra virgin olive oil, fresh parsley, and ricotta cheese. Use crushed pork rinds instead of breadcrumbs to make it keto.
Greek Cauliflower Rice Bowls
Cauliflower rice, grape leaves, olives, crispy pumpkin seeds, and goat cheese make up the Greek cauliflower rice bowls. This salad bowls recipe provides a vegetarian lunch that will satisfy your hunger while staying low-carb, gluten-free, grain-free, and vegetarian. This is practically a keto dish with 8.3 net carbs per serving.
Caprese Stuffed Portobello Mushrooms
Portobello mushrooms are packed with fresh mozzarella cheese and grape tomato slices then covered in rich garlic butter. These stuffed mushrooms are full and delicious as a main course, but they may also be served as a side dish. If you leave off the brown sugar glaze, it's definitely a keto meal.
Tabouli
Tabouli salad is a simple Mediterranean salad made out of finely chopped vegetables, fresh parsley, and bulgur wheat that is mixed with lime juice and olive oil. This is the perfect side if you are looking for traditional Mediterranean flavors!
Mediterranean Breakfast Casserole
This Mediterranean quinoa breakfast dish is a filling way to start the day. It's loaded with fresh vegetables, feta cheese, and quinoa, creating a flavorful and nutrient-rich meal.
Turkish Red Lentil Soup
This is the perfect soup on a cold day. Traditional Turkish red lentil soup is delicious, comforting, and filling. It's also quick to prepare, making it a fantastic lunch or dinner choice.
Easy Farm Tomato Cucumber Salad
This zesty, punchy, and easy-to-make salad is made with fresh farm tomatoes and cucumbers. This can be served as a simple side with whole wheat toast or crackers or as a light lunch or supper—if you want the full flavor, it's ready in 30 minutes or less!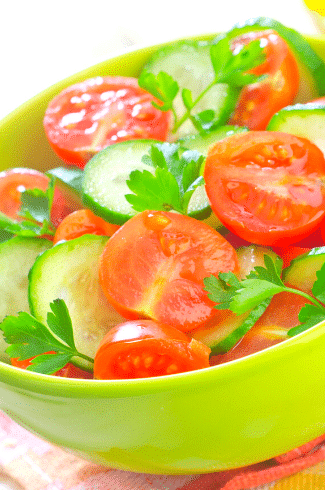 Spanakopita
If you've never had Spanakopita, you're in for a treat! Sautéed spinach, feta cheese, and spices are wrapped in phyllo dough and cooked till golden brown and crisp in this classic Greek dish.
Chicken Souvlaki
Chicken Souvlaki is a dish that will transport you to Greece with each bite. Accompanied by tzatziki and is served on a pita, you'll enjoy how soft the chicken thigh flesh becomes after marinating in a lemon juice Mediterranean sauce.
Final Thoughts
I hope you found these easy Mediterranean diet recipes to be exactly what you were looking for.
Though there is no one Mediterranean diet, this dietary pattern is often high in nutritious plant foods and low in animal foods, with a concentration on fish and shellfish. This makes it ideal for people seeking to develop a positive connection with food.
Many of the above dishes can be paired together nicely. You could even try making substitutions to make the recipes your own and to keep it keto!
Keto and me. We aren't going anywhere, but the Mediterranean diet offers some healthy alternative lifestyle eating that can compliment quite well with the keto diet.
Tell me your your favorite Mediterranean diet recipes in the comments. I would love to hear from you!
Pin for later!