When you're trying to work on your health and get your body in top working order, you want two main things: information to educate yourself on what your body needs and why; and access to efficient and affordable ways to accomplish your health goals. Meal replacements are not a new concept when it comes to dieting and nutrition but not many may know why they're a great alternative other than the convenience they offer. And if you're on the keto diet, you need to know the best keto meal replacement shake!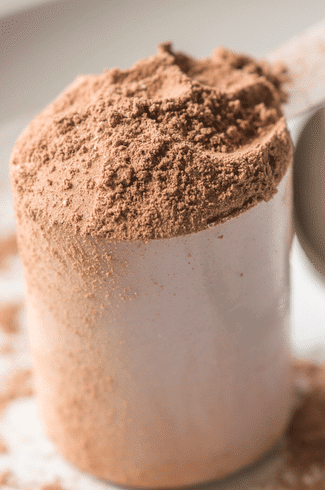 This post may contain affiliate links. See my disclosure for more info.
With keto specifically, because there are quite a few restrictions to your diet already, you need all the options you can get and ones that are easily accessible. It's only been in recent years that food manufacturers have been jumping on the keto train to make products that allow a little more variety and ease for keto followers.
Why do a Meal Replacement Shake on Keto?
First, let's address the elephant in the room: convenience. If you have a restrictive diet that allows for limited choices and a food market that does not cater to your already limited choices, you are more likely to stick with it if you can take the guesswork out of what to eat for each of your meals. Keeping your body in a state of ketosis requires work and consistency.
Grab a free printable: Keto Food Lists
Meal replacement shakes save on time, not only with cooking but also with hunting down the various products you would need to purchase in order to create a successful keto-friendly meal. Not to mention the time it takes to research meal ideas to ensure you are following the diet correctly and introduce variety.
It also ensures that you are getting the right amount of nutrients you need to fuel your body. These pre-made products will let you know what you're getting right on the nutritional facts. No mysteries when it comes to what you're putting in your body.
Not all Meal Replacement Shakes are Keto-Friendly
The key to a keto diet is in the macronutrient ratios of fat, protein and carbs. It's a delicate balance and each ratio must be strictly adhered to as much as possible. The ideal ratio would be 70% fat / 25% protein / 5% carbs. With carbs, it can be less than 5% but should be no more. Protein is highly emphasized in diet culture and needed but too much protein can turn to sugar in your body and throw you out of ketosis.
With this information in mind, the short of it is that not all meal replacement shakes are keto-friendly and even those that claim to be should be reviewed. There are a few things you should look for in your meal replacement shake.
Sugar substitutes like sucralose, stevia, sugar alcohols and so on.
Fats are good fats like avocado oil, sunflower oil, coconut oil and so on.
The Best Keto Meal Replacement Shake
There are a plethora of keto-friendly meal replacement shake options on the market but I figured I would find the best ones for you and let you decide which one you like best.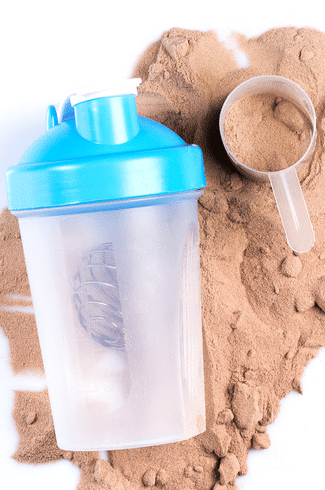 Keto Chow
Keto Chow makes the top of the list not only for its high fat content, perfect protein and low carb ratios but for its volume compared to other options.
Keto Chow sits at a ratio of 44/28/4 with a cost of $3.33 per serving size. While that might be a little pricey when it comes to keto-friendly shakes, it is very filling with the consistency of a milkshake and comes in delicious flavors, so you don't have to sacrifice your taste buds. Hello apple pie!
In order to make the shake, you add your fat of choice (like heavy whipping cream, ghee, or butter) and room temperature or slightly warm water, then mix really well in a blender bottle or with an immersion blender.
You can even prep your shakes a week ahead of time. It will not get weird or separate in the fridge like other shakes. It's actually recommended for the best taste to let it sit in the fridge overnight.
Drinkers of Keto Chow have deemed this shake 'nutrient dense' and claimed they had more energy after consuming the shake. It's the type of energy that is sustained throughout the day, so you don't have to worry about a crash.
It's also worth noting that because this shake is nutritionally complete you can replace all your meals with it if you choose and not have to worry about sacrificing health to a diet. You could actually do this long-term too and you would not be starving yourself.
Other Honorable Mentions
Though Keto Chow takes the number one spot on the list in terms of 'Best Keto Meal Replacement Shakes', there are a few other options that are good alternatives.
| | | | |
| --- | --- | --- | --- |
| Keto Meal Replacement Shake | Ratio | Calories | Cost per Serving |
| Sated Keto Shake | 24/18/1.5 | 400 | 2.40 |
| Slimfast Keto Shake | 15/5/8 | 190 | 1.50 |
| 310 Shake | 45/15/6 | 510 | 1.82 |
| Zone Perfect | 18/10/3 | 200 | 2.50 |
| Keto Cheesecake | 15/2/4 | 160 | 1.80 |
Bear in mind that each shake has its own pros and cons and reviews on taste and volume that you will need to consider when choosing it as an alternative.
For example, though the Slimfast Keto Shake is lower in price than Keto Chow and does not require extra ingredients, it is also higher in carbs and really low in fat and calories. It is not nutritionally complete enough to substitute each meal and has more processed additives.
Conclusion
Now that I have demystified a few keto meal replacement shakes for you and given you some information on why they are an excellent alternative to regular meals, especially if you are on-the-go or do not want to be bothered with long shopping lists or cooking, you can try a few options for yourself and determine which is best for you.
It all depends on your keto preferences and how your body handles the shake. If you come across any options not listed, you have the knowledge for what to look for and what will keep you in ketosis and on your way to reaching your health goals.
Have patience with yourself and your journey and know that you can enjoy the process. If you try any of these shakes, let me know what you think in the comments!
Here are more Keto Meal Ideas that you can throw together in minutes: