Staying keto during the holidays can be difficult. It's not just the temptations surrounding you at family get-togethers and office parties. Your friends and family know you are on the ketogenic diet, and let's just say their mouths aren't watering at the thought of the low carb offerings at your home. But this year, all of that is about to change when you plate some Keto Suntella Stuffed Cookie Bars.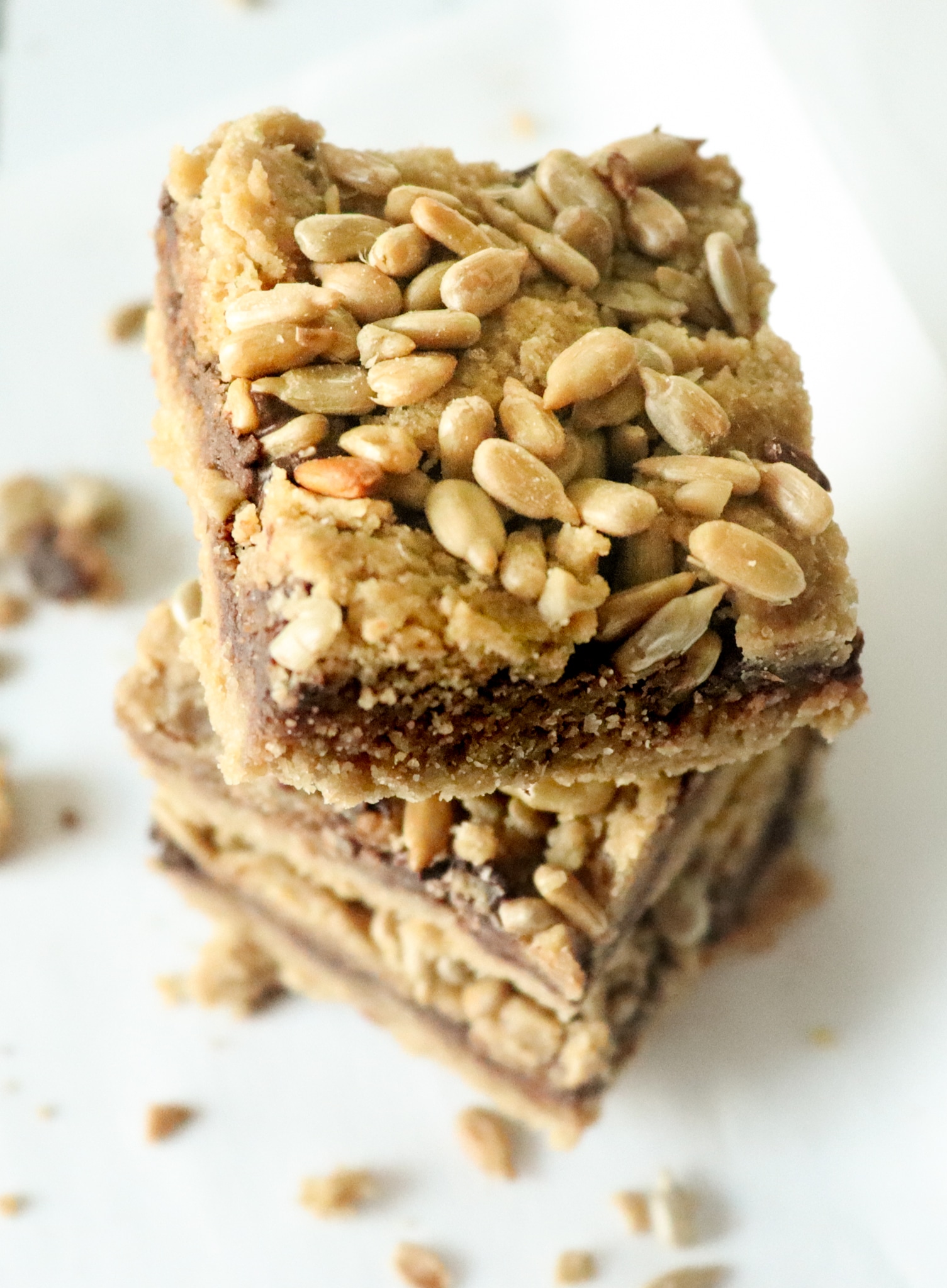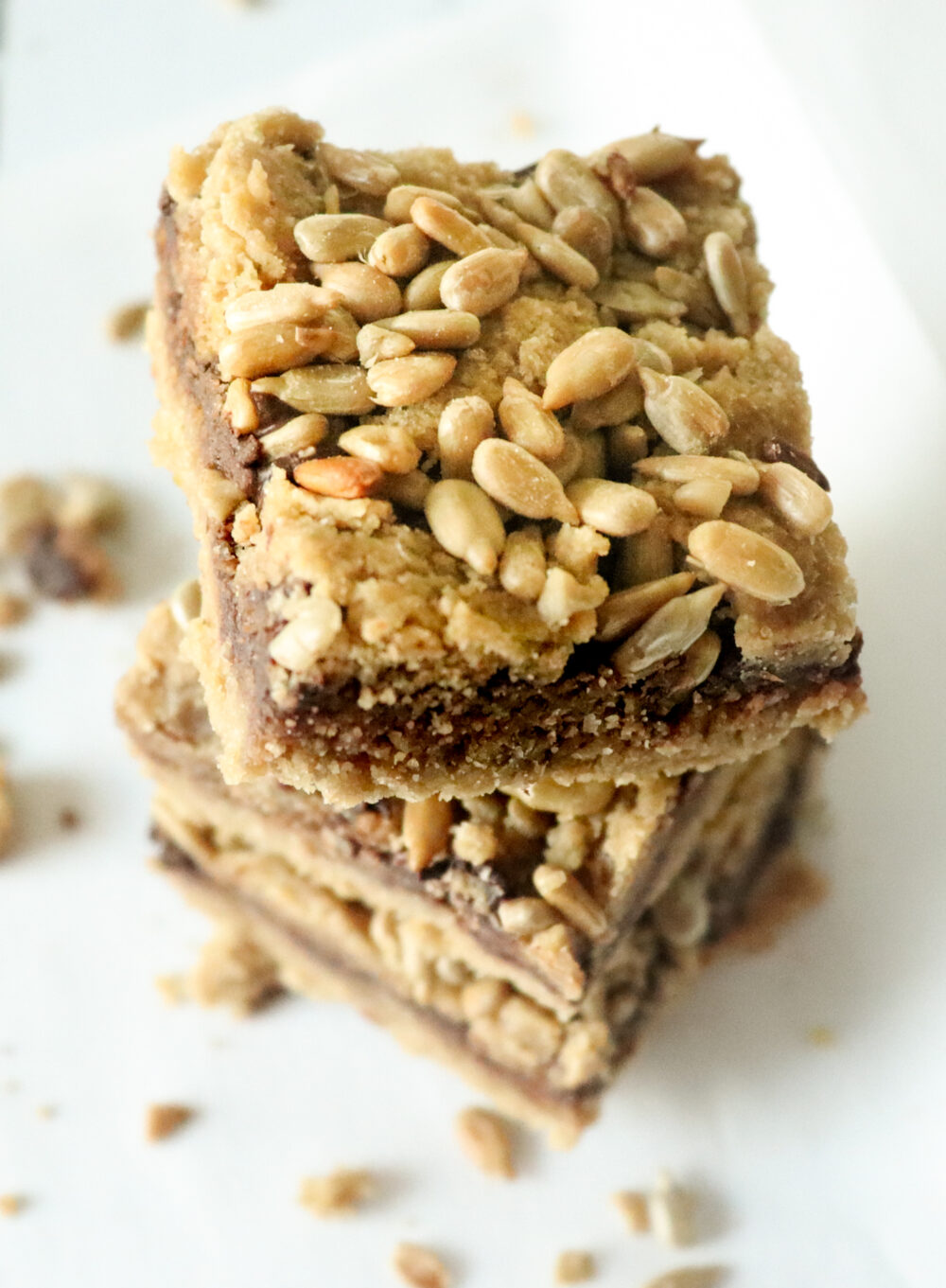 This post may contain affiliate links. Please read my disclosure for more info.
Keto Suntella Stuffed Cookie Bars are a sandwich-style dessert with a sugar-free, chocolate sunflower spread layered between two cookie crusts. The cookies are prepared in a baking pan and sliced into bars after cooling. By substituting traditional sugar and flour with low-carb options, these cookie bars are perfect for the keto diet.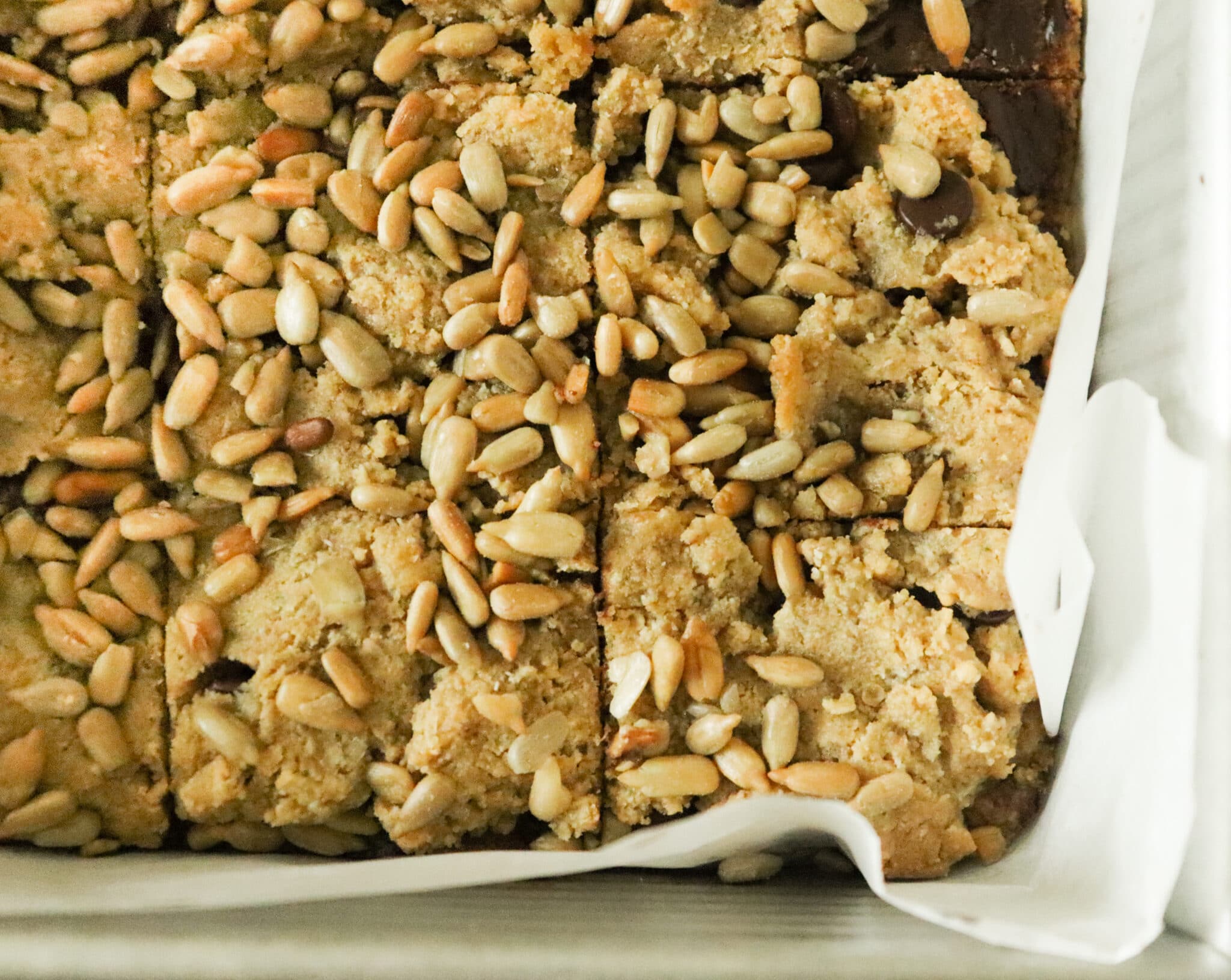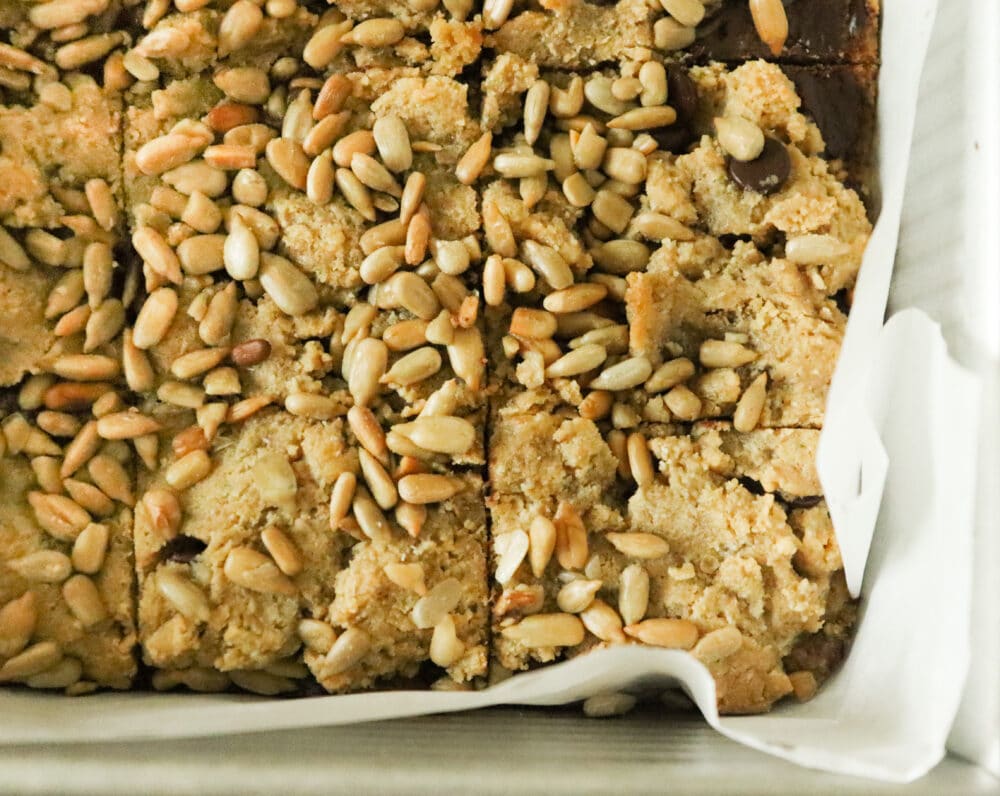 These little slices of keto heaven are so good that you may not want to tell anyone they're low carb. After your guests taste your Keto Suntella Stuffed Cookie Bars, not only will they request the recipe, but they'll ask you to make them for their next party.
Grab a free printable: Keto Food Lists
Say Hello to Suntella
Suntella is a sugar-free alternative to that popular chocolate hazelnut glucose-bomb spread used in so many recipes nowadays. As the name suggests, Suntella is made with sunflower seeds, sweetened with monk fruit, and doesn't contain nuts, gluten, or dairy.
At only two grams of net carbs per serving and zero sugar, Suntella is all-natural, vegan, and guilt-free. I love eating it with a spoon straight out of the jar. Make sure to stir Suntella completely before eating or baking with it.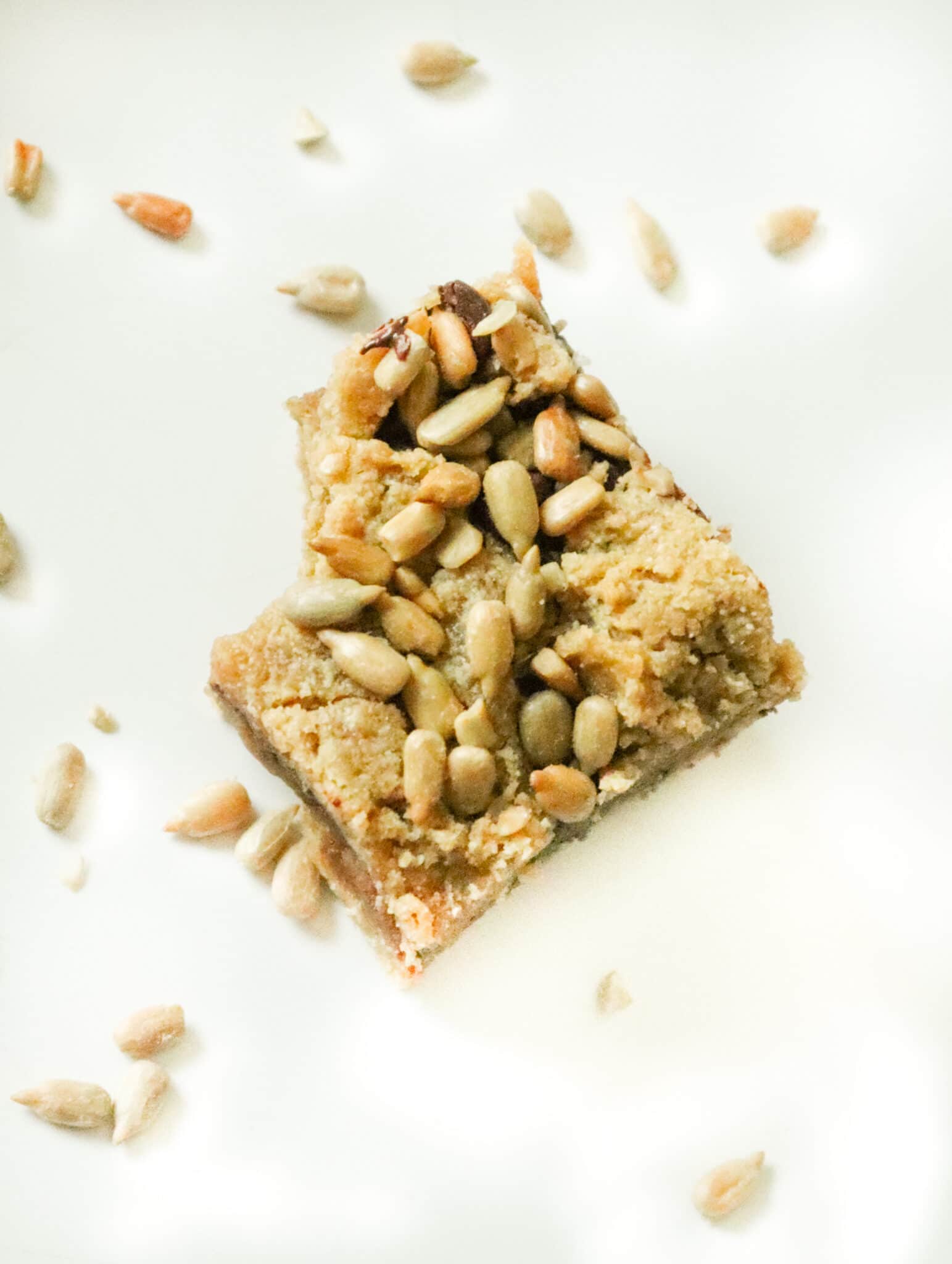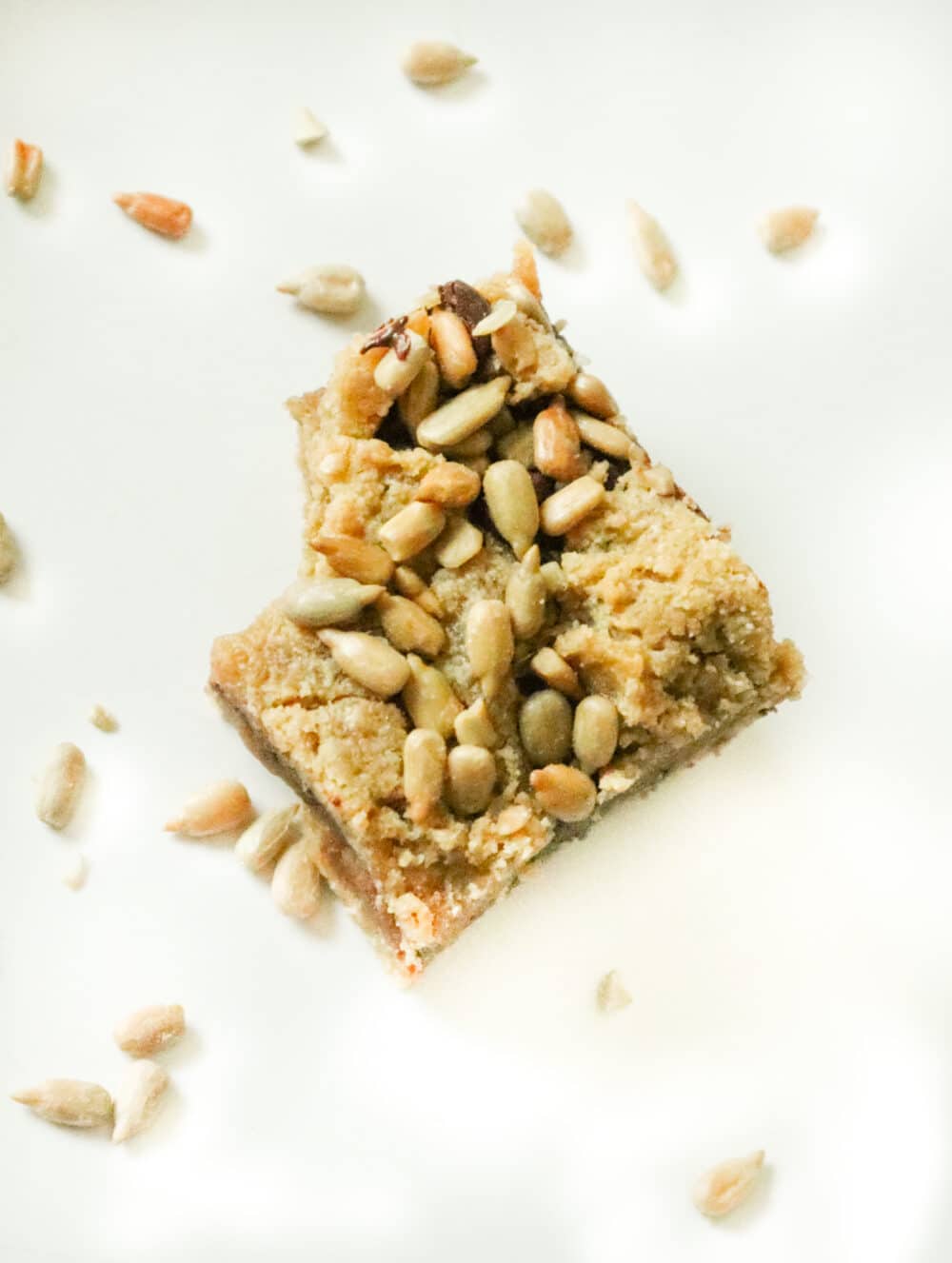 The Crust
The key to any yummy holiday treat is a moist crust with a little crunch. The right combination of two flours prevents their distinct flavors to dominate while keeping the texture we love.
Almond Flour
Ground, blanched almonds are the keto chef's answer to all-purpose flour. Almond flour is used for baking, breading, and pancake making in thousands of keto recipes. When buying almond flour, be careful to avoid buying almond meal. The two are often confused but not the same.
Coconut Flour
This flour is the dried meat of a coconut ground into a powder. Coconut flour is more absorbent than almond flour and requires a little extra time. What appears as a slightly runny batter will thicken after a few minutes.
Replacing all-purpose with almond or coconut flour in a recipe is not one-to-one, and there's no standard conversion. Cooking with these flours is more art and experience than simple substitution.
Sea Salt
On my reading list right now is Salt, Fat, Acid, Heat, and if you want to improve your overall cooking skills to turn yourself into an amazing cook, I highly recommend this book. But…it has turned me into a sea salt snob. Salt and cookies? Yes, it's a crucial ingredient and the quality of sea salt matters for baking and topping cookie bars.
My favorite go-to sea salt is Diamond Kosher Sea Salt. It's affordable and perfect for everyday cooking. Never bake with iodized salt. It's full of anti-caking agents and other stuff that you just don't need when baking cookies.
The Mixture
Both flours soak up moisture resulting in a dry crust, and getting the right amount of liquid to flour in a recipe is tricky. Luckily, I've done the experimentation for you, and all you need to do is follow the recipe.
Sugar-Free Sugar?
To make these cookie bars a sweet treat and keto, we need to use sugar-free sugars. A more appropriate term for these sugars is sweeteners or sugar alternatives. We are using sugar-free brown sugar and granulated sugar from monk fruit and erythritol.
What Makes Brown Sugar Brown?
Regular brown sugar is a keto dieter's nightmare. That sugar is made brown from molasses, creating a higher level of sweetness and carbs. Did you know molasses is the by-product of refining sugar?
Store-bought sugar-free brown sugar usually contains some actual sugar or molasses mixed with stevia or erythritol. If you prefer to make your own, blend a cup of granulated erythritol with a teaspoon each of maple extract and stevia glycerite.
For this recipe, I chose Lakanto's Golden because it bakes up just like regular brown sugar with no aftertaste.
Granulated Sweetener
Granulated sweeteners replace regular table sugar in keto recipes. When deciding which sweetener to use, I find either monk fruit or erythritol (or a blend) are best for baking.
Granulated monk fruit sweetener comes in several forms, but I prefer the classic white sugar replacement from Lakanto. It does contain erythritol, but monk fruit extract adds sweetness without the chemical flavor people associate with artificial sweeteners.
This one-to-one sugar substitute also helps retain some of the moisture absorbed in the almond and coconut flours.
Granulated erythritol only has about 70% of table sugar's sweetness, so you'll need to add a little more. Many people (like me) on the keto diet like the reduced level of sweetness and substitute erythritol one-to-one.
Sunflower Seed Butter
Nut or seed butter is a must for this recipe. I tried it several times with regular butter, and I just wasn't in love with the texture. I decided to use sunflower seed butter to go along with the sunflower seed theme of these delicious cookie bars, because why not!
You can substitute for any other nut butter (almond, hazelnut, etc.) in this recipe. It has to be the creamy, not crunchy kind. Always make sure to stir natural nut butters thoroughly due to oil separation in transit.
Chip-in
A mistake of many home bakers is the use of inferior chocolate. The keto baker often ignores the amount of sugar in a few chips in the recipe defeating the purpose of a low carb treat. During the holidays, the waxy, low-quality chips will be on sale in grocery stores, but great chocolate is a must for great Keto Suntella Stuffed Cookie Bars.
Since we are making a keto version of these bars, the chips should not be overly sweet, upsetting ingredients' balance. I also love it when a chip holds its shape during the bake creating little pockets of melty, gooey sweetness.
My preference is using Lakanto's Sugar-Free Chocolate Chips. These chips are made with unsweetened chocolate, erythritol, and Monk fruit sweetener. There is only one net carb per tablespoon.
Let's Make Some Keto Suntella Stuffed Cookie Bars
Now that we know what goes into Keto Suntella Stuffed Cookie Bars, let's talk about putting them together and baking them to a crisp golden brown. You'll start by preheating your oven to 350 degrees F.
Making Keto Cookie Bar Dough
First, you're going to need two bowls – one for wet ingredients and another for dry. In the first bowl, whisk the flours, baking soda, and salt. Set aside.
In the second bowl, mix with a spatula the sunflower seed butter, coconut oil, and both sugars.
Continue to stir while adding the vanilla and eggs until smooth, glossy, and thoroughly combined.
Then, begin adding the dry mixture to the wet slowly; once the dough is starting to form and almost mixed, gently fold in the chocolate chips with a spatula.
A side note on over-mixing: over-mixing will aerify your dough and cause it to rise and then fall.
The falling of the dough creates a fragile and crumbly cookie crust. Stop mixing your dough as soon as there are no streaks of flour remaining.
Dividing the Dough
Divide the dough into two equal portions, reserving one half for the top layer.
Press the remaining dough into a parchment-lined 8 by 8-inch square baking pan. Be sure to eliminate high or low spots when pressing the dough into the pan. You'll want all your cookie bars to be uniform in size and thickness.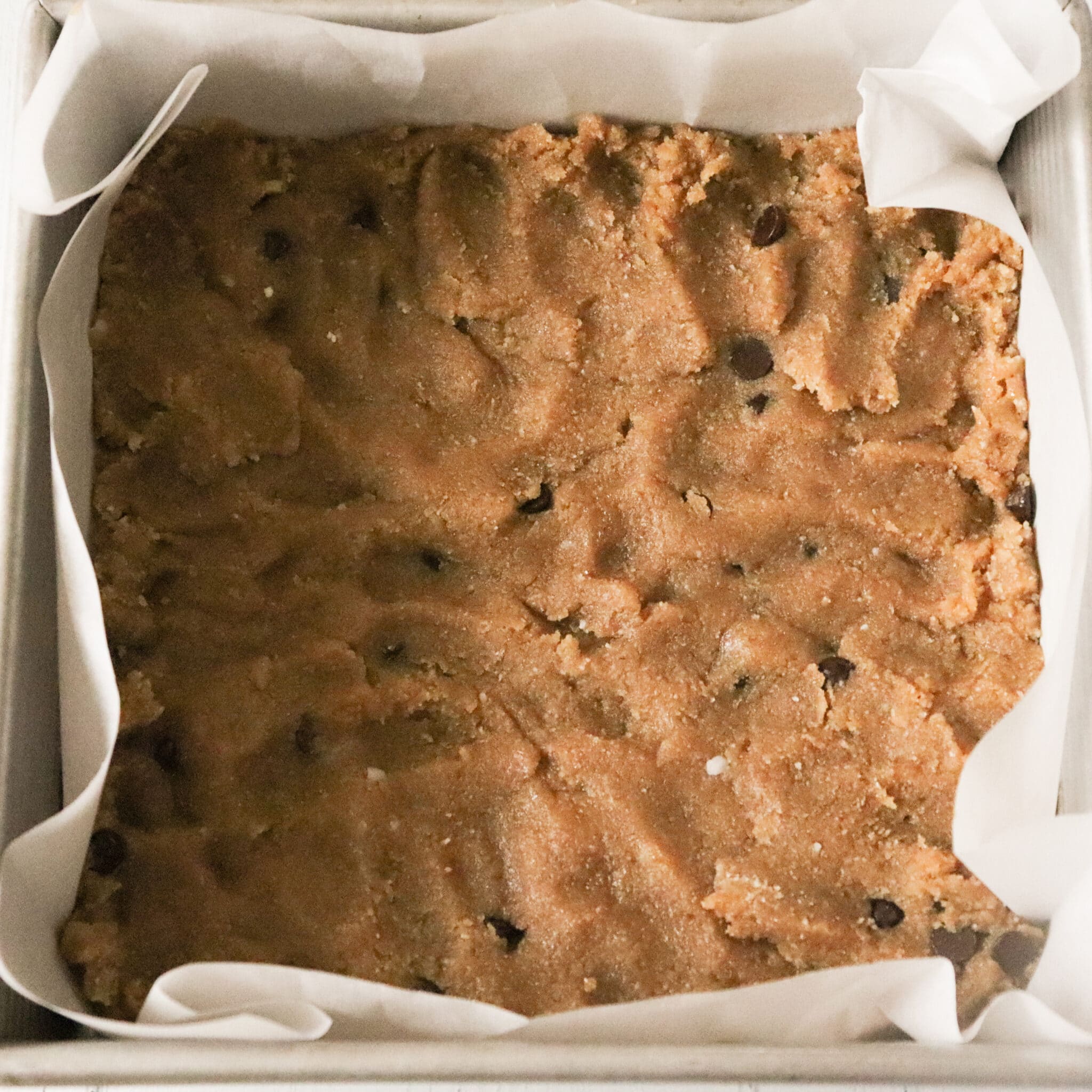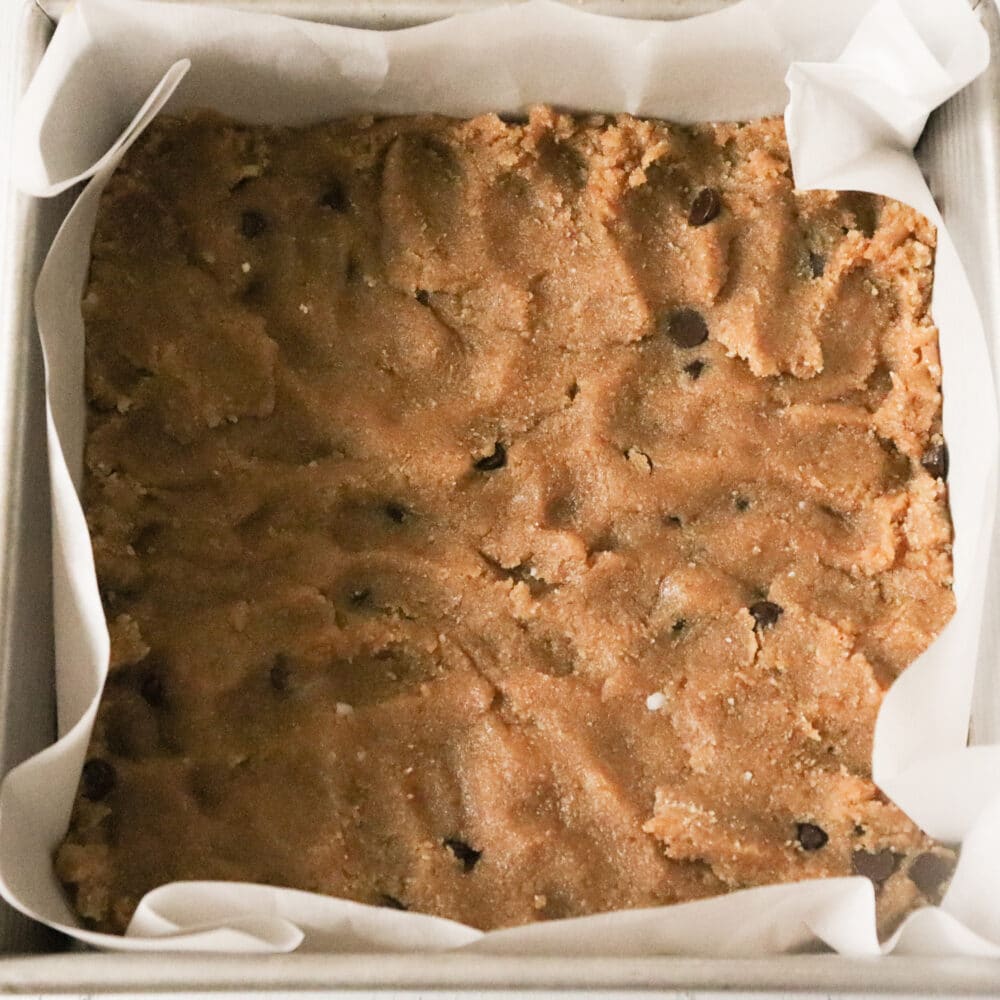 Spread the Love
With the bottom layer of the cookie in place, it's time to spread the Suntella. With a spatula or frosting knife (waaaay easier), spread an even layer of Suntella from edge to edge and corner to corner.
There's nothing worse than a cookie bar with a thin layer of the good stuff. When it comes to making Keto Stuffed Cookie Bars, the Suntella stuffing is the star of the show.
Don't be stingy! Use at least half a jar and spread it nice and thick. If you want to tone down the sweetness, spread a thin layer. I promise it will still taste delicious.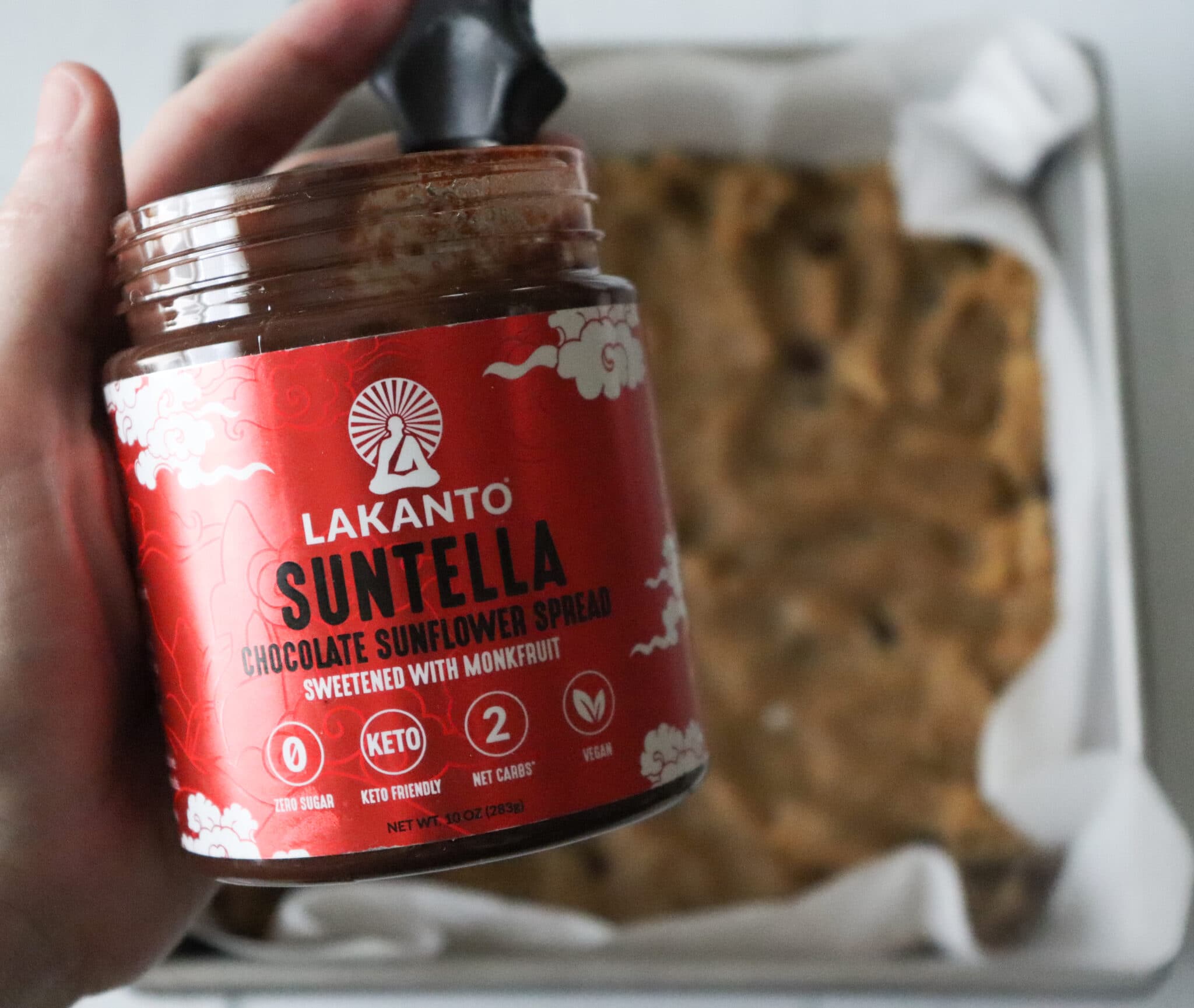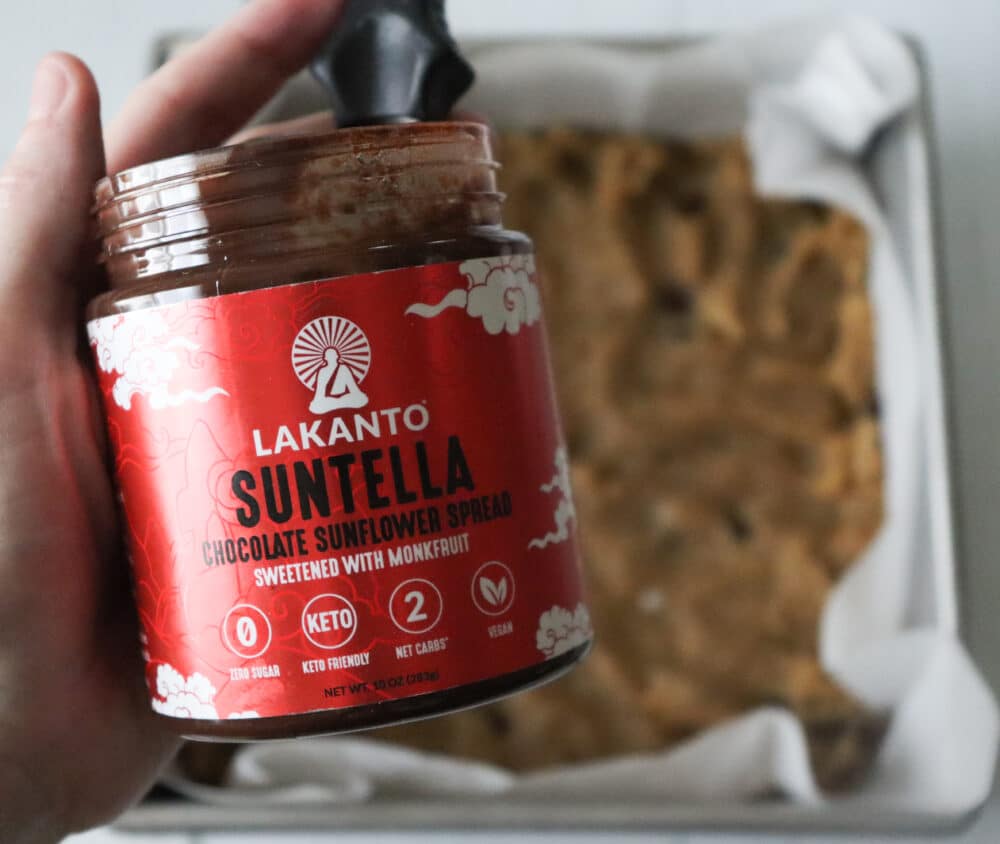 Top and Bake
Crumble the remaining dough and press over the top. I like to let a little bit of the Suntella shine through 1) for dramatic effect and 2) for that extra chocolate gushing out of each bite.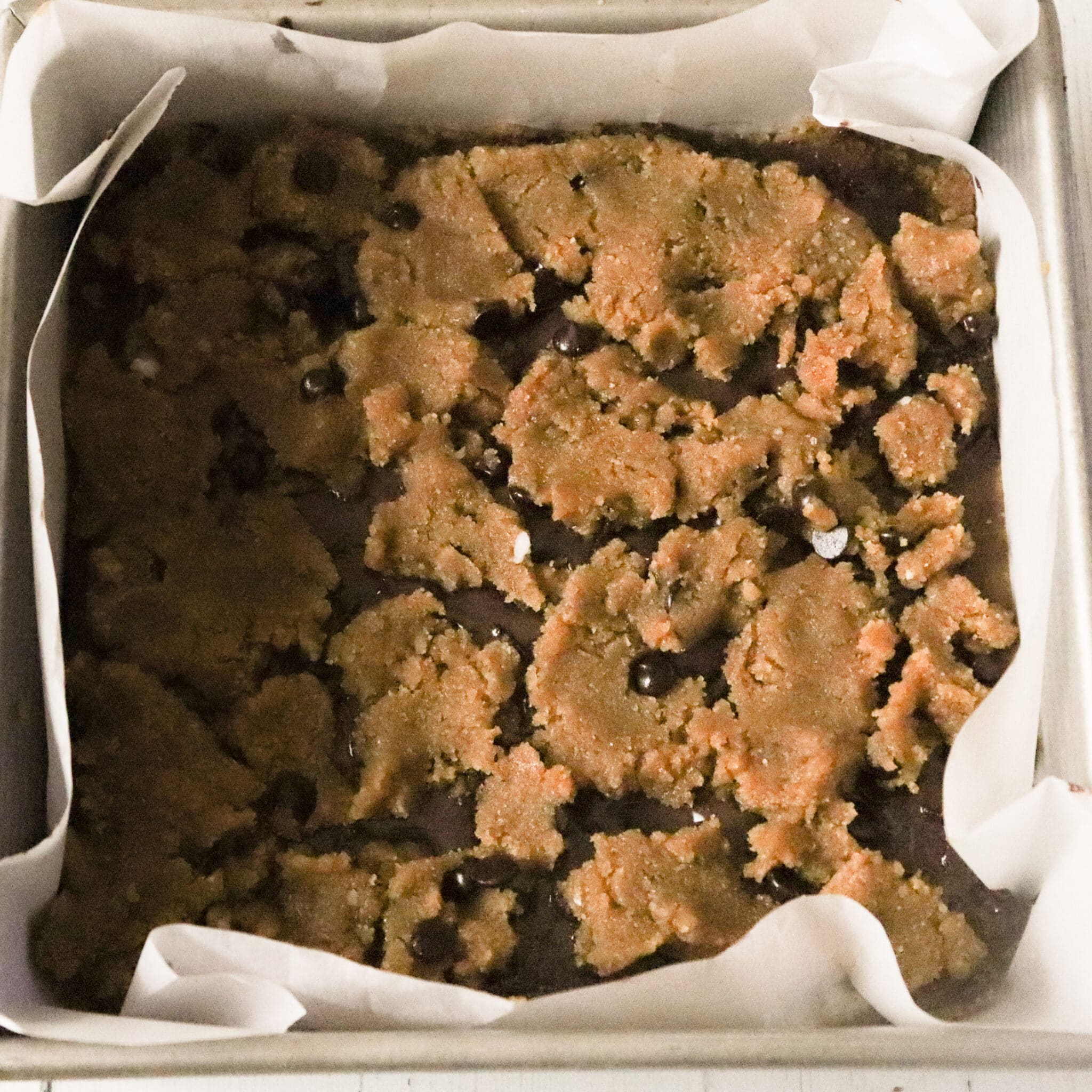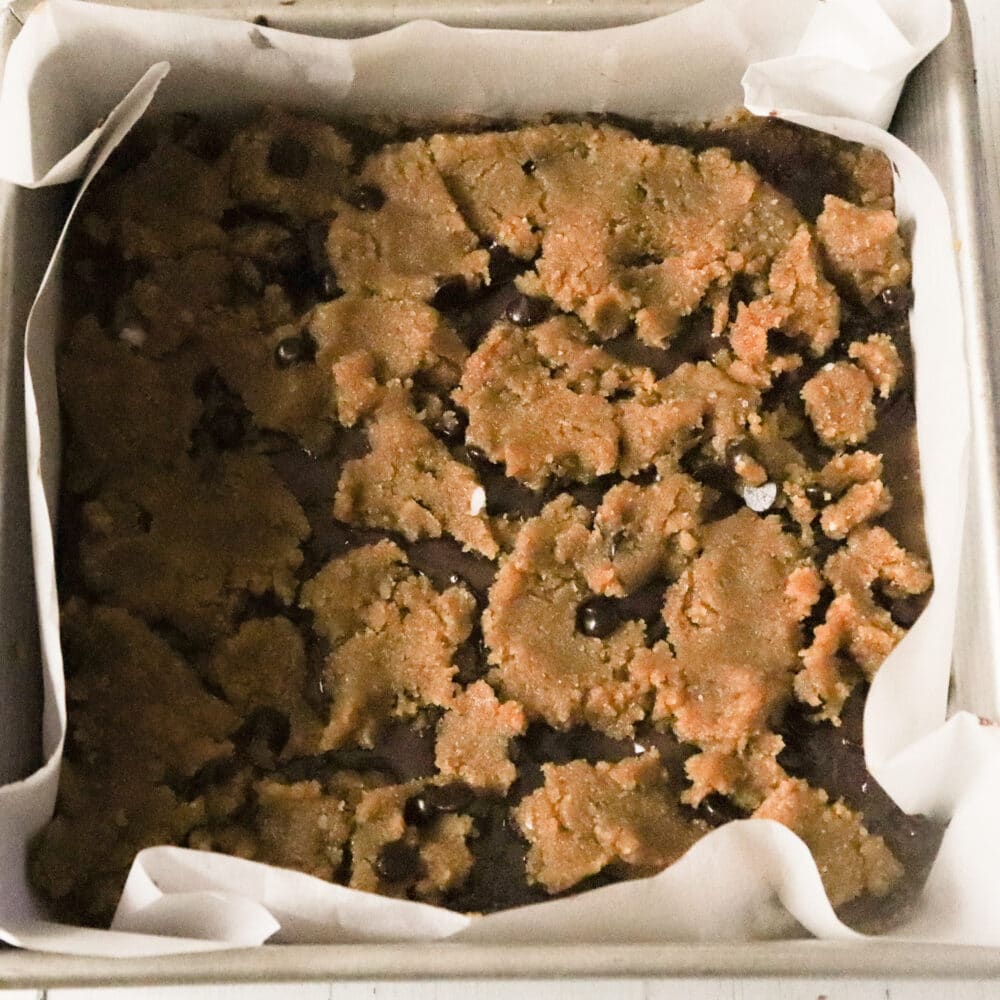 Garnish the top of your cookie bars with some sunflower seeds and sea salt if you like before sliding it into the oven. The cookie bars will take about 22-25 minutes in the oven but keep an eye out for light brown edges to signal when done.
Careful not to overbake as it will continue to bake in the pan as it cools.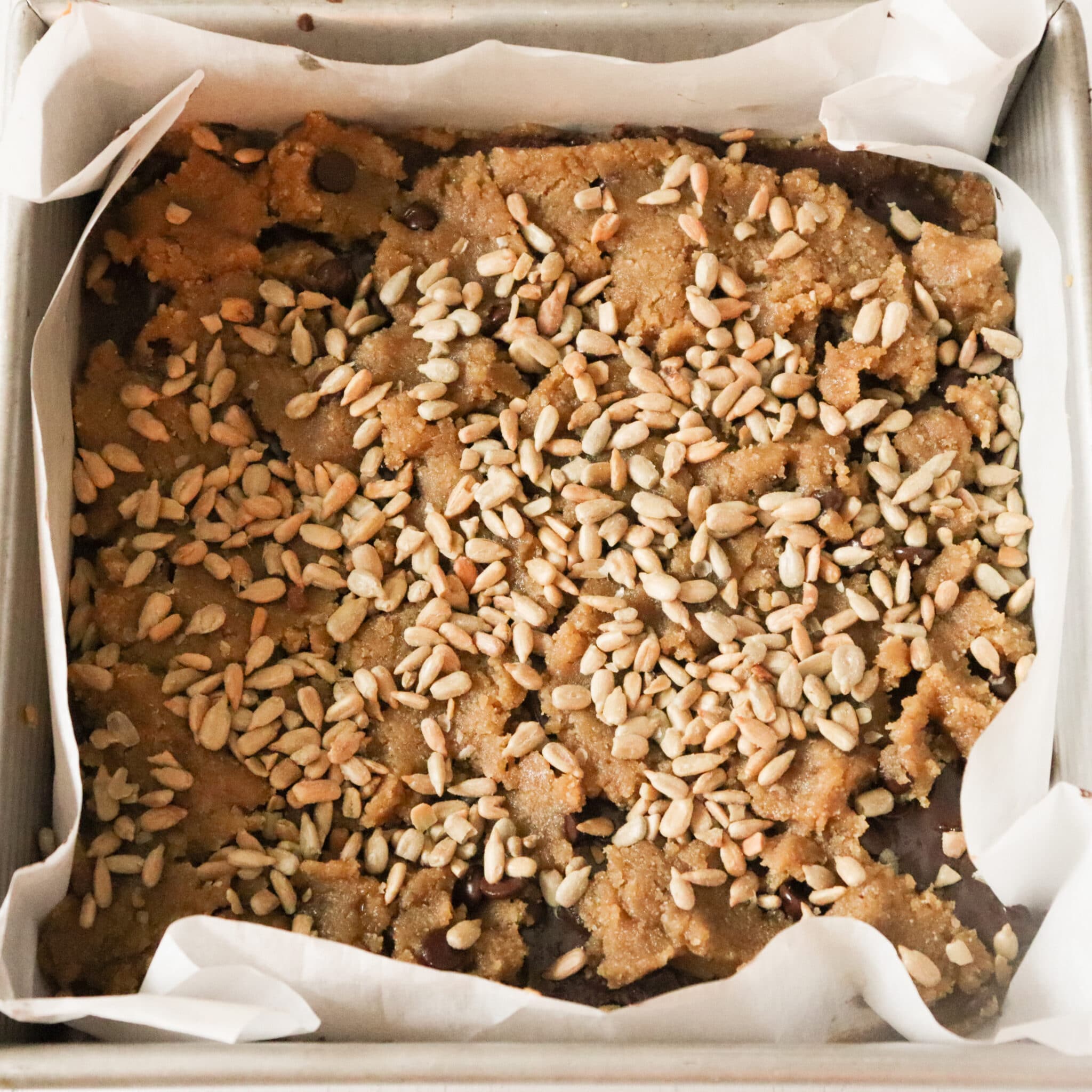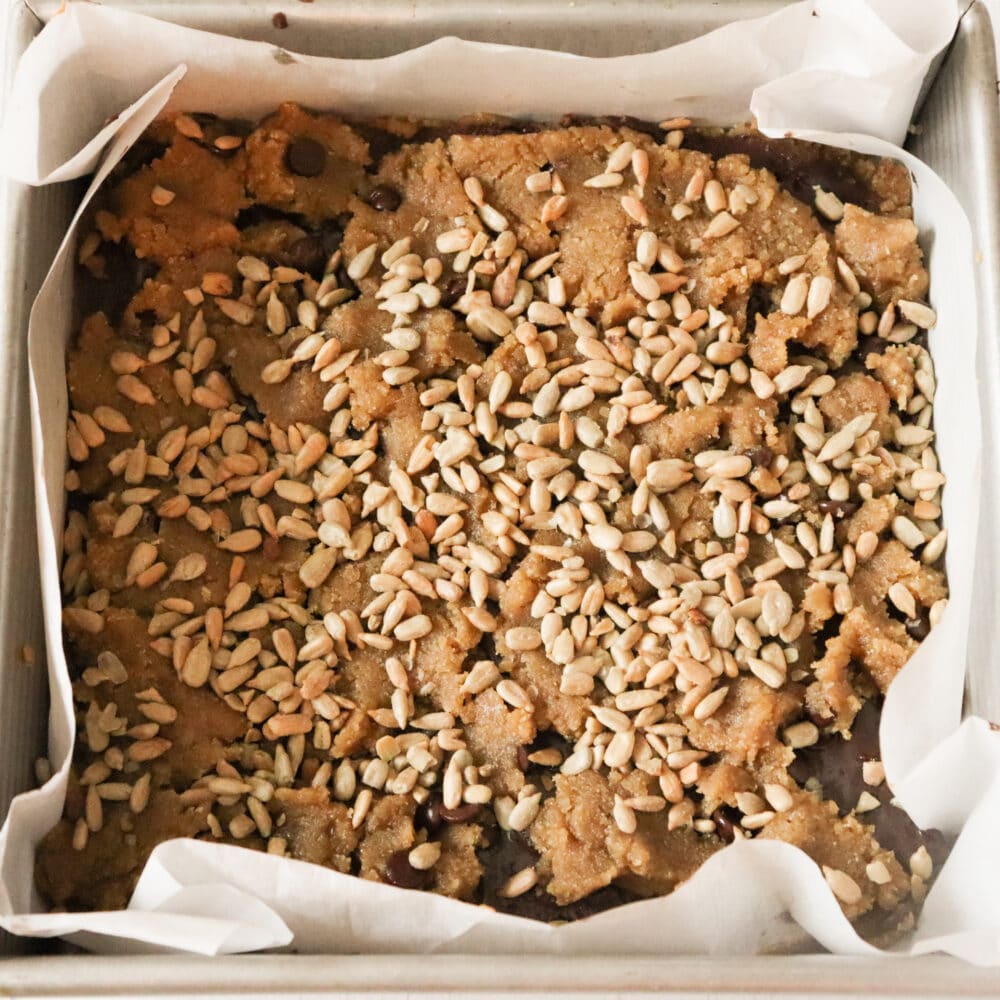 Slicing into Bars
Allow the cookie bars to cool completely before using the parchment paper to lift them out of the pan. The last step to making great cookie bars is a nice uniform slice.
Attention to this small detail is the difference in making a desirable looking dessert or one that tastes good. I put mine in the fridge for about an hour before slicing to make sure they came out clean. They also taste amazing cold!
Final Thoughts
To bake perfect Keto Suntella Stuffed Cookie Bars that everyone loves doesn't take a degree from pastry school. The process is simple, and the result is one that your friends and family will love.
Who knows, after this holiday season, your Keto Suntella Stuffed Cookie Bars could be the dessert that convinces someone you love to give keto a try.
Make sure to check out these other delicious and guilt-free keto desserts while you're here!
Yield: 16
Keto Suntella Stuffed Cookie Bars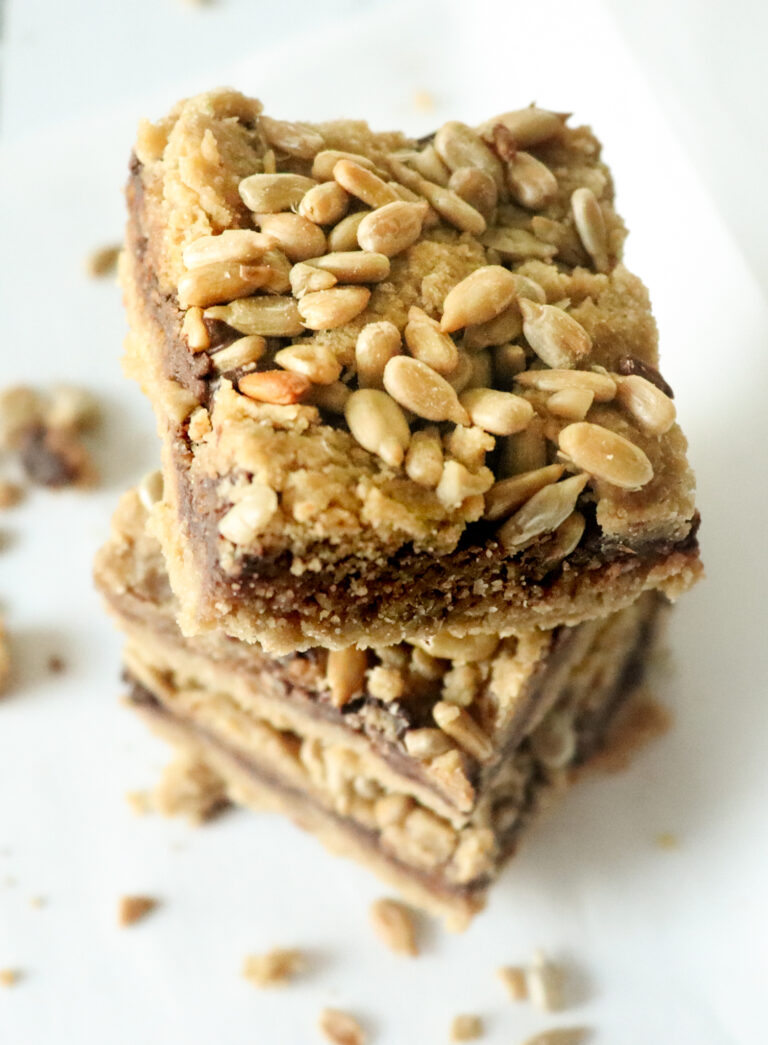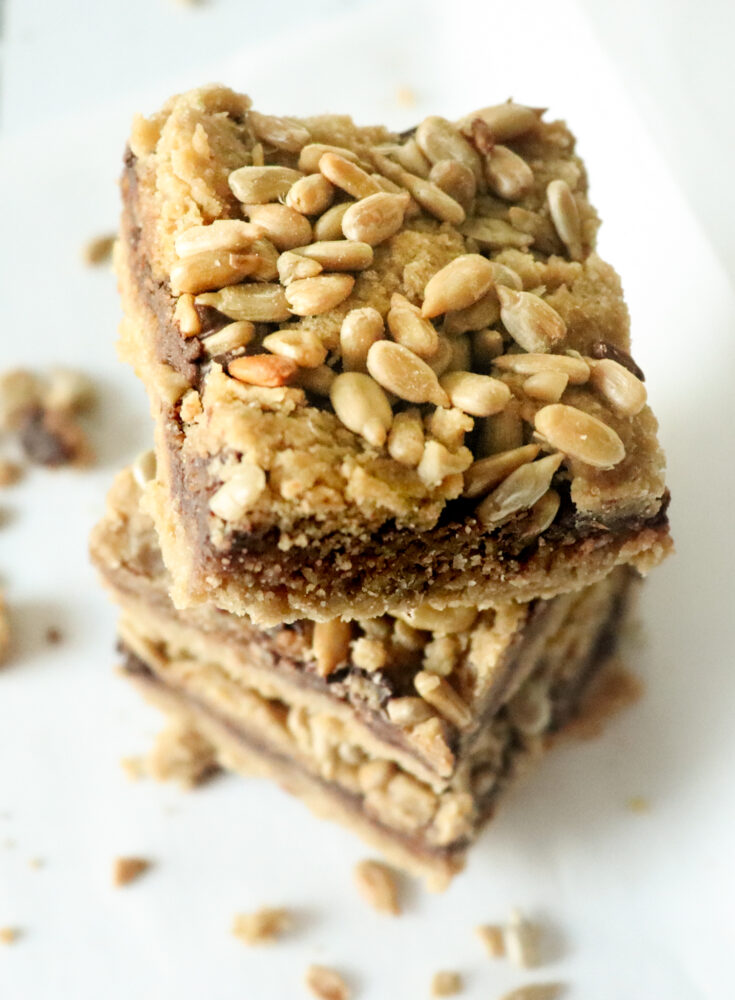 These simple chocolate chip cookie bars have a layer of soft-baked cookies on the top and bottom, with Suntella in the middle.
Ingredients
1 ¾ cup blanched almond flour
1 tablespoon coconut flour
1 teaspoon gluten free baking powder
¼ teaspoon sea salt
½ cup Lakanto's Golden or sugar-free brown sweetener
¼ cup Lakanto's Classic or sugar-free granulated sweetener
½ cup sunflower seed butter
2 tablespoon unrefined virgin coconut oil, softened
2 large eggs, room temperature
⅛ teaspoon pure vanilla extract
¼ cup Lakanto's sugar-free chocolate chips or sugar-free equivalent
½ jar of Lakanto's Suntella
Instructions
Gather ingredients and allow eggs to sit out for 30 minutes to 1 hour to get to room temperature, or submerse in a warm water bath for 5 minutes if you're short on time.
Preheat oven to 350 degrees and line an 8X8 square baking pan with parchment paper.
In a medium mixing bowl, whisk together almond flour, coconut flour, baking powder, and sea salt.
In a large mixing bowl, mix with a spatula brown sugar replacement, granulated sugar replacement, sunflower seed butter, and coconut oil. Add eggs and vanilla extract and stir until smooth.
Add your flour mixture slowly to your sugar mixture. Fold until just about mixed, then fold in the chocolate chips. Careful not to overmix.
Divide dough in half reserving one-half for the top layer. Press the other half into the bottom of the prepared 8X8 parchment lined square baking pan.
Spread Suntella over the bottom layer with a pastry knife.
Sprinkle reserved dough over the top. Top with sunflower seeds and sea salt if desired (highly recommended for optimal tastiness)
Bake for 22-25 minutes on middle rack until golden brown. Take out of oven and allow to cool completely before cutting into bars and serving.
Notes
Make sure to stir the Suntella and sunflower seed butter thoroughly before use or you'll end up with an oily mess.
Parchment paper is the best non-stick solution for your baking pan, but you can grease the pan if you don't have any on hand. Or, you can use a silicone baking pan.
Room temperature eggs are a must for Keto baking. If you're short on time or lazy like me, put them in a 5-minute warm (not hot) water bath until they are no longer cool to the touch.
Careful not to overmix your cookie dough. Mix until there are no streaks of flour visible.
You can use any type of Keto approved sweetener, but it may yield different taste results. I love Lakanto's Golden and Lakanto's Classic for this recipe because it's taste is so close to regular sugar with no aftertaste.
You can substitute other Keto approved flours for a nut-free alternative, but it may yield different taste results. I have not experimented with other flours in this recipe, but ground flaxseed makes an excellent nut-free alternative. You will most likely need to adjust the amounts.
You can most certainly leave out the Suntella and just bake up some delicious cookie bars with this recipe. You would just put one layer in the pan instead of two.
Use quality sea salt like Diamond's Kosher Salt. Make sure your salt contains just salt as the only ingredient.
I did not include sugar alcohols in the nutrition information since they do not affect blood sugar levels. I use Carb Manager to calculate macros, but carb counts may vary depending on the brands you choose
Oven times may vary.
This recipe was baked in a U.S. gas range.
Nutrition Information
Yield
16
Serving Size
1 bar
Amount Per Serving
Calories

183
Total Fat

14.1g
Net Carbohydrates

5.8g
Fiber

4g
Protein

6.1g
Nutrition information may vary depending on the brands you choose. Always use Carb Manager to calculate accurate carb counts.