Last Updated on July 14, 2021 by Olivia Wyles
You know what it feels like when you've found the holy grail of cakes? Well this is it! Super moist and just the right amount of sweet and sour makes this Keto Key Lime Pound Cake worth zesting those little tiny limes for.
This post may contain affiliate links. Please read my disclosure for more info.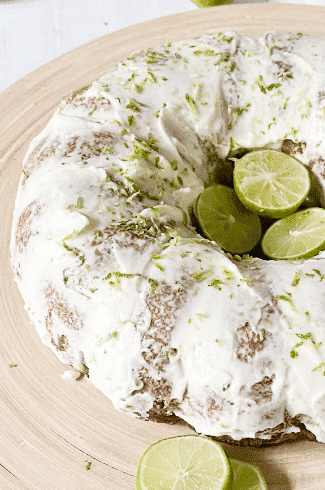 You will have guests at your summer barbeque wondering what you put in this cake to make it taste so good. Get ready to soak in all the compliments, but make sure you get your piece first or it'll be gone before you know it!
Grab a free printable: Keto Food Lists
Keto Key Lime Pound Cake is a sugar-free cream cheese frosted tangy pound cake made with Keto Chow's most requested Limited Edition Key Lime flavor (don't worry if you missed out on this awesome flavor, you can still make this cake).
It is so simple to whip up for a party or just to keep in your fridge for a sweet, after dinner dessert. The cake is prepared by mixing the room temperature ingredients thoroughly and in the proper order. An electric mixer or standing mixer with a paddle or whisk attachment is a great tool to have for this cake.
Traditional sugar and flour are substituted out for low-carb and sugar-free alternatives but the other ingredients remain the same as a traditional pound cake. I've adjusted the ingredient ratios and made the mistakes for you so your first cake will turn out like my last one.
Shh, no one will be able to tell it is low-carb! When I baked the perfect version of this recipe, I only got one slice. My entire family gorged on this cake one Sunday afternoon (mind you, only one person besides me is on keto). You will have your friends and family begging you to make this at their next event.
Keto Key Lime Pound Cake Ingredients
This keto key lime cake recipe comes together with basic low carb pantry staples, plus a few regular baking items from the grocery store:
Low Carb Lime Pound Cake Ingredients
Almond flour – Finely ground and blanched almond flour works best for sugar-free cakes.
Gluten free baking powder – Gluten free, no added aluminum, and non-GMO. No yucky stuff and Rumford is my favorite trusted brand. Throw out your caked up baking powder from the back of the pantry and pick up this little red can from the grocery store.
Sea salt – Salt is a key ingredient in regular baking and keto baking. Any brand will do but make sure it is pure sea salt with no added iodine.
Grass fed unsalted butter – I love using Vital Farms pasture raised butter.
Cream cheese – make sure it's softened at room temperature. Any full fat cream cheese brand will do.
Granulated monk fruit sweetener – I love Lakanto's line up of sweeteners all day!
Vanilla extract – I love using organic pure vanilla extract that is free from added sugars.
Key lime zest – You will need about about 1 whole lime or 4 key limes for the cake zest. Pick up a really good shredder or zester so you don't end up shredding your fingers.
Sour cream – make sure to pick up the full fat version, although the low fat version will also work in a pinch.
Eggs – Get large eggs and make sure they are room temperature before mixing.
Limited Edition Key Lime Keto Chow – this is the main event. Keto Chow is my absolute favorite versatile ingredient. Scroll down for more details. If you do not have this on hand, you can substitute for ¼ cup coconut flour.
Sugar-Free Cream Cheese Frosting Ingredients
Ingredient amounts are on the recipe card down below.
Say Hello to Keto Chow
What makes this the best keto lime cake? It's the Keto Chow!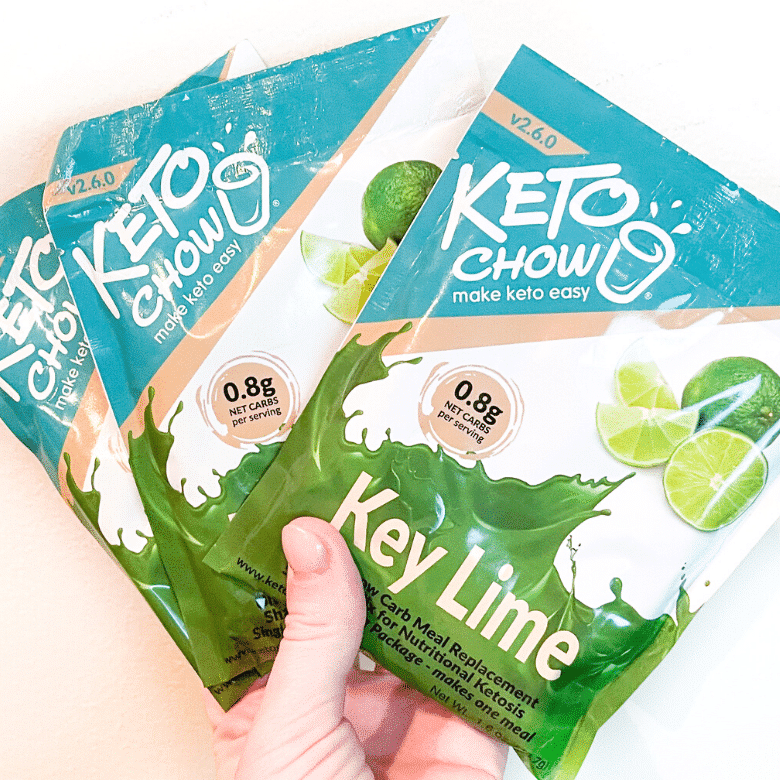 I only share products that I have personally tried, and Keto Chow is no exception! I use this literally every day. Keto Chow is a meal mix that allows you to shake, bake, and make any type of keto recipe of your dreams.
Whatever you are craving, there's a keto chow for that. If it says Apple Pie on the label, you can bet your biscuit, it is going to taste like apple pie…on Christmas even! Primarily used as a shake, Keto Chow's flavor is beyond surprising since there is no "diet food" taste. It is by far the best tasting and most versatile meal mix out there whether you are keto, low-carb, sugar-free, diabetic, intermittent fasting, calorie counting or whatever your lifestyle.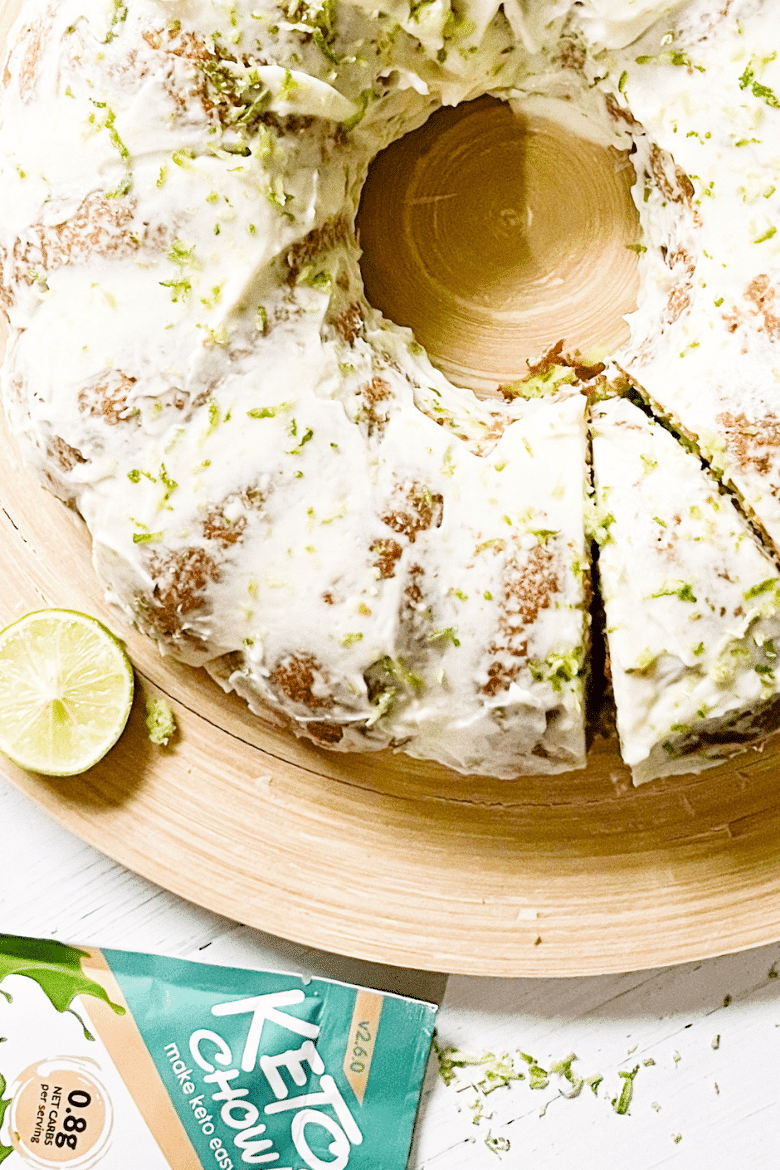 The Keto Key Lime Pound Cake Method
After first trying this as donuts for my family on Easter, I decided that a traditional loaf or bundt pan (I love USA Pan brand cookware) would be the best way to go for the perfect pound cake texture. Soft and moist on the inside with a sweet breakable crust on the outside with just the right amount of give you would expect from a traditional pound cake.
Almond flour
This is the keto diet's all purpose flour. The best for cake baking is the blanched finely ground almond flour (I love Bob's Red Mill because it bakes up the same each time). Choose to either weigh almond flour by grams or scoop and level like in traditional baking. It makes sense to use almond flour for this recipe and it blends well with the Keto Chow powder.
Baking Powder
My go-to for baking powder is always going to be the gluten free baking powder from Rumford. It's a little red tin you can pick up at the grocery store or Amazon very easily. Not only does it bake up well for keto baking, it keeps the recipe gluten free. Best of all, zero carbs per serving.
Sea Salt
Electrolytes are important on the keto diet, but that's not really why we add sea salt to this recipe. Salt enhances flavor and the sweetness of the cake in general baking, and it does the same in keto baking. I'm a sea salt snob! Never bake with iodized salt. It has anti-caking ingredients and junk you don't need anyways so it's best to stick to a nice flakey sea salt like my favorite: Diamond Kosher Sea Salt.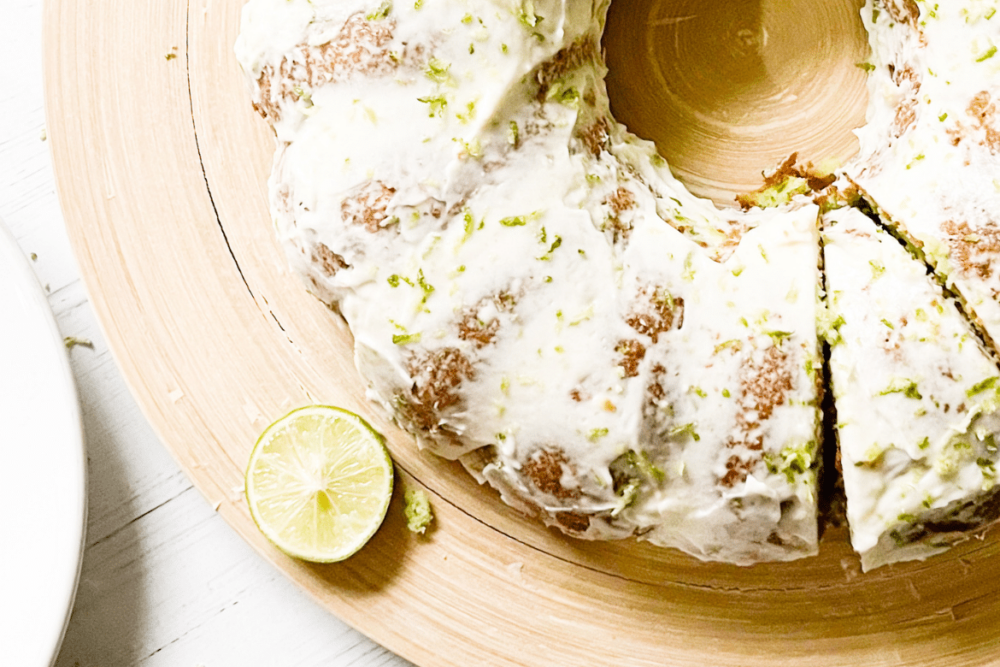 Monk fruit
My favorite go-to sweetener for most keto baking is Lakanto's Monk Fruit Sweetener with Erythritol. I do try out other keto-approved sweeteners depending on the recipe type. But for everyday keto baking, I reach for what I call the "table sugar of the keto diet." This blend looks, tastes, and bakes up just like real sugar. Seriously, no one call tell!
While this blend does contain erythritol, the monk fruit extract adds sweetness without the chemical flavor people associate with artificial sweeteners.
Cream cheese frosting versus glaze
I tried this recipe with a tart lime glaze first by mixing a little bit of lime juice and powdered monk fruit sweetener together. While that was definitely a hit, the key lime cream cheese frosting is super thick and spreads perfectly onto the lime cake.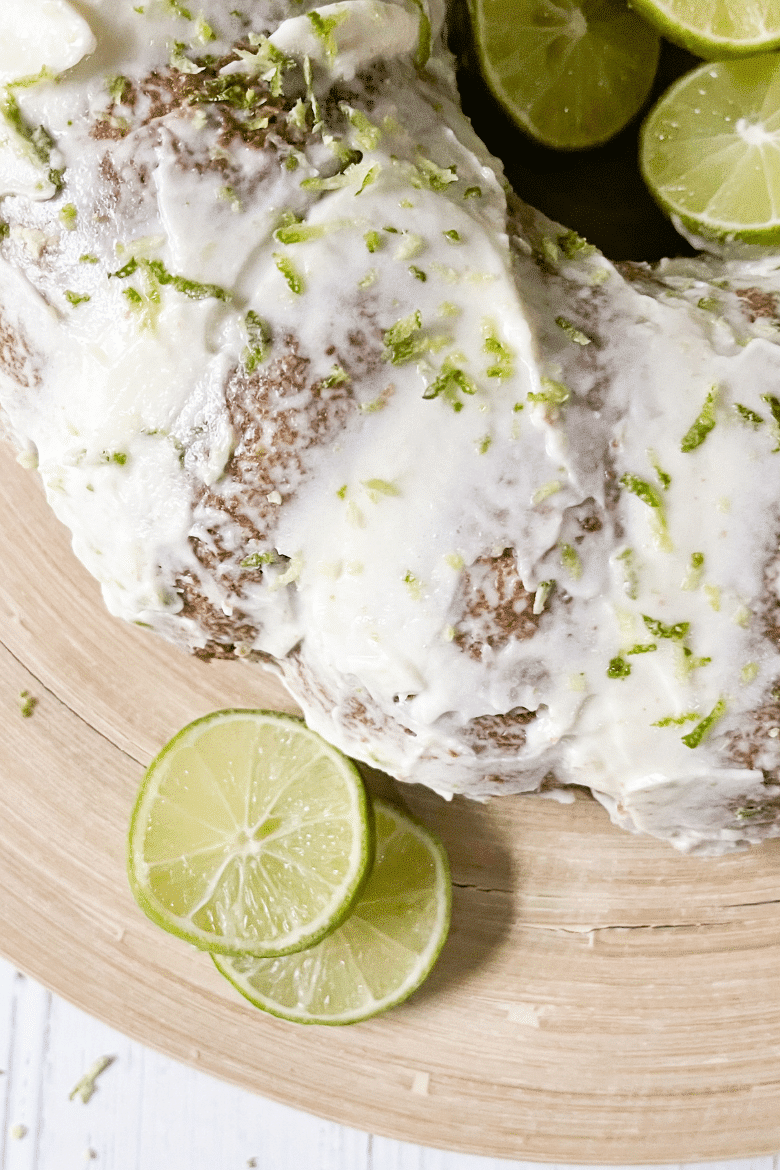 Sour cream or cream cheese? Why not both!
I made this recipe over at my parents house one afternoon and while my mom and I were debating over whether to put cream cheese or sour cream in it to keep the cake moist, my dad looks up and says "why not both?"
We all agreed so in went both sour cream and cream cheese. And guess what? It was the most amazing decision ever because this low carb cake came out incredibly moist and tangy with the perfect outside crust.
Wait, you only put how much butter in there?
I live in the South so when I told my mom I was only putting half a stick of butter in a pound cake, she became concerned. A traditional pound cake will usually have about 3 sticks of butter, 3 cups of flour, and almost 3 cups of sugar. So I compromised and went with 1 whole stick of butter.
Keto baking rules
Here are a few key tips to make sure your cake comes out as beautiful as mine! First of all, be aware that there are different rules for keto baking. That's why you hear comments from your friends about expensive keto ingredients going into the trash. Your eggs, cream cheese, and butter must all be room temperature. It helps the cake ingredients groove together evenly. Just like you don't pour sugar into cold iced tea!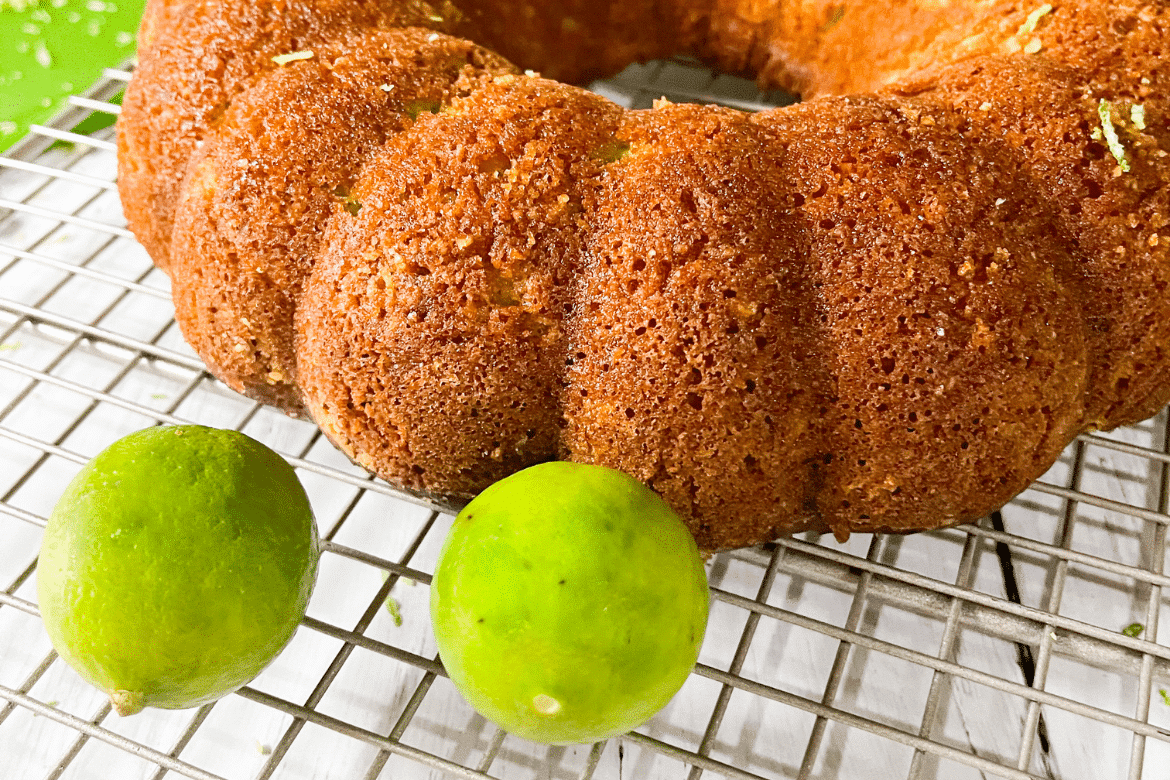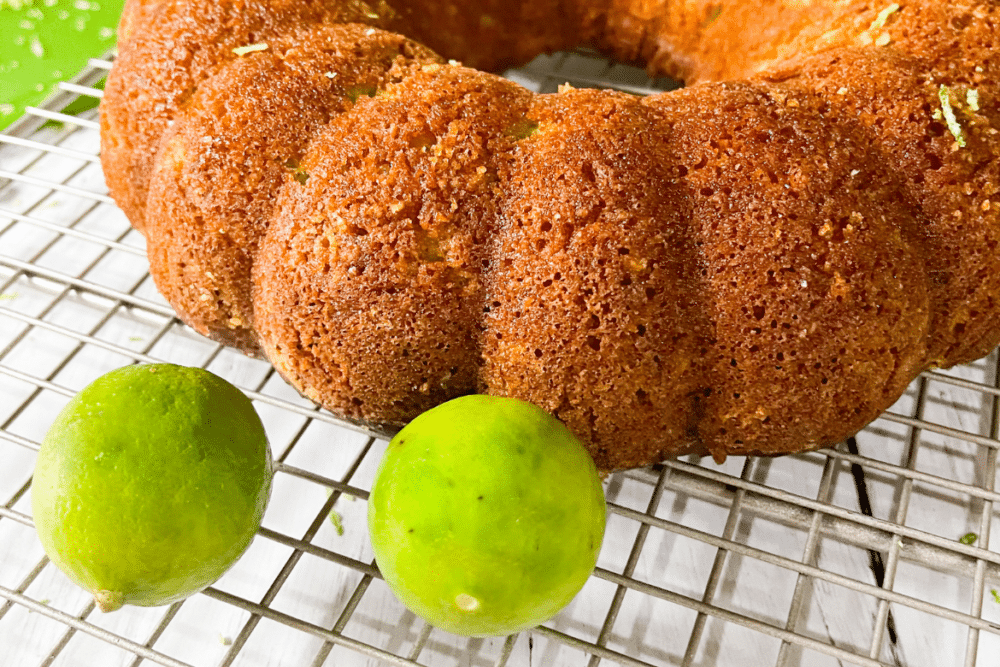 Speed up the room temperature ingredient process
I have a simple life hack you can share with your friends that will speed up the room temperature process. Place your butter and cream cheese in a plastic baggie. Next, fill a medium-sized mixing bowl (probably the one you will use for your cake ingredients) with warm (not hot) water.
Place the baggie with your cream cheese and butter into the bowl. Put the cold eggs on top to push the baggy into the warm water. Set a timer for 5 minutes. Once your eggs are no longer cold to the touch, you're ready for keto baking.
How to make Keto Lime Cake
Be prepared to mix then do some more mixing
If you don't have an electric mixer, I hope you have a good whisking wrist because there are several ingredients that must be mixed in one at a time.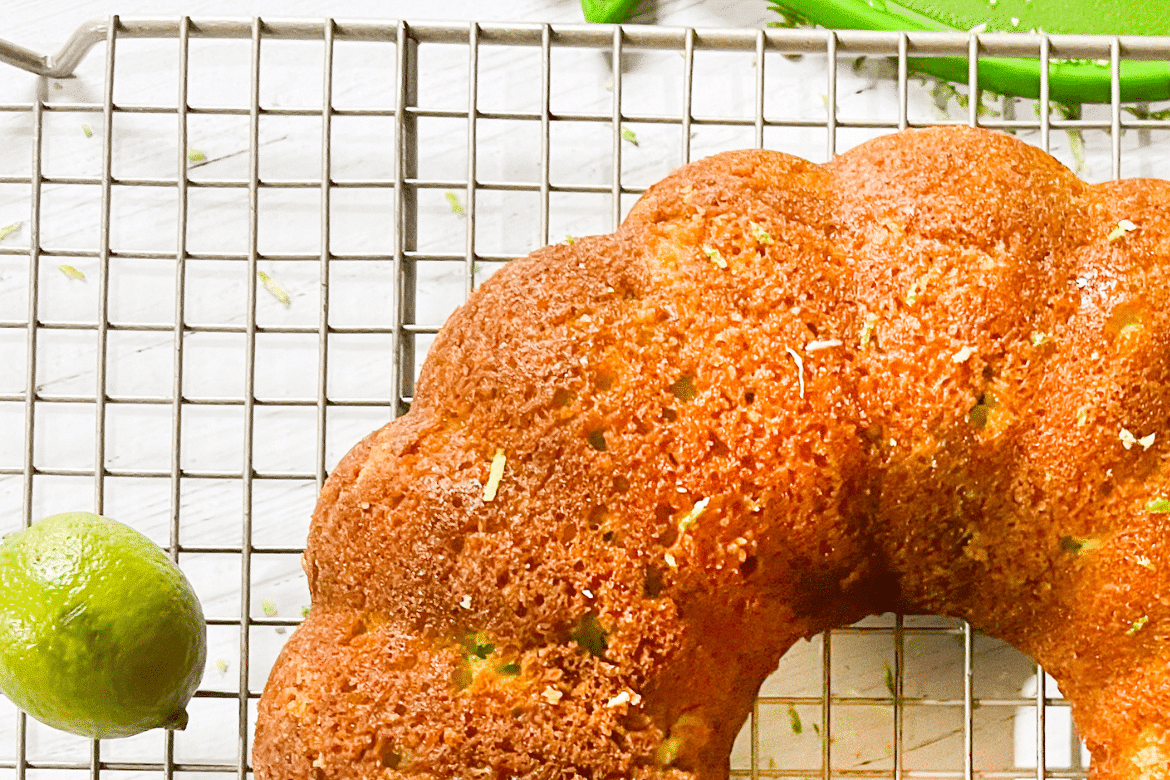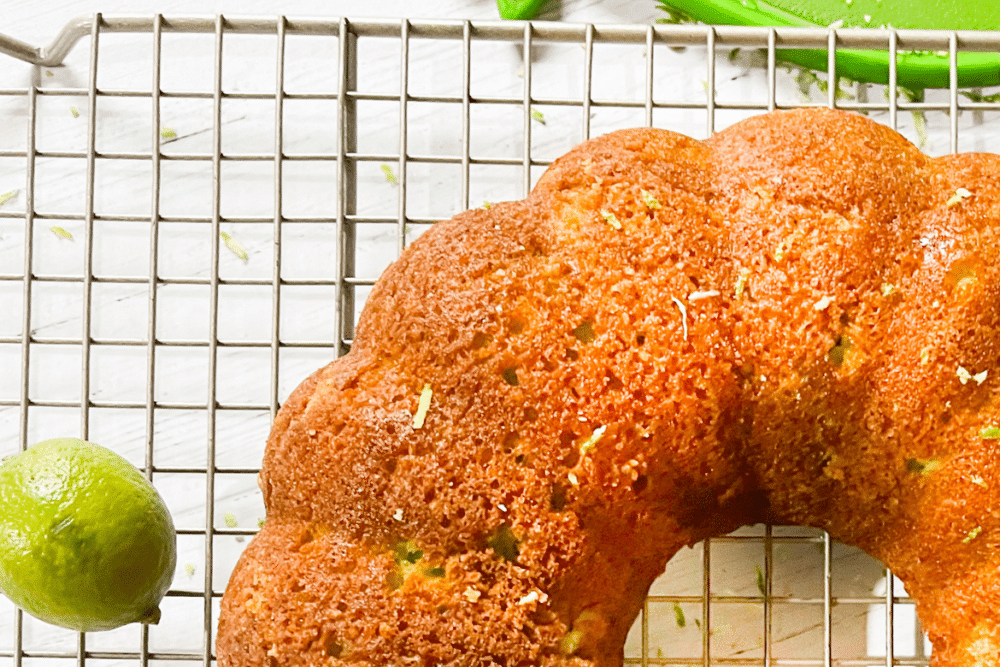 Beat the butter until super creamy.
Mix in the cream cheese and get out all the lumps until completely smooth.
Cream in the sugar then sour cream + vanilla.
TIP: Make sure you have room temperature wet ingredients.
You should have a smooth mixture before adding in the eggs.
Add the eggs ONE AT A TIME. It should only take a few turns at room temperature to incorporate. Keep an eye out for no more streaks of yolk. Careful not to overmix, or the cake will bake up too dense.
Add in the dry ingredients + the keto chow. This is our super secret ingredient with fantastic magical flavor powers. If you don't have any keto chow on hand, don't fret (I'll fret for you because you are missing out. Grab 10% off with my affiliate link). Extra almond flour or ¼ cup coconut flour should do the trick. I love to bake with keto chow because it has ⅓ of your daily vitamins, is super low in carbs, and adds amazing flavor.
Preheat oven to 325 degrees (not 350 degrees)
Leave batter out at least 15 minutes, stir once, pour into loaf or bundt pan, bake 50-60 min. When a toothpick inserted in the middle comes out clean, it's ready to take out of the oven.
Allow to cool completely before removing from pan, at least 30 minutes.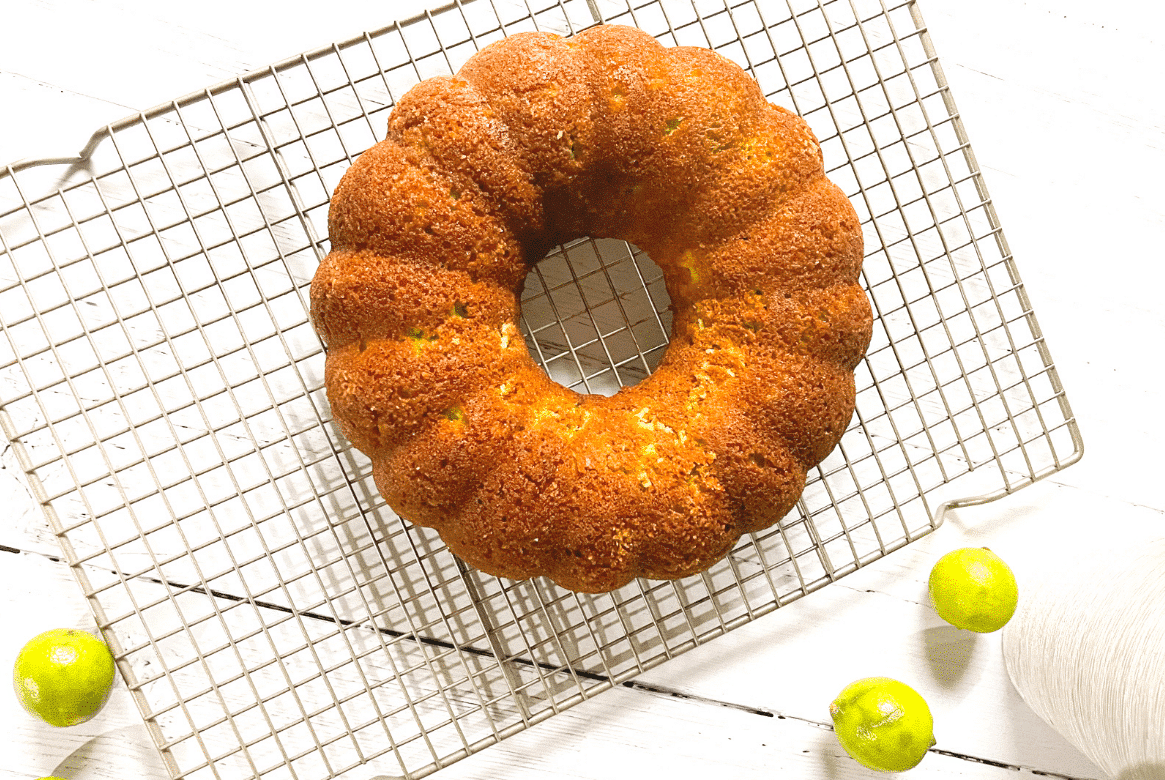 Make the sugar-free cream cheese icing while cooling: 4 oz cream cheese + 1 TB butter + 2 TB lime juice + 1 TB lime zest + ¾ cup confectioners monk fruit
Spread the low carb key lime cream cheese frosting generously over the cooled cake.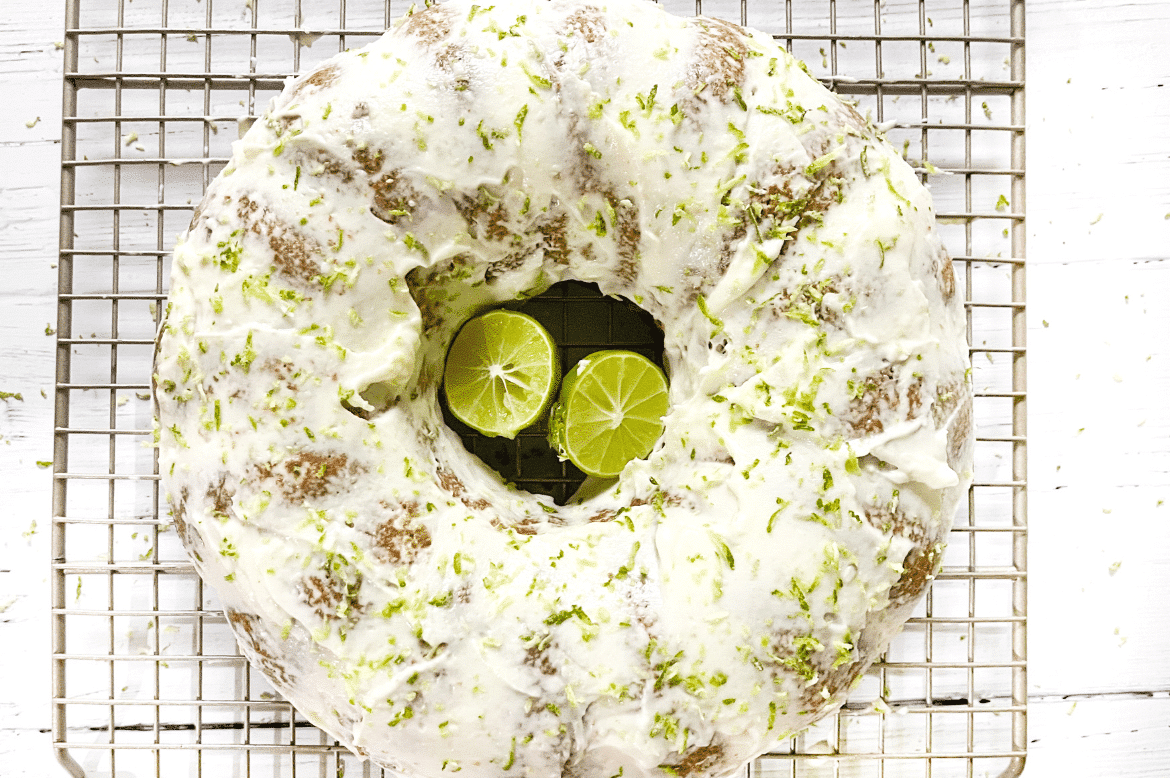 TIP: Decorate the top with extra key lime zest and key lime slices.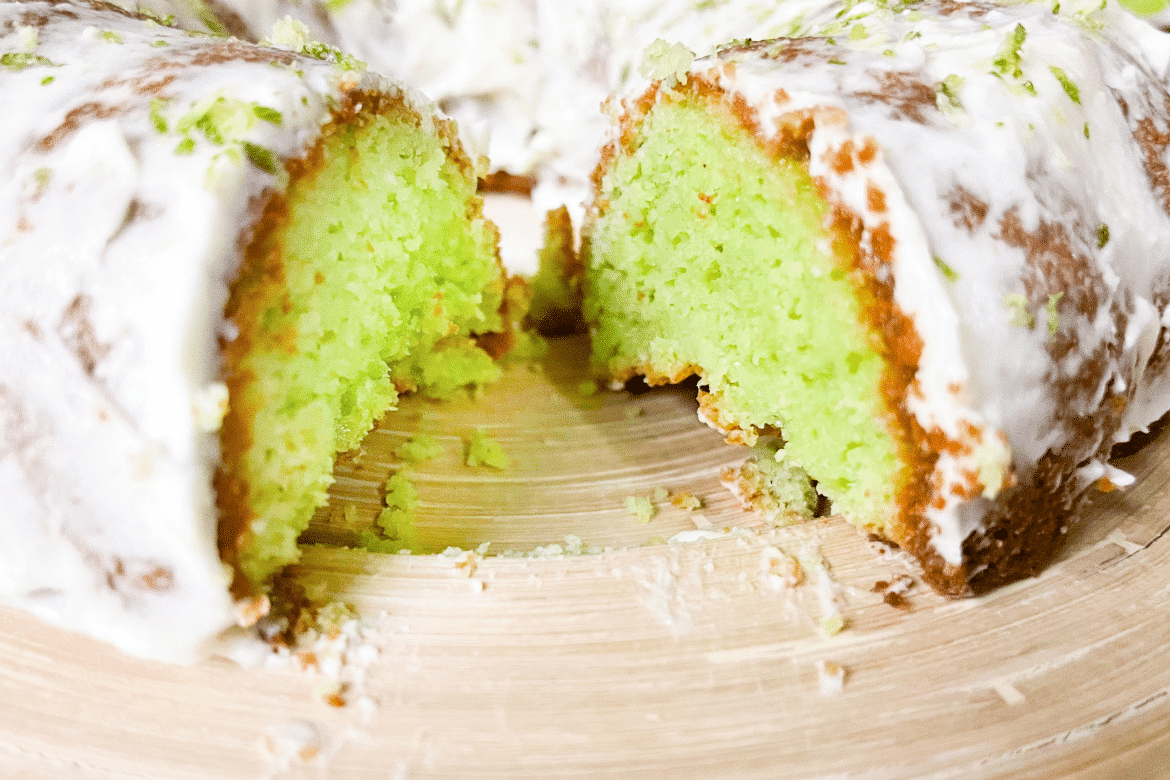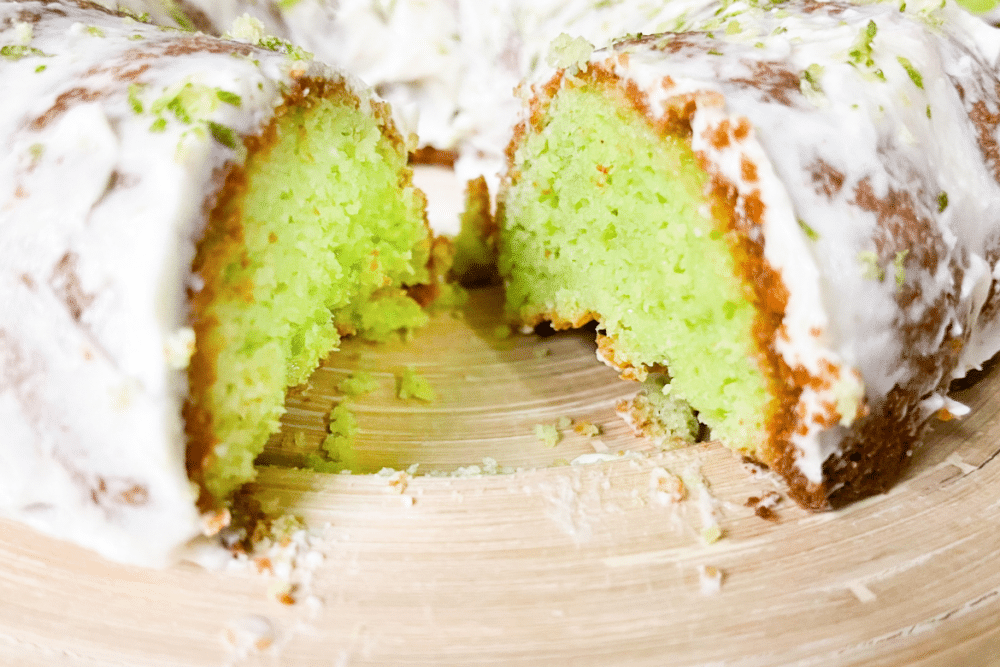 Did you love this recipe? Check out these other keto baked goodies:
Save recipe cards for later!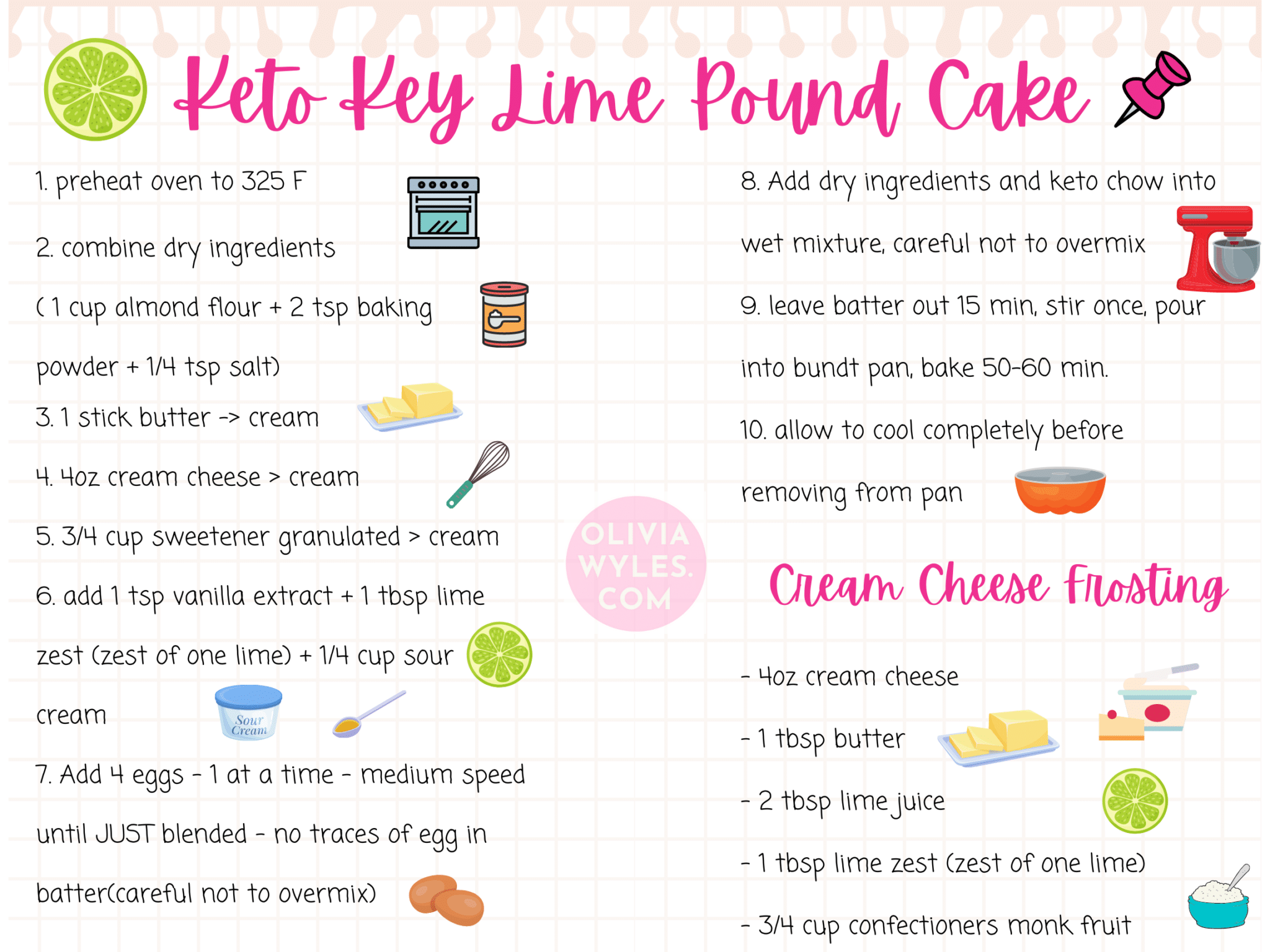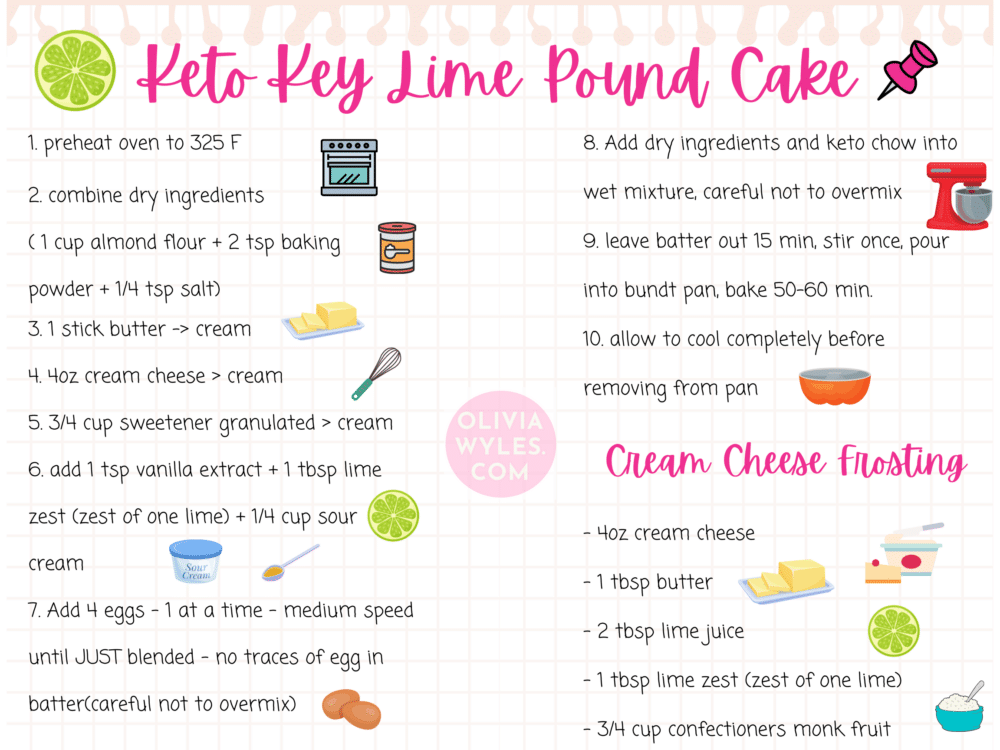 Yield: 16
Keto Key Lime Pound Cake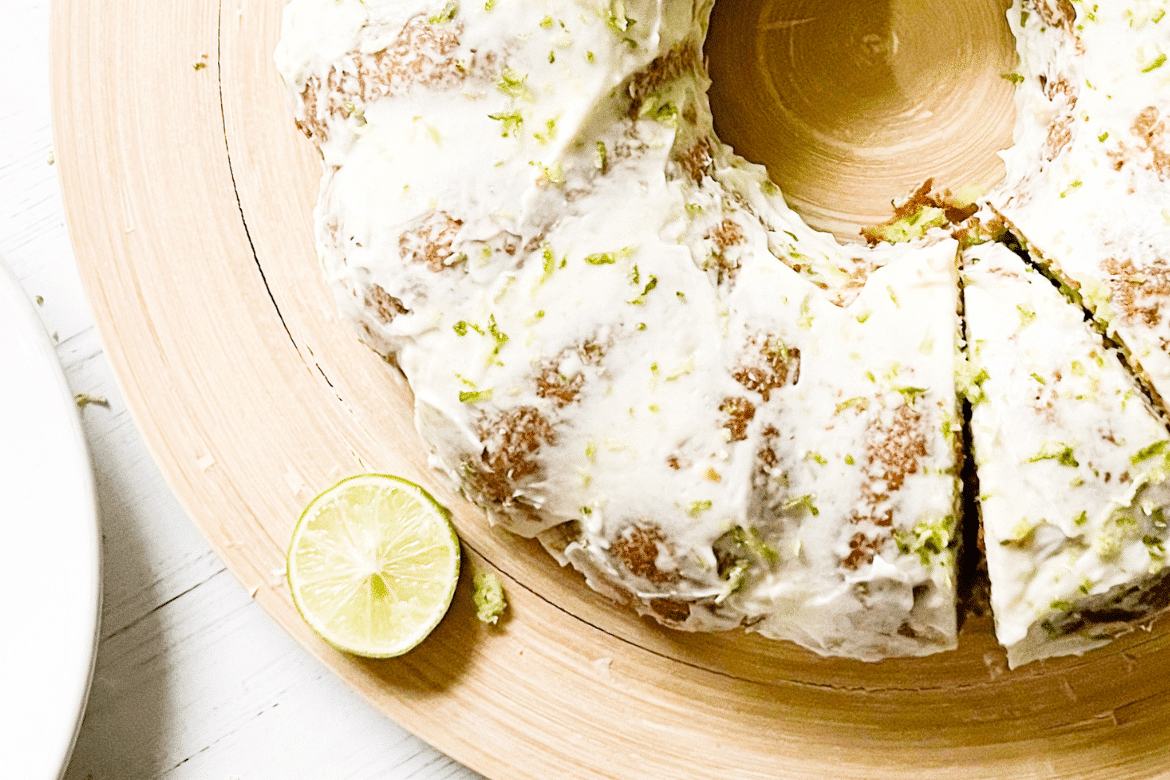 This is a healthy and sugar free version of two American classics with the sugar and flour swapped out for keto-friendly ingredients complete and packed with real key limes and Keto Chow's limited edition Key Lime flavor. Make sure to grab a whole bunch before they sell out!
Additional Time
15 minutes
Total Time
1 hour
30 minutes
Ingredients
Cake
Cream Cheese Frosting
4 ounces cream cheese, softened
1 tablespoon grass fed unsalted butter, room temperature
2 tablespoons key lime juice
1 tablespoon key lime zest (about 1 whole lime or 4 key limes)
Instructions
Gather ingredients and allow eggs, butter, and cream cheese to sit out for 30 minutes to 1 hour to get to room temperature, or submerse in a warm water bath (place in plastic baggy to avoid getting wet) for 5 minutes if you're short on time

Preheat oven to 325 degrees F (not 350) and position your oven rack in the middle.

In a medium mixing bowl, whisk together almond flour, baking powder, and sea salt. Set aside.

In a large mixing bowl, mix with an electric mixer or standing mixture with whisk or paddle board attachment butter until creamy while scraping the sides of the bowl.

Add cream cheese and mix until all lumps are gone.

Add granulated monk fruit sweetener and mix well.

Add vanilla extract, lime zest, and sour cream and mix until creamy.

Add room temperature eggs one at a time and mix well on medium speed before adding another egg to the mixture. Careful not to overmix.

Add dry ingredients and Key Lime Keto Chow packet to the mixture. Blend on medium speed until just incorporated with no more streaks of flour. Careful not to overmix. Leave batter out for about 15 minutes.

Add cake mixture to well greased Bundt or loaf pan. Tap the pan on the counter several times for even distribution.

Bake at 325 degrees F for 50-60 minutes until a toothpick inserted in the middle comes out clean.

Cool in pan for at least 30 minutes before inverting onto cooling rack.

To make frosting, combine frosting ingredients in a small mixing bowl and mix until smooth. Frost cake as desired.
Nutrition Information
Yield
16
Serving Size
1 Frosted Slice
Amount Per Serving
Calories

174
Total Fat

15g
Carbohydrates

12g
Net Carbohydrates

1g
Fiber

1g
Sugar Alcohols

10g
Protein

5g
Carb counts are approximate and will vary depending on the brands you use. Always use a carb count manager to figure out your macros.