I have a confession to make. I'm one of those people who goes to a Mexican restaurant and orders my food, but then proceeds to decimate the tortilla chips and salsa to the point that I'm too full to finish whatever I ordered! I'm a tortilla chip addict – they're just so good.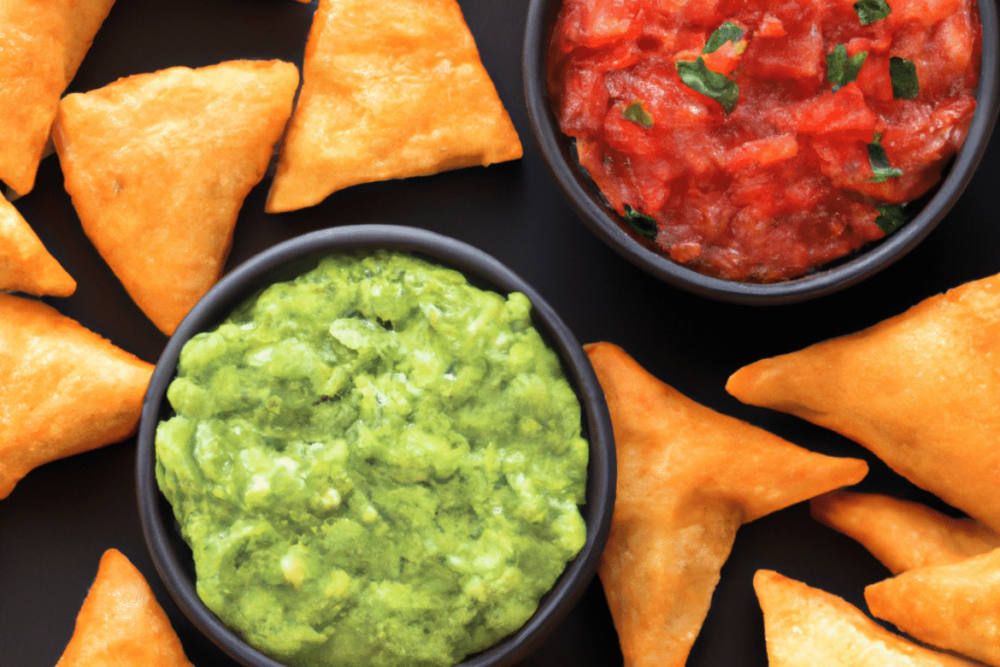 Of course, going keto made me rethink a lot of my food choices and when I realized that most tortilla chip brands had tons of carbs, it was a pretty depressing day. The good news is that there is a way to cut carbs and enjoy that delicious, salty crunch of tortilla chips even if you're on a low-carb diet.
This keto tortilla chips recipe is just incredible, and I guarantee that you're going to love them as much as I do plus they taste pretty close to the real thing. So, go ahead and get out your favorite salsa or make some low-carb guacamole, because you're going to need something to dip these babies in!
The Problem with Regular Tortilla Chips
Why can't you eat tortilla chips if you're on a ketogenic diet? There's one very big reason, but plenty of less obvious ones.
Grab a free printable: Keto Food Lists
The primary reason to skip the chip is that conventional tortilla chips are chock-full of carbohydrates. A single cup of baked tortilla chips contains 46 grams of carbohydrates. In a single serving, you're getting 15 grams of net carbs.
You're looking at around 1.76 net grams of carbs per chip. Let that sink in for a moment. Almost two net grams of carbs per single chip. That's more than you'll get from a five-ounce pour of keto-friendly wine!
Of course, that's just the tip of the iceberg. There are plenty of other reasons to avoid regular tortilla chips, including:
Tons of salt
Not a good source of healthy fats
Highly processed
Often heavily seasoned
The solution? I came up with my own recipe to create low carb chips that are light on salt and unwanted ingredients, but big on flavor.
The Main Ingredients in My Keto Tortilla Chips Recipe
What makes a great recipe? Simple ingredients and great taste. You'll find that my keto tortilla chips recipe only has three primary ingredients – almond flour (in place of corn flour), mozzarella cheese, and egg. That's it. There are no unpronounceable names here, and nothing that's going to skyrocket the carb count, either. Yes, this is a variation on fathead dough. When done properly, they will puff up just slightly, giving you an airy, crunchy snack with just one gram of net carbs.
Of course, you'll want some seasonings on these. While the sky's the limit and you're welcome to add whatever you want, my personal recommendations are to use garlic powder, onion powder, paprika, sea salt, and other spices that will add to your enjoyment and that you likely already have in your kitchen. Some of the other seasoning choices that work very well here include:
Cumin
Lime juice
Swap smoked paprika for the regular paprika
Plain salt and pepper
Taco seasoning
Chili powder
Cayenne pepper (if you want to feel the heat)

What Type of Mozzarella?
Struggling to choose the right type of mozzarella cheese for your homemade tortilla chips? Worry not, help is here. Skip the pale, white, watery shreds usually found in salads and on pizza. Instead, you want firm, light yellow cheese that will hold up more and not bring too much moisture to the party.
What about other types of cheese? While there are hundreds of other options, most of them are either going to be too dry or too moist. However, I've had good results replacing half the mozzarella cheese with high-quality cheddar cheese.
Why Almond Flour?
Why should you use almond flour instead of something else? I went with this option for several reasons, including the fact that it's available at most grocery stores. It also tastes good, doesn't pack in a lot of carbs, and lets you bake delicious, crispy chips easily without the need for deep frying.
Note that if you want crispier chips with more "body", you can add psyllium husk powder (don't add the regular husks, though, because that will not give you the results you want).
What type of almond flour, though? I prefer super fine for its consistency, but you're welcome to use ground almonds if you have a grinder and the time.
How to Make Low Carb Tortillas
The first step in bringing my keto tortilla chips recipe to life is to gather the ingredients for the dough. You'll need the mozzarella cheese, almond flour, and egg that I mentioned earlier. You'll also need a whisk, as well as a large bowl. Now's the time to add your spices, too.
Start by mixing the dry ingredients – your flour and the spices/seasonings that you will be using. If you're using psyllium husk powder, that goes in now, too. Once everything is mixed, add the egg and mix to combine.
Next, melt the mozzarella cheese in the microwave in a microwave-safe bowl. It should take around a minute and a half but watch it carefully, so it doesn't overcook. If you'd rather, you can use a nonstick saucepan over low heat to melt your cheese.
Combine the dry ingredients with the melted cheese and mix well with a wooden spoon. Once it is combined, knead it gently to form a smooth dough.
Roll your dough out into two equally sized balls and place each between two separate pieces of parchment paper. Using a rolling pin, roll each ball as thin as you can get it. Remember that the thinner your dough, the crispier the finished chips will be.
When your dough is completely flattened, remove the top sheets of parchment paper from the dough. Use a pizza cutter or a sharp knife to cut the dough into triangles (or whatever shape you prefer – triangles are more traditional, but any shape you like is fine).
Carefully place your chips on a baking sheet and then sprinkle them with sea salt. Bake at 390-400 degrees for 10 minutes or until they're golden brown and then allow them to cool to room temperature before enjoying them! Store any leftovers in an airtight container.
Tips and Hacks for the Best Keto Nachos
Want to mix things up a little? Here are some of the hacks and tips I've used to vary my chips.
Coconut flour – If almond flour isn't your thing, you can replace it with coconut flour.
Use an air fryer – Baking is a great option, but if you have an air fryer and a little time, it's awesome! I recommend around 10 minutes at 350 degrees.
Get them extra crispy – Spritz the chips with a little olive oil to get them extra crispy.
Break 'em up – Skip the cutting step and then just break your chips up by hand when they're done baking (fun for kids).
Dip 'em – Whether you love salsa or sour cream, dipping your chips adds a lot of flavor and fun.
Frequently Asked Questions
Can I roll it out to just one ball of dough?
You can, but I recommend two to make things easier to handle.
Do these have fewer net carbs than potato chips?
Yes! These homemade tortilla chips have far fewer carbs than potato chips.
Are these healthier than regular tortilla chips?
Yes, this keto tortilla chips recipe contains fewer carbs and potentially unwanted ingredients than what you'll find with conventional tortilla chips.
Check out the printable full recipe card below!
The Best Keto Tortilla Chips Recipe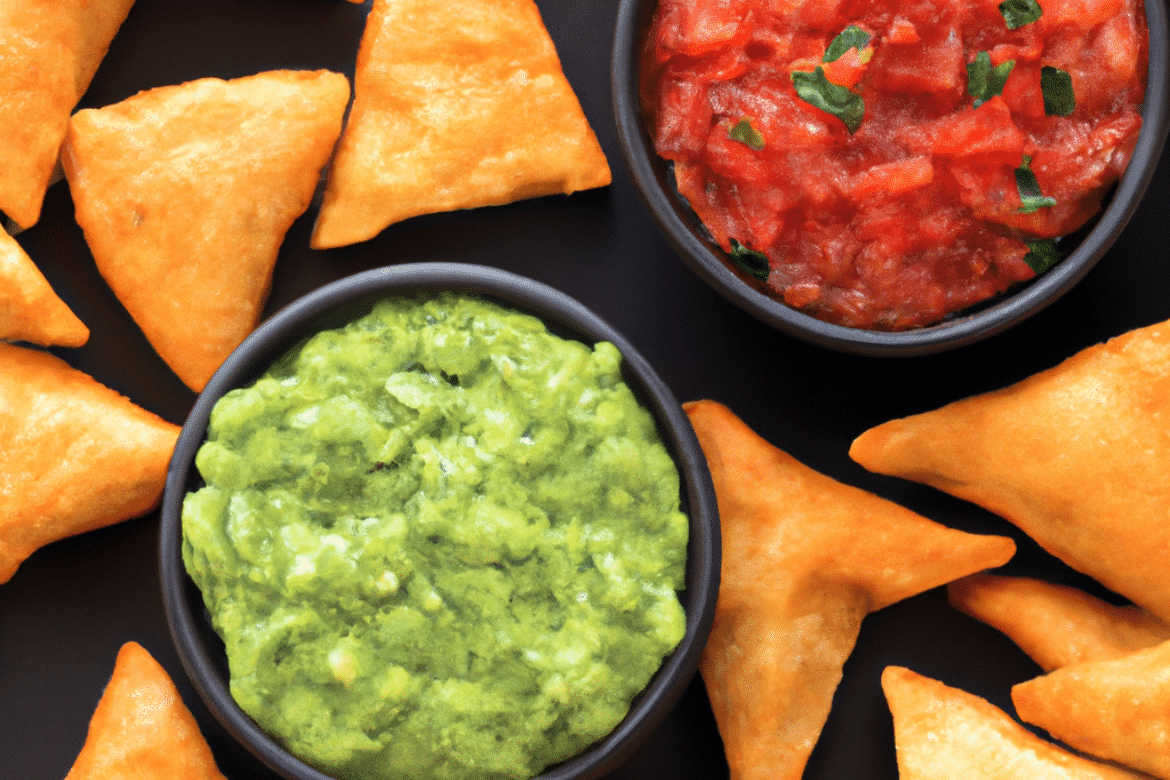 The best Keto tortilla chips recipe on the planet with only 3 ingredients to make this low-carb, guilt-free snack.
Ingredients
1 cup shredded mozzarella cheese
1 cup almond flour
1 large egg
½ teaspoon paprika
1 teaspoon garlic powder
1 teaspoon onion powder
A sprinkling of sea salt
Psyllium husk powder (optional)
Instructions
Gather all your ingredients, a whisk, and a large bowl.
Mix the almond flour, spices/seasonings, and psyllium husk powder (if using) in the bowl.
Add the egg to the dry mixture and combine.
Melt the mozzarella cheese in a microwave-safe bowl for about 1.5 minutes, watching carefully to avoid overcooking. Alternatively, melt the cheese in a nonstick saucepan over low heat.
Add the melted cheese to the dry mixture and mix well with a wooden spoon.
Knead the mixture gently to form a smooth dough.
Divide the dough into two equal balls and place each between two separate pieces of parchment paper.
Roll each dough ball as thin as possible with a rolling pin. The thinner the dough, the crispier the chips will be.
Remove the top sheets of parchment paper and cut the dough into triangle shapes using a pizza cutter or sharp knife.
Place the chips on a baking sheet, sprinkle with sea salt, and bake at 390-400 degrees for 10 minutes or until golden brown.
Allow the chips to cool to room temperature before serving. Store any leftovers in an airtight container. Enjoy!
Nutrition Information
Serving Size
1 recipe
Amount Per Serving
Calories

160
Total Fat

13g
Sodium

180mg
Carbohydrates

4g
Net Carbohydrates

2g
Fiber

2g
Protein

9g