Looking for a treat that really satisfies a sweet tooth but won't blow your keto diet? Have I got the solution for you! This is hands-down the best keto no-bake cheesecake recipe out there.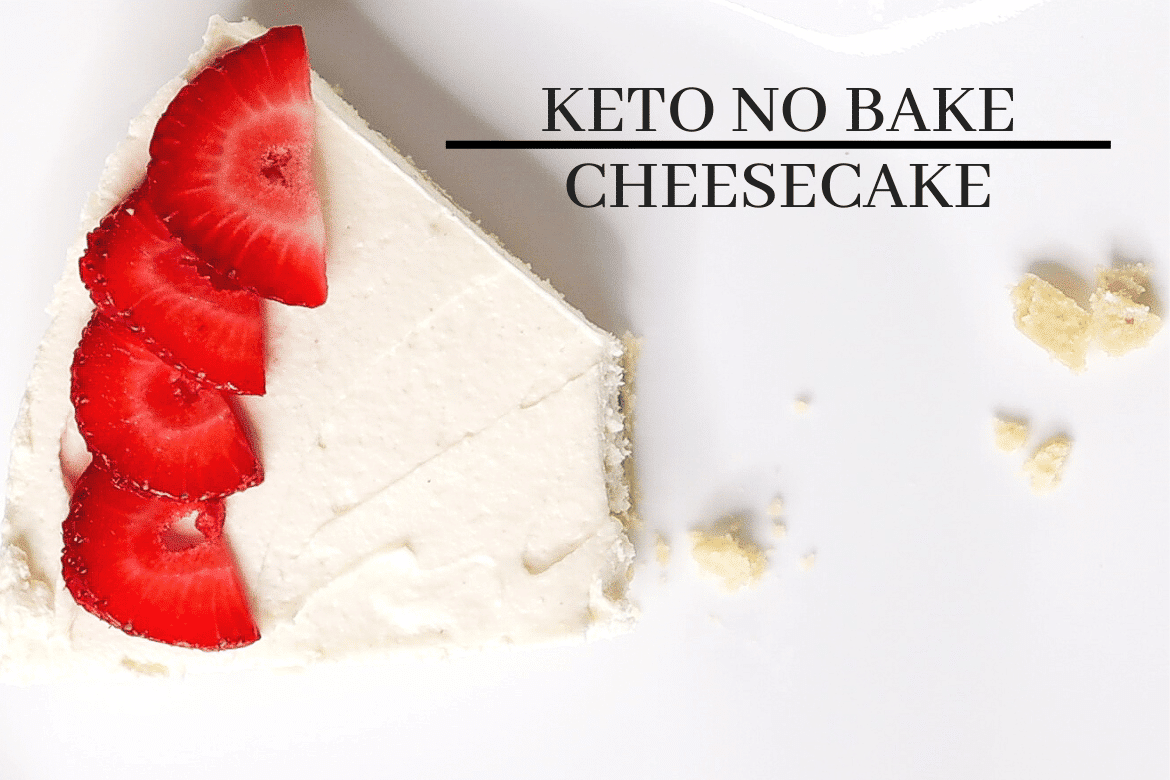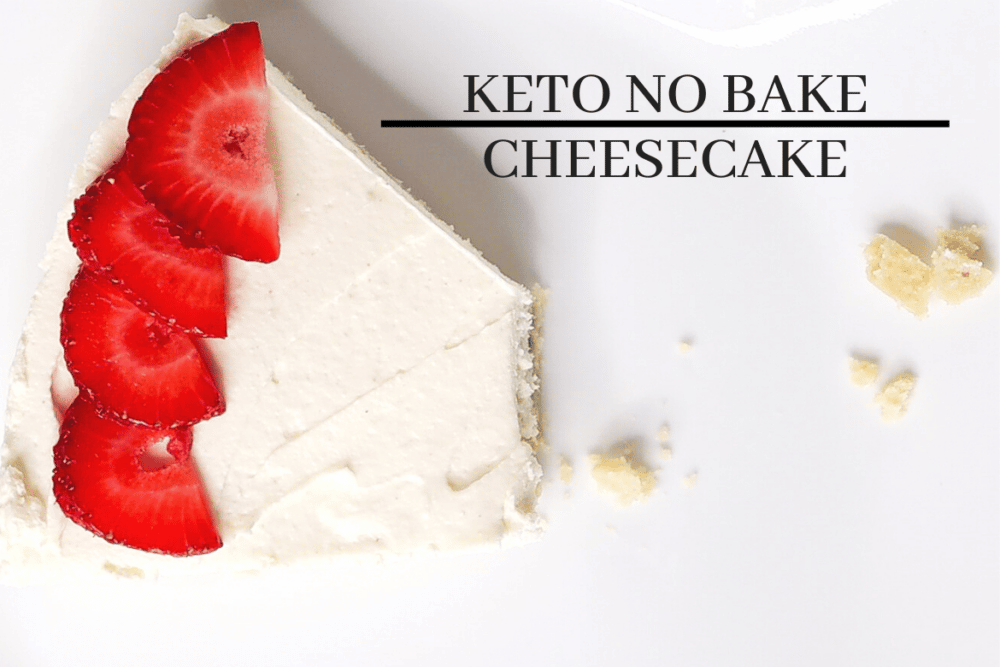 "Wait!" you say. "I don't have time for all that!" If you're anything like me, 'pressed for time' barely describes your daily schedule. You're doing good to get dinner for the family on the table, much less spending time laboring over something as time-intensive as a cheesecake.
Let me put your mind at ease. Unlike other keto recipes, this one takes about ten minutes to make. Plus, it's keto-friendly. You're able to serve up an incredible keto dessert without ruining your diet OR your schedule. I call that a win-win!
Is Cheesecake Keto?
In a word, no. Cheesecake is not inherently keto-friendly. That doesn't mean it CAN'T be, though. In fact, you only need to make a few modifications from the basic recipe to make this a sinful, keto-friendly dessert. My keto no-bake cheesecake recipe is also super simple and, best of all, fast.
Grab a free printable: Keto Food Lists
So, why is it so easy to keto-fy a cheesecake recipe? It's because cheesecakes are loaded with fat anyway, making them the original fat bombs! It's not the cheese that's the problem. It's the carbs in the graham cracker crust and all the sugar that's dumped into the average cake.
This keto no-bake cheesecake recipe will show you how to eliminate the sugar and carbs without sacrificing flavor or that silky smooth texture that you know and love.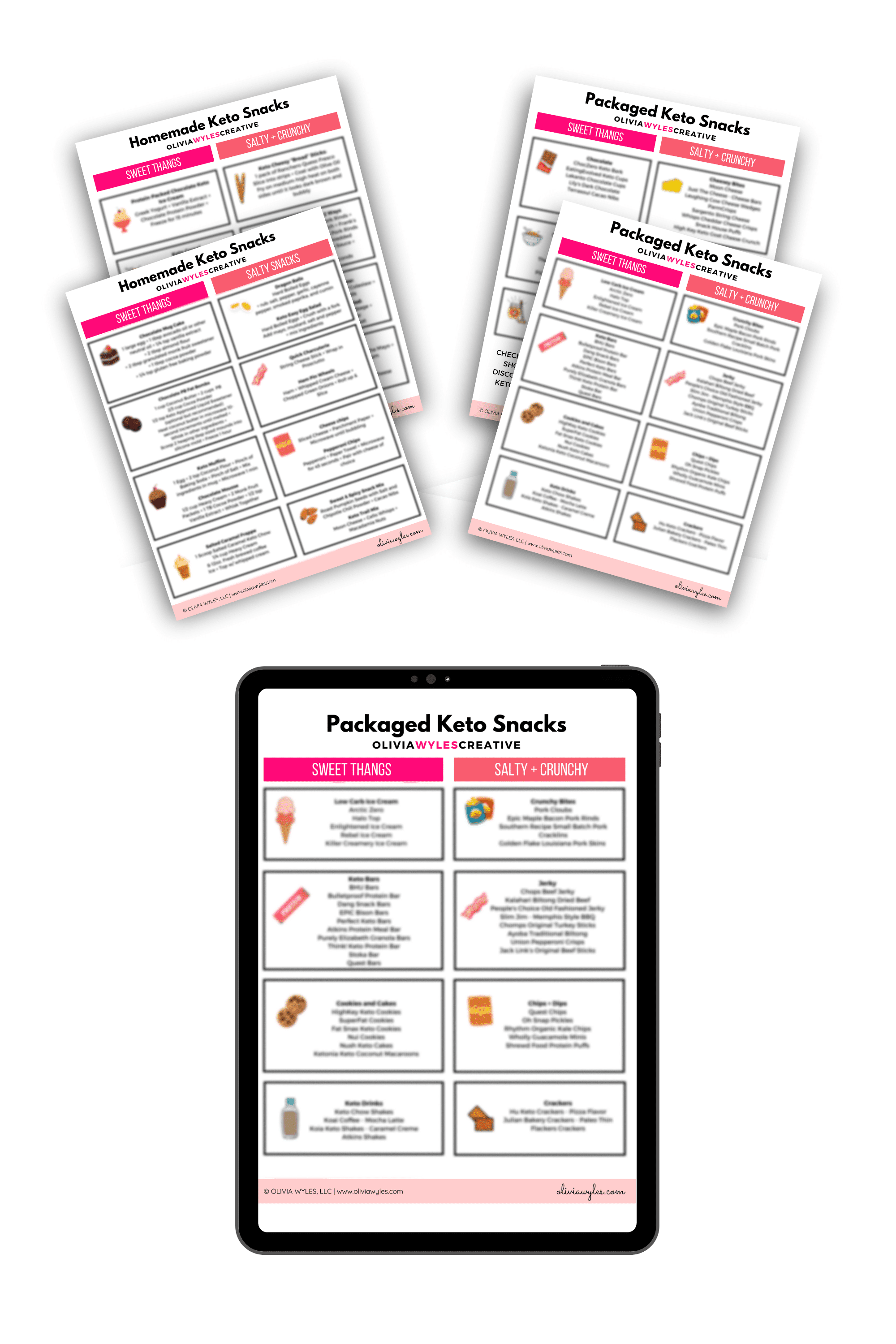 Want a Keto Snack List That's Printable?
Are you struggling to come up with keto snack ideas? There is only so much time in the day to plan out your meals and snacks.
Wouldn't it be nice to have all your recipes and ideas for your keto diet in one spot?
This keto printable has your favorite snacks in one spot for a successful keto diet! On sale for a limited time!
What Is No-Bake Cheesecake?
My keto no-bake cheesecake recipe lets you cut out half the time involved in making a traditional cheesecake, while also skipping the oven. This sugar-free recipe uses alternatives to store-bought graham crackers to make sure that the entire cake is keto-friendly, unlike a traditional New York cheesecake.
After combining all the ingredients, you'll top the crust with cream cheese (whipped into frothy peaks), as well as heavy cream for body, sour cream for tang, and some keto-sweetener to give the cake its signature sweet flavor without all the carbs that come from traditional sugar.
And there's no need to use any gelatin to make the cake hold its shape.
Why You'll Love this Keto No-Bake Cheesecake Recipe
Why will you love this recipe? Let me sum it all up in just three words – delicious, fast, and easy.
Ordinarily, making a cheesecake is a labor of love, but who has the time to spend hours in the kitchen these days? This recipe lets you create a sinfully decadent cheesecake fast and without all the carbs.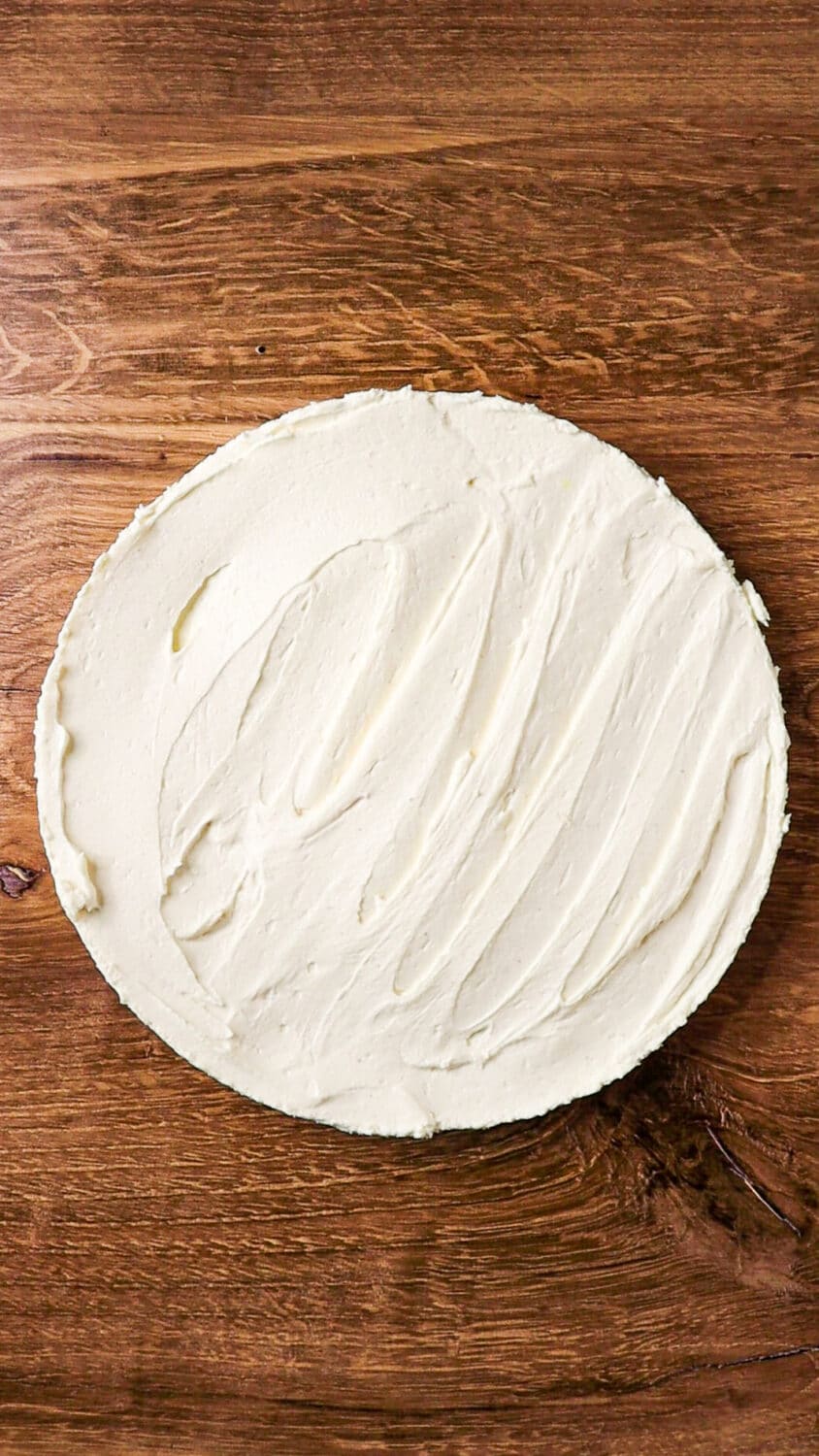 How to Make a Keto No-Bake Cheesecake
First, let's assemble all the hardware that you'll need for your no-bake dessert. Go ahead and get out:
A silicone spatula
A large bowl for mixing
A 9-inch springform pan
A hand mixer (don't use a food processor)
Parchment paper (optional)
You'll also need to assemble a few simple ingredients. I've broken it down into crust and filling below.
For the keto cheesecake crust, you'll need:
For the cheesecake filling, you'll need:
16 oz of softened cream cheese
8 oz sour cream
1 serving Keto Chow (vanilla, eggnog, or snickerdoodle work best) – can sub out with almond flour, vanilla extract, & salt.
2 tablespoon sugar-free sweetener of your choice (I recommend using the same type as used in the crust)
You can add all this to a recipe card for later use.
Have you ever tried Keto Chow? It's the easiest meal around + you can bake with it! Sweet and savory flavors to stock your pantry. Get 10% off your first purchase with code OLIVIAWYLES.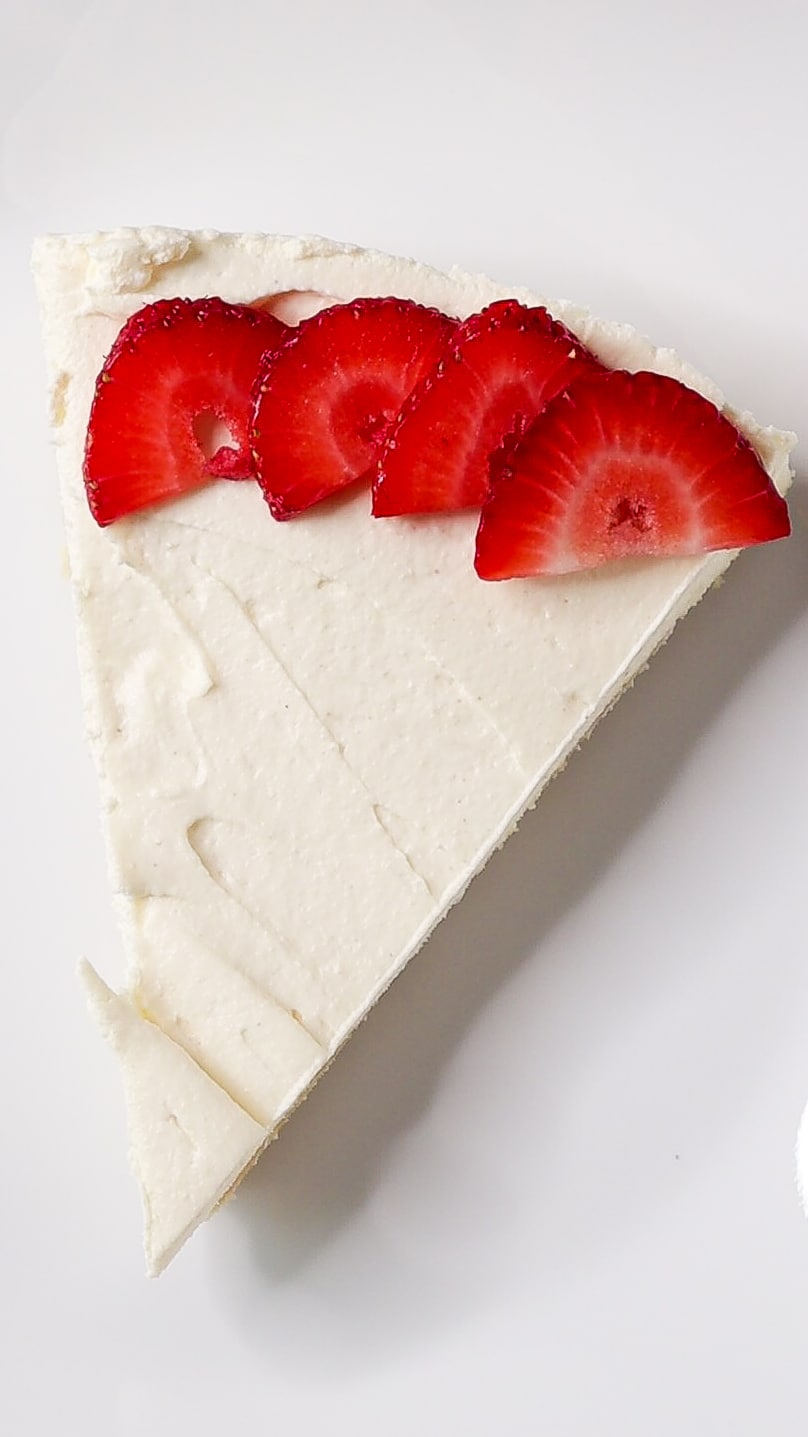 Topping ideas:
Go nuts with your toppings. Anything keto-friendly can work here, including fresh berries (unsweetened), as well as berry toppings, like sugar-free strawberry topping.
You can also go with something decadent like shaved dark chocolate or use keto whipped cream! Note that your choice of toppings will affect the net carbs in the final recipe.
Bringing It All Together: Making Your Keto No-Bake Cheesecake Recipe
With all the ingredients and tools assembled, let's start making this easy keto recipe! You'll be surprised at just how fast it all comes together, and how amazing the finished dessert is (it's even better than regular cheesecake!).
Place parchment paper in the bottom of the pan (optional).
Add all the crust ingredients to the mixing bowl to make an almond flour crust.
Mix well so that everything is incorporated. The result should look like graham cracker crumbs.
Press the crust into the bottom of the pan.
Place the crust into the refrigerator while you make the cheesecake filling.
Wipe out the bowl.
Add the filling ingredients to the mixing bowl and stir to combine.
With a hand mixer, fully incorporate all the ingredients.
Pour the filling over the top of the crust in the springform pan.
Place the cheesecake in the refrigerator and allow at least four hours for it to set. You can also leave it overnight if you want.
Cut it into slices, serve, and enjoy!
Leftovers just go in an airtight container for storage or wrap them tightly in plastic wrap.
There you have it – a delicious, keto-friendly cheesecake without ever having to turn on your oven. Just assemble everything and then let it rest in the refrigerator. It doesn't get any easier than that.
Troubleshooting Tips for Your Low-Carb Cheesecake
While this easy keto cheesecake recipe is one of the simplest out there, it's possible to encounter challenges along the way. Thankfully, there are usually easy answers to your questions!
The Crust Turns Out Soggy – The most common cause of a soggy crust in a no-bake cheesecake is if you tried to bake it. This recipe is designed to be entirely no-bake, and that means skipping the baking of the crust, too.
The Filling Is Too Soft – You want a nice, firm cheesecake filling, so if yours is coming out closer to pudding than cheesecake, it's a sign that there's something wrong. The most common problem here is just over-mixing the filling. You only want to mix until everything is incorporated, and the filling is smooth. Too much mixing will cause the filling to be soft.
The Filling Is Lumpy – In most cases, lumps in the filling are actually little chunks of cream cheese that weren't whipped fully. This happens when you try to whip cold cream cheese. Always let your cream cheese warm to room temperature before you try to mix it. Another reason for lumps is trying to mix only by hand. An electric mixer is the better option to help make sure that everything is fully incorporated.
My Crust and Filling Are Too Firm – Did you slice into your no-bake cheesecake only to find that it's just too firm to enjoy? Chances are good that you tried to take a shortcut when chilling it. You need to chill it in the fridge for at least four hours, but up to overnight. You should not try to rush things by putting it in the freezer, though, because that leads to problems.
Other Cheesecake Flavors and Variations
Want to up the ante on your keto no-bake cheesecake recipe? It can be surprisingly simple and fast! Here are a couple of tips:
Make Mini Cheesecakes – What's more amazing than a luscious cheesecake? A dozen mini cheesecakes! Use a muffin pan to create miniature versions of the larger cheesecake and you have a sweet treat that's just right for any time of day. Your kids will love them, too.
Consider Other Flavors – The keto no-bake recipe here is designed to give you that classic flavor, but don't be afraid to mix things up a little! Consider peanut butter and chocolate as a classic combo or go with snickerdoodle for something different.
How to Make a Dairy-Free Keto Cheesecake
Avoiding dairy but love cheesecake? Don't despair! There are plenty of ways to get around the dairy issue without giving up on dessert.
Raw Cashews – Give three cups of raw cashews water bath in boiling water for at least an hour and then add them to a high-speed blender. If you don't have a high-speed blender, soak the cashews overnight. Blend them with ⅔ cup of fresh lemon juice, 1 and ⅓ cup of full-fat canned coconut milk, and ⅔ cup of sugar-free sweetener. Add ¼ tsp. sea salt and 1 tsp. vanilla extract. That will give you a filling replacement that's just as delicious as traditional cheesecake, but without any dairy. Plus, it's low carb, too (8g net carbs per serving).
Can I Freeze My Cheesecake?
Yes, you can freeze any leftover cheesecake, but be aware that it will slightly alter the consistency of the filling. Still, that's a small price to pay to continue enjoying this incredible sweet treat and preventing it from spoiling.
Yield: 12
Keto No-Bake Cheesecake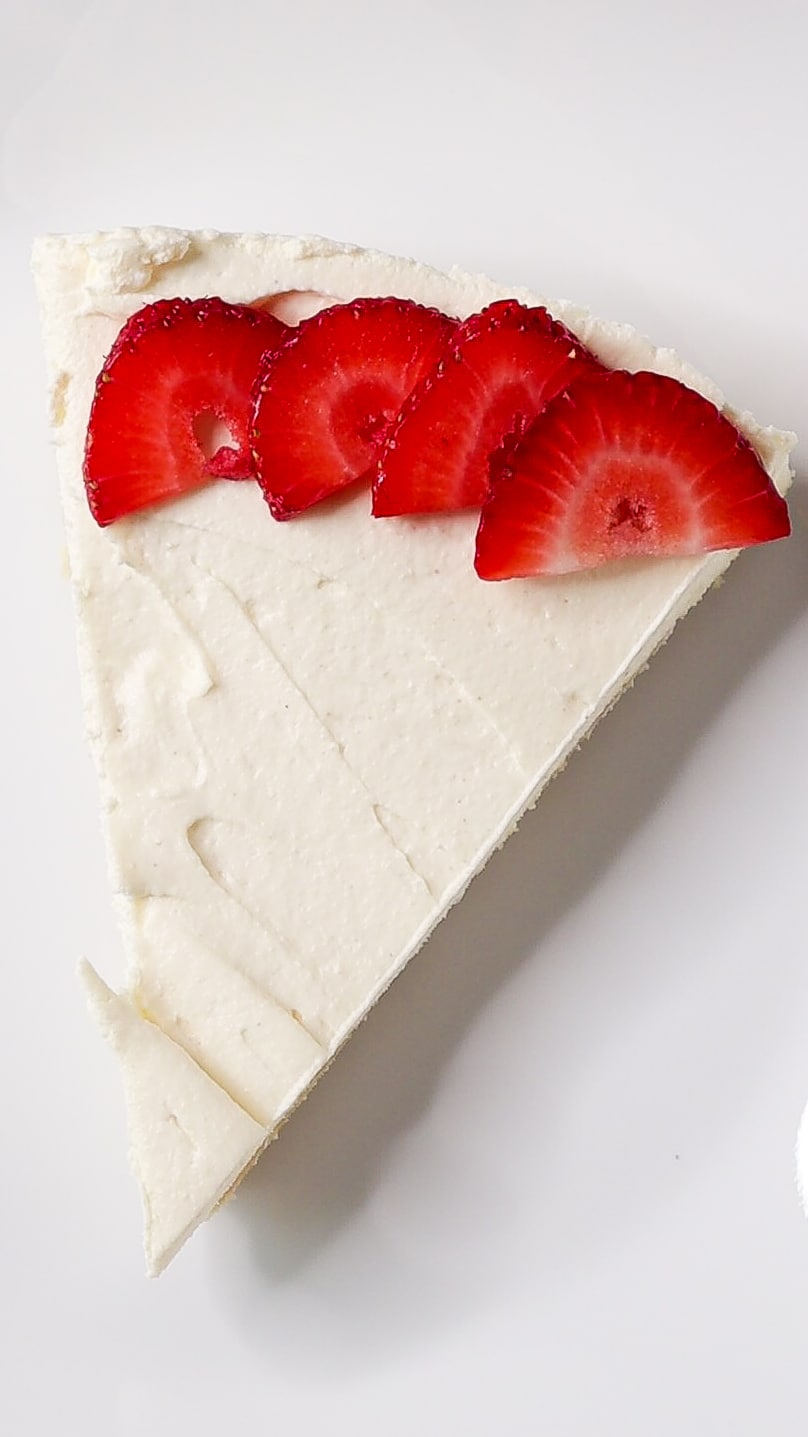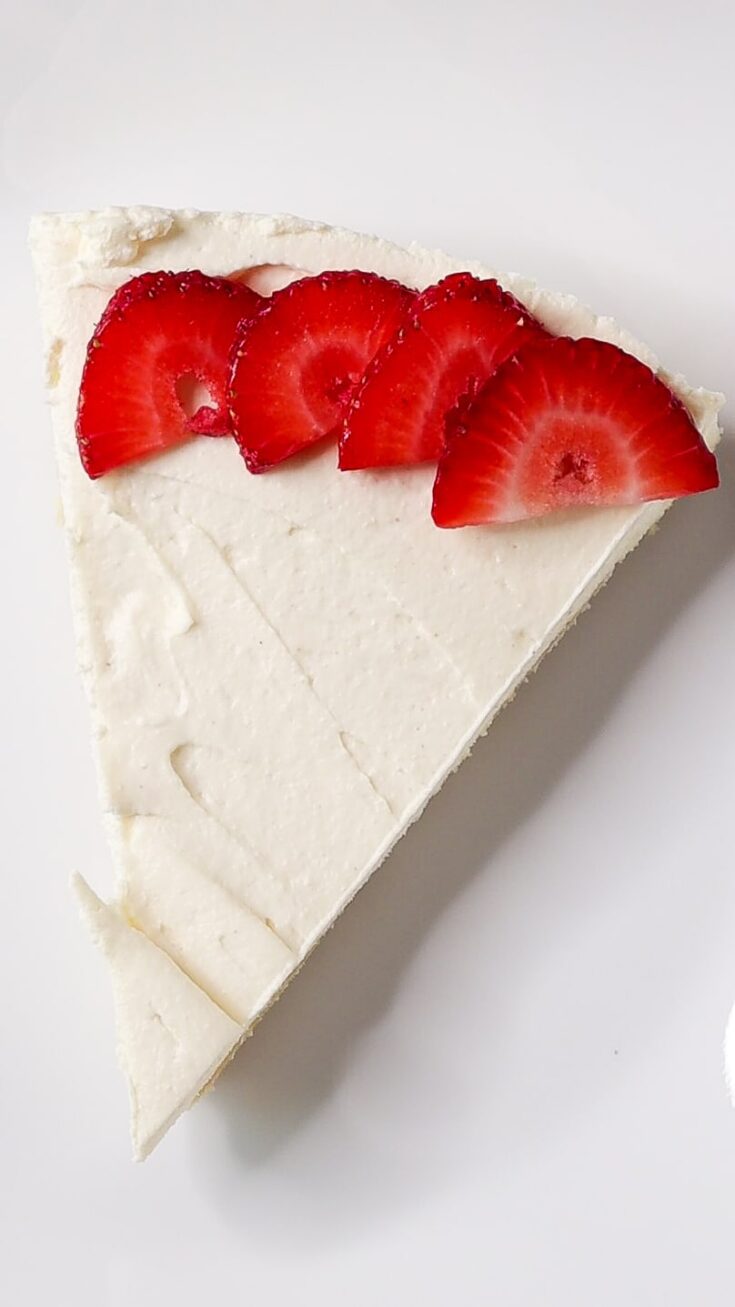 This is an easy-to-make with an almond crust and only 4 ingredients in the filling. Made with Keto Chow, you can be sure to get your daily vitamins and minerals in too! How great is that for a slice of cheesecake?
Total Time
4 hours
10 minutes
Ingredients
Crust
2 cups almond flour
⅓ cup butter
2 tablespoon sugar-free granulated sweetener
1 teaspoon vanilla extract
Filling
16 oz cream cheese, softened
8 oz sour cream
1 serving Keto Chow (see notes)
2 tablespoon sugar-free granulated sweetener
Instructions
Add to small mixing bowl, almond flour, melted butter, sugar-free sweetener, and vanilla extract. Mix well until crumbly. Press into spring-form pan. Refrigerate while filling is prepared.
In a separate medium mixing bowl, add softened cream cheese, sour cream, Keto Chow, and sugar-free sweetener. Mix well with electric mixer until smooth. Add filling to crust.
Refrigerate 4 hours or overnight.
Add toppings of choice.
Notes
For Keto Chow flavors, vanilla, eggnog, or snickerdoodle work best for desserts and baking.
If you don't have Keto Chow on hand, you can sub out for 1 teaspoon Vanilla Extract, ½ teaspoon Lemon Juice, ⅛ teaspoon Sea Salt, ⅓ cup cold whipped cream, and add more sweetener.
Recommended Products
As an Amazon Associate and member of other affiliate programs, I earn from qualifying purchases.
Nutrition Information
Yield
12
Serving Size
1 slice
Amount Per Serving
Calories

335.25
Total Fat

31.26g
Saturated Fat

13.5g
Trans Fat

.82g
Cholesterol

63.88mg
Sodium

198.1mg
Carbohydrates

11.28g
Net Carbohydrates

4.72g
Fiber

2.6g
Sugar

3g
Sugar Alcohols

3.96g
Protein

8.98g