So, you've embarked on the low carb lifestyle train and now you're looking for ideas to get that comfort food you've been craving. I've found the answer for your crunchy savory carb cravings. In this post, you'll learn exactly how to make the best Keto Jicama Fries in your air fryer!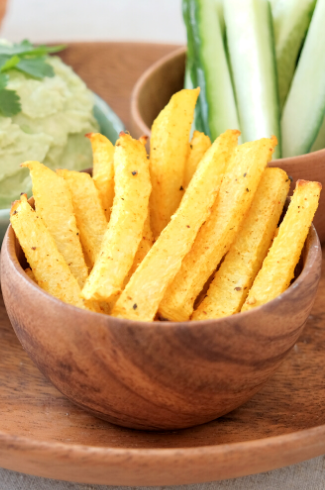 This post may contain affiliate links. Please read my disclosure for more info.
If you've been searching for Keto French Fries, this is it! Considering traditional fries are definitely not keto, Jicama makes for excellent keto-friendly substitute.
More people are looking for healthy keto swaps these days to satisfy their cravings for fries. So I've rounded up the best keto air fryer Jicama fries recipes, specifically 5 quick & easy variations you will absolutely love making.
Grab a free printable: Keto Food Lists
Speaking of keto swaps, make sure to check out my keto print shop for my most popular keto printable to date: Quick & Easy Keto Swaps!
What Is Jicama?
Jicama is a thick, brown-skinned root vegetable, somewhat like beetroot with a white interior. The taste is similar to an apple, although not as sweet. It has a lower carb content compared to most carbohydrate sources.
It is mainly found in Mexico and Central America. Even though it grows on a long vine, the edible part is the root. Some people describe it as a Mexican turnip or Mexican yam bean because of its local availability.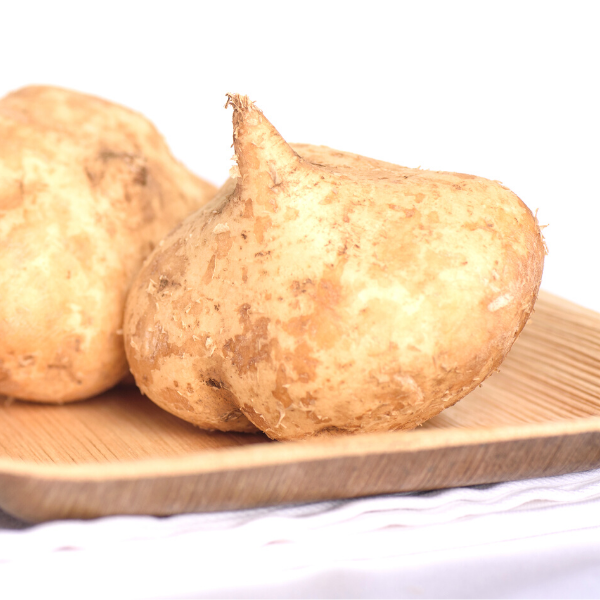 Because it is possible to consume it raw as well as cooked, Jicama tastes excellent in salads and serves as a perfect crunchy snack or appetizer.
What are the Health Benefits of Jicama?
Jicama is not only slightly sweet, but also low in sugar and carbohydrate content. As a result, it becomes a great dietary alternative to French fries. You want to enjoy fries while staying healthy and this is your answer!
In general, Jicama provides amazing nutritional benefits while satisfying your need for a great taste. Here are the nutrition facts for 1 cup of raw jicama:
Excellent source of fiber: 6.4g dietary fiber
Great source of vitamin C: 26.3mg vitamin C
Low in calories: 49 calories
Excellent source of potassium:180mg potassium
Good source of calcium: 14mg calcium
Low in sugar: 2.2g sugar
Low in fat content: 0.1g fat
Low carb: 11g total carbs
Keto: 4.6 net carbs
Jicama has less than half the calories, less than half the carbs, and more than double the dietary fiber of white potatoes. It's also gluten-free, vegan, and diabetic-friendly.
Where Do You Buy Jicama?
Many grocery stores will carry jicama in the produce section, especially between fall and spring when it is in season. If you can't find it at a regular grocery store, try an organic foods market or farm stand! Specialty Mexican grocery stores may also carry this veggie.
What Do Jicama Fries Taste Like?
Jicama tastes like a cross between potato and pear. The texture and taste has also been compared to the water chestnut, but it doesn't cook up well if you just bake them from raw – instead boil jicama first for best results. You can even use your Instant Pot to soften them up before air frying.
It does have a sweet taste to it so it's important to add your favorite seasonings especially lots of sea salt to mask the sweetness.
Why is Air Frying So Popular?
Air frying is becoming a popular, healthy alternative to deep-frying because it creates crispy fried foods without completely submerging the food in oil.
Air fryer jicama fries are a great low carb fried food option for those watching their carbs and looking to reap the nutritional benefits of jicama.
How to Make Basic Keto Air Fryer Jicama Fries
Step 1: Start by peeling the jicama first, then cut into strips. You do not want them to be too thick. About a ¼ inch thick and 3 inches long is best. Thin jicama fries will crisp up best in the air fryer and it will reduce the natural sweetness of the jicama.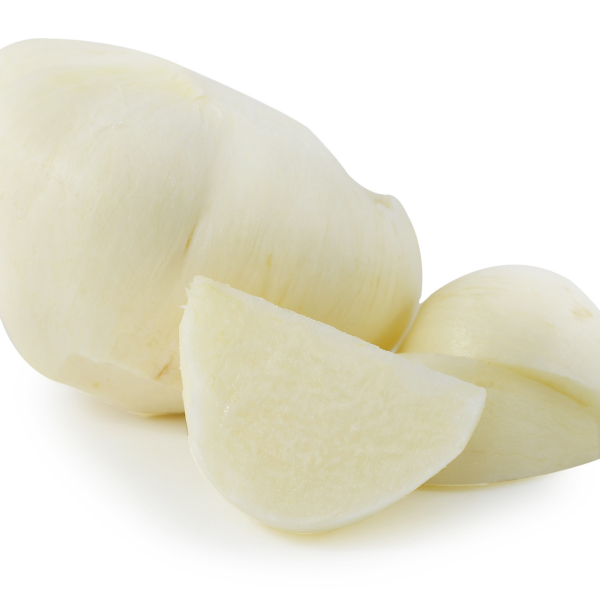 Step 2: Next, boil the jicama fries for about 12 to 15 minutes until they are tender and a fork easily pokes into it. The texture and color will change, but ultimately they will end up looking like raw fries about to go into the oven.
Step 3: Pat the jicama fries dry with paper towels and lightly coat them in olive oil, melted ghee, or avocado oil. Even though you are using an air fryer, you still need a little bit of oil to get the fries to crisp up.
Step 4: Add the seasonings of your choice just as you would for regular fries, but you might need more salt to mask the naturally sweet taste of the jicama. See ideas below for my favorite dipping sauce and seasoning combinations.
Step 5: Arrange the jicama fries in a single layer onto your air fryer's rack. Place them in air fryer at 400°F for about 20 to 25 minutes turning halfway through cooking until golden brown and reaches your desired crispiness. Remember to always follow the cooking instructions for your specific air fryer model.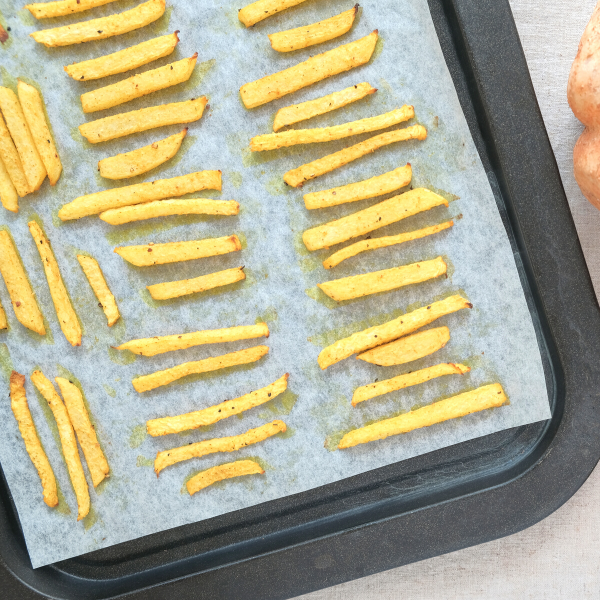 5 Quick & Easy Keto Jicama Fries Recipe Ideas
The sky is the limit on what you can put on your basic jicama fries. Here are 5 great ideas for seasonings and dipping sauces you'll absolutely love that pair great with these low carb fries. If you try any of these recipes, please let me know in the comments! I would love to hear from you.
1. Basic seasoning: ½ teaspoon Cumin + ½ teaspoon Garlic powder + ¼ teaspoon Sea salt
2. Spicy seasoning: ½ teaspoon Cumin + ½ teaspoon Turmeric + ½ teaspoon Garlic powder + ¼ teaspoon Smoked Paprika + ¼ teaspoon Onion powder + ¼ teaspoon Sea salt + ¼ teaspoon Black pepper + ¼ teaspoon Cayenne pepper or Chili powder (season to your taste)
3. Keto Zaxby Sauce Copycat: ¼ cup Sugar-free Ketchup + ½ cup Mayonnaise with avocado oil + ½ teaspoon Garlic powder + ¼ teaspoon Worcestershire sauce + 1 teaspoon Black pepper
4. Keto Balsamic Ketchup: 6 oz Tomato paste + ¼ cup Balsamic vinegar + ¼ cup Water + ½ tsp Mustard powder + ½ tsp Oregano + ½ tsp Basil + ¼ teaspoon Garlic powder + ¼ teaspoon Sea salt + ¼ teaspoon Black pepper
5. Cilantro Lime Sauce: ¼ cup Greek yogurt + 1.5 tablespoon Cilantro + ¼ teaspoon Lime juice + ¼ teaspoon Lime zest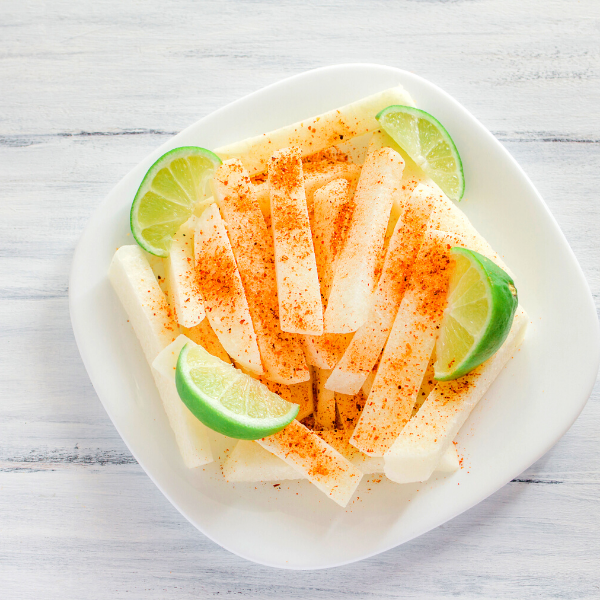 Other ideas: Chili cheese fries, Loaded 'baked potato' fries, Parmesan cheese and truffle oil fries, Lowry's seasoning fries
Where Did I Go Wrong with My Jicama Fries?
If your fries didn't turn out the way you desired, remember patience is key here. You absolutely must boil the jicama before baking or air frying. This isn't an optional step!
Make sure you didn't cut the jicama too thick. Aim for shoestring-like fries for the most crispiness.
If 20-25 minutes in the air fryer doesn't cut it, put it in for another 10-20 minutes until it reaches your desired crispiness. If still not crispy enough, broil them for about 5 minutes.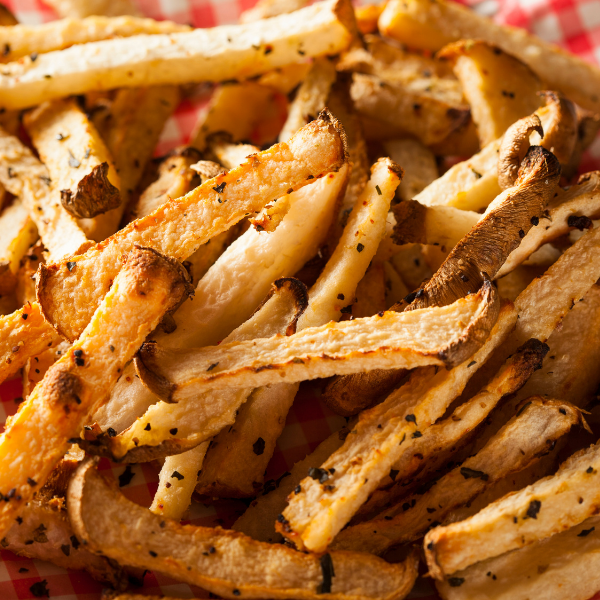 Conclusion
Air-fried jicama fries are generally prepared the same way. However, as you can see, we can create many different variations by adding different toppings and sauces to them – there is no one "right" answer when it comes down to how they should be enjoyed!
More Low Carb Comfort Food Ideas
My Favorite Air Fryer Product Recommendations
I love the air fryer oven version because it's so much faster than using my regular oven for baking. My favorite brand is Cuisinart. I've also suggested a great air fryer basket version below from Ninja.
Pin for later!