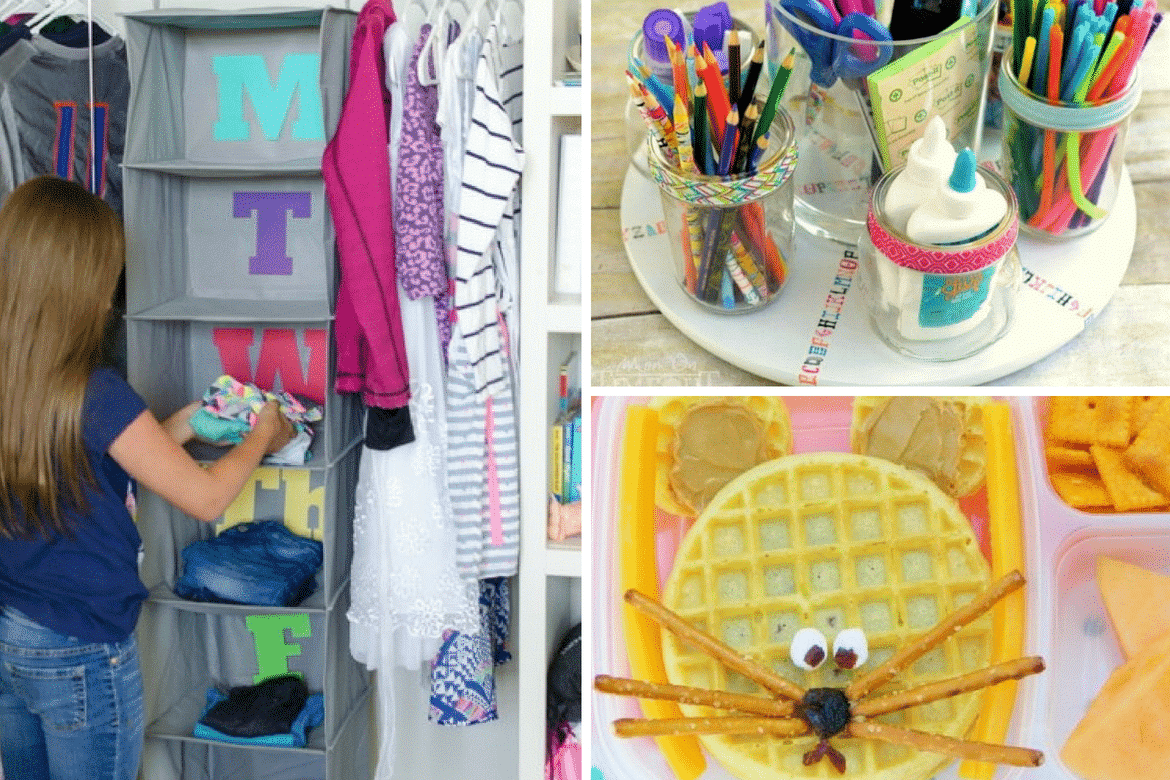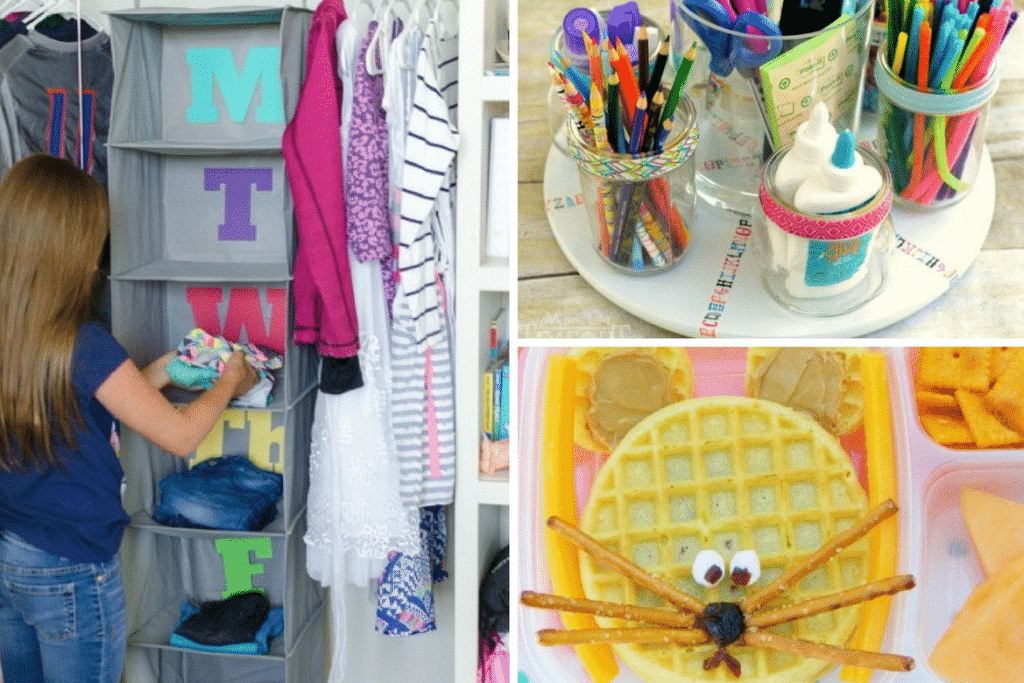 August is here and summer is starting to wind down. That means back to school time! All parents will be going to orientations, getting school supply lists, and looking for back to school organization and money saving tips. It can be super time consuming so it's best to start getting organized early. It's definitely one of my favorite times of the year to organize and plan and do it as frugally as possible.
To help you start the year off right, I've curated the best back to school organization ideas that will also save you money and keep you prepared throughout the entire year. These helpful back to school organization ideas are a little from my personal experience and a little from other bloggers that really know how to organize your home and save money. So let's get organized for the best school year ever!
1. Stick to a morning routine without nagging with printable checklists.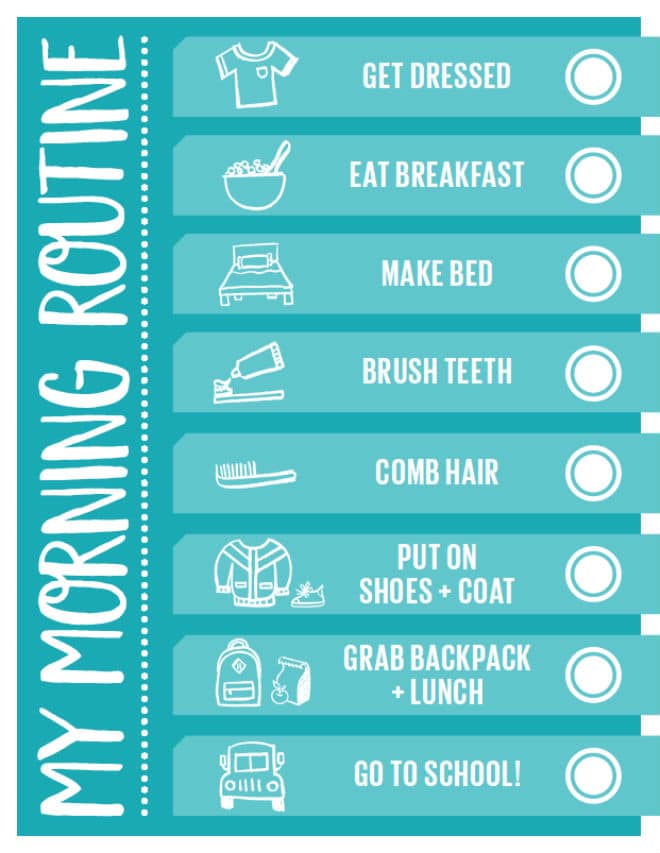 Found from Today's Parent
Kids thrive with an established routine, but it can be difficult to get them on the right track without a checklist. Try this adorable printable morning checklist. You could also easily make your own printable in PowerPoint or Canva! Use a sheet protector and dry erase marker so you can use it over and over. Tape it behind your child's door so they see it every time they go in and out of their room as they get ready. If you have a small child, these visually appealing printable cards are great too.
Grab a free printable: Keto Food Lists
2. Make mornings a breeze with a "get ready" basket.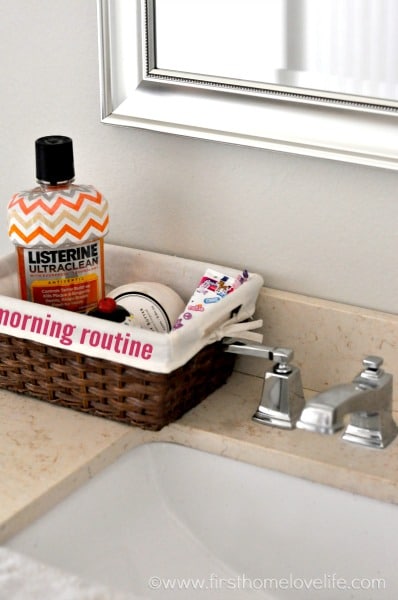 Found from First Home Love Life
Speaking of getting ready in the morning, a huge time saver for your family will be the "get ready" or "morning routine" basket. Anything your child needs to get ready in the morning should be in this basket. Pick up this super cute and affordable basket from Target and use it for combs, brushes, toothpaste, toothbrush, hairdryer, gel, and anything else they will need to rock their style on their first day. It'll be so handy, you'll want to make one for yourself!
Related: 11 Home Organization Hacks You Can Knock Out This Saturday
3. Keep your kids moving with an alarm app/bedtime app.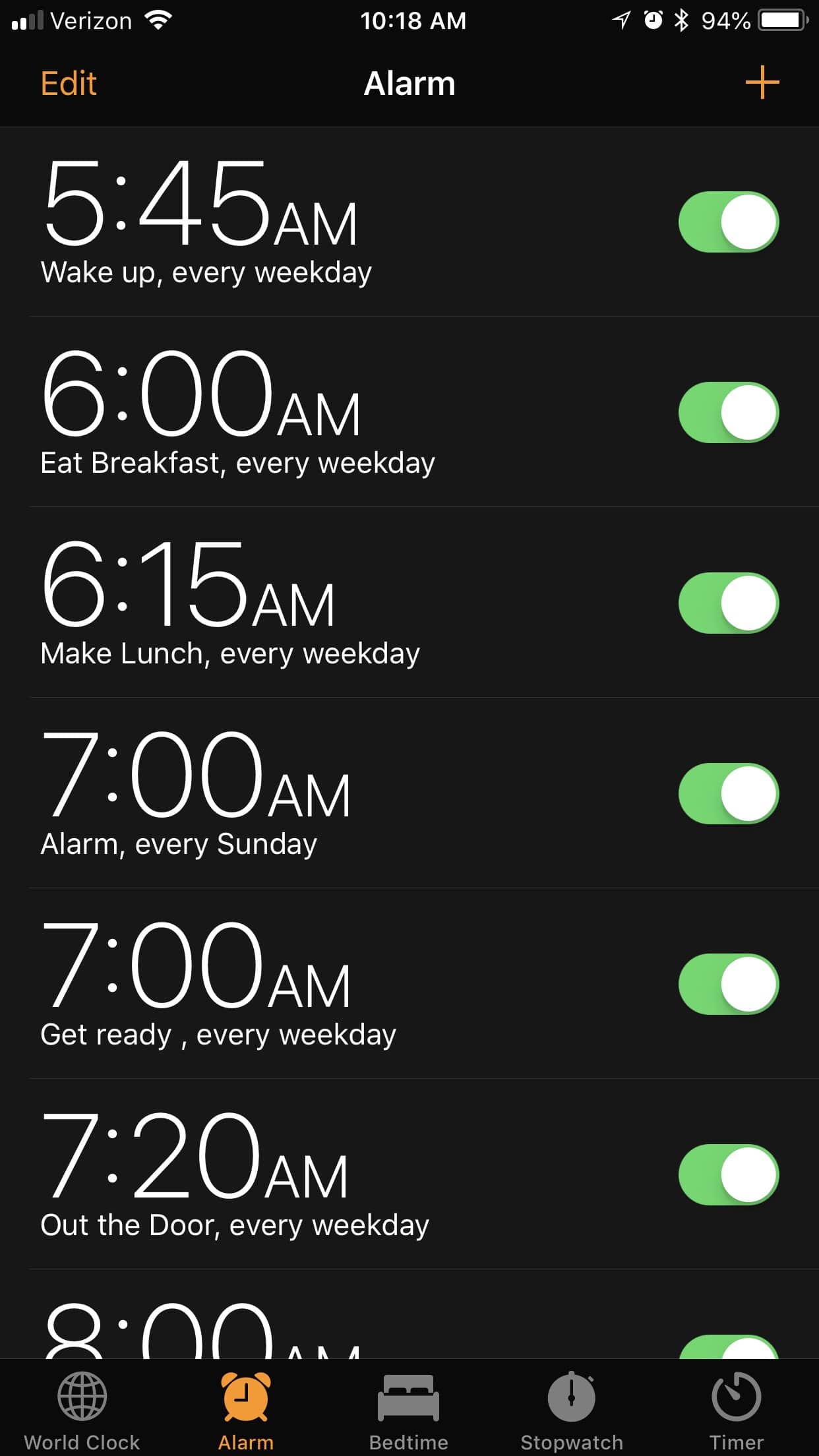 During your child's morning routine, time is always of the essence. Unfortunately, kids are not the fastest moving creatures in the morning. To keep them on track, set them up with alarms for every action on their routine list.
For instance, if they need to be out of the shower and eating breakfast by 6:00am, set an alarm for that time. Make the alarms different sounds so they will start to remember the next task by the sound of the tone played. Eventually, they won't need the checklist because they'll have it memorized. Well, here's hoping.
iPhone also has a built in bedtime alarm or you can use Sleep Cycle for Android. Start using the bedtime alarm 1 week before school starts to get them into a proper sleep pattern.
4. Check your kid's homework and access formulas with a math app like Photomath.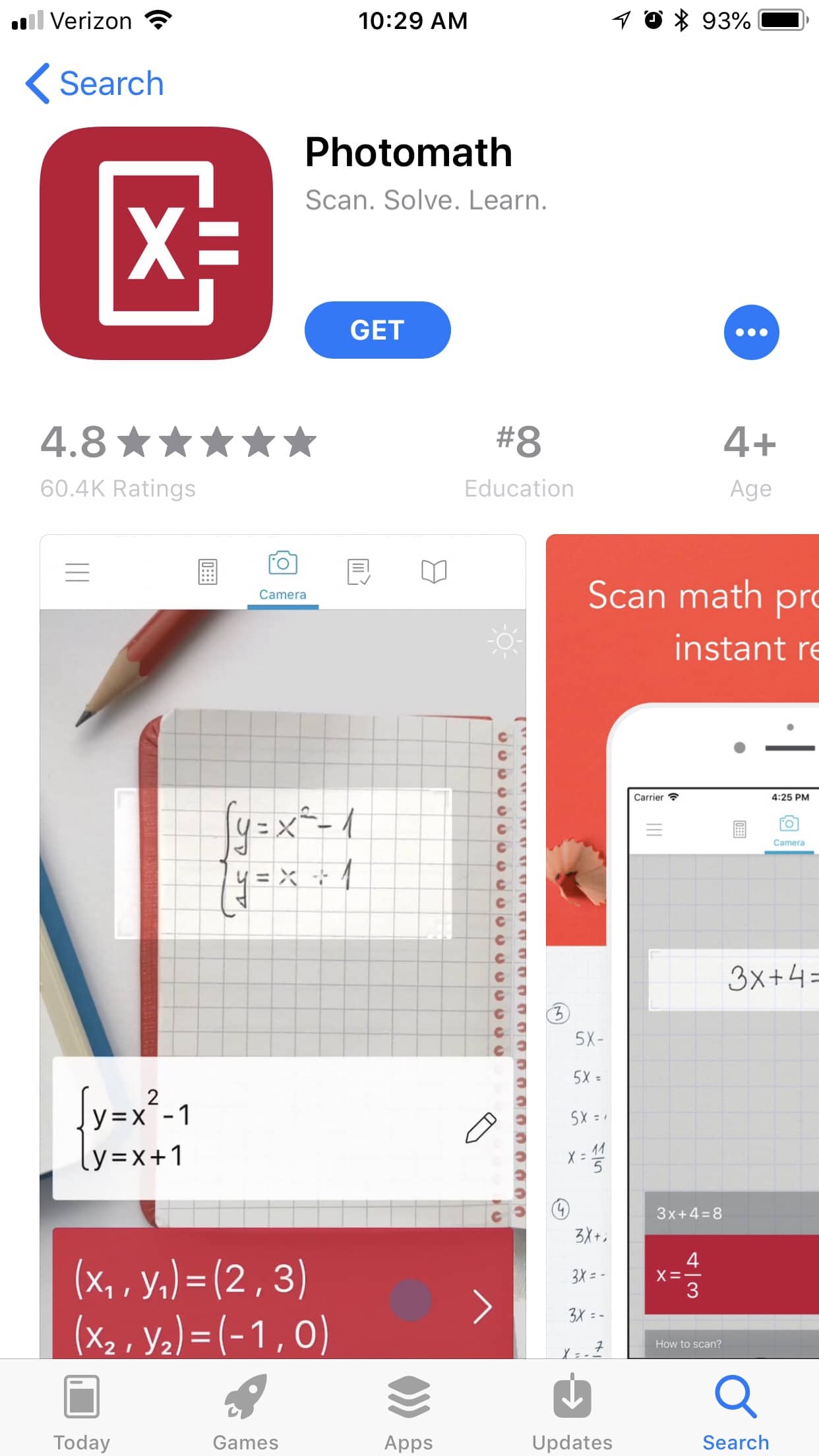 Found from Huffington Post
This free app (yes, this glorious app is free!) will save your life when it comes to helping your kids with their homework. The dreaded subject now has an app that will allow you to point your camera at a math problem and it will show you the result and step-by-step instructions for how to solve the problem. And those pesky formulas you forgot, Photomath has those too!
Download for iPhone or Android.
5. Organize your kid's clothes, then store by days of the week.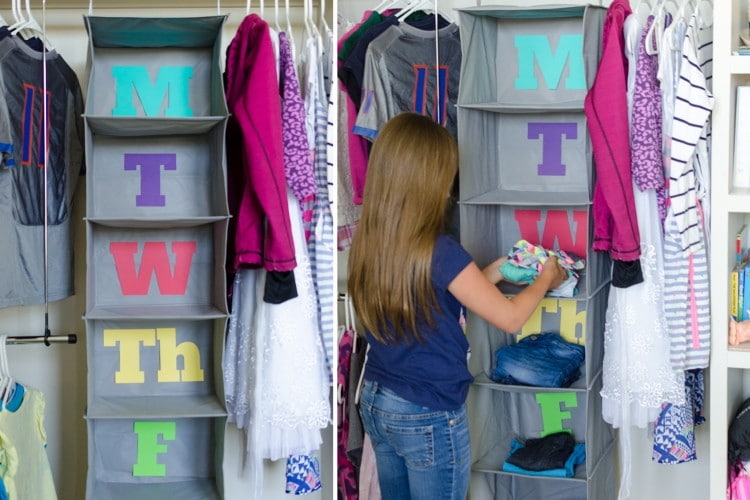 Found from Krazy Coupon Lady
Another huge morning time sink for kids is getting dressed. Getting a child dressed in the morning can be challenging so it's best to be as organized as possible. Before the school year starts, have your child try on all clothes both old and new. Anything that doesn't bring joy or just doesn't fit anymore should be donated.
Establish a few favorite outfits with your child ahead of time (at least 5-10 combinations if possible), then teach them a system. It could be as simple as asking them to lay their clothes out the night before, or you could try this hanging closet organizer labeled with the days of the week.
Money saving tip: For school clothes shopping, check when your state has Tax Free Weekend and don't forget about Amazon to avoid crowds!
6. Organize lunch packing with bento boxes and a lunch organizer system.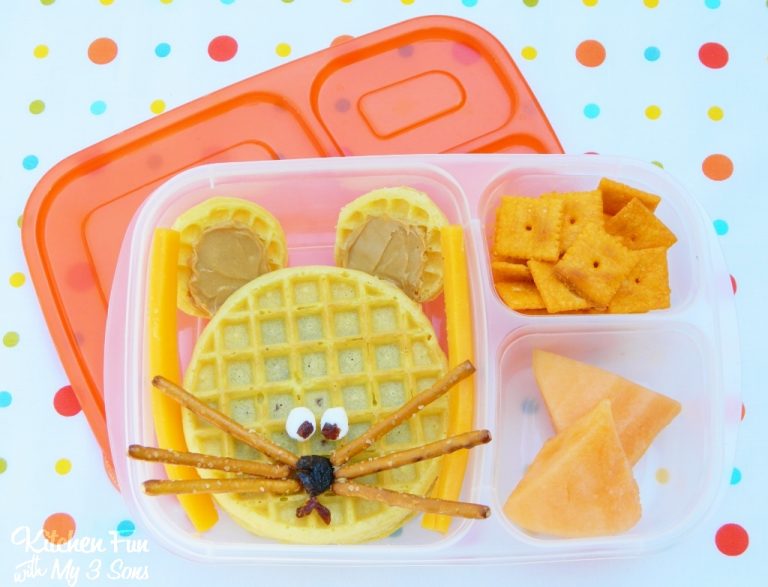 Found from Happiness is Homemade
Your kids will not want to forget this lunch. These bento boxes ideas are clean and simple and make it easy to pack a healthy and cheap lunch. Most school lunches are processed so these will be a better, healthier alternative.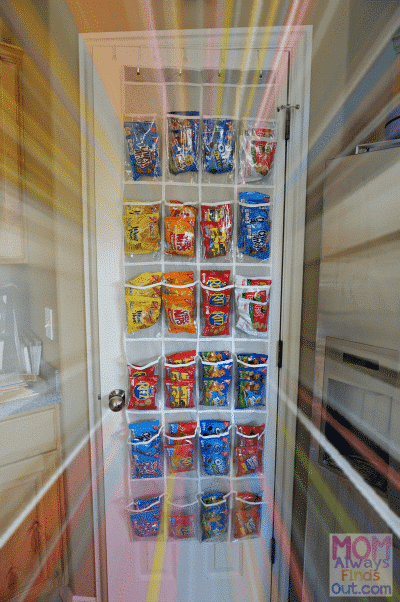 Found from Mom Always Finds Out (pantry) and Mommy Over Work (fridge)
Set yourself (and your kids) up for success with a lunch organizer system in the fridge and pantry to make grabbing items easier in the morning. Make sure your lunch organizer system is complete with a freezer ice pack basket to make sure those pesky freezer packs are returned.
Money saving tip: Buy snacks in bulk and portion out into snack bins in your pantry or fridge.
7. Use a backseat organizer to stash last minute school supplies.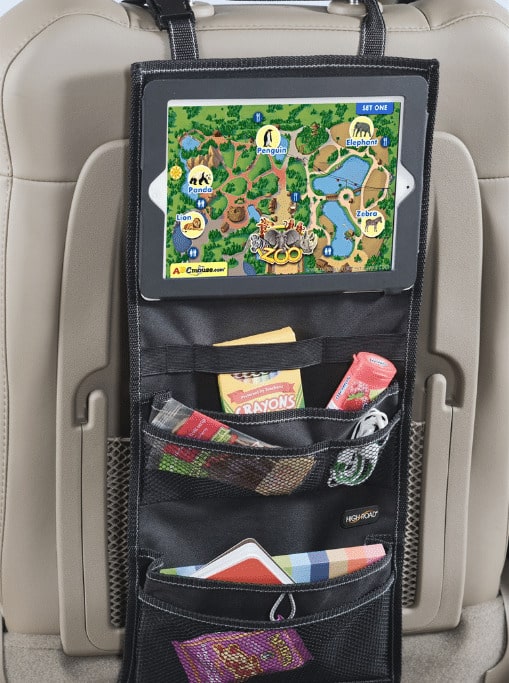 Found from Good Housekeeping
If you've ever heard "I forgot" on the way to school minutes before drop off, you'll definitely love this backseat organizer. Use it for the essential road trip items like tissues and hand sanitizer. But it's also great to stash away last minute school supplies: pens, pencils, glue, scissors, etc. That way you'll be fully prepared and your kids won't miss out!
8. Organize papers with home filing system, and keep papers in transport intact with file folder for your kid's backpack.
Found from Simple As That
Papers, papers, papers! You get a mountain of them throughout the school year, but there are great systems to keep you organized.
You'll need something to put school papers during transport to and from school to avoid crumpled up permission slips and homework. For younger kids, a simple file folder with pockets will work. As your kids get older, they may benefit from a trapper keeper or a simple plastic expanding folder. Label the tabs according to their status such as "turn in" or "take home."
You should also keep a home file system like this plastic file box for all papers received throughout the year such as art, graded tests and homework. Then, at the end of the year, sort through these files and determine what needs to be tossed. Full tutorial here!
9. Teach time management with a school planner.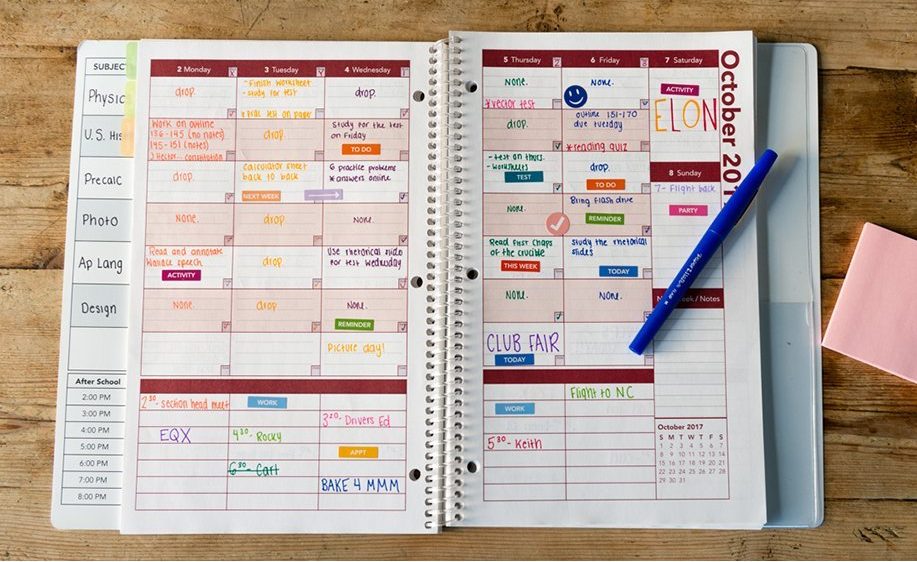 Found from Order out of Chaos
For older kids, teach them time management by picking up a calendar planner with subjects. It will give your kid a place to keep track of homework and eliminate any missed due dates or frustration. Your child's school may provide these and encourage their use. If not, be sure to pick this one up on Amazon designed by leading time management experts.
10. Label and cover everything for the classroom before their first day.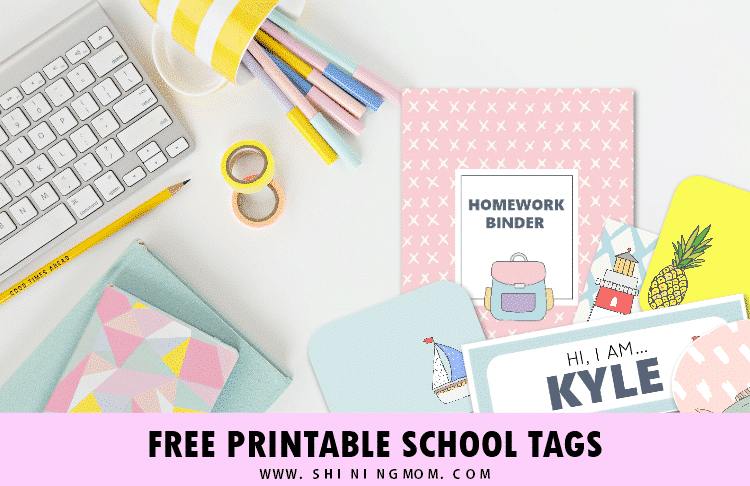 Found from Shining Mom
Labeling is a huge deal when it comes to back to school organization. As a student, one of my favorite things about back to school organization time was printing binder covers and labeling all of my school supplies.
There's simply no way around it especially when you have younger kids and the teacher requires that every single thing is labeled down to the last crayon. Your kids will appreciate the personal touch and the coolness factor of having their own covers. Try out these printable binder covers that your kids can color too!
11. Set up a command center to keep track of permission slips, events, chores, everything!
Found from Jenna Burger
Since you're the boss of your household, you need a command center or a centralized office location. It's super functional, plus you can dress up your command center to match your kitchen decor. Every command center needs a calendar wipe off board to keep track of all family member events. Also, this wall pocket is great for kids to turn in permission slips to be signed. Full tutorial here!
12. Set up a homework station or homework turntable.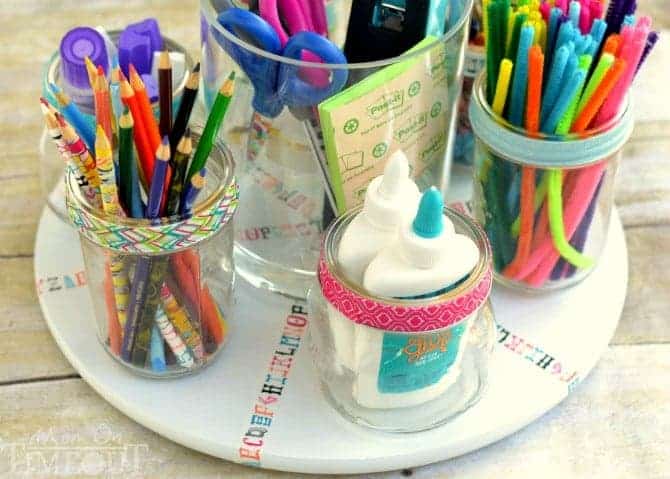 Found from Mom on Time Out
Your kids should have a designated space for homework in their room. Whether it's a homework station or a handy homework turntable, your kids will have everything they need to stay busy with their homework.
Always plan for lost pens, pencils, glue sticks, etc. during the year so keep a stash of extra supplies on hand for homework emergencies.Money saving tip: You don't have to shop the big box stores for school supplies. Your local grocery store, drug store, dollar store, and Amazon all have amazing deals when it comes to school supplies and some of them will price match.
Found from Krazy Coupon Lady
Planned meals are the easiest way to save time and money for back to school organization. All those weeknights where you don't feel like cooking? These make-ahead freezer meals are truly a life saver. Now you can keep your family fed with healthy meals without the after school rush to feed the hangry. Check out my Meal Prep Guide for more details.
If you enjoy making dinner each night, post a dinner schedule on this adorable dry erase daily menu board so everyone in the family can make plans accordingly.
Bonus Money Saving Tip:
If I could offer one more money saving tip before you head out to shop, it would be to buy better. Instead of that cutesy character backpack that might fall apart in a month this year, pick up a backpack and lunch box that's sturdy, super functional, and washable even if it's a little more expensive. You might even be able to use them for more than one year. On the other hand, pens and pencils get lost easily so stock up on those in bulk.
If you enjoyed these tips, let me know what you think in the comments below!