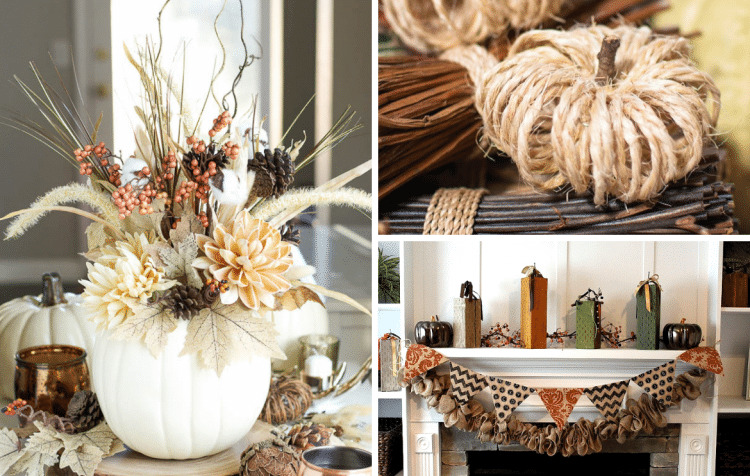 It's beginning to look a lot like Fall ya'll! That's my southern showing a little bit. Even though Summer is coming to a rapid close, there are lots of things to look forward to in the Fall: Pumpkin Spice Everything, Boots, Scarves – well, maybe not if you live in Florida like me – Family, Gifts, and lots and lots of FOOD! It'll be Christmas before you know it as I always say. So you want to make sure your house is decorated to mark all the occasions during this Holiday season.
If you're like me, you want to find the easiest and cheapest Fall decor ideas you can copy from Pinterest. Anything with more than a few steps is just too overwhelming so I found the best Fall decor ideas to DIY that will make you look like a genius. You'll leave your guests wondering , "How does she do it?" Well, I'll tell you how. Check out these ideas and tell me what you think in the comments below!
Easy Fall Wreath
The first thing people will see when they drive up to your house will be the porch and the front door so make a bold statement with this super easy DIY Fall Decor wreath. You can easily make this in 5 minutes by poking a few holes in a craft foam ring!
Found from: 2 Bees in a Pod
Grab a free printable: Keto Food Lists
Check out this list from The Crazy Craft Lady for more cheap, easy-to-make Fall decor wreaths!
Beautiful Fall Planter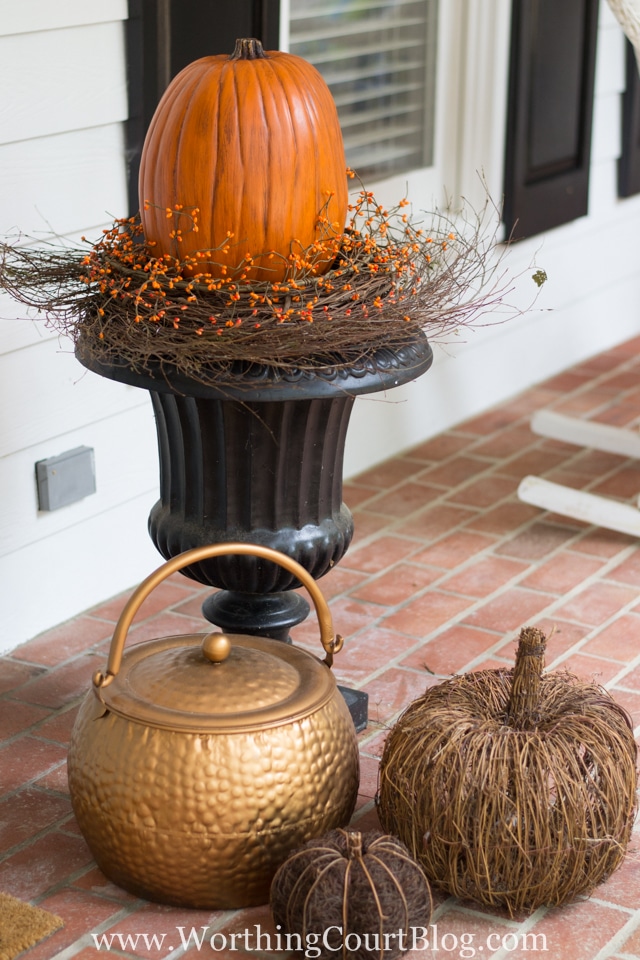 Next, let's dress up that porch! This pumpkin planter idea has endless possibilities. It's so easy to place these adorable Fall grapevine wreaths and accent them with a pip berry garland on a planter then set your pumpkins on top. Feel free to go crazy adding additional burlap or white pumpkins to complete the look. I also love the simplicity of pumpkins and mums on the front porch.
Found from Worthing Court
Check out this list from Blast Aloud for more cheap, easy-to-make Fall decor front porch ideas!
The Easiest DIY Fall Sign
You'll need a sign to announce to the world that Fall has indeed arrived. Show off your woodworking (not really) skills with this super easy-to-make sign. You can pick up the cute, wooden pallet and wheat stalks from most craft stores.
Found from Little Vintage Nest
Check out this list from Keys to Inspiration for more cheap, easy-to-make Fall decor signs!
Pumpkin Vase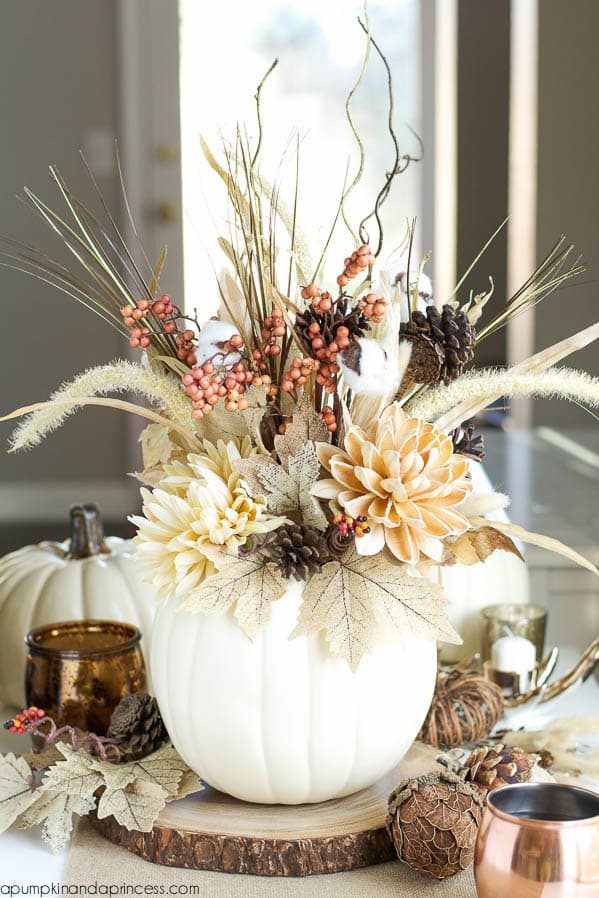 Every table needs a beautiful centerpiece and you will fall in love with white pumpkins this year! This incredibly easy Fall decor craft may look complicated, but it's all about the variety of Fall stems. You don't even have to know how to arrange flowers. Just go with the flow and it'll turn out great!
Found from A Pumpkin and a Princess
Check out this list from One Crazy Mom for more cheap, easy-to-make Fall decor centerpieces!
Cinnamon Candles
These cinnamon candles have multiple uses to contribute to your Fall decor. You can give these away as gifts or place on any table in your house. The heated cinnamon will make your home smell fantastic!
Found from Martha Stewart
Tiered Tray with Fall Faux Floral Arrangements
A seasonally styled tiered tray is a great piece for your kitchen or accent table. You can easily swap out the decorations as the seasons change within a matter of minutes. You'll love the colors in this autumnal tiered tray with white pumpkins and flowers.
Found from Home Stories A to Z
Check out this list from Craving Some Creativity for more cheap, easy-to-make Fall decor tiered tray ideas!
Burlap Garland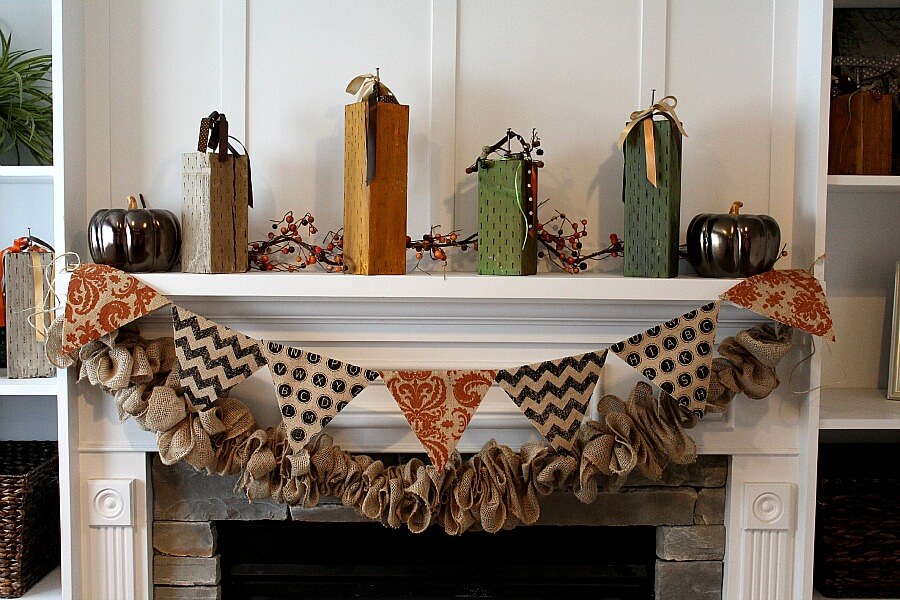 You could keep this garland around year-round, but it looks the best in the Fall with all the other complimentary colors. This project requires no craftiness. Just burlap, twine, and a tapestry needle!
Found from See The Happy
Check out this list from A Beautiful Mess for more cheap, easy-to-make Fall decor garlands!
French Farmhouse Accent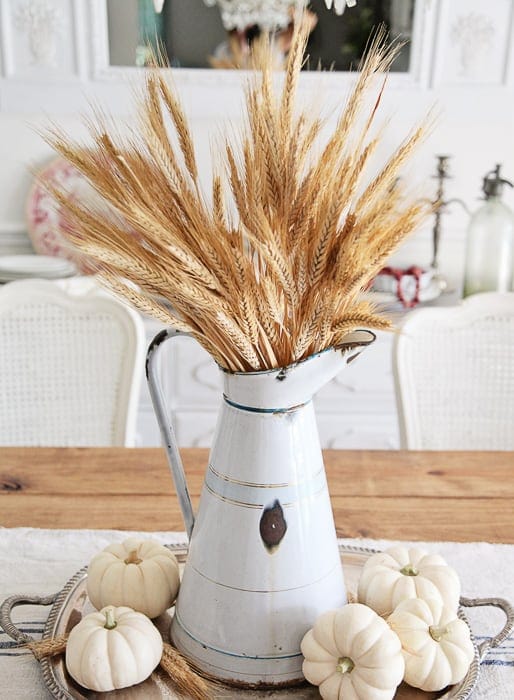 Again, loving the white pumpkins this year! This idea could be used for a centerpiece to your dinner table or an accent table. The wheat can be reused from year to year so you don't have to worry about it going bad.
Found from Shabbyfufu
Easy Fall Tablescape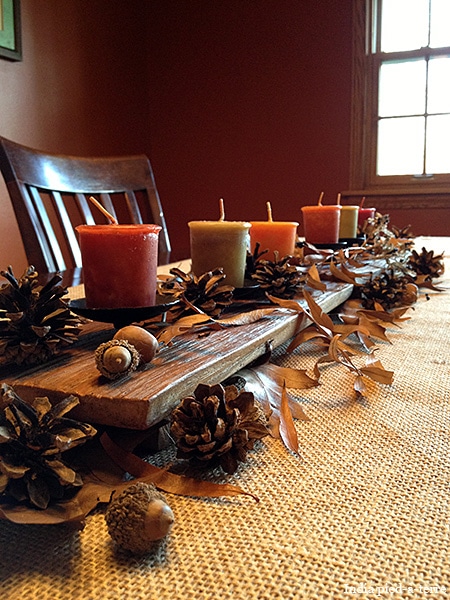 You can easily create this tablescape with traditional Fall colors. Or, switch it up and make it neutral farmhouse style by bleaching the pinecones and leaves and adding white candles.
Found from Nomadic Decorator
Easy Sisal Twine Pumpkins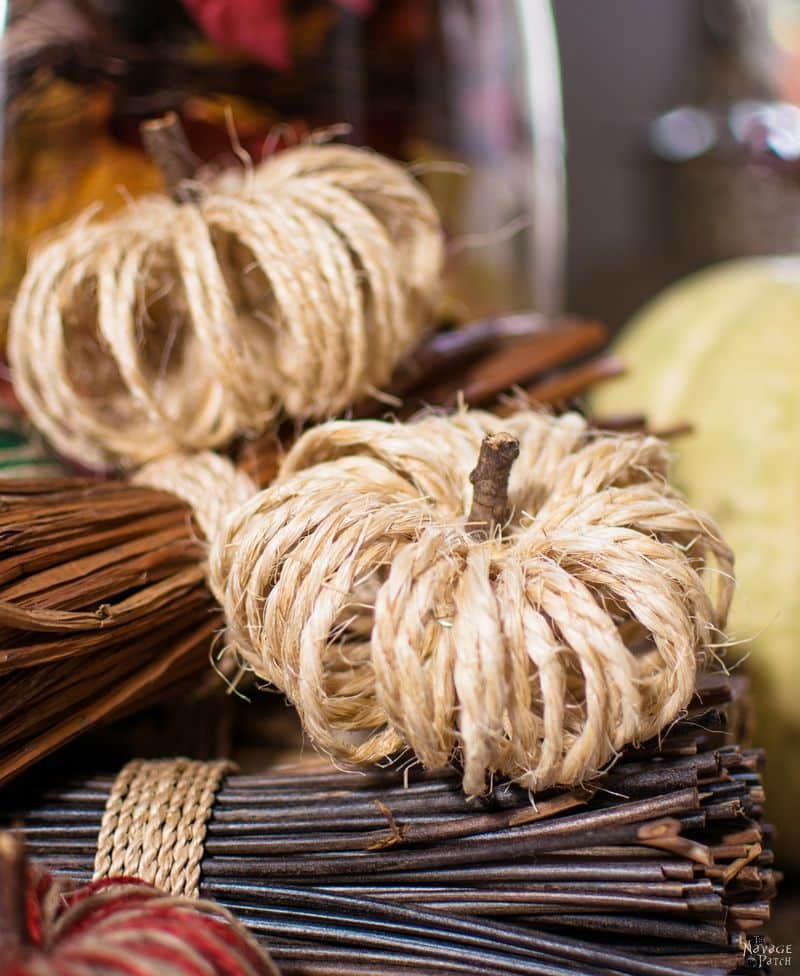 At 5 minutes and less than 50 cents to make, this is by far the easiest Fall craft on the list. These little pumpkins will accent any table or tiered tray.
Found from The Navage Patch
What do you think? I would love to hear your feedback in the comments below!
This post contains affiliate links, but I only recommend products that I have personally used and all opinions are my own. See my affiliate disclaimer here.