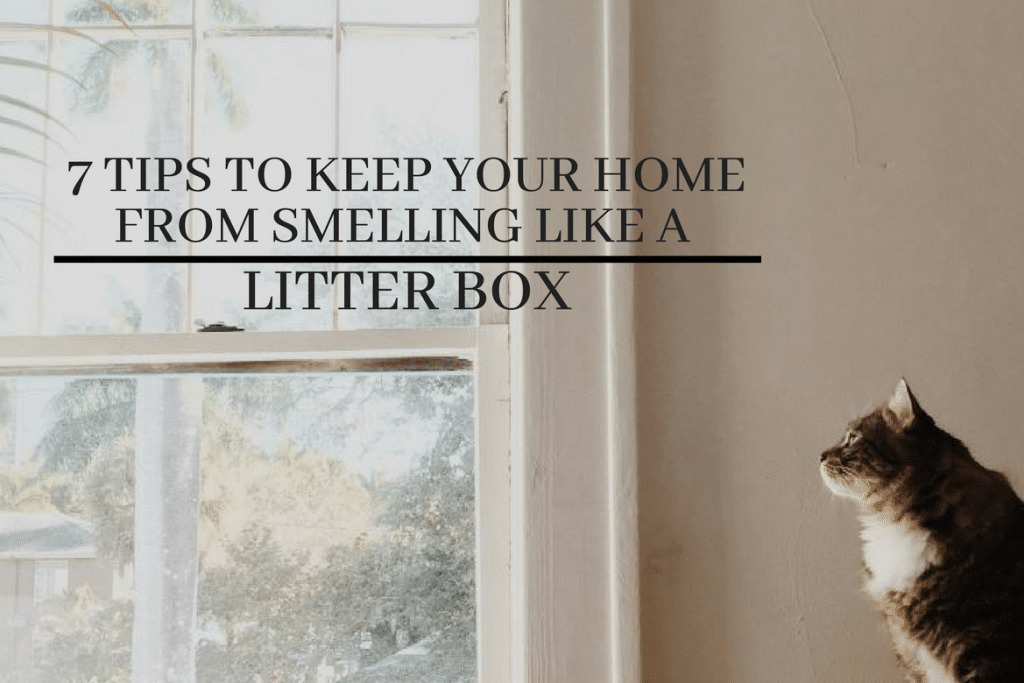 Being a cat owner doesn't mean your house should naturally smell like a litter box. I recently had a housewarming party in my new home. Some of the guests had no idea we had cats until they saw their scratching post around the corner. These tips will make it so kitty's poo doesn't permeate your beautiful home.
Invest in large litter box furniture
The single best purchase I have ever made for the sake of my cats and my house smell is this Merry Products Cat Washroom Bench. If you don't have the room for this large of a box, consider this smaller version. Whichever version you choose, the smell and the sight of the litter box will be kept under wraps. As I mention in my easy peasy home hacks guide, always invest in furniture with multiple uses. This bench not only will be pleasing to your cats (and your nostrils!), but you can also decorate it with a bench cover and pillows. Put it near a window sill and it will quickly become your cat's favorite hangout spot, and no one will ever know it's actually their litter box! Pair with this high-sided litter box.
Check out these other ideas from DigsDigs for hiding your litter box.
Use mats, rugs, and shelf liner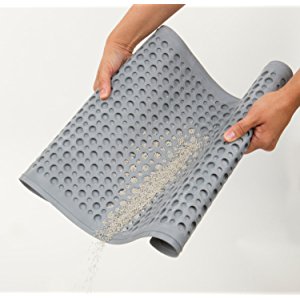 If you have a cat that loves to kick litter around or a cat that may miss the box sometimes, you'll need to line your litter box furniture heavily. Most litter box furniture is made from fiberboard that will be ruined if urine penetrates the outside coating so it's best to protect it. For the first line of defense, use a sturdy non-adhesive shelf liner. Next, you'll need a good litter trapping mat. I recommend this highly rated one to remove and capture litter. Our litter box is pushed towards the back of the box with the divider taken out. It is slightly forward to allow my accident-prone cat to stick her head out the back of the litter box for better positioning. This will also allow the cats to take a few steps to clear their litter toes before exiting the box. Lastly, place the entire bench on a decorative but litter trapping rug.
Grab a free printable: Keto Food Lists
Use THIS Performance Cat Litter
Tidy Cats is not just a brand name, this litter actually makes your cats more tidy. Cats love the feel of clay based litter. Don't get the lightweight version or any other type. Get THIS 40 lb 24/7 Performance Clumping Litter for multiple cats…even if you only have one cat. I have used this exact litter for 5 years and it does the best job masking the smell without offending my cats. There is very little dust and it's very easy to scoop and change. It is also the best bang for your buck. This tub will usually lasts about 1-2 months.
Empty and sweep once a day
Just as a flushed toilet is pleasing to us humans, your cats will appreciate an emptied clean litter box AT LEAST once per day. Keep a broom or a hand vac near to catch any litter particles that may escape during the cleaning process.
Do a once a month deep clean
The litter box and the litter box furniture will need AT LEAST a monthly cleaning.
You will need: a garbage bag, a water hose, a cheap disposable sponge preferably one with a scrubby side, liquid Dawn soap, and an old towel or paper towels.
To do a proper deep clean:
Completely empty the plastic litter box of all old litter into a garbage bag. Don't fill it too full or your bag will rip
Spray down the plastic litter box with the water hose outside (or in a bathtub if you have no outside connection)
Lightly cover the litter box with the liquid Dawn soap. Pretend you're decorating a cake.
Scrub with your sponge making sure to get all dust and dirt loose.
Rinse and DRY thoroughly with an old towel or paper towels. There must be no wet spots on your litter box when you pour in the new litter.
Pour in the new litter. If you are using the recommended 40 lb pail of litter, you will only need about half of it for your litter box.
Vacuum and wipe down your litter box furniture. Before replacing the plastic litter box, make sure the litter box furniture is completely vacuumed of all litter particles and wiped down with a neutral cleaner. Avoid orange scented or bleach cleaners as these will offend your cats.
Shake out any litter trapped in the mats and vacuum your outside rug.
Place the plastic litter box and mats back in the litter box furniture.
Your cats can now enjoy their fresh litter and amazing smelling litter box.
Get an air freshener nearby
If there is an outlet nearby, use a Glade plugin to neutralize some of the odors near the box. Try to place the air freshener behind the litter box furniture so the cats are not discouraged to enter the box.
Use a Litter Genie

My other super favorite investment is the Litter Genie. Sure, you can empty the waste into a plastic shopping bag and put in the trash can, but you run the risk of a foul-smelling kitchen. You may also think these are costly. Personally, I think the pros outweigh the cons on this one. It's easy to move and store. You can "flush" the waste seamlessly. It comes with it's own scooper. You don't have to change the bag for about a month. The bag is super easy to change. If you buy in bulk, the cost isn't much more than what you would spend on extra garbage bags.
Want more life hacks? Check them out here!
This post contains affiliate links, but I only recommend products that I have personally used and all opinions are my own. See my affiliate disclaimer here.